Newer PC models come with a single jack that you can use for both; audio input and output. Meanwhile, if you want to use a headset mic on a PC with one jack, you will need to purchase a connector cable.
Key Takeaways
You can connect a headset mic with two plugs to a PC with one jack through a Y-Connector and Bluetooth.
Remember to change your PC's audio input and output settings if you insert the connector into the USB port.
You can use a Y-Splitter with one female and two male plugs if your headset mic has one pin, but the PC has two separate jacks for audio input and output.
How To Use Headset Mic On PC With One Jack?
This section explains how you can connect the headset mic to your PC with one jack.
Purchase A Connector Cable
You can purchase a Y-Connector with two 3.5mm female jacks on one end and one 3.5mm male plug on the other. However, ensure that the adapter you choose is made for a single headset mic, with one jack for headphones and another for a mic. Insert the correct plugs as indicated on the jacks, and then connect them to your PC.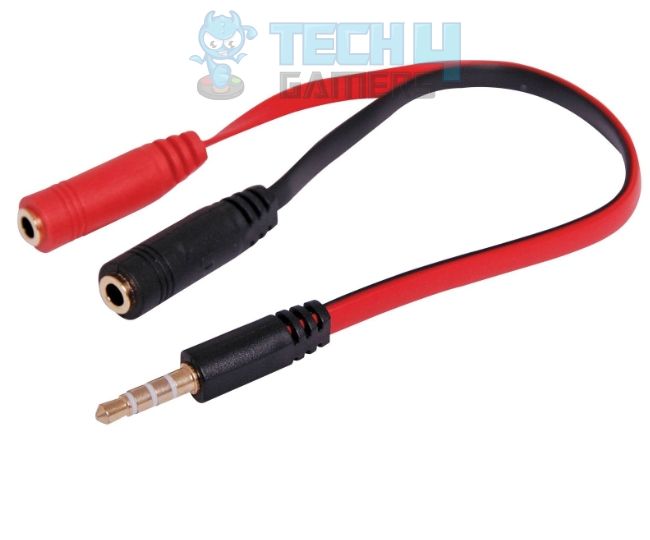 Connect Via Bluetooth
If the headset mic comes with Bluetooth functionality, save yourself the hassle and connect it to your PC with this feature. Ensure that the headset mic is not low on battery; otherwise, the PC may not be able to establish a stable connection. Use the following steps to connect the devices via Bluetooth.
Go to your PC Settings from the Start Menu.

Settings – Image Credits [Tech4Gamers]

Head to Devices.


Devices – Image Credits [Tech4Gamers]

Access the Bluetooth And Other Devices section.
Turn On your PC's Bluetooth via the toggle button.

Bluetooth – Image Credits [Tech4Gamers]

Click on Add Bluetooth Or Other Device.


Add Bluetooth Or Other Device – Image Credits [Tech4Gamers]

Select Bluetooth from the pop-up box.

Bluetooth – Image Credits [Tech4Gamers]

Turn On your headset mic to allow the PC to detect the device.
Connect to the headset once it appears on the scan results.
Also Read: Computer Turns On And Off Repeatedly [FIXED]
Adjust Your PC Settings
You need to modify the PC settings if your headset mic is connected to one of the USB ports. Here is the procedure.
Windows PC
Click System on the Settings screen.

System – Image Credits [Tech4Gamers]

Go to Sound from the left panel. It should be the second option.
Click on the drop-down box beneath Choose Your Output Device in the Output section.
You will see the name of your Headset Mic here. Choose it.

Output Section – Image Credits [Tech4Gamers]

Next, scroll to the Input section.
Again, click on the box below, Choose Your Input Device and select your headset mic.
You can now Test Your Microphone to get an update on its functioning.

Input Section – Image Credits [Tech4Gamers]
Apple macOS
Locate the Apple Logo at the top left edge of your Main Screen. Click on it.
Pick System Preferences from the drop-down.

System Preferences – Image Credits [Tech4Gamers]

Next, go to Sound from the pop-up box to access the sound settings.

Sound – Image Credits [Tech4Gamers]

Open the Output section. It will display a list of detected devices you can use for the sound output on your PC.
Select your connected Headset Mic.


Output – Image Credits [Tech4Gamers]

Next, go to the Input section.
Pick the Headset Mic.


Input – Image Credits [Tech4Gamers]
You should be able to use your headset mic on the Apple PC. Also, make sure to check out the best budget CPU Coolers.
How To Use Headset Mic With A Single Plug On A PC With Two Jacks?
Don't worry; we have got you covered if the situation is vice versa; for instance, you want to connect a single-plug headset mic to your dual-jack PC. You can rely on these methods.
Purchase A Y-Splitter
Get a 3.5mm Y-Splitter with one female jack and two male plugs. Insert the plug of your headset mic into the female jack and connect the male pins to your PC (headphone and mic, respectively).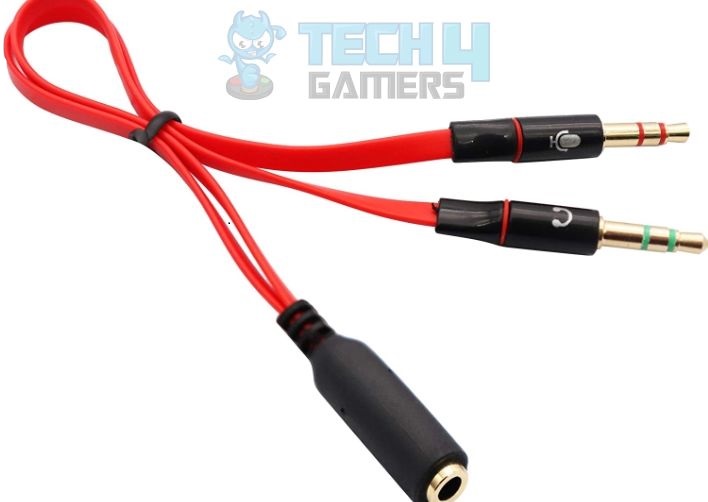 Connect With Bluetooth
You can connect the two devices through Bluetooth if your headset mic supports the feature. The steps to this process are the same as mentioned in the above section.
What Do The Stripes On The Plug Indicate?
If you look closely at the plugs of your headset mic and the Y-Splitters, you will see multiple rings engraved on them.
A single stripe indicates that the headset supports mono audio as it is only based on one channel. On the other hand, two stripes mean you can experience stereo sound since it can convert multiple more than one channel to sound. Lastly, three stripes indicate that the headset mic can support both stereo sound and microphone input.
Final Words
These are all the methods on how to use a headset mic on a PC with one jack.
Here are some common questions answered.
Common Questions Answered
How Do I Use Both Headphone And Speaker Mic In One Port?
You can buy a Y-Splitter consisting of two female jacks and one male plug. It will serve as a connection between the two devices.
Does A Y-Splitter Affect The Sound Quality Of Headset Mic?
Using a Y-Splitter to attach your Headset mic to the PC will neither interfere with the sound input nor the output.
How Many Stripes Does A Headset Mic Have?
A headset mic's plug should have three stripes if it has a single plug and two stripes on each plug if it has two plugs.
Was our article helpful? 👨‍💻
Thank you! Please share your positive feedback. 🔋
How could we improve this post? Please Help us. 😔
[How To's & Guides Editor]
Haddi has been in the Gaming and tech Space for over 10 Years Now; he has worked on notable websites like eXputer, Gamepur, Gear Siege, Gearnuke, and plenty more. He is an expert at Games & PC Hardware; you can expect him to solve any problem. People often joke, that if there is any problem anyone can solve, Haddi can solve it faster. Currently, Haddi writes and manages a Team of Experts at Tech4Gamers.
Contact: [email protected]