There is nothing more frustrating than seeing a dot appear on your computer screen, as it can ruin the whole experience. Thankfully, the dot can be fixed through a few methods, but you'll need to be extremely careful during the entire process.
Key Takeaways
A dot on a computer screen can appear due to a dirt mark that hasn't been cleaned off in a long time and stuck there, or it can also pop up due to pixel malfunction.
The pixels in your screen can malfunction due to harsh environmental conditions or issues with the hardware or software of the computer.
These dots can be fixed using software tools for screen fixing or applying some physical solutions.
You May Want To Read: RCM Loader Not Connecting To PC
Why Is There A Dot On My Computer Screen?
Different colors of dots can appear on a computer or laptop screen. These dots may be black, white, or RGB. There are different reasons behind these dots appearing on your screen.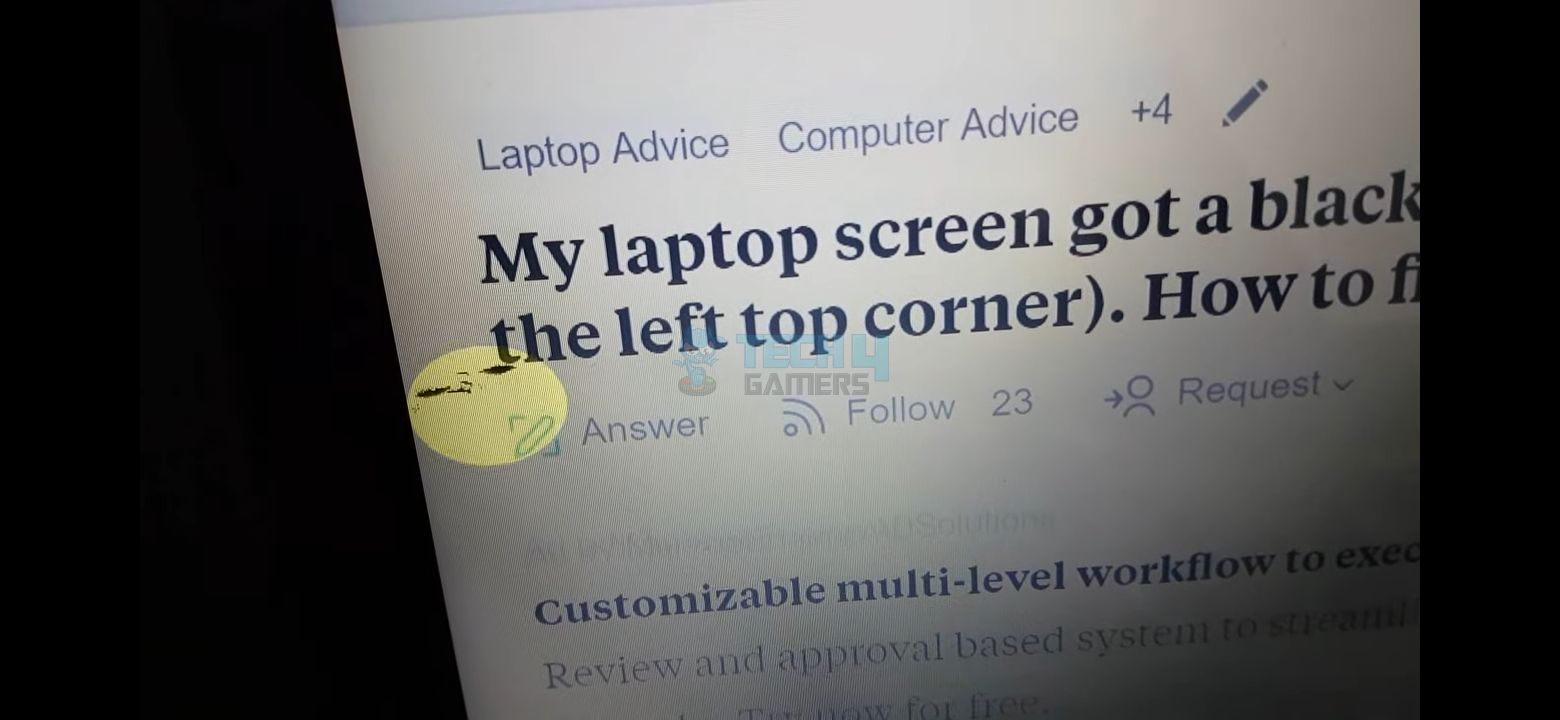 One of those reasons is the extreme environmental temperature. If you have placed your laptop or computer screen near heat exhaustion, it can manipulate the LCD's pixels. Similarly, extremely high temperatures can also affect the pixels in your computer's LCD causing dots on the screen.
Another reason could be high humidity which can cause moisture to enter the screen and damage the pixels. This is more likely to happen if your screen is turned on in a humid environment. Sudden voltage drops or fluctuations in the voltage source can also internally affect your LCD and cause it to malfunction.
Dead And Stuck Pixels
When the undesired conditions occur on your computer screen, they cause the pixels to get stuck on displaying the same color or permanently damage them.
The permanently damaged pixels are also called Dead Pixels and cause the screen to show black dots. On the other hand, the stuck pixels also display only one color at a time, ranging from white to RGB colors. Stuck pixels can be fixed. Unfortunately, the same can't be said for dead pixels.
In some cases, for black dots, one of the main reasons they appear is an untidy or dusty screen. The environmental dust can be stuck on your screen and form black spots. These spots don't mean that your LCD is damaged or defective, nor can they affect the output quality of your screen.
But if the dots are more prominent than usual and are on multiple spots on your screen, they can easily be differentiable when compared to a clean screen. And if they aren't taken care of for a long time, they might become hard to remove.
Also Read: Get Computer Out Of Power-Saving Mode
How To Fix A Dot On A Computer Screen?
We have come up with different methods that you can try to remove dots on your computer screen. But before you move on to the fixing process, you must first confirm whether the dot appearing on your screen is caused by a dead pixel or a stuck pixel.
Their main difference is their colors; the dead pixels appear as black dots, while the stuck pixels appear as white, red, blue, or green dots. Though it seems easy enough to differentiate the two types of pixels, it is not always an easy job, as you can get confused with the colors when you are seeing them without the help of any tool.
To ensure which pixels are dead and which pixels are stuck, you can take some help from a pixel-detecting software called InjuredPixels. And if you are a Mac user, you can use the tool LCD DeadPixel Test, which you can find on your Mac browser.
Both of these tools are free to use and also work in the same way. They fully turn your screen to a single color and then change the color one by one so you can detect the dead and the stuck pixels. Below are some of the general solutions for both types of dots on your computer screen:
Visit JScreenFix.com
One of the first methods you should try to fix a dot on your computer screen is by visiting JScreenFix.com. It is a website that runs some repairs on your screen and fixes any stuck or dead pixels.
The best thing about this tool is that it can fix your screen in under 10 minutes, and it's very simple to use. JScreenFix the dead or stuck pixels by repeatedly making them change their colors. This process can take more than 10 minutes if you want to fix a larger area of your screen, but usually, it doesn't take more than 10 minutes to do the job.
Follow these steps to utilize JScreenFix:
Turn off your laptop/computer and leave it to cool down for at least

2 hours.


JScreenFix – Image Credits (Tech4Gamers)

When your system is cooled down, update your browser if it's outdated and search for JScreenFix.com


Launch Button – Image Credits (Tech4Gamers)

On the website, you will see an option to launch the repair. Click on that option.

After launching the repair, your computer screen will turn black, and a pixelated box will appear on the screen and can be moved with the mouse.


Pixel Fixer – Image Credits (Tech4Gamers)

Drag the box to the area of the screen with dots.

Leave the box in that area for around 10 minutes, and JScreenFix will do the rest.
Use PixelHealer
Another software tool you can try if the previous method didn't work is PixelHealer. It works in a way that's very similar to JScreenFix. The only major difference is that JScreenFix is a website tool, whereas PixelHealer is a downloadable program for your computer.
Before moving to the PixelHealer tutorial, we want to let you know that your screen will flash during troubleshooting. Therefore, take precautions before using this software if you have any medical conditions regarding flashing screens.
Here's how you can fix your screen with PixelHealer:
Download and install the PixelHealer software.


PixelHealer – Image Credits (Tech4Gamers)

Open the program, and you will see a red box.

Move the red box to the area where you suspect dead or stuck pixels to be present.

Click on the "Start Flashing" button to allow the software to begin troubleshooting.
Apply Pressure On The Dotted Area
If you see some large or tiny black spots on your screen, applying some pressure on that area might fix the issue. But you need to be very careful with this process as applying more pressure than needed can physically damage your computer screen.
To apply pressure, you will first and foremost need to make sure that your screen is clean. Ensure that there isn't any dirt on the screen by cleaning it with a microfiber cloth. When you are done cleaning your screen, take a solid object that has a round edge, like an eraser or the corner edge of your smartphone.
Also, ensure that the object doesn't have a rough surface that can cause scratches on the screen, as you will have to rub your screen with that object.
When you have found the right object, gently place it on the dotted area of the screen and apply a little bit of pressure. Then start rubbing the object against the screen slowly and try to remove the dots like you would erase pencil marks on paper. Doing this can fix the pixels causing the black dots.
WARNING: You must be extremely careful during the process, as pressing too hard on the screen can end up doing more harm than good.
Also Read: HDMI Port Not Working On PC
Reinstall The Display Drivers
If your LCD's output isn't 100%, that doesn't always mean that your LCD is at fault. Sometimes, problems can be with your input which can cause malfunctioning in the display. To fix this, you can try reinstalling your computer's display drivers. The display drivers in your computer may be corrupted and can be the reason behind this problem.
To reinstall your display drivers, follow these steps:
Go to your Windows

Device Manager

by right-clicking on the My PC/This PC icon and selecting the option for device manager.

In the device manager, click on "Display adapters" to expand it.


Device Manager – Image Credits (Tech4Gamers)

The display driver installed in your computer will appear; right-click it and select "Uninstall" to uninstall it.

When you have uninstalled the drivers, reinstall the drivers from where you installed them the first time, or download the drivers from the internet and install them.
Frequently Asked Questions
Why are there dots on my computer screen?
Dots on your computer screen can appear due to dirt patches or problems with the pixels of the screen.
How can I fix a dot on a computer screen?
You first need to identify whether the dot you are trying to fix is caused by dirt or by stuck or dead pixels. After identifying the dot, apply the solutions mentioned in the guide.
Can dots caused by dead pixels be fixed?
The dead pixels are the pixels that have been permanently damaged and, unfortunately, can not be fixed.
Was our article helpful? 👨‍💻
Thank you! Please share your positive feedback. 🔋
How could we improve this post? Please Help us. 😔