Starfield is Bethesda's most ambitious title ever, as it fulfills the studio's decades-old ambition of exploring the depths of space. The game has recently reached over 10 million players, performing well on platforms like Steam.
While it launched to very positive reviews on Steam, the game appears to have lost some of its appeal over the last few weeks. The Steam user reviews are no longer as positive, putting Starfield behind Fallout 76 on the platform.
Why it matters: Bethesda's promises and Starfield's position as Microsoft's biggest first-party title led to massive expectations for the game, with many anticipating it to be a strong contender for the Game of the Year award.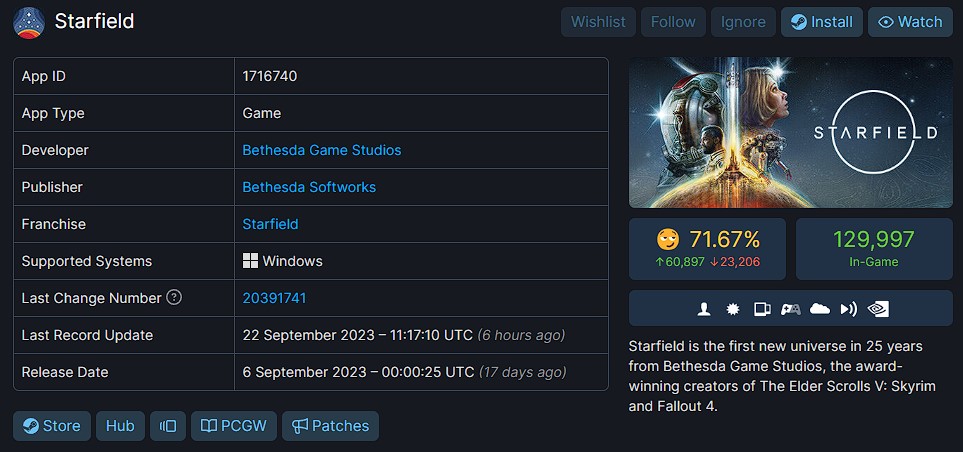 According to SteamDB, 71.75% of nearly 90K Fallout 76 reviews are positive.
However, Starfield has fewer reviews, and 71.67% of the 84,103 are currently positive on Steam. While this is a small difference, Fallout 76 has several thousand more reviews on the platform.
This makes Starfield's current reception on Steam disappointing. It should be noted that Fallout 76 was a disaster at launch, leading to several negative reviews during the early parts of its lifecycle.
However, the game has since managed to turn things around, surprisingly leaving Starfield behind. This also means that Starfield is now Bethesda's worst-rated game on Steam, with worse scores than Fallout 4 and The Elder Scrolls 5: Skyrim.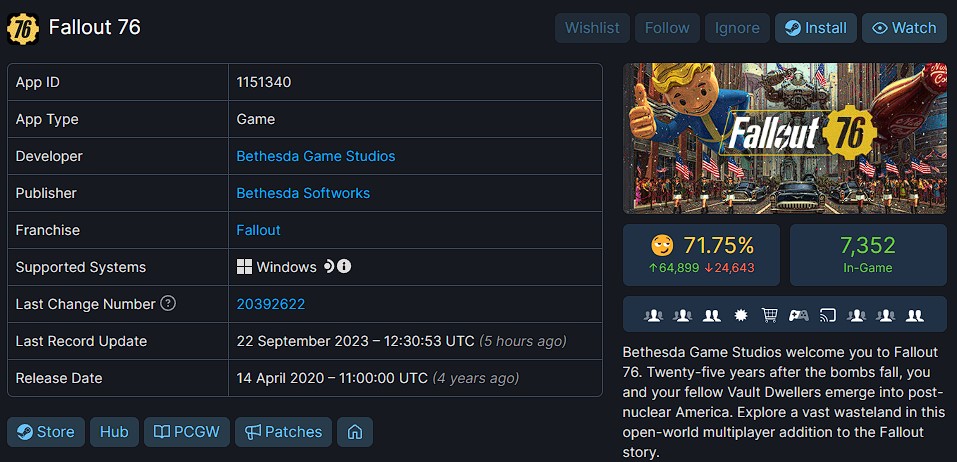 While Starfield has many positive aspects, it comes with poor optimization, which is a common criticism of the game. Many users claim that exploration feels unsatisfying and the game's slow beginning leaves much to be desired.
The exploration has also received criticism for the lack of seamless space travel since the game relies on loading screens and fast travel to take players from planet to planet in the vast universe.
Nonetheless, Starfield is still a massive success for Xbox and Bethesda. Following its launch, the title instantly became the second most played game on Xbox and the fifth best-selling game across Europe.
The game has shown no signs of stopping, reaching new milestones each week. Critical reviews have also been very positive, putting it ahead of Fallout 76 in this regard.
Was our article helpful? 👨‍💻
Thank you! Please share your positive feedback. 🔋
How could we improve this post? Please Help us. 😔
[News Reporter]
Obaid is pursuing a Law degree, while working as a content writer. He has worked as a gaming writer for over a year because of his passion for the medium and reporting the latest updates in the industry. Having played hundreds of games, Obaid finds himself coming back to Elden Ring and Red Dead Redemption 2, with these games being among his favorites. He has also been mentioned on highly regarded websites, such as Wccftech, Metro UK, PS Lifestyle, GamePressure, VGC, and Gamespot.