Nearly a hundred outlets released their review scores for Starfield yesterday, with scores averaging a respectable 88/100 on Metacritic. Despite numerous positive reviews, a few low scores have prevented the game from a score of 90 or higher.
Outlets like IGN, Gamespot, and PC Gamer have given the game scores ranging from 7 to 7.5/10. Nonetheless, Starfield appears to be an appealing release for fans of Bethesda Game Studios' previous work.
These scores also mean that the game has been unable to dethrone The Elder Scrolls 5: Skyrim as Bethesda Game Studios' best release of all time, but this rating is still a considerable step up over Fallout 4 on PC.
Why it matters: Starfield was the most ambitious undertaking for the studio, with Todd Howard and other developers wanting to make a grand space-centered RPG for nearly 25 years.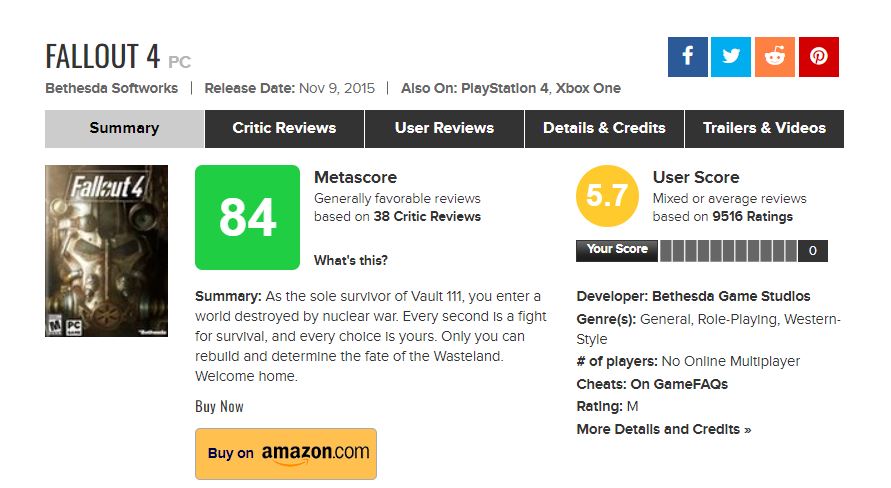 The Elder Scrolls 5: Skyrim remains the studio's best-rated game on Metacritic, achieving a score of 94/100 for the PC release on the platform.
On the other hand, entries like The Elder Scrolls 4: Oblivion and Fallout 3 have also obtained a score above 90/100, likely due to their incredible innovations in the RPG genre.
While Starfield had similar potential from the beginning, the game is held back by issues like multiple interruptions between space traversal and a flawed inventory management system.
Having been revealed over five years ago, Starfield had the nearly impossible task of living up to the mantle of Bethesda Game Studios' biggest project in decades and the most important Xbox first-party game in two generations.
All of this resulted in expectations that were nearly impossible to be met. While it may have ultimately fallen short of the industry's insurmountable expectations, the RPG marks a return to form for the studio after the poor release of Fallout 76.
Starfield was made available to the public yesterday, and hundreds of thousands of explorers have already begun their long journeys across the game's 1000 planets.
Shortly after the early access period went live, Starfield accumulated nearly 235K concurrent players on Steam, and this figure is expected to rise further on September 6.
With Starfield development completed, Bethesda Game Studios has finally begun early work on The Elder Scrolls 6.
The studio has embarked on another ambitious project, hoping to create the ultimate fantasy world in its quest to create a worthy successor to The Elder Scrolls 5: Skyrim.
Was our article helpful? 👨‍💻
Thank you! Please share your positive feedback. 🔋
How could we improve this post? Please Help us. 😔