Starfield's early access launch was met with outstanding numbers yesterday, with the game surpassing 230k concurrent viewers on Steam. However, players have been frustrated with one massive problem in the game.
Many players recently took to social media to express their frustration regarding the excessive loading screens that appear at almost every transition. From boarding a ship to entering a building, the loading screens are almost everywhere.
Why it matters: Loading screens are a necessary component of video games because they give the game time to render new objects and maps. However, having too many loading screens can be a big nuisance.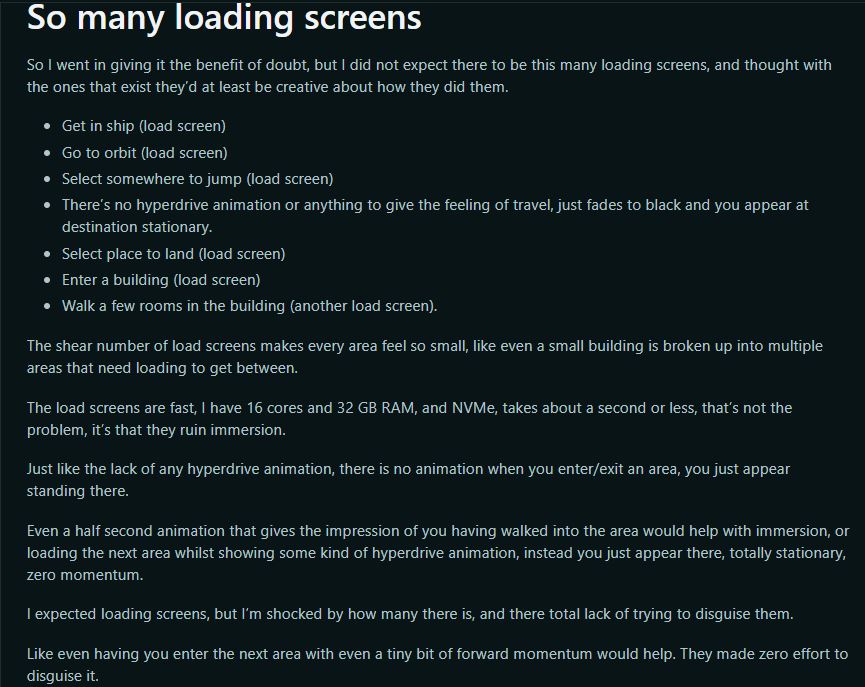 One user took to Reddit and stated that they had not anticipated the game to have this many loading screens and that Bethesda should have at least been creative with them.
The user pointed to various parts of the game that force players to sit through transitions. Starfield requires multiple transitions to travel between planets, but some users have pointed to a quicker method that involves fewer loading screens.
The user went on to say that although the loading windows only last for a brief period of time, they break the immersion one feels when playing the game, making them hard to digest.
Since Starfield is comprised of a massive world of over 1,000 planets, users are constantly on the move, hopping between the various worlds. However, this also means that they constantly run into these dreaded loading screens.
On a more positive note, the SSD technology in the new consoles makes these loading screens more bearable than they would have been last generation.

Similarly, another user also posted on Reddit and complained that the excessive use of loading screens makes it very difficult to immerse yourself in the game. The user said:
"These loading screens are a buzzkill."
Despite the excessive use of loading screens, it should be noted that Starfield's sheer magnitude and capacity to procedurally produce planets may not have been possible without such an implementation.
Users have also pointed out that Starfield allows direct fast travel without using the ship, but players continue to find this aspect disappointing in an otherwise immersive world with nearly infinite possibilities.
To somewhat circumvent the issue, Bethesda has come up with an inventive approach to the loading screens.
Starfield features a photo mode, and unlike other games, photos captured throughout the game are used as loading screens at different points. While this does not completely get rid of interruptions, it does add a creative touch to them.
Nonetheless, the game has been mostly well-received and is currently sitting at an impressive score of 88 on Metacritic.
Was our article helpful? 👨‍💻
Thank you! Please share your positive feedback. 🔋
How could we improve this post? Please Help us. 😔