The RTX 3000 series of GPUs from Nvidia are among the most powerful available to customers. However, there are many different GPUs to choose from, and the model names might be difficult to decipher. Our research has shown that many individuals, particularly those considering a custom PC build or a simple GPU upgrade, are confused by the differences between the Rtx 3060 Vs RTX 3060 Ti.
RTX 3060 Vs 3060 Ti Comparison Table
The GeForce 30-series GPUs are an excellent entry point for those new to GPUs or needing a new card. The Nvidia GeForce series has long been known for its high-quality design and powerful performance. The RTX 3060 and RTX 3060 Ti are especially impressive members of their GPU family.
Aside from minor design differences, all GPUs with an Nvidia GPU family have the same name, architecture, cooling system, and physical dimensions. However, there are a few key distinctions. As a general rule, miners should focus on the GPUs hash rate, whereas gamers should prioritize the card's speed and performance.
Importantly, we'll help you decide which one of the two GPUs seems to be the superior graphics card. Maybe it's the RTX 3060's 12 GB of vram. The 3060 Ti might still come out on top, despite having less than 8GB of VRAM. After the smoke clears, we'll announce a winner. Let's start with the difference in specifications between the Nvidia GPU siblings.
RTX 3060 Vs 3060 Ti
| | | |
| --- | --- | --- |
| Name | NVIDIA GeForce RTX 3060 | NVIDIA GeForce RTX 3060 Ti |
| Node | Samsung 8nm | Samsung 8nm |
| Architecture | Ampere | Ampere |
| CUDA Cores | 3584 | 4864 |
| Core Clock | 1320 MHz | 1410 MHz |
| Boost Clock | 1780 MHz | 1670 MHz |
| Memory | 12 GB GDDR6 | 8 GB GDDR6 |
| Memory Clock | 15 Gbps | 15 Gbps |
| Memory Bandwidth | 360 GB/s | 448 GB/s |
| RT Cores | 28 | 38 |
| Tensor Cores | 112 | 152 |
| Transistors | 13.25 billion | 17.4 billion |
| TDP | 170W | 200W |
| Power Connector | 1 x 8 pin | 1 x 12 pin |
| Launch Year | February 25, 2021 | December 2, 2020 |
| MSRP | $329 | $399 |
| Current Price | $400 | $500 |
| GPU Die | GA106 | GA104 |
| Memory Bus | 196-bit | 256-bit |
| Transistors | 13.25 billion | 17.40 billion |
| Interface | PCIe 4.0 | PCIe 4.0 |
Difference in Specifications
With the help of the above chart, we can note the changes in a few terminologies. The following table indicates how RTX 3060 Ti is ahead of its counterpart in terms of performance, even though they use the same architecture. While Samsung's 8nm technology is used in both cards, the difference in transistor count makes them significantly different. The difference between the RTX 3060's 13.25 billion transistors and the RTX 3060 Ti's 17.4 billion is impressive.
A newer, quicker Processor will have more transistors. On the other hand, the RTX 3060 is the most recent model since it was developed using the Ampere GA106 GPU chip. The GA104 GPU chip used in the RTX 3060 Ti is physically more prominent, which results in a lower heat concentration. The level of VRAM available to each is one key distinction. There are 12GB of GDDR6 in the 3060, but only 8GB in the 3060 Ti.
Furthermore, the 3060 has a higher boost clock, 1777 MHz, than that of the 3060 Ti at 1,665 MHz, suggesting that it will be the more powerful GPU. On the contrary, the opposite is true. The core clock speed of the RTX 3060 is 1,320 MHz across 3,584 CUDA cores, while the core clock performance of the RTX 3060 Ti is 1410 MHz across 4,864 CUDA cores.
However, the RTX 3060 Ti improves performance with less VRAM and a slower boost clock. The 3060's inferior 192-bit memory bus compared to the 3060 Ti's 256-bit memory bus is a significant contributor. That means less data is being transmitted around the 3060, which implies less data is being transferred to and from the GPU. A card's efficiency as a whole depends on its cooling system's details.
Moreover, power requirements for the 3060 are 600W for the system and 170W for the graphics card, while those for the 3060 Ti are 650W and 200W, respectively. The maximum temperature of both GPUs is comparable. However, the 3060 Ti requires more energy to run. It also implies the 3060 Ti may overheat sooner and use more power than its counterpart.
Benchmarks at 1440p
With the differences between the RTX 3060 and 3060 Ti GPUs clarified, it's time to put them through their paces. Understanding a graphics card's efficiency is just as important as knowing its price. Simply put, we need to know whether or not a GPU's performance justifies its price. For this reason, we run benchmarks in various video game environments to assess how well they function in real-world conditions.
The performance-to-cost proportion with raw rasterization power is the main priority of the testing. Here, we'll look through Testing Games' benchmarks to find which GPU is the most efficient overall in terms of power, heat output, and more. The following test PC specifications were utilized to compare the NVIDIA GeForce RTX 3060 and 3060 Ti.
PC Specifications
Processor: Intel i9 10900K 3.7GHz
Motherboard: MSI MPG Z490 GAMING PLUS
CPU Cooler: Zalman CNPS10X Performa
Graphics Cards: GeForce RTX 3060 12GB (MSI VENTUS 2X) & Geforce RTX 3060 Ti 8GB (MSI VENTUS 3X)
RAM: 32Gb RAM DDR4 3600Mhz
Power Supply: CORSAIR RM850i 850W
If we look at the above specifications of PC. It is an excellent build. Intel i9 is currently one of the top processors in the present time, with a combination of Z490. Both of these components work well together. It has a more robust VRM architecture and cooling solutions. To meet the increased TDP, power, and frequency requirements of the I9 10th generation.
MSI has taken several innovative and robust approaches to ensure they can provide enough support for these CPUs with their Z490 boards. To meet the increased TDP, power, and frequency requirements of the I9 10th generation, it has a more robust VRM architecture and cooling solutions. MSI has taken several innovative and robust approaches to ensure they can provide enough support for these CPUs.
However, in high-bandwidth workloads, a single core of the Core i9-10900K can reach the maximum clock speed of 5.3GHz. High-frequency DDR4-2933 RAM is a factory preset for the Z490 chipset. Increased overclocking margins for CPU and RAM are available for more excellent performance enhancements. For this benchmarking, Testing games have chosen 32 gigs of DDR4 overclocked at 3600Mhz.
Finally, the Zalman CNPS10X Performa CPU Cooler is what they rely on here at Testing Games. As a result, it is crucial to maintain a cool CPU temperature during benchmarks to prevent thermal throttle. Following this analysis of the testing environment, we will investigate the benchmarks to determine the best graphics card to invest in.
Cyberpunk 2077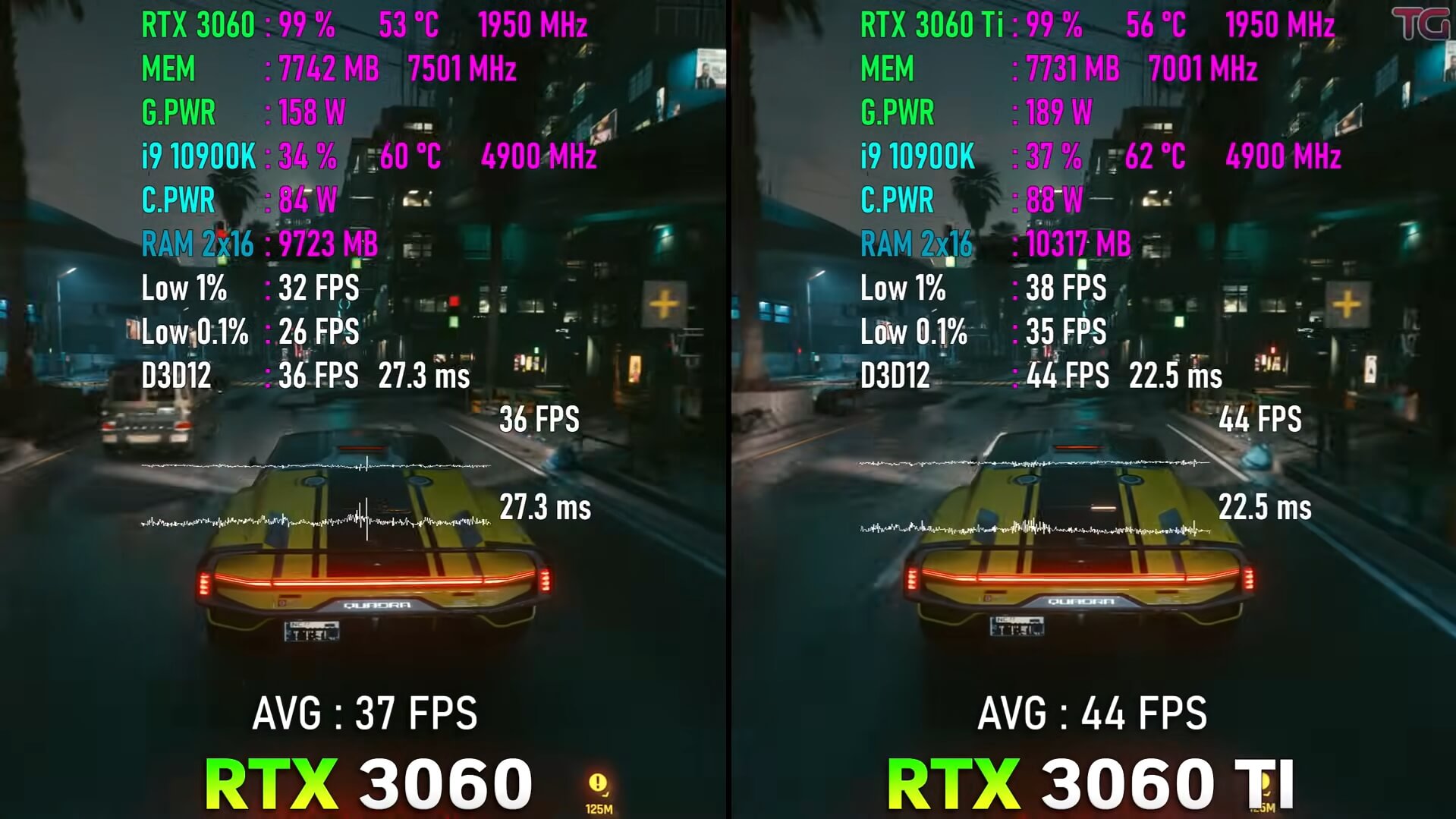 Cyberpunk 2077, developed by CD Projekt RED, is perhaps the most well-known open-world action role-playing game of recent years. It's demanding on the graphics and processing resources. CDPR brought Cyberpunk 2077 to life using their next-gen RED engine with built-in raytracing. CDPR intended for this to be its crowning achievement.
Thus considerable effort was put into the game's visual presentation in addition to the gameplay mechanics. Cyberpunk is built to handle state-of-the-art technologies like real-time raytracing, which gives shadows and reflections a sense of depth and realism in real-time. Cyberpunk is a very demanding game that may be this generation's Crysis despite raytracing.
Since this game is highly demanding, even high-end GPUs suffer when it comes to benchmarking. As shown above, all the settings are cranked up to high to get the maximum output from both GPUs. All the advanced settings are set on Ultra or High. Moreover, the Ray Tracing is on and set to Ultra. At the same time, the quality mode is preferred for DLSS.
If we compare the FPS of these cards in Cyberpunk 2077. There is not much of a difference. As you can see, there is only a 7 FPS difference in the average FPS between the two cards. RTX 3060 Ti can give you smooth gameplay of 40 FPS, and it would not drop under 30 FPS even for a second. Whereas the RTX 3060 can be seen losing some fps and even drops down to below 30 FPS when the scene is demanding.
As a result, if you want smoother gameplay. You might need to change your settings to High preset if you are playing on 1440p. There is an 18.91% difference in Average FPS between these cards in these settings. Remember that the two cards have a significant 17.5% price difference. Overall, the price-to-performance ratio is equal. So, if you are looking for a GPU that can run Cyberpunk 2077 on 1440p with ultra settings. Then, RTX 3060 Ti would be the card that you should go with.
Shadow of the Tomb Raider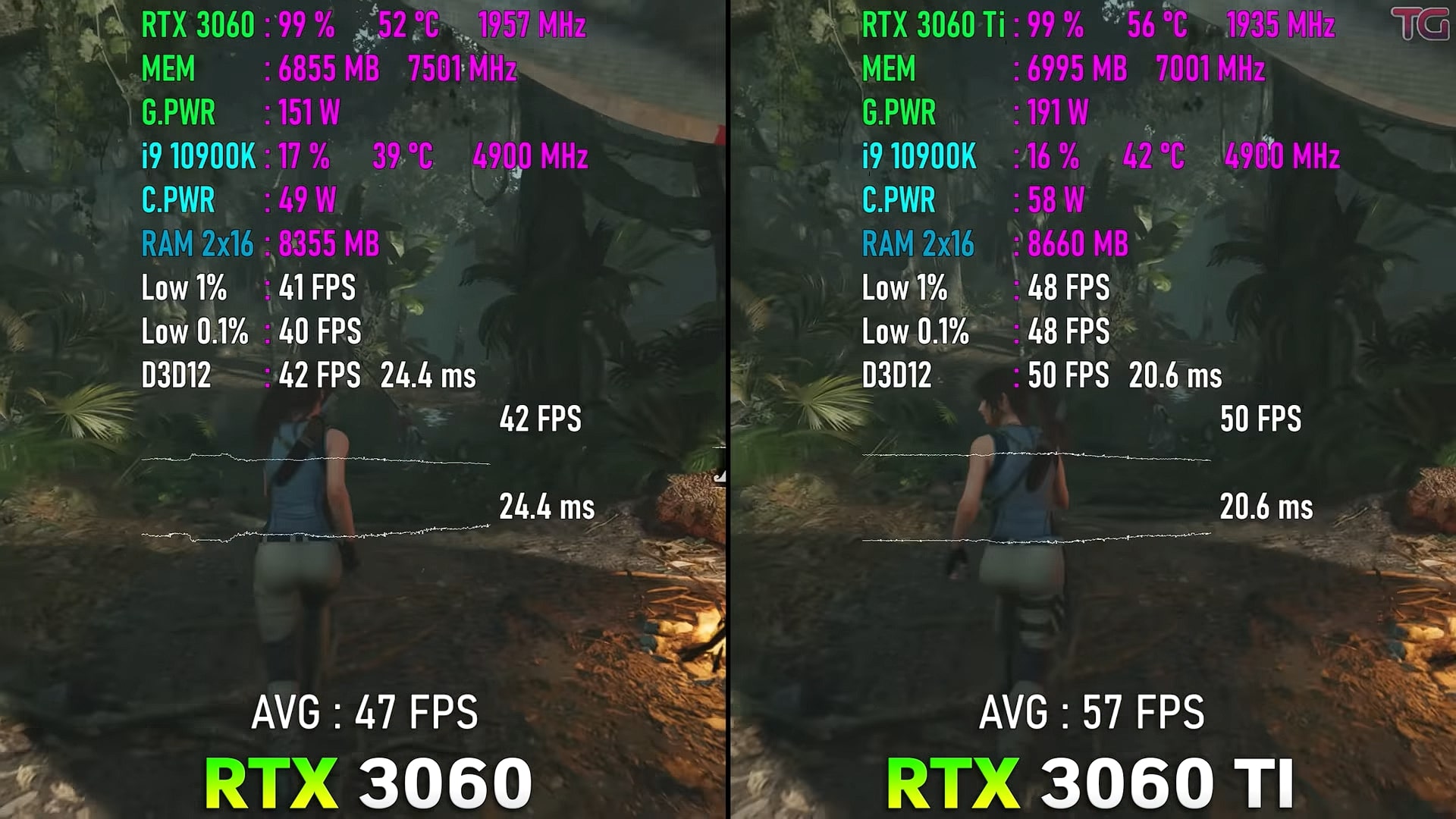 One glance at the game's trailers and pictures should tell you that this game needs a lot of testing; after all, Lara's latest journey isn't going to be easy on your GPU, with all that lush jungle and all. In Shadow of the Tomb Raider, there are a good 15 choices available in the graphics menu. The most cutting-edge technologies are screen space reflections, contact shadows, and the Pure Hair technology that gives Lara her characteristic ponytail.
The visuals of Shadow of the Tomb Raider are stunning. One of the most realistic jungle settings in video games is brought to life with meticulously detailed textures and models. The main character, Lara, has received a lot of care and now boasts one of the unique face animation systems available on PC. Although the game is a bit old, it still requires much of your system to run correctly. The settings used for this testing is the mix between high and Ultra will all the other elements set to on.
As shown above, We can see a significant difference between the usage of watts between the two graphics cards. RTX 3060 Ti is consuming around 195W of power. Whereas the RTX 3060 only consumes around 150W of power. This indicates that the RTX 3060 is not power efficient and will probably get heated up in a short period compared to RTX 3060 if we compare the FPS between these two cards.
The RTX 3060 Ti provides 10 FPS more than RTX 3060 on average. The performance difference between the two cards is 17.5% Which is fair if you consider the price difference. Both cards utilize the Processor and ram efficiently while maintaining their temperatures steady. The RTX 3060 Ti manages to get past the 60 FPS mark. On the contrary, RTX 3060 falls a bit short. So in this race, RTX 3060ti is a clear winner.
Forza Horizon 4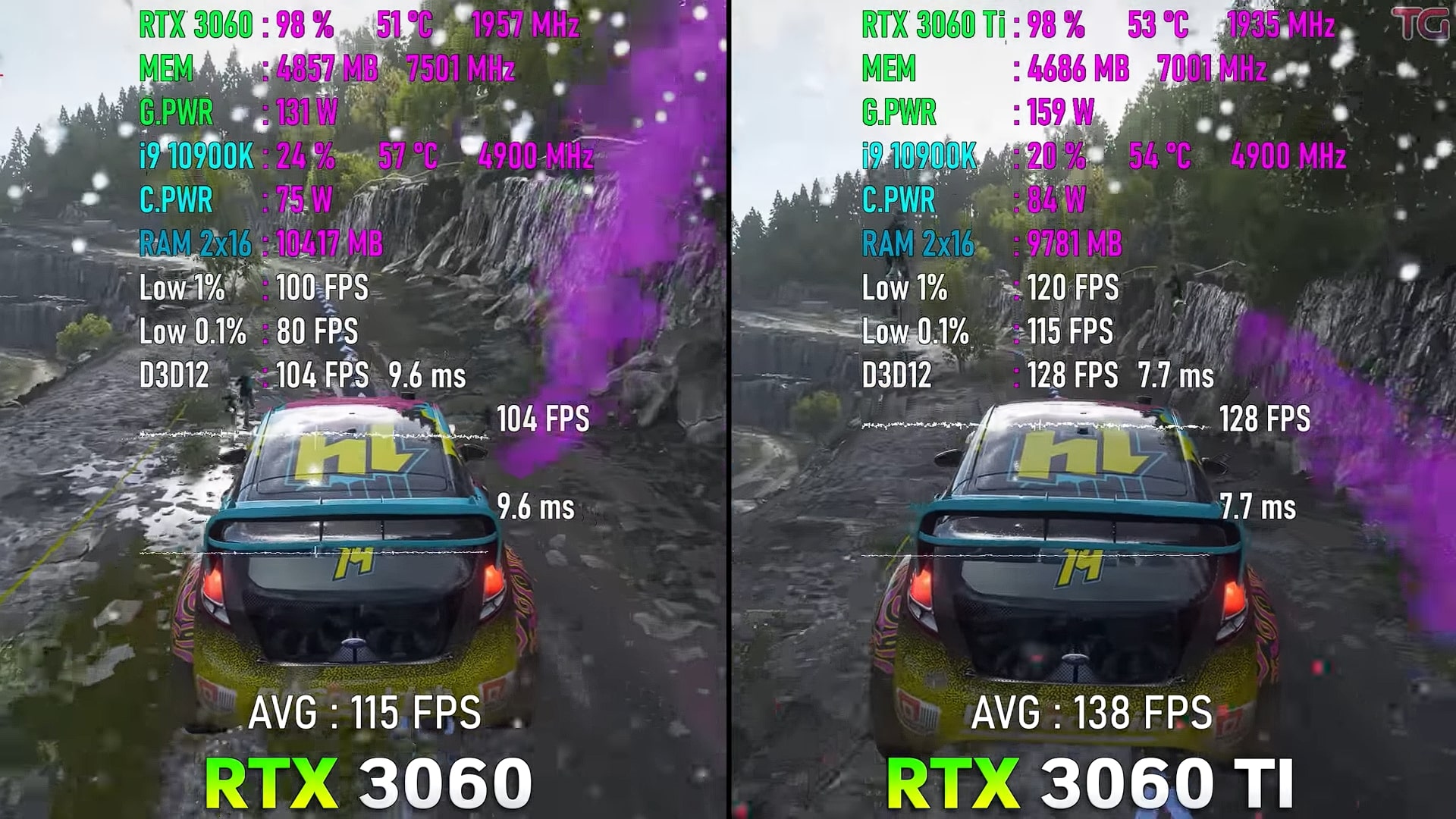 Indeed, it should be no surprise, given that Forza Horizon 4 is a visually stunning videogame. Playground Games has maintained the series' high standards by developing a racing game as realistic in its controls and gameplay as the high-end automobiles its features. Naturally, this raises concerns about system performance, from the most basic controls, like anisotropic filtering and texture quality, to the most fine-grained, like windscreen reflective surfaces, general reflective surfaces, and the geometrical reliability of both static and dynamic objects.
Furthermore, the advanced graphics menu offers more than 20 distinct settings to play around with. To get the most out of Forza, you may use this excellent set of tools to customize the game to your liking. Forza Horizon is not as demanding as compared to the AAA titles that are releasing at the moment. It is reasonably easy to run from medium to high specification machines. Although, at its prime time, it was still a hassle to achieve maximum frame rates even with good specifications.
The presets are set mainly on Ultra, with only a few at high. At the same time, all the advanced options are set to on. Consequently, RTX 3060 and 3060 Ti cards achieve stunning performance in Forza Horizon 4. The system is massively achieving over 100 FPS on both cards. Moreover, if we go into the depths of the frame rates. The RTX 3060 Ti achieves 138 FPS on average. While the RTX 3060 achieves 115 FPS. Henceforth, this makes RTX 3060 Ti 16.66% better than RTX 3060.
Lastly, there are no significant FPS drops on both cards. Even though, sometimes RTX 3060 fails to manage to keep the frame rates high above the 100 mark. It might affect you if you are playing on a higher refresh monitor and looking to achieve frame rates closest to your monitor's refresh rate. Overall, the RTX 3060 Ti has better performance and value than RTX 3060.
Horizon Zero Dawn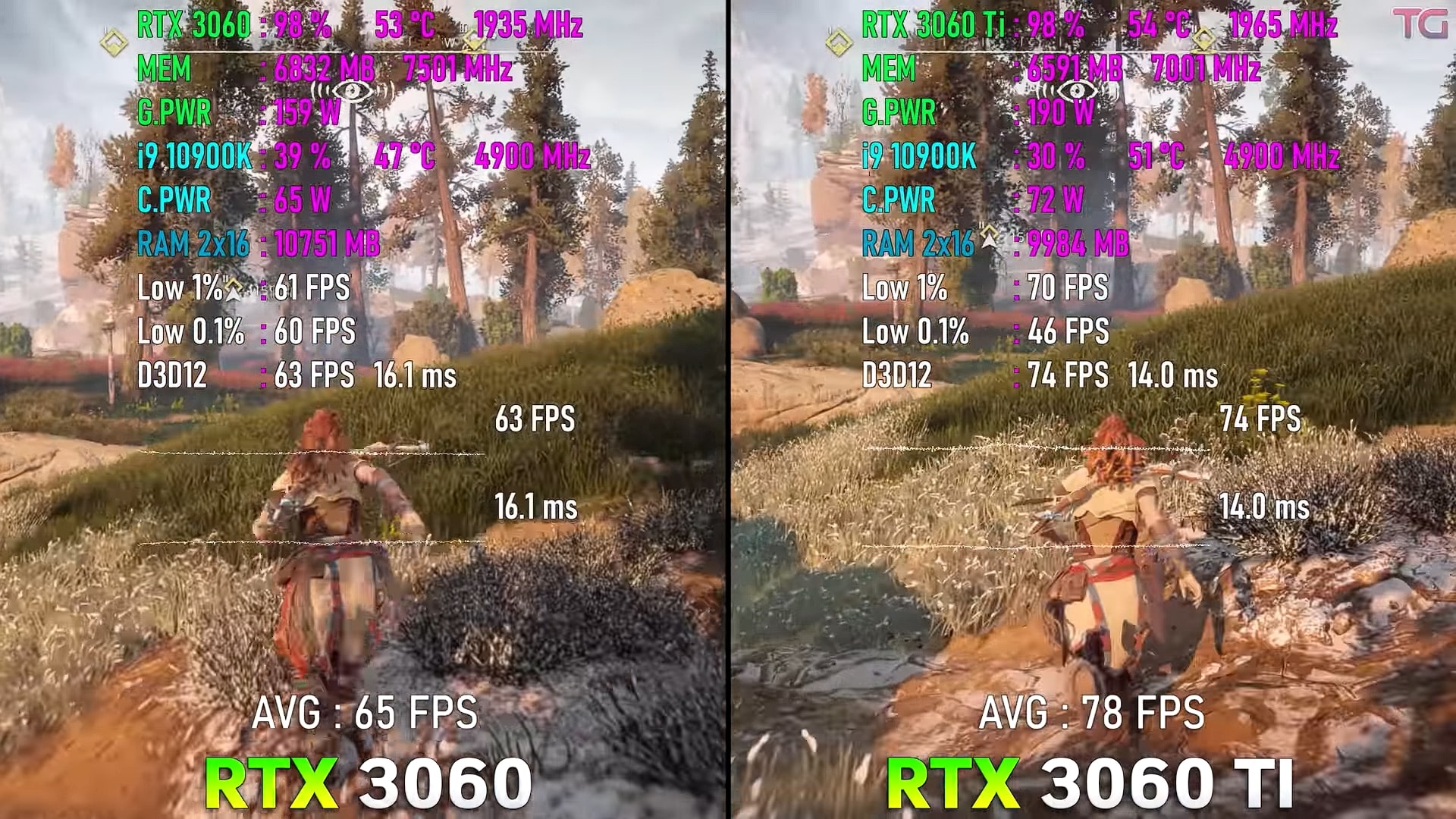 Horizon: Zero Dawn was first released on the PlayStation 4 around February 2017. The Dutch team Guerrilla Games handled the game's development and distribution. Horizon Zero Dawn was the second PlayStation exclusive to make its way to PC. It has some stunning visuals. It's hard to take your eyes off the stunning level of detail in the scenery or the character models.
Additionally, the textures are pretty distinct and clear. The Decima Engine is the foundation of Horizon: Zero Dawn and numerous other console games, including Death Stranding, but with varying technical specifications. The PC version's engine is DirectX 12-only, including photorealistic physics for its objects and lighting effects. In contrast to Death Stranding, Horizon Zero Dawn does not include NVIDIA DLSS or RTX Raytracing.
We think it's one of the finest triple-A games out there because of the stunning visuals and gripping tale. However, you'll need a powerful computer to play the game. It requires a powerful graphics card and CPU, primarily because of the open-world aspect of the game. For this comparison, the preset is set to Ultra quality to get the maximum output from both GPUs.
Consequently, RTX 3060 Ti manages to get 78 FPS on average. Whereas the RTX 3060 only manages to keep the FPS above the 60 FPS mark. Therefore the RTX 3060 Ti provides 16.66% more performance than its counterpart. All thanks to the more CUDA cores present in it. These cards can give you smooth 1440p gameplay on the Ultra preset. So, there is no difference between them regarding the settings.
However, the RTX 3060 Ti draws out more power and could heat the system during the long gaming session as the CPU temperature is higher than the RTX 3060 test. Furthermore, RTX 3060 Ti provides more performance than its alternative, and the price-to-performance ratio makes it the better card in this situation.
Battlefield V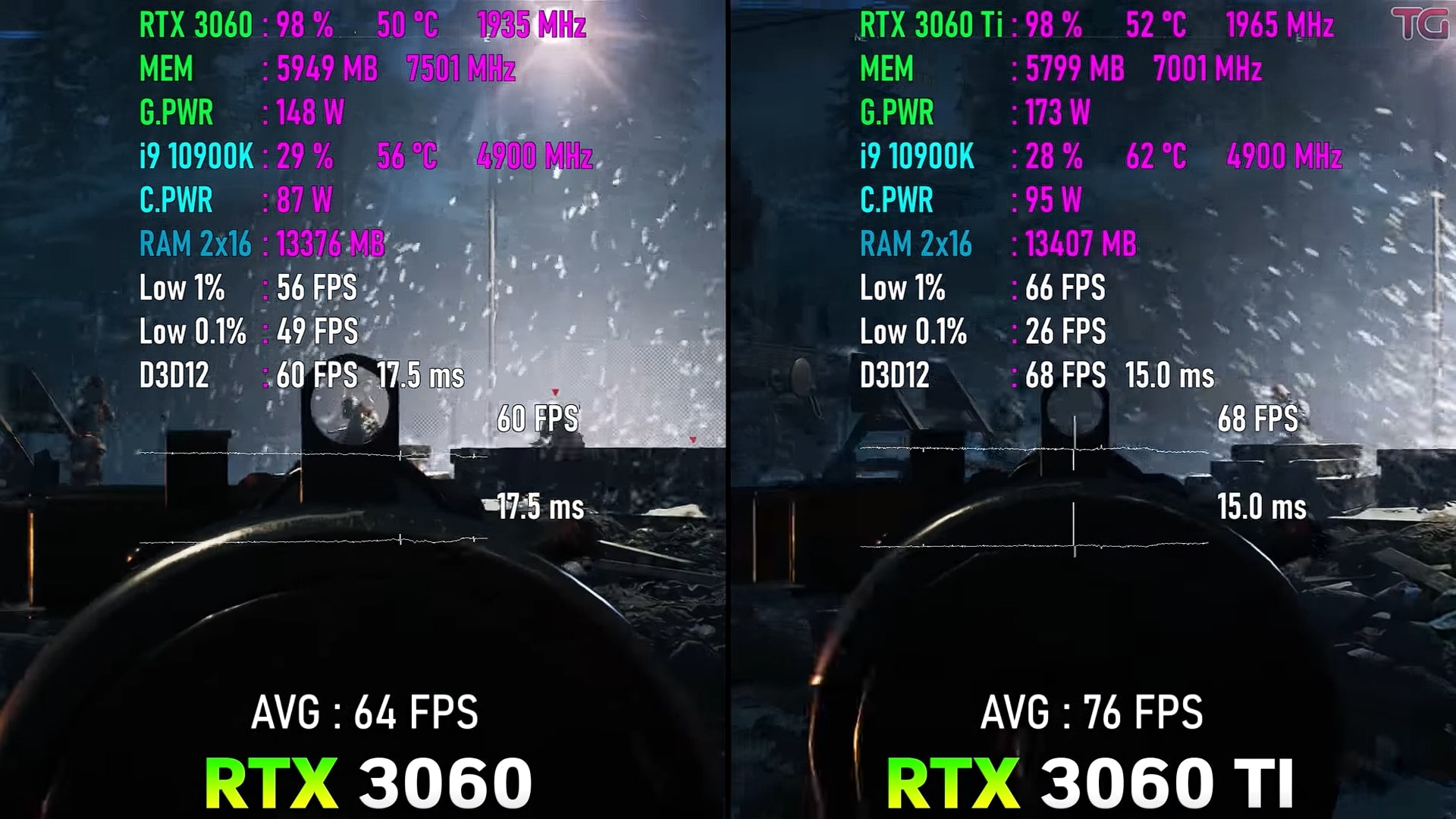 According to EA's records, Battlefield V is their most popular online first-person shooter series. Returning to World War II, the setting of the first Battlefield game, Battlefield V, completes a full circle for the series. Battlefield V's developers have put a lot of time and effort into the game's production design and technological improvements, as they do with every Battlefield game.
Frostbite 3, the newest iteration of DICE's game engine, is used with DirectX 12. DirectX 11 is also fully supported in the game. At its best, Battlefield V's visuals surpass those of its predecessor. However, it is very adjustable, with various choices ranging from Ultra for high-end cards to Low settings, with plenty of personalization for low-end cards. The game is a graphically stunning first-person shooter, and its attention to detail is astounding for a game launched in 2018.
The textures are often excellent. In particular, Battlefield V's rendering of structured surfaces, such as dirt, is more detailed than in previous games, frequently including accumulations of stones and the like. In addition, whether it's smoke, sparks, or explosions, each effect is realistic. Destructible surroundings and attractive lighting enhance the realism of the game. Therefore, let's look at the benchmark of these cards.
The settings that we used for this comparison are custom. Although, all of the quality advancements are set to Ultra. Moreover, DX 12 is enabled along with DLSS, and HUD scaling is set to 50%. Under these circumstances, both cards efficiently manage to get over 60 frame rates. The RTX 3060 Ti has an average of 76 FPS. On the contrary, RTX 3060 secures to get 64 FPS on the same settings.
Notably, this indicates that RTX 3060 Ti is 15.7% ahead in performance. Similarly, in this case, RTX 3060 Ti consumes more power than its counterpart at 177W throughout the test. Lastly, the lowest 1% FPS drop was recorded at 63 FPS for the RTX 3060 compared to 67 FPS for the RTX 3060 Ti. To conclude, both options are viable if you want to play this game on 1440p ultra settings.
Red Dead Redemption 2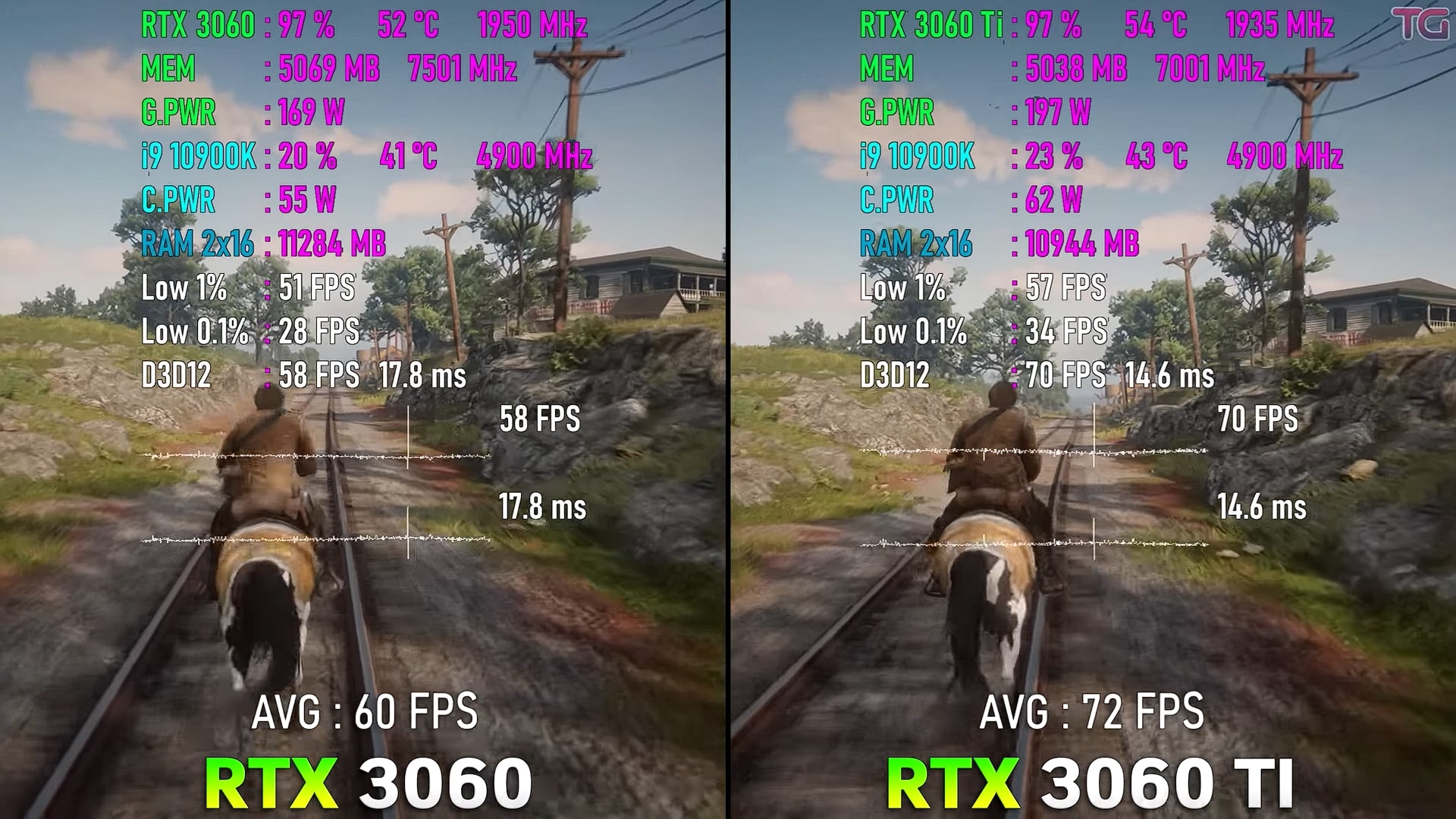 Regarding performance, Arthur Morgan may not call Red Dead Redemption 2 a pot shot. You'll need a high-end graphics card if you want to play it at a playable frame rate. In reality, Rockstar's next big hit following the Grand Theft Auto series was Red Dead Redemption. Not only does it look great, but the gameplay and narrative are also fascinating.
Keep in mind that Red Dead Redemption 2 is a demanding game. Similar to how Grand Theft Auto V was troublesome for PCs back in its day. Using a simple slider, you may quickly adjust your system settings to your liking in RDR 2. Various options are available within the quality presets; they include six 'Performance' modes, seven 'Balanced' profiles, and seven 'Quality' settings.
That's fine, but mere preferences won't produce significant changes. Instead, the graphics card being utilized affects how each of the more than 30 parameters in the preset is set up. The game is quite demanding overall, and even the most cutting-edge hardware currently available will have difficulties maintaining a decent framerate at 1440p. Whatever the case, let's get ahead into the comparison.
The settings that we use in the gameplay are mostly Ultra and high. Only the particle quality is set to medium. In all other aspects, the graphic settings are all maxed up. Under these settings, the RTX 3060 Ti consumes more power at 200W compared to the RTX 3060 at 170W. However, the CPU utilization and memory usage are identical. Both cards are utilized to 100%.
RTX 3060 Ti has an average of 72 FPS on these settings. Whereas the RTX 3060 has an average of 60 FPS. Notably, both cards are upto the 60 frame rates. It provides the smooth gameplay that every gamer thrives on. Consequently, RTX 3060 Ti is 16.66% ahead in terms of performance compared to its rival. If you keep the price into consideration which has a 17.5% difference. The RTX 3060 Ti is a much better option if you want to experience this game at its best.
Control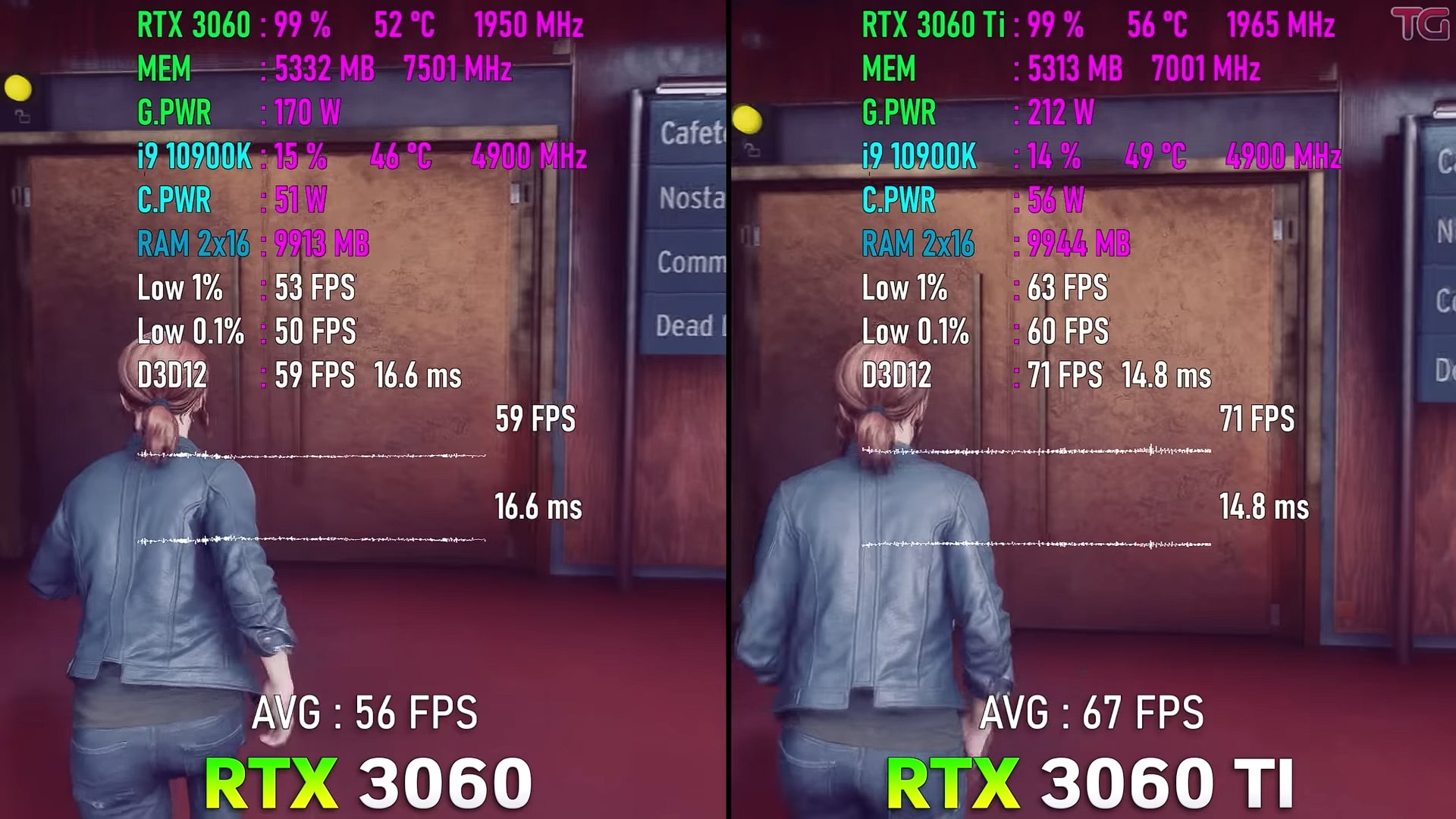 Remedy's 2019 physics-defying space shooter Control boasts some of the most outstanding visuals in the industry. Control is a unique twist on the classic run-and-gun genre from the creators of Max Payne, Alan Wake, and Quantum Break. Currently, Control offers the best support for Nvidia's ray tracing technology.
As is customary, activating DXR features such as realistic diffuse lighting, shadow effects, and solid and transparent reflections will significantly impact overall performance. Although Control can be brought back up to speed with the aid of DLSS, benchmarks show that it is very resource intensive, even on the sorts of high-end GPUs compatible with DLSS.
One of the most demanding games on PC performance is Control. This scary monster of a game is taxing on even some of today's most significant graphics cards at higher resolutions, so I figured it was high time to take a peek at what these cards are capable of. So, let's dive into the comparison.
The high-quality preset settings are used in this testing with NVIDIA DLSS, and all the other options switch to on. Moreover, Ray Tracing is enabled and set to high to get all the juice out from these GPUs. Hence, the RTX 3060 Ti once again shows a significant boost in performance when it comes to the FPS race. It has 67 FPS on average. Whereas the RTX 3060 fails to hit this game's 60 frame rate mark.
Therefore, the RTX 3060 performs 16.41% less than its competitor at 56 FPS. One alarming thing in the case of RTX 3060 Ti is the draw-out power. The GPU power on this card exceeds 200W, which is not power efficient. That's why we can see higher temperatures on it. Furthermore, it utilizes the CPU more efficiently, costing around 5 degrees Celsius. Both cards work flawlessly in this game, but if I have to choose one considering the price. My final pick would be RTX 3060 Ti.
Kingdom Come Deliverance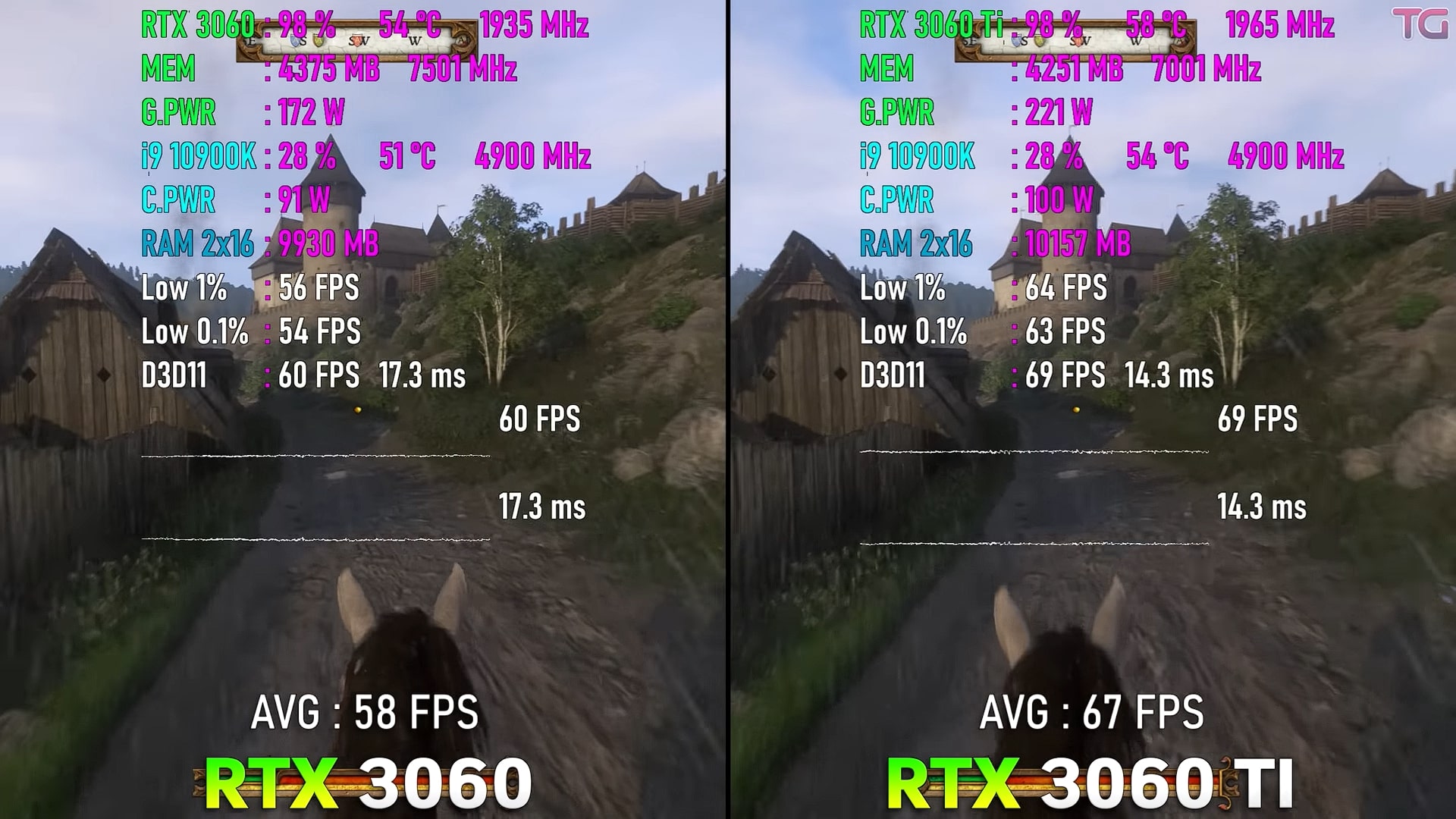 Kingdom Come: Deliverance is an expansive game that provides many ways to pass the time in 15th-century Bohemia. This brand-new setting, powered by the CryEngine, aspires to be the next Crysis. Every time you take a squelching step in the muck, layers of systems weigh in and make judgments. Kingdom Come: Deliverance's expansive and gorgeous setting might be challenging on your computer.
Games like "Ryse: Son of Rome" show that the engine can provide stunning visuals for games with a historical background when used by professional developers. There are two graphics menus in Kingdom Come: Deliverance, titled "graphics settings" and "advanced graphics settings," respectively. Here, you'll find the fundamentals, such as the field-of-view slider and graphical presets.
The game's visual settings allow for 16 adjustments, covering almost every important aspect. The settings will enable us to make adjustments to the depth of field, the quality of the water and the volumetric effects, the density of the foliage, the distance at which objects are rendered, the level of detail at which they are rendered, and the draw distance at which vegetation is rendered.
If we look at the benchmarks, we can see that the RTX 3060 Ti outperforms its counterpart with 13.4% by providing 67 FPS on average at 58°C. On the contrary, RTX 3060 gets 58 FPS on average at 54°C. Despite this, there is a significant gap between the GPU power of these two competitors. The RTX 3060 and 3060 Ti draws out 172W and 221W, respectively. The difference in power consumption is enormous. Conversely, all the things apart from it remain the same.
Similarly, the RTX 3060's 56 FPS was the lowest 1% drop compared to the RTX 3060 Ti's 64 FPS. Last but not least, the RTX 2070 Super and RTX 3060 Ti experienced drops of 54 and 63 FPS, at 0.1%, in terms of frame rate. Although, the difference in performance does not get ahead in terms of price. Only availability will be your main concern in choosing the winner because both cards are viable for this game.
Microsoft Flight Simulator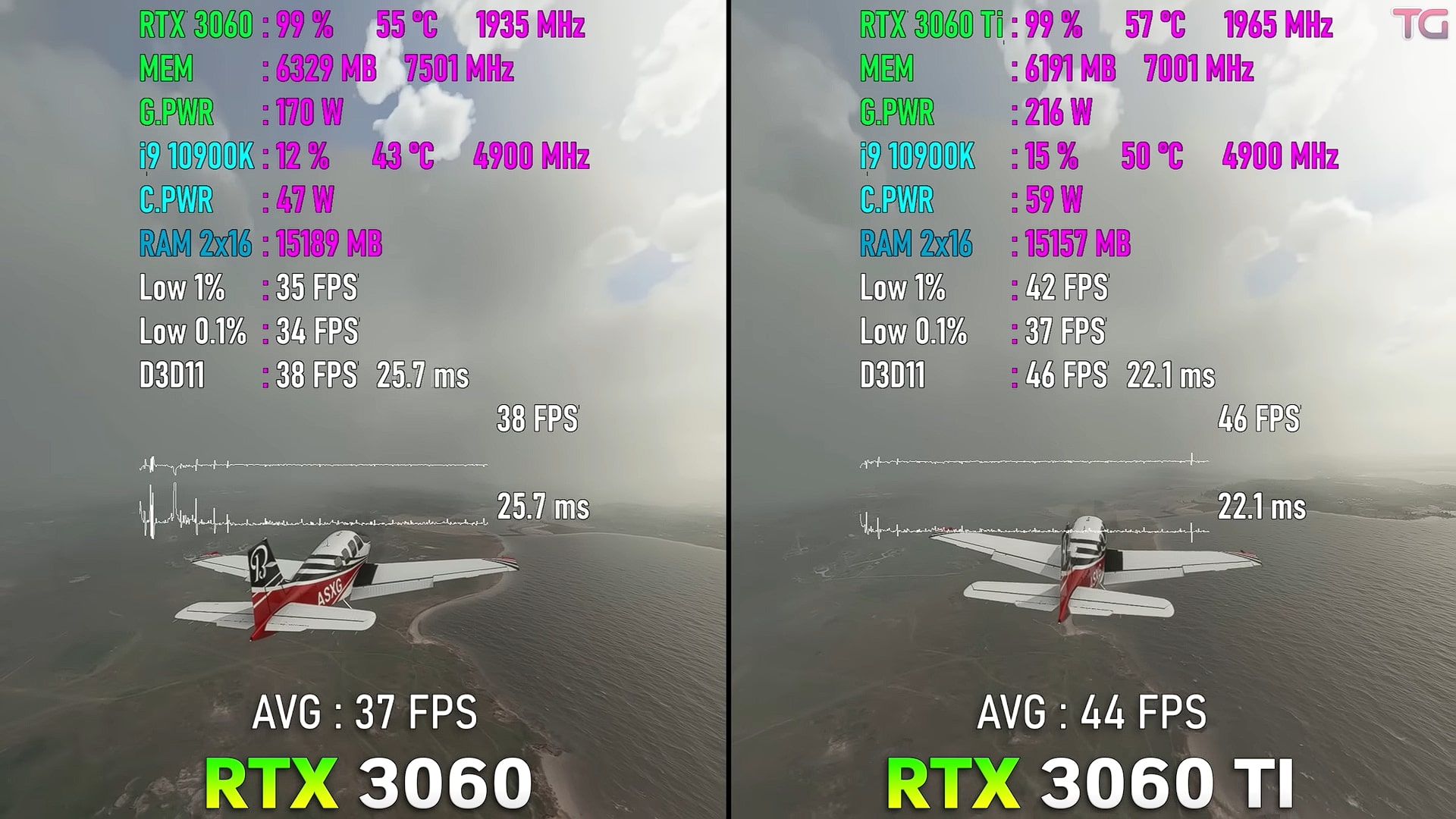 Microsoft Flight Simulator has been going strong for over two years, with a devoted following among flight simulation fans and real-world aviation fans. Asobo Studio, a development studio, collaborated with software giant Microsoft to bring the idea to reality. It attracts a brand-new demographic and set of followers.
In addition to the apparent upgrade in aesthetics, Microsoft's Bing satellite imagery and Azure cloud computing technology have been used to build a whole new and explorable Earth, which has taken the series to a new level. Despite some performance concerns and a high required hardware threshold, Flying Simulator's authentic flight experience, clever features that extend beyond the basics, and modernized aesthetics more than makeup for those drawbacks.
To begin with. Microsoft's flight simulator had performance issues even on the most potent hardware. Therefore, they released a performance update last year. When this happens, the game's performance is much improved. The visual aspects are essentially identical. However, there is a significant discrepancy in frame rates. The development team put in a lot of time and effort to make the simulator more efficient concerning processing power and memory.
Looking at the benchmarks, we can see that Microsoft Flight Simulator loves utilizing VRAM. Both of the cards manage to past 30 frame rates on Ultra preset. The game is highly demanding as it utilizes 16 gigs of RAM. The RTX 3060 Ti has an average of 44 FPS at 57°C. On the other hand, RTX 3060 has an average of 37 FPS at 54°C. With this result, we can see RTX 3060 Ti outperforming its counterpart with 16%. The difference in numbers is not big.
All the other utilizations are almost identical except for the power usage. The RTX 3060 draws out 167W of GPU power. Whereas the RTX 3060 Ti 212W. So, there is a significant difference between the two cards. More or less, the performance is the same. The only difference is their price. The price-to-performance ratio is equal to the performance difference. So, it's up to you if you want to pay extra bucks to get slightly more frame rates in Microsoft Flight Simulator.
Assassin's Creed Valhalla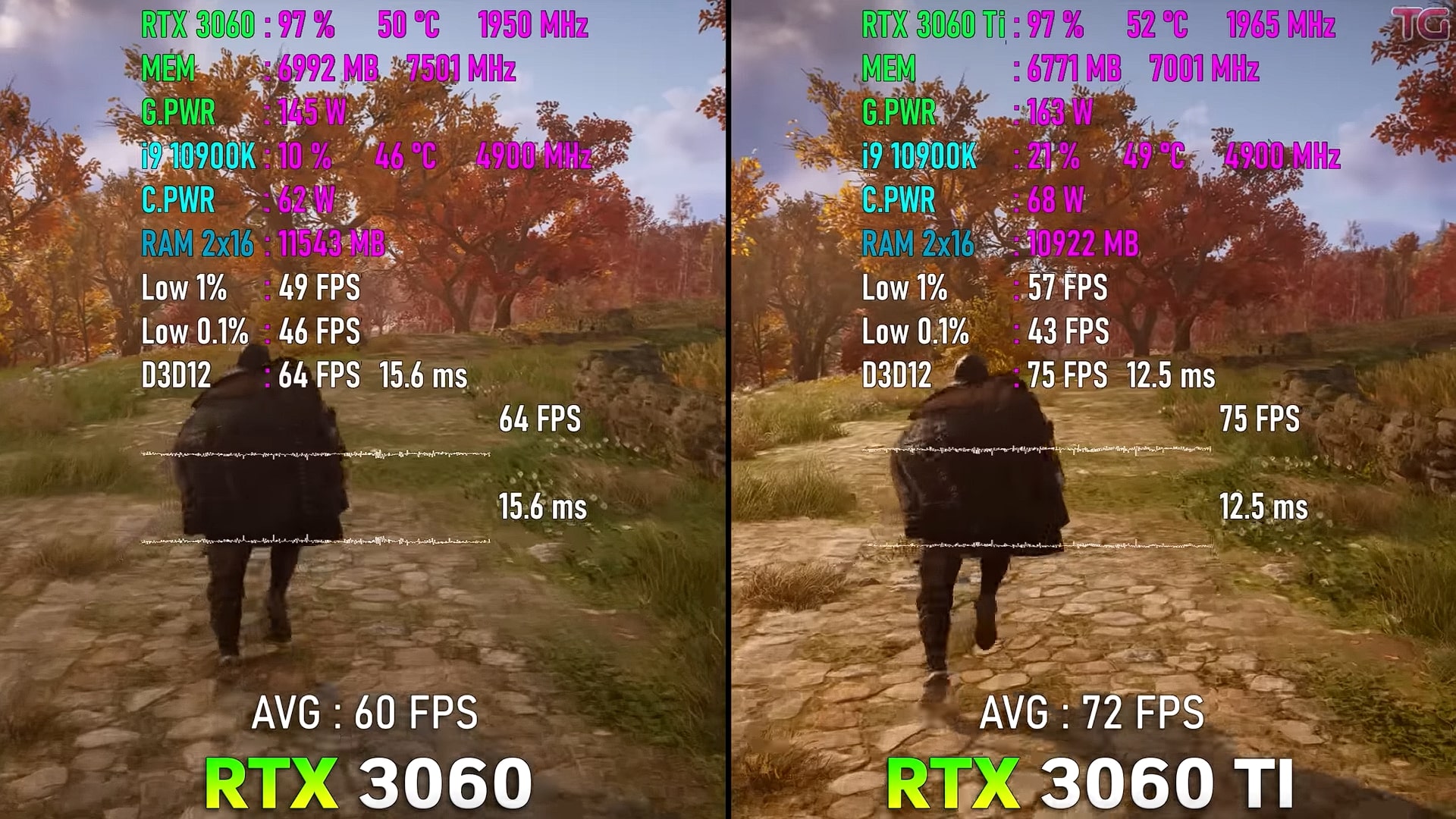 Assassin's Creed Valhalla is a Viking role-playing game in every word. Over the years, the series has seen several shifts, and the most recent entry represents what is perhaps the most pleasing synthesis of those shifts. In recent years, Ubisoft's major titles have been criticized for their subpar optimization. Even the most powerful graphics cards struggle to keep up with Assassin's Creed: Valhalla.
As a matter of thumb, while using Valhalla, you should aim for a resolution one notch lower than your graphics card can handle. The game's many scaling choices, which do a respectable job, are a huge plus. Numerous excellent options and game settings are available in this title. There is little visible change from the simplest to the most complicated mode settings. Ubisoft has a good variety of visual options.
Players may tweak visual aspects such as anti-aliasing, environment features, cluttering, reflections, realistic skies, water, textures, and depth of field. Motion blur and screen space reflections are also available as options. In addition to the frame rate cap and resolution scaling, Ubisoft has included a field-of-view slider. The first Assassin's Creed game to use the DX12 API indicates that Assassin's Creed Valhalla is officially no longer CPU-bound.
The setting used in the above testing is Ultra to push out all the performance of these cards. Looking at the gameplay, we can see both cards achieve smooth 60 frame rates. The RTX 3060 and RTX 3060 Ti have an average of 60 FPS at 49°C and 72 FPS at 52°C, respectively. Therefore, the difference indicates 16.66% more performance on the RTX 3060 Ti. The variance in wattage consumption is slightly less than in the above tests. The RTX 3060 uses 146W of power, while the RTX 3060 Ti necessitates 160W.
Lastly, the low 1% FPS on RTX 3060 is 47 FPS. Henceforth, it sometimes might drop below the 60 FPS mark, which would make you a bit stuttering. Conversely, the RTX 3060 Ti has a low 1% FPS of 57. This significantly differs if you aim to achieve no stutter during your gameplay.
It is a surprise that the RTX 3060 performs better on Low 0.1% FPS than its rival RTX 3060 Ti. But the chances of that happening is quite rare. As a result, in this final race, the RTX 3060 Ti takes the victory. It easily gets over 60 FPS on Ultra high settings at 1440p resolution. Nevertheless, both cards perform quite well in running this game.
Final Verdict
The additional money spent on the RTX 3060's VRAM seems for nothing. Therefore, this may be one factor maintaining the slightly elevated RTX 3060's pricing. Manufacturers must consequently incur costs to incorporate VRAM into their cards. Therefore, We do not see any reason to be afraid to go with the 3060 Ti. The VRAM was not used in any noticeable way. It did a far better job in most aspects. Therefore, in my opinion, the 1440p resolution is the way to go.
If you want to play AAA titles at such settings, the RTX 3060 Ti should be your minimum need. The RTX 3060, on the other hand, performs best at 1080p. Of course, we saw that it could accomplish much more if the settings were tamped down. Both of these GPUs are excellent options, but we recommend the 3060Ti.
It triumphs not because of superior performance but because of its profound impact. This card pushes the boundaries of what is possible in Nvidia's mainstream '60'-tier GPU segment, and it's just a step away from the RTX 3070. The 3060 is better suited for customers building a low-cost PC but willing to take a risk on 1440P. The 3060Ti is a solid choice for a middle-of-the-road option since it delivers excellent performance in both 1080P and 1440P resolutions.
Regardless, any of these GPUs will be a fantastic option for your PC and based on the fact that you can pick up either of them for MSRP, they're worth acquiring if you want to create a budget or mid-range PC. We hope you found this comparison helpful and wish you a wonderful time reading it. We'll meet again to make comparisons, as usual.
Frequently Asked Questions
Is RTX 3060 Ti enough for gaming?
The 3060 is better suited for customers building a low-cost PC but willing to take a risk on 1440P. The 3060Ti is a solid choice for a middle-of-the-road option since it delivers excellent performance in both 1080P and 1440P resolutions.
Is the RTX 3060 Ti worth it over the 3060?
If you want to play AAA titles at high settings, the RTX 3060 Ti should be your minimum need. The RTX 3060, on the other hand, performs best at 1080p. Of course, we saw that it could accomplish much more if the settings were tamped down. Both of these GPUs are excellent options, but we recommend the 3060Ti.
Is 3060 TI future-proof?
Previous research has demonstrated that older graphics cards with enormous memory reserves outlast newer, marginally faster GPUs with fewer reserves in current games. A better processor and speedier clock speeds won't help much if the card can't store much more data. Due to the significant performance hit, modern games avoid transferring data into the PC's main memory. If there isn't enough VRAM, the game will either utilize lower-resolution textures or skip rendering some of them altogether. Although the 8 GB 3060 ti is speedier and has a more powerful CPU, the 12 GB 3060 is predicted to have a longer usable lifetime.
Is the 3060 TI good for 4K gaming?
The 3060 Ti can efficiently run all the newer AAA titles on ultra presets at 1080p or 1440p. But, if we talk about the 4k resolution. We might need to crank down settings to low, or it might not even get stable fps for smooth gameplay. The older games will run fine, but we can't say the same for the newer ones.
Was our article helpful? 👨‍💻
Thank you! Please share your positive feedback. 🔋
How could we improve this post? Please Help us. 😔