If you're trying to connect and you see an error, "NVIDIA user account is locked," you need to reset your account password. The error occurs when multiple incorrect passwords have been entered for your account, and it usually disappears after a day.
Key Takeaways
The issue can be due to a public IP which can sometimes be erased through a simple router restart.
If the account is locked due to too many incorrect passwords, the account should be unlocked after a day.
The NVIDIA live support chat can help manually fix the account if no other fix works.
NVIDIA User Account Is Locked: Causes And Fixes
There can be a few causes for your NVIDIA account to get locked, such as an IP lock or too many invalid password attempts. Of course, there are a few fixes for such issues, such as renewing your IP and contacting NVIDIA Support. We shall discuss three potential fixes to help unlock your NVIDIA user account.
Also Read: How To Use Discord on PS4 without PC
Reset Account Password
The most common issue for an account getting locked is due to a lot of invalid password attempts. If that's the case, you will want to reset your account password. Thankfully, it's not a hassle to change your NVIDIA account password. Follow the subsequent steps to reset your password.
Firstly, go to NVIDIA's website and click on "Login." Upon scanning the page, you will find an option, "Login Help." Click on the button to get to the next page.


NVIDIA login page, "Login Help" – Image Credits [Tech4Gamers]

Now, click on "Reset Password" and follow the next steps.


NVIDIA user account "reset password" button – Image Credits [Tech4Gamers]

Now enter the email address you used to register your account and wait for a link on the account.


Enter your email address – Image Credits [Tech4Gamers]

Once you receive the email, open the link and click "Reset Account Password," which will help you change your password.
If your account is still locked after resetting your password, the fault may lie in your IP.
Also Read: NVIDIA Control Panel crashing
Renew The IP Address
Many websites, especially those that require logins, disallow public IP addresses. While you might have a private IP, sometimes settings can change, which can lock your account. In any case, NVIDIA similarly handles public IP addresses. For that reason, all you need to do is renew your IP address.
While renewing IP addresses doesn't seem easy, you must first change the router's IP. After doing so, you must change the computer's local IP and assign a new IP address from your Dynamic Host Configuration Protocol (DHCP). You can achieve these things by following the subsequent steps.
Go to the "Start Menu" or press Win + S and type in "Command Prompt."
Now, click on "Run as administrator."


Opening command prompt to renew the IP address – Image Credits [Tech4Gamers]

After opening the command prompt, type the following command lines one after another. These commands should help in renewing the local IP address.
ipconfig /flushdns
ipconfig /release
ipconfig /renew
Furthermore, we will use the following command lines to reset bad cache and configurations:
netsh int ip reset
netsh winsock reset
Now, close your router for around 20-30 minutes and restart your computer; your IP addresses should have been cleared.
If your NVIDIA user account is still locked after resetting your IP address, there's not much left to help retrieve your account. However, you can try contacting NVIDIA's support chat.
Also Read: Intel Wireless AC 9560 Not Working
Contact NVIDIA Support
If the above two methods didn't resolve your problem regarding the account, then either your account has been blocked, or NVIDIA's support team will need to fix it manually. Therefore, you can go to NVIDIA's support team and report your problem directly.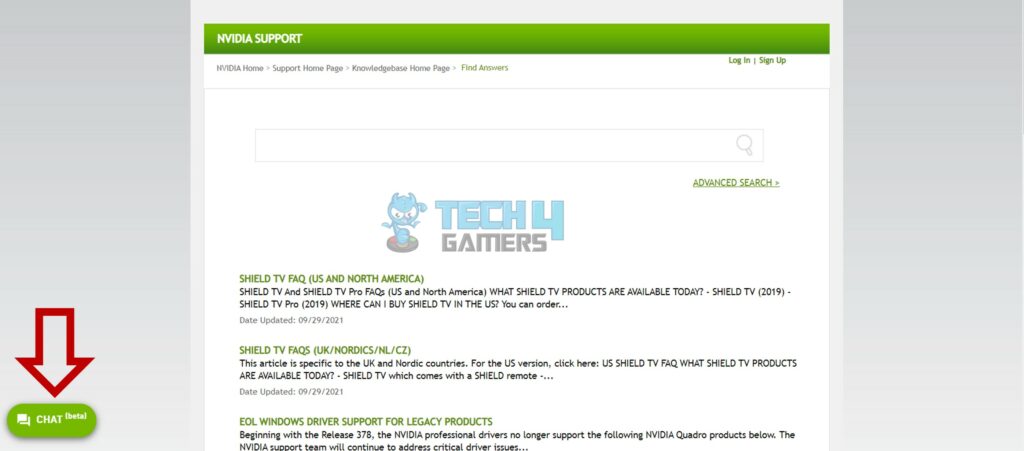 Once you're on the support page, click "
Chat (Beta)
," and you'll see a message from an
AI
. Request the AI to allow you to
speak
to a
live agent
, and it will send you a
form
to fill out.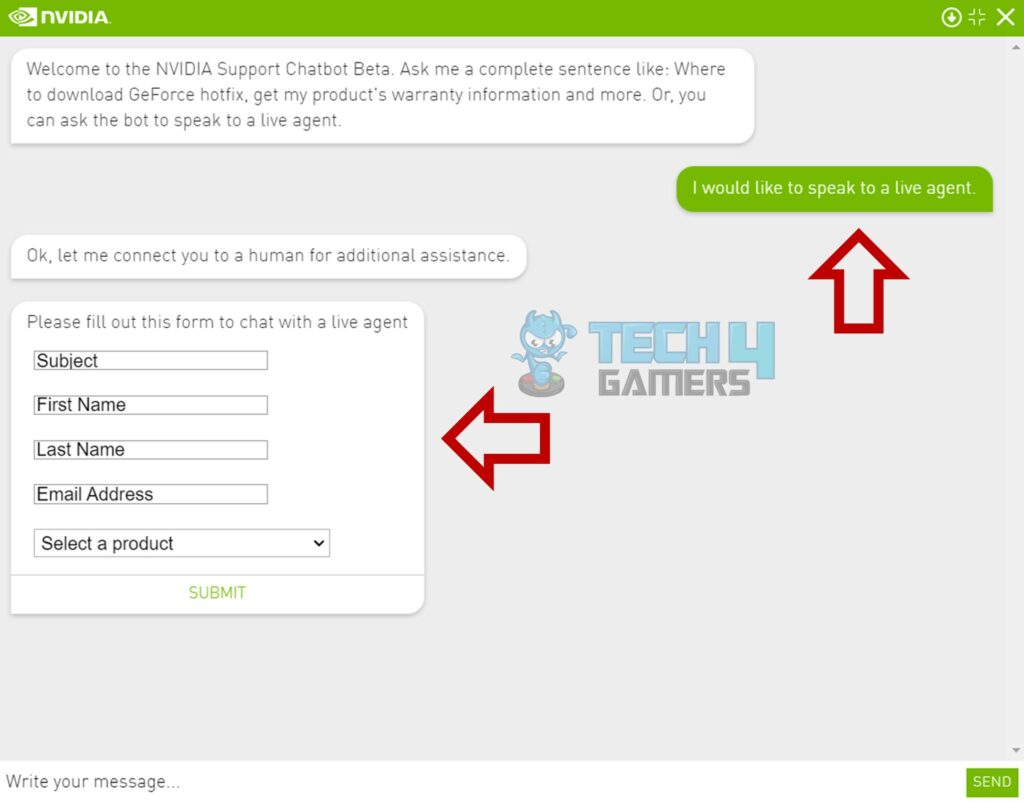 After
filling
out the
form,
you will be able to get in contact with a
live agent
who will help you in
diagnosing
what the problem might be. In case you have already
tried
the methods the agent asks you to do, they will
manually fix
the account from their side.
In conclusion, the support center will be helpful if your NVIDIA user account is locked and no other method works.
Also Read: Windows 10 Diagnosing Your PC Error
Conclusion
To conclude, there aren't a lot of causes or fixes for a locked NVIDIA account. However, most cases should be resolved by resetting your IP address. Many times, accounts get locked due to incorrect passwords, so changing the password can be an option too.
Also, if both fixes don't work, you always have access to NVIDIA's live support chat, which will surely fix your issues. Therefore, if you get such an error, don't worry too much and follow the in-depth steps provided. While opening the command prompt is scary for many users, you shouldn't be anxious if you follow the exact steps and type in the command lines correctly.
Frequently Asked Questions
Why is my NVIDIA account locked?
There can be multiple reasons for a locked account, such as a public IP address, too many incorrect password attempts, or even a blacklisted account. Sometimes a quick router restart might fix the problem.
How long will my NVIDIA user account stay locked?
If you attempted to log in multiple times with the wrong password, the usual lock duration is between 30 minutes and one day. However, your account might stay locked indefinitely if the reason is something else.
Can I still use my GeForce Experience account even if my NVIDIA user account is locked?
There should not be any problems with using your GeForce Experience account, as both accounts are used for separate purposes.
If my account is locked, will I lose it forever?
Using the fixes provided should hopefully solve the issue, and you should be able to get your account back. Contact NVIDIA live support for further assistance if the problem isn't solved.
Was our article helpful? 👨‍💻
Thank you! Please share your positive feedback. 🔋
How could we improve this post? Please Help us. 😔
[Errors Troubleshooting Expert]
Arsalan Shakil (aka GuyThatDoesEverything on YouTube) is a PC Tech Enthusiast and Electronic Geek. With over 10+ years of experience in Electronics, he then decided to explore Software Engineering to design embedded products and automate existing hardware solutions. 
When he started tearing down old cameras to understand how they worked, he was shocked (literally, when he got zapped by a flash discharge capacitor), giving him the power (debatable) to fall in love with videography/photography. He also started making some fun videos that later became YouTube tech reviews.
Skills:
10+ years of experience in Electronics design, embedded solutions, and prototyping

Majored in Software Engineering

Research paper publication in IEEE for Embedded Military Uniform & LoRa WAN wireless technology

Specialized in IoT Solutions

PC Enthusiast & PC Modder
In his local region, he's known to expose cheap PSU brands, often claiming fake certification or false claims on the box. He's a true nerd and needed some friends in his life. Then he met some guys who work at Tech4Gamers, and they also came out to be equal nerds who suggested he join Tech4Gamers as a Hardware Expert.