Mac users may encounter the error message, "Your Computer Restarted Because Of A Problem," due to corrupt data or OS. Furthermore, this Kernel Panic error will require effective troubleshooting, such as updating your macOS or performing a disk check.
Key Takeaways
The presence of malware or virus, faulty OS, and incompatible hardware are some causes for the computer restarting randomly.
Update the system software, disable unwanted startup items, and force quit background processes to fix the issue.
Use "Time Machine" or third-party software to recover lost data on a Mac computer.
What Causes The Error "Your Computer Restarted Because Of A Problem?"
Several reasons could cause this problem to occur on your Mac:
Incompatible hardware.
Conflicting software.
Faulty background processes.
Outdated software or incomplete installation of the OS.
Corrupted files in the system.
Unstable power supply or voltage fluctuations.
Overheating of the system or its essential components.


Your Computer Restarted Because Of A Problem (Image By Tech4Gamers)
Also Read: Another Computer Is Using The Printer
What Are The Signs Of This Error?
The things you will notice when this issue arises are;
Unexpected and frequent system restarts.
Loss of unsaved work.
Screen freezes or slower performance.
Operating system malfunctions.
How To Fix "Your Computer Restarted Because Of A Problem" On Mac?
While encountering the error on our Mac, we tested many fixes to eliminate the issue that we will discuss here. Before proceeding, check out what we did when we faced a similar issue on Mac, "You Do Not Have Permission To Open The Application."
Disconnect Peripherals
Incompatible or faulty hardware, like external drives or speakers, is one reason why you may encounter the problem on your Mac. Disconnect the peripherals from your Mac, especially if you started getting the error after attaching a new device.
Run A Disk Check
Sometimes, incorrect data on the system's disks can also give rise to such problems. Perform a disk check on your Mac to find and resolve persisting issues.
Check RAM
Incompatible RAM may interrupt your Mac's smooth running. Therefore, if you have recently installed a new RAM, make sure it is compatible with your Mac's model.
Perform Antivirus Scans
Virus or malware in the system is one of the significant causes behind your Mac's malfunctioning. When the issue came up on our Mac, we found signs of malware in our computer. After deleting the infected file, we could return to the usual operation.
Force Quit Apps And Background Processes
You can force quit problematic apps or background processes that may have become corrupted, causing your computer to malfunction.
Here are the steps to force stop the background process:
Click the "Apple" menu on the top bar's extreme left.
Select "Force Quit" from the drop-down.

Force Quit (Image By Tech4Gamers)

You should see a small window comprising the currently open tabs and background processes.
Highlight each of them and then press the "Force Quit" button.

Force Quit App(Image By Tech4Gamers)
Also Read: Computer Stuck On Restarting
Update System Software
We always recommend our readers to keep their devices up-to-date with the most recent software versions. Moreover, we implement this rule to keep our Mac, Android, and other devices free from errors and faults.
Quickly scan for recent updates with these steps:
Launch "Settings" from the bottom menu on your computer.

Settings (Image By Tech4Gamers)

On the left, highlight "General" and head to "Software Update."

Software Update (Image By Tech4Gamers)

Your Mac will automatically start detecting newer updates.

Checking For Updates (Image By Tech4Gamers)

Download and install if newer system updates are available.
Run First Aid And Repair Disk Permissions
Performing First Aid on Mac's disks allows troubleshooting disk-related errors to enhance its overall performance and resolve any underlying issues.
You can repair disk permissions with the First Aid option as instructed below:
Force shut your computer.
Now, press the "Power" button. Right after, simultaneously hold the "Command+R" buttons.
Let go of the buttons once the Apple logo appears on the screen.
Enter your credentials to log into the "Recovery Mode."
On this screen, pick the last option, "Disk Utility."

Disk Utility (Image By Tech4Gamers)

Click "View" on the top bar and choose "Show All Devices" from the drop-down.
You should now see the "Startup Disk" on the left pane. Choose it.
Press the "First Aid" option on the top panel.
Choose "Repair Disk Permissions."

Repair Disk Permissions (Image By Tech4Gamers)

Let the process complete, and restart your system to see if the trouble is resolved.
Disable Unwanted Startup Items
When unnecessary applications and tools are allowed to launch on system startup, it may conflict with the regular operation of the OS. Therefore, we disabled all the startup items and then restarted our Mac.
Go through our instructions to stop unwanted apps from launching when the system starts:
Go to "System Settings."

Settings (Image By Tech4Gamers)

Search for "Login Items" in the search bar and open the results.
Evaluate the applications shown on the screen and determine the unnecessary ones.
Highlight the apps you want to prevent from launching and press the "Minus (-)" button.

Login Items (Image By Tech4Gamers)
Clear System Data Storage
Another solution that worked for us was deleting old and unwanted applications and software from our Mac computer. It freed up space on th internal drive, thus eliminating the restarting issue.
Use these steps to free storage on the disk:
Head to "About This Mac" from the "Apple" menu.

About This Mac (Image By Tech4Gamers)

Click on the "Storage" tab in this dialog box.
Analyze if you have enough free storage. In case the available storage is low, you need to delete unnecessary files from the computer.
Press the "Manage" button.

Manage Storage (Image By Tech4Gamers)

In the left menu set, select "Applications" to view all the installed apps in one place.

Applications (Image By Tech4Gamers)

Delete the unwanted apps to clear up some space.
Apart from this, you can use the "CleanMyMac X" application to thoroughly scan your Mac and get rid of unwanted pictures/videos and files.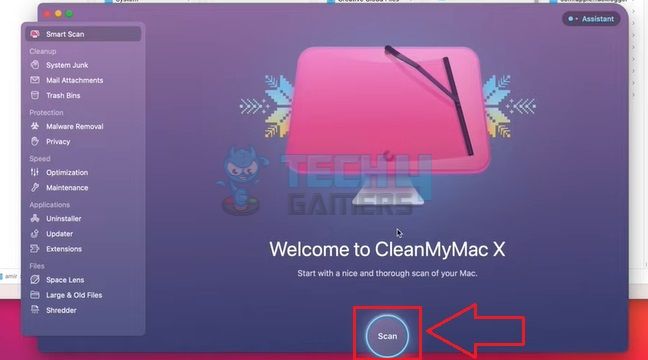 Reinstall macOS
Reinstalling the macOS repairs corrupt system files and data and clears data within the system cache to make space for newer and updated information.
Follow these steps to reinstall macOS on your computer:
Follow "Step 1 to Step 4" from "Method 6" of this guide.
Choose "Reinstall macOS."

Reinstall macOS (Image By Tech4Gamers)

The system will initiate the reinstall process and restart the computer once done.
Uninstall Applications Downloaded From Third-Party Sources
You may have downloaded malicious plugins or apps via third-party and unauthorized websites. Because Apple does not recommend downloading apps or files from any other source than Apple Store, your Mac may malfunction if you go against the protocols. Therefore, delete such apps or files to fix the issue.
Also Read: Avast: This Site May Have Harmed Your Computer
Check The Temperature
Overheating of the system or one of its essential components, like a graphics card or motherboard, can also cause it to restart unexpectedly. To solve the problem, we shut down our Mac and let it cool for about 20 minutes before restarting it. Additionally, you can learn the necessary steps if your computer's graphics card overheats.
Use Apple Diagnostics Tool
Before using the tool, ensure a steady power supply to the Mac and disconnect any unnecessary peripherals from the computer. Other than that, close all the running and background processes to prevent any damage to your files and data.
Easily navigate to Apple Diagnostics with this method:
Power off your Mac entirely and connect to a charger if you use a laptop or a power supply if it is a PC.
"Turn On" the computer and hold the "D" button as soon as the system starts.
Release the key when you see a "Globe" symbol on your Mac's screen.
Select your network from the drop-down and connect to it.

Connect To Network (Image By Tech4Gamers)

You should see the message "Starting Internet Recovery." Wait till the process completes.

Starting Recovery (Image By Tech4Gamers)

Now, pick a language to continue.

Select Language (Image By Tech4Gamers)

Hit "I Agree."

I Agree (Image By Tech4Gamers)

Apple Diagnostics will start "Checking Your Mac."

Checking Mac (Image By Tech4Gamers)

Once the process is done, check the scan summary and notice any errors or other troubles.
Also Read: Origin: We've Noticed Your Computer Is Offline
Reset PRAM/NVRAM
Resetting Parameter RAM (PRAM) and Non-Volatile Random Access Memory (NVRAM) can troubleshoot system-related problems, such as the error "Your Computer Restarted Because Of A Problem."
Here are the complete steps to reset PRAM and NVRAM:
Shut down your Mac computer.
Press the "Power" button to turn it on and immediately long-press the "Options+Command+P+R" keys on the keyboard.
Wait till you hear the second beep on the startup screen, or the Apple logo appears and disappears two times.
Once you notice any of the indications mentioned above, let go of the key combination. The whole process may take up to 20 seconds.
Doing so will reset the PRAM and NVRAM and start your computer without the persisting trouble.
Check Battery Health
While testing the fixes, we also learned that poor battery health could be a potential reason for the random restarting trouble on your Mac.
Check the battery health of your Mac with the following steps:
Proceed to the "About This Mac" option on the "Apple" menu.

About This Mac (Image By Tech4Gamers)

Press "System Report" on the dialog box.

System Report (Image By Tech4Gamers)

In the "Hardware" section on the left, highlight "Power."
Note the status in front of the "Condition" under the "Health Information" in the "Battery Information" section.
If it says "Normal", the battery is fine, and you do not need to change it. However, messages like "Replace Soon" or "Service Battery" means you need to replace the battery of your Mac.

Battery Health (Image By Tech4Gamers)
Enable Safe Mode
When you start Mac in Safe Mode, it only loads with the software and drivers required for it to function. All other apps are automatically disabled.
This is the quickest method to enter Safe Mode on Mac:
Shut down the computer.
Let 10 seconds pass before you long-press the "Power" button to start the system.
Release the button once the Apple logo appears and the screen reads, "Loading Setup Option."
You will see the "Startup Disk" on your screen. Click on it.
Now, hit the "Shift" key on the keyboard.
Click on "Continue In Safe Mode."

Continue In Safe Mode (Image By Tech4Gamers)

Select your user profile to boot the Safe Mode on Mac.
Verify that the "Safe Boot" message appears on the right side of the top panel.

Safe Boot (Image By Tech4Gamers)

Check if the computer is experiencing restarts in this mode.
What To Do If These Fixes Do Not Work?
It will be rare if none of those mentioned above solutions works to solve the "Your Computer Restarted Because Of A Problem" on your Mac. However, you can still contact Apple Support and inform them about the details and duration of the error.
Also Read: Mac: Your Computer Is Low On Memory
How To Recover Lost Data On Mac?
You may lose unsaved progress when your Mac restarts abruptly due to a problem. Fortunately, Mac tools like "Time Machine" can aid in data recovery. Moreover, software such as Stellar Data Recovery can also come in handy.
Frequently Asked Questions
Why Does My Mac Restart Unexpectedly?
Conflicting software, incompatible peripherals, and faults within the OS are a few reasons you may encounter the error.
Can Malware Or Virus Restart My System Without Warning?
Presence of malicious files or bugs in the system data can interrupt its usual operation, giving rise to such troubles.
How Can I Prevent Unexpected Restarts On My Mac?
Keep your OS up-to-date, only install apps from reliable sources like Apple Store, and regularly scan your computer to avoid such errors.
Was our article helpful? 👨‍💻
Thank you! Please share your positive feedback. 🔋
How could we improve this post? Please Help us. 😔
[Errors Troubleshooting Expert]
Arsalan Shakil (aka GuyThatDoesEverything on YouTube) is a PC Tech Enthusiast and Electronic Geek. With over 10+ years of experience in Electronics, he then decided to explore Software Engineering to design embedded products and automate existing hardware solutions. 
When he started tearing down old cameras to understand how they worked, he was shocked (literally, when he got zapped by a flash discharge capacitor), giving him the power (debatable) to fall in love with videography/photography. He also started making some fun videos that later became YouTube tech reviews.
Skills:
10+ years of experience in Electronics design, embedded solutions, and prototyping

Majored in Software Engineering

Research paper publication in IEEE for Embedded Military Uniform & LoRa WAN wireless technology

Specialized in IoT Solutions

PC Enthusiast & PC Modder
In his local region, he's known to expose cheap PSU brands, often claiming fake certification or false claims on the box. He's a true nerd and needed some friends in his life. Then he met some guys who work at Tech4Gamers, and they also came out to be equal nerds who suggested he join Tech4Gamers as a Hardware Expert.