Intel Core i9-13900HX and Apple's M2 Ultra were launched in early June 2023. They both offer a lot of strong performance and are two of the most powerful mobile processors in the market today. Let's examine the difference between these two laptop CPUs.
Key Takeaways
Both processors come equipped with 24 cores, but the Core i9-13900HX has 8 performance cores and 16 efficiency cores, whereas the M2 Ultra has 16 performance cores and 8 efficiency cores.
The M2 Ultra supports LPDDR5-6400 memory, which enables it to access memory faster to improve performance in some applications, whereas the l Core i9-13900HX supports DDR5-5600 memory.
In 3 out of 4 applications that we tested with these processors, It's evident that the Core i9 13900HX achieves higher scores than the M2 Ultra.
M2 Ultra dominates in graphics as it comes enabled with a 32-core GPU in contrast to Core i9 13900HX, which has an Iris Xe Graphics G7 integrated GPU.
Core i9 13900HX Vs M2 Ultra: Comparison Table
Processor
Core i9 13900HX
M2 Ultra
Architecture
Core i9
ARM architecture
Codename
Raptor Lake-HX
Rhodes 2C
Processing Node
Intel 10 nm
Apple 5 nm
Cores
24
24
Threads
32
24
Hybrid Cores
P-Cores: 8
E-Cores: 16
P-Cores: 16
E-Cores: 8
Frequency
2.2 GHz
2.4 GHz
Turbo Clock
5.4 GHz
3.5 GHz
TDP
55-157 W
60 W
Max. Operating Temperature
100°C
100°C
L1 Cache
80K (per core)
2MB
L2 Cache
2MB (per core)
20MB
L3 Cache
36MB (shared)
8MB
Integrated Graphics
Jan 4th, 2023
June 5th, 2023
Processor
UHD Graphics 770
Apple M2 Max GPU (76-core)
Architectural Differences
Also Check: Core i9 13900HX Vs Core i9 13900H
M2 Ultra Vs Core i9 13900HX: Benchmarks
The Core i9-13900HQ and M2 Ultra stand out as the latest and most powerful mobile processors in today's market, yielding significant capabilities with different strengths and weaknesses to make one better suited for a user. We will be discussing the differences between these two Laptop CPUs.
Geekbench 5 Single-Core Scores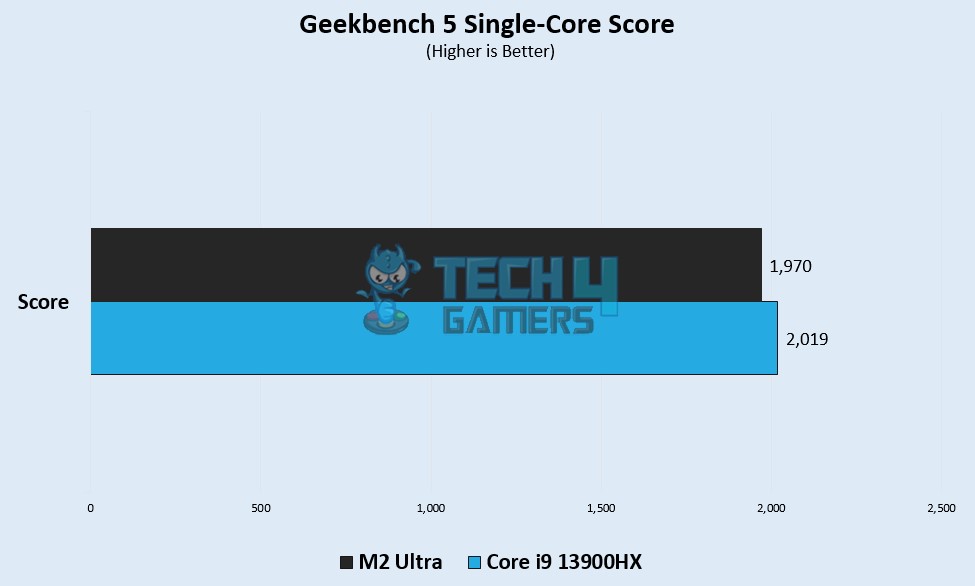 Both the M2 Ultra and Intel Core i9-13900HX scored almost the same, displaying a score of 1,970 points and 2,019 points consecutively, indicating that the Core i9 13900HX had a slight edge of over 2%.
Geekbench 5 Multi-Core Scores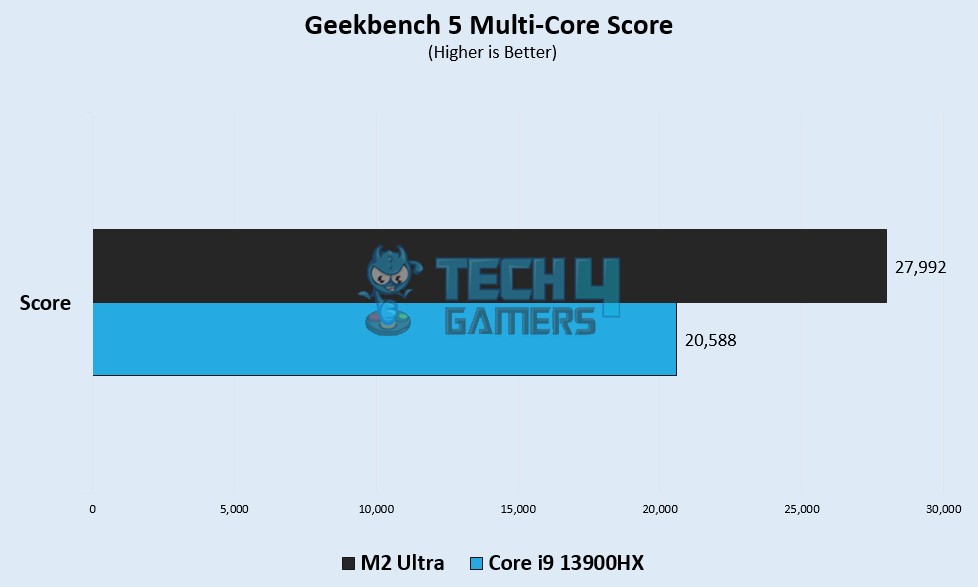 In Geekbench 5 Multi-Core test, the M2 Ultra dominated with a gain of over 36% scoring 27,992 points in comparison with Intel's Core i9-13900HX score of 20,588 points.
Cinebench R23 Single-Core Scores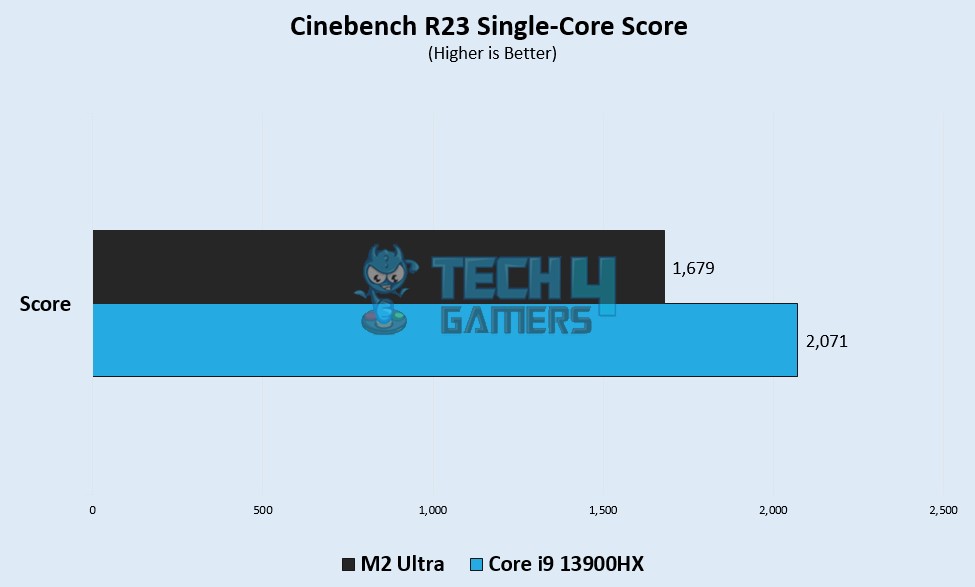 Intel Core i9 13900HX surpasses the M2 Ultra with an impressive score of 2,071 points in opposition to the M2 Ultra's 1,679 score showcasing a difference of over 23%.
Cinebench R23 Multi-Core Scores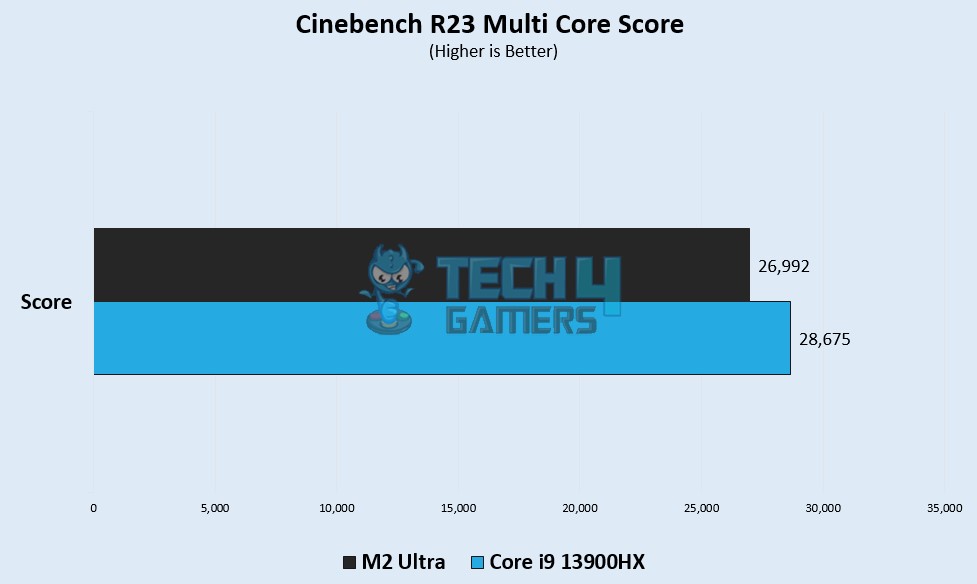 In the Cinebench R23 Multi-Core test, the i9-13900HX and the M2 Ultra scored relatively the same by showcasing 28,675 and 26,992, respectively. Where the M2 ultra falls behind slightly by over 6%.
Related: Apple M2 Ultra Vs Apple M2 Max
Which One Should You Go For?
The Intel Core i9-13900HX and M2 Ultra possess significant power. However, they both exhibit different characteristics, highlighting unique strengths and weaknesses.
Intel Core i9-13900HX has a higher clock speed and is an unlocked multiplier, which means it can be overclocked to achieve a higher performance in some tasks, such as gaming and video editing, giving it an advantage over the M2 ultra.
Pros And Cons
CPU
Pros
Cons
Core i9-13900HX

Higher turbo clock.
More heat efficient.

Less powerful GPU.
More expensive.

M2 Ultra

More powerful integrated GPU.
Supports LPDDR5-6400 memory.

Lower Clock speed.
Fewer number of threads.
On the other hand, the M2 Ultra is built on a more modern manufacturing process of 5nm versus 10nm, indicating that it has a more efficient architecture and a lower TDP than the Core i9-13900HX.
In terms of the integrated GPU, the Intel Core i9-13900HX falls behind significantly in graphics as it has a 24-core GPU with 96 execution units compared to the M2 Ultra's 32-core GPU with 960 execution units giving it a substantial advantage in graphics performance.
Nevertheless, the ultimate decision boils down to your individual preferences.
Frequently Asked Questions
Is Intel Core i9-13900HX good for gaming?
The Intel Core i9-13900HX offers great performance, making it great for gaming with a strong video card.
Is Intel Core i9-13900HX overkill?
Intel's i9 13900HX is a high-end CPU that certainly would be considered overkill for gaming as well as for productivity tasks.
Is M2 better than i9-13900HX?
The Apple M2 does lag behind in terms of performance when compared to the i9i-13900K. However, it is a great option if you want to upgrade from the M1 chip.
Was our article helpful? 👨‍💻
Thank you! Please share your positive feedback. 🔋
How could we improve this post? Please Help us. 😔