Error 80072EFE relates to the miscommunication between your computer and the Windows Update servers, particularly due to connectivity hurdles or corrupt software. We were unable to perform OS updates on our Windows when this error happened. Luckily, we discovered multiple fixes that solved the problem, as discussed in this guide.
Key Takeaways
Your computer cannot install the Windows updates when the error 80072EFE is present.
It may appear due to bad internet, faulty Windows components, incorrect system configurations, and more.
Resolve the error by disabling proxy, VPN, Windows Firewall, and third-party antivirus.
What Causes Error 80072EFE?
A few causes we found for this error are;
Faulty internet connection.
Hindrances from Windows Firewall or third-party antivirus apps.
Corrupt Windows components and cache.
Incorrect configurations of essential Windows services.
Wrong time and date settings on your PC.
Presence of virus or malware.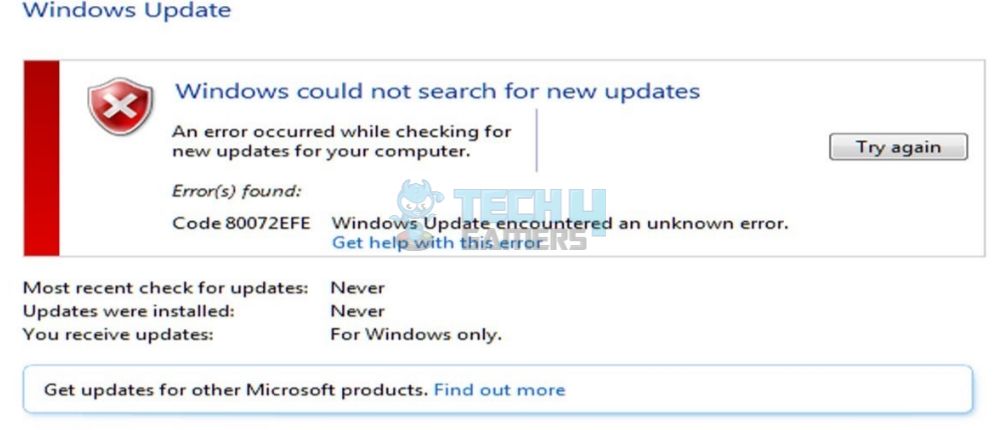 The error message appears as:
Error Message: Windows could not search for new updates. An error occurred while checking for new updates for your computer. Error(s) found: Code 80072EFE.
Also Read: How To Play Windows Games On Mac
How To Fix Error 80072EFE?
We advise you to start with the most basic troubleshooting methods that usually solve computer errors. These are;
Use Windows Update Troubleshooter
Windows troubleshooters come in handy when you want to identify and resolve problems within your computer. Windows Update and Network Adapters are two tools we used for the persisting Windows error.
Here are the quick steps to use built-in troubleshooters:
Go to "Settings" and open "Update And Security."
Find the "Troubleshoot" tab on the left menu and click it.
Press the blue-colored option, "Additional Troubleshooters," on the right.

Additional Troubleshooters (Image By Tech4Gamers)

Double-click on "Windows Update."

Windows Update Troubleshooter (Image By Tech4Gamers)

Choose to "Run The Troubleshooter."

Run Troubleshooter (Image By Tech4Gamers)

Wait for it to diagnose related issues and solve them.
Repeat the same steps for the "Network Adapter" troubleshooter.

Network Adapter Troubleshooter (Image By Tech4Gamers)
Use KB3138612 Update Patch (Windows 7 Only)
Download the KB3138612 Update Patch from Microsoft Update Catalog. Open the file once downloaded, and it will automatically install the latest update file on your system. Restart the computer to put the updates into function.

Similar Guides: Windows Wireless Service Is Not Running On Computer
Deactivate VPN
Enabled VPN on your computer can mess with the location data during Windows updates, causing such errors. As a result, we disabled the VPN, and the updates installed without any issues.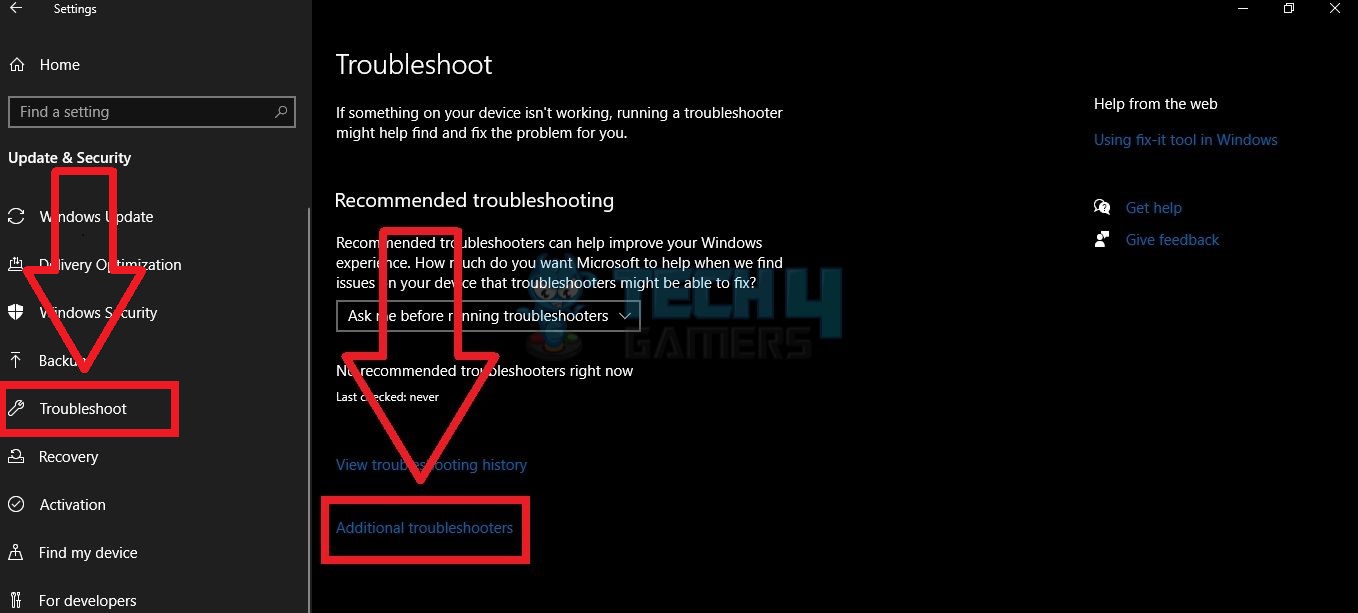 Verify Date And Time Settings
While updating Windows, your computer needs to sync with Microsoft servers for smooth installation. Hence, correct time and date settings are mandatory to avoid the error 80072EFE.
This is how you can enter the correct date and time configurations:
First, head to the "Clock And Region" section in the "Control Panel."

Clock And Region (Image By Tech4Gamers)

Select "Set Time And Date."

Set Time And Date (Image By Tech4Gamers)

On the "Date And Time" tab, go with "Change Time Zone."

Change Time Zone (Image By Tech4Gamers)

Find your current time zone in the drop-down and set it in the "Time Zone" bar.
Click "OK."

Select Time Zone (Image By Tech4Gamers)
Perform SFC And DISM Scans
SFC and DISM scans are useful in identifying potential troubles with the system and Windows-related files. In the "Command Prompt," enter the codes mentioned below one after another:
sfc/scannow
dism/online/cleanup-image /checkhealth
dism/online/cleanup-image /scanhealth
dism/online/cleanup-image /restorehealth
Disable Windows Firewall
Consider temporarily disabling the Windows Firewall since it can interfere with certain processes and applications on your computer. Additionally, remember to turn on the Firewall once the error is fixed.
Follow the instructions below to stop using Windows Firewall on your computer:
Launch the "Run" dialog box and execute "firewall.cpl."

Firewall Code (Image By Tech4Gamers)

Notice the option to "Turn Windows Defender Firewall On Or Off" on th left panel of the screen. Click on it.

Turn Windows Defender On Or Off (Image By Tech4Gamers)

Select the boxes beside "Turn Off Windows Defender Firewall" in both sections.
Hit "OK."

Turn Off Windows Defender (Image By Tech4Gamers)
Turn Off Proxy
Apart from other fixes, our team made sure to disable the proxy to improve network performance on the system to carry out seamless updates.
Use these steps to disable proxy settings on your PC:
Open the "Network And Internet" section in "Settings."
Switch to the "Proxy" tab on the left menu.
Scroll down on the right and turn off the toggle switch under both proxy setups.

Turn Off Proxy (Image By Tech4Gamers)
Also Read: Automatic Repair Couldn't Repair Your PC [16 FIXES]
Scan For Malware And Virus
We also ran a scan using the Microsoft Offline Defender tool to hunt for malware and viruses in our system. The presence of these can also lead to this error. Important: Regularly scan your PC using an Antivirus to prevent viruses from ruining your experience.
Turn Off Third-Party Antivirus And Other Software
Uninstall any third-party software you recently downloaded, after which you have faced the error. See if that fixes the trouble on your side.
Other than this, delete the third-party antivirus on your computer, like Avast or McAfee, because they can possibly block your access to different Windows services.
Restart Windows Update Service
Restarting the Windows Update service clears bugs and temporary glitches that may stop your computer from installing the updates.
Carefully follow the method to avoid a malfunction:
Again, open the "Run" box and search for "services.msc."
Find the "Windows Update" service and right-click on it. Choose "Properties."

Properties (Image By Tech4Gamers)

Keep the "Startup Type" as "Automatic."

Automatic Startup (Image By Tech4Gamers)

Come back and highlight the service.
Hit "Restart" in the top left corner.

Restart Windows Update (Image By Tech4Gamers)

Follow the same method for "Background Intelligent Transfer Service."
Also Check: Windows Could Not Prepare Computer To Boot Installation Error
Reset Windows Update Components
We found that corrupt Windows Update components were a major hindrance to the OS update process on our PC. Therefore, we reset their configurations to eliminate unwanted cache and glitches.
Ensure you enter the right codes as instructed in the following steps:
Get to "Command Prompt" by searching for it in the "Search Bar."

Search Command Prompt (Image By Tech4Gamers)

Enter these codes one by one
net stop bits
net stop wuaserv
net stop appidevsc
net stop cryptsvc
Execute the code "netsh winsock reset."
Next, rename the Software Distribution folder using the command, "ren C:\Windows\SoftwareDistribution SoftwareDistribution.old."
Resume the services
net start bits
net start wuaserv
net start appidevsc
net start cryptsvc
Reset Local Group Policy
It is a common troubleshooting method to rule out misconfigured or corrupt Group Policy on the computer. Because the error 80072EFE is linked to network issues, resetting Group Policy settings to default will undo any changes causing the issue.
This is the detailed process for carrying out this fix:
Come to the "Run" box and type "gpedit.msc."
On the left, expand the "Computer Configuration" section under the heading of "Local Group Policy."
Now, expand on "Administrative Templates" and choose "All Settings."
Ensure all the settings are set to the "Not Configured" state on the right side.

Local Group Policy (Image By Tech4Gamers)

In case any service is in an "Enabled" or "Disabled" state, double-click on it and choose the "Not Configured" option in the pop-up menu. Press "Apply" followed by "OK."

Set To Not Configured (Image By Tech4Gamers)

Restart the computer once done.
Also Read: Windows 11: Computer Won't Wake Up From Sleep
Delete RootKit File
We installed the Kaspersky TDSSKiller executable on the computer to remove the RootKit file. Moreover, learn about the PC building mistakes you should avoid if you are new to the tech world.
These are the instructions to delete the RootKit file safely:
Download and install "Kaspersky TDSSKiller" on your PC.
Launch the software and press the "Start Scan" button. It will automatically any threats found.
Restart your computer after the scanning.
Launch The PC In Clean Boot
In Clean Boot, the computer starts with minimal software and drivers necessary for its operation. Consequently, you can identify if any third-party software is causing conflicts with the update process.
Below are the instructions you need to follow to use the PC in Clean Boot:
Type "msconfig" in the "Run" menu to access the "System Configuration" window.
Choose "Selective Startup," and under that, put a dot on "Load Startup Items" in the "General" section.

Selective Startup (Image By Tech4Gamers)

Next, go to "Services" and mark "Hide All Microsoft Services." Also, click the "Disable All" button in the same window.

Move to the "Startup" section and press "Open Task Manager."

Open Task Manager (Image By Tech4Gamers)

"Disable" all the applications here by right-clicking each of them.

Disable Apps (Image By Tech4Gamers)

Return to "System Configuration" and hit "OK" to confirm the changes made.
Erase CatRoot2 Folder
Another solution we applied was to delete the CatRoot2 folder. On the other hand, proceed with this step once you have used the fixes mentioned above because deleting this folder can put your system's security at risk.
Delete the CatRoot2 folder with this method:
Launch the "Run" box with "Windows+R" and type "services.msc."

Services Search (Image By Tech4Gamers)

Highlight "Cryptographic Services" in the "Service" window and "Stop" it.

Stop Cryptographic Service (Image By Tech4Gamers)

Exit the window.
Go to "This PC" and open "Local Disk C" or the relevant disk where Windows files are stored.

Local Disk C (Image By Tech4Gamers)

Choose "Windows."

Windows (Image By Tech4Gamers)

Click on "System32."

System32 (Image By Tech4Gamers)

Then, right-click on "Catroot2" and "Delete" it.

Delete Catroot2 (Image By Tech4Gamers)

Lastly, start the "Cryptographic Service."
Reset PC
Resetting your PC to the factory default state is our last option in this guide. Doing so will erase all the data on your PC; hence create a backup and store it in an external storage device.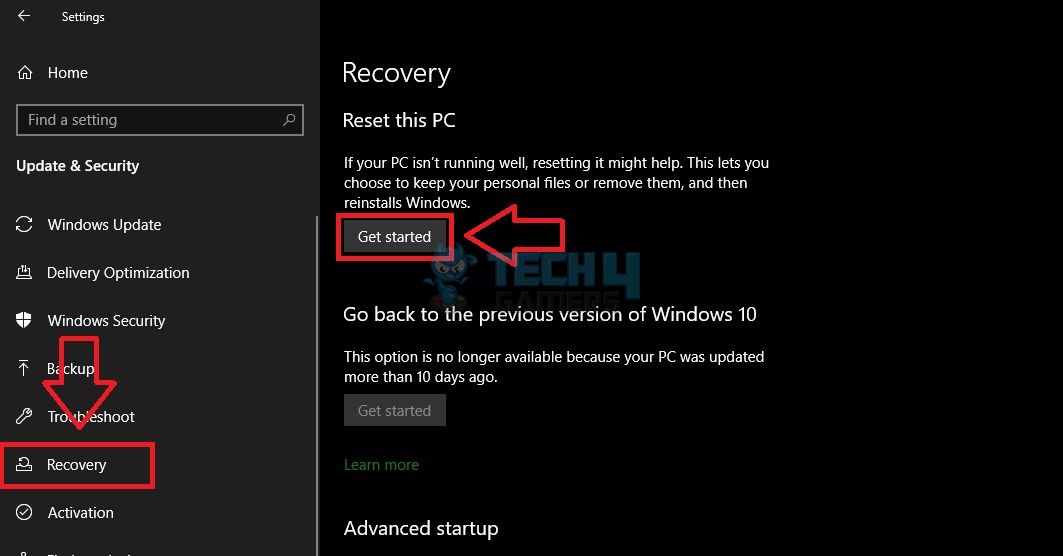 Upgrade Windows (Windows 7 Only)
If you are a Windows 7 user facing this error code, we recommend upgrading your Windows version to 10 or 11 to continue using your PC without errors. Microsoft has halted updates for Windows 7; therefore, there is a greater chance of such errors arising in the future.
WARNING:
Make sure to do your research before upgrading Windows, as plenty of users have complained about issues with
Windows 11
.
Consult Microsoft Support
You can refer to the Microsoft Support team and request their assistance on the error 80072EFE. Make sure to let them know about the solutions you have already applied.
Frequently Asked Questions
What Is Error Code 80072EFE?
The error may prevent your computer from downloading and installing the latest Windows updates.
Why Do I See This Error On My Computer?
Unstable internet connection, corrupt Windows services, and inaccurate date/time are some reasons why this error may occur.
How Do I Resolve The Error?
Try resetting Windows components, restarting essential services, and scanning for malware or virus to fix the error.
Was our article helpful? 👨‍💻
Thank you! Please share your positive feedback. 🔋
How could we improve this post? Please Help us. 😔