Starfield has been a hit among the critics. With an average rating above 85/100 on Metacritic, there is little doubt that Bethesda Game Studios has created another exciting RPG.
Following the full release two days ago, Metacritic opened the game up for user reviews. Unfortunately, the user reviews have not been as pleasant as the critic scores, mainly due to a recurring problem with Metacritic.
Starfield is currently being review-bombed on the platform.
Why it matters: Review bombings have become a frequent problem for Metacritic. Recently, games like Zelda: Tears of the Kingdom and Final Fantasy 16 also fell victim to this sad practice.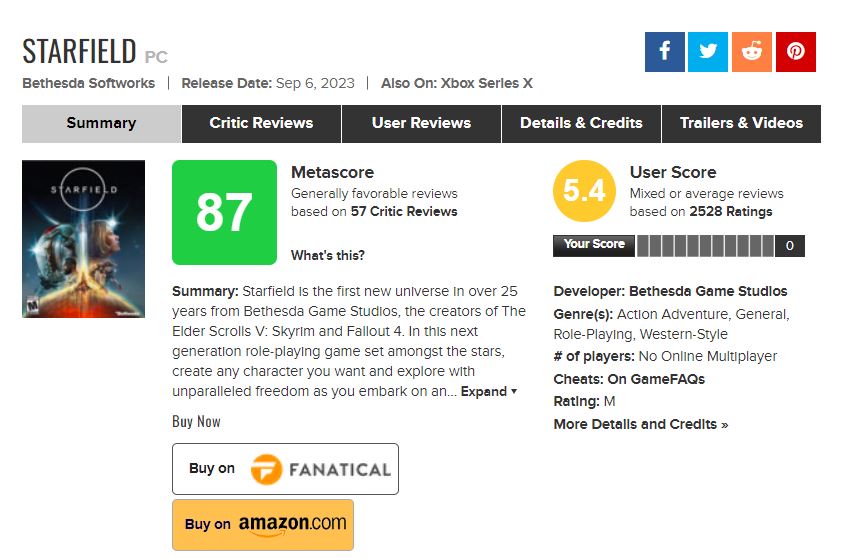 As sad as this may be, Starfield being review-bombed is not surprising.
The game already received a negative review on the platform several months ago. Shortly before release, many Twitter users claimed to be preparing accounts to review bomb the game on Metacritic.
This has led to a user score below 5.5/10 for the recently released RPG.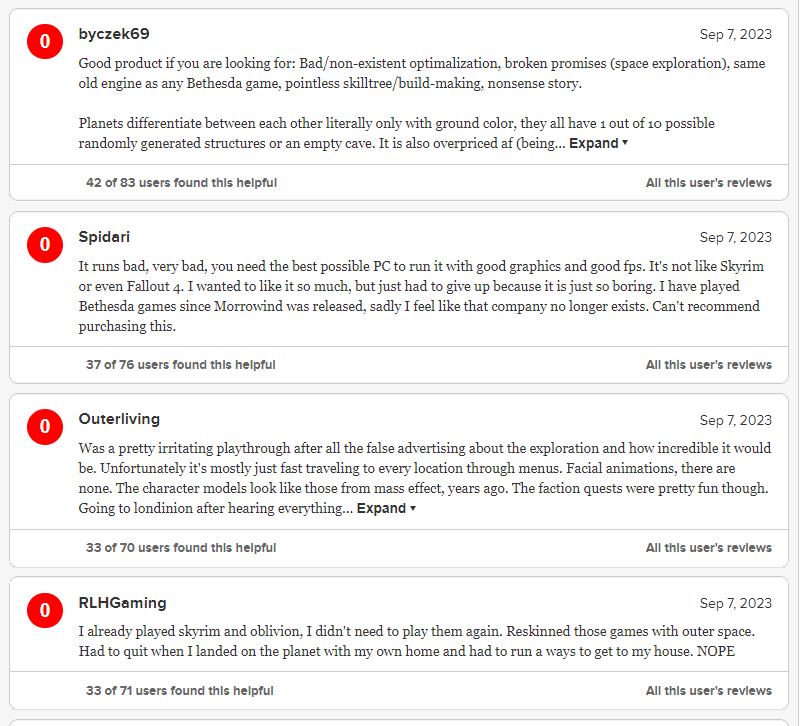 The image above highlights the reviews that scored the game 0/10. At the time of writing, the game has over 1100 negative reviews on Metacritic.
Some have called it a sci-fi clone of Oblivion and Skyrim from The Elder Scrolls franchise. Others have pointed to the lack of seamless travel from planet to planet and dated facial animations.
Character models also received criticism from some users, with claims that they look several years old. Additionally, PC optimization has been frequently brought up in these negative reviews.
While these points can be considered genuine criticisms in many ways, they do not warrant a score of 0/10 in any way. Even Starfield's harshest critics agree that the game can be very engaging once it gets going.
Certain media outlets have given the game low scores, but such scores have ranged from 7 to 7.5/10. Therefore, there is little doubt that such users on Metacritic only intend to bring the game's overall rating down.
Starfield is a first-party title for Xbox, which puts it at the forefront of the raging console war between fans on the internet. Unfortunately, such discourse has done nothing but harm the credibility of user scores on Metacritic.
Previously, games like Horizon Forbidden West were also review-bombed for ridiculous reasons, leading to hopes for a solution to this growing trend on the platform.
Nonetheless, the user score has not had much of an impact on the game's success. Phil Spencer has confirmed Starfield reached over 1 million concurrent players recently, becoming a massive success for Xbox and Bethesda Game Studios.
Featured image credit: Reddit user gr8whitebraddah
Was our article helpful? 👨‍💻
Thank you! Please share your positive feedback. 🔋
How could we improve this post? Please Help us. 😔