The most recent installment in the Legend of Zelda series is Tears of The Kingdom, which was released just 2 days ago on May 12, and upon release, the game has performed exceptionally well in terms of reception.
However, it is impossible for a popular game like The Legend of Zelda: Tears of The Kingdom not to have haters, and Tears of The Kingdom was recently review bombed on Metacritic.
Why it matters: Review bombing has become an unfortunate trend in the gaming industry. Many new releases are often met with poor user scores for no legitimate reason.
People have started to review bomb The legend of Zelda: Tears of the Kingdom pic.twitter.com/BtR3Qk7zDC

— Pyo 5️⃣ (@mrpyo1) May 13, 2023
Earlier today, people started to review bomb The Legend of Zelda: Tears of The Kingdom, and the game's user score dropped to 5.6 as many rated the game with low scores ranging from 0-4.
However, Zelda fans were quick to show their love towards the game by giving it a high score on Metacritic, and since then, the game has skyrocketed to a user score of 8.6 on the website.
The game is still being review bombed at the time of writing and has 128 negative reviews and a staggering 838 positive, which keeps changing every minute, but it is clear that the positive support from fans is overshadowing the negative responses.
Most of these low scores cite reasons like the game being too similar to its predecessor, with some users calling it DLC. While these can be considered genuine criticisms, they do not make the game a 0/10.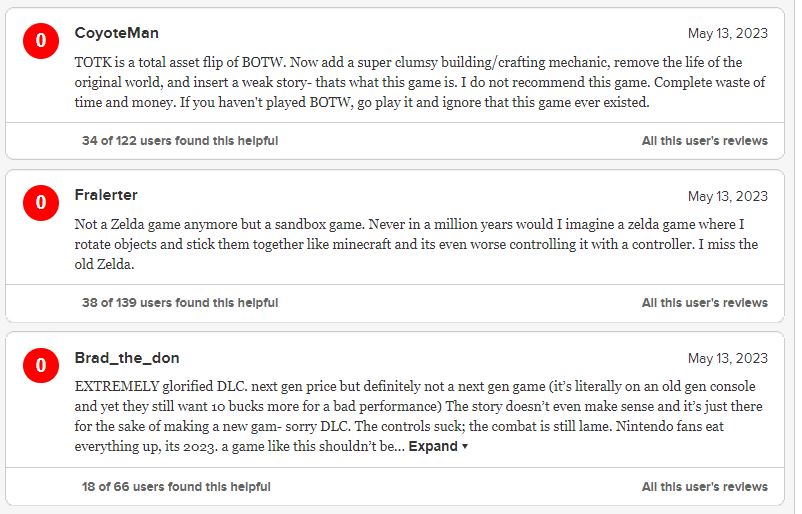 However, a few of the low scores are from people that have legitimate reasons but are overshadowed. These users point to flaws like the lacking accessibility options and performance on the Nintendo Switch.
The $70 price tag has also become a point of criticism. The Legend of Zelda: Tears of The Kingdom is the first game from Nintendo to come with this price tag, setting a higher expectation for various users.
While this is unfortunate, it is not surprising. Previously, games like Horizon Forbidden West: Burning Shores saw a similar wave of negative reviews.
Nevertheless, The Legend of Zelda: Tears of The Kingdom is performing well and scored 96 on Metacritic based on 87 critic reviews, and it has become Opencritic's best-rated game. The game is also playable on the PC platform at a staggering 8K/60 FPS.
Was our article helpful? 👨‍💻
Thank you! Please share your positive feedback. 🔋
How could we improve this post? Please Help us. 😔