Story Highlights
A document points to the PS6 arriving after 2027.
Fans believe the PS5 is just getting started.
Stock shortages and cross-gen games have held this generation back until recently.
The PS5 has been out for nearly three years. While the console is nearly halfway through a typical lifecycle, it feels like the PS5 hasn't been on the market for nearly as long due to the various issues plaguing the early parts of its lifespan.
Unsurprisingly, PlayStation is also working on its next console, the PS6. A document from Microsoft's Activision Blizzard acquisition reveals that the console manufacturer expects a release window of 2028 for its next console, eight years after the PS5.
However, some fans are already not too fond of this idea, claiming that a 2028 release window is too early for the PS6.
Why it matters: The PS4 and PS5 had a seven-year gap between them, but fans believe Sony can extend this generation further than the last.

While a 2028 release for the PS6 would not be anything out of the ordinary, the concern from fans appears to stem from the shaky launch of the current generation. Three years into the latest generation, a plethora of games are still being released for last-generation hardware.
Top-rated titles like Resident Evil 4 Remake are currently available for PS4, while current generation titles like Star Wars Jedi: Survivor are set to receive ports for older hardware, as announced recently.
Compared to previous generations, the PS5 has taken its time to get going. Fans also had to deal with extended stock shortages and scalping. Ultimately, this meant that many were unable to find consoles until recently.
Sony has just dealt with these issues in 2023, with scalpers now struggling to sell off remaining consoles. Fortunately, this year has also marked the first wave of titles that are exclusive to current-generation consoles.
Games like Alan Wake 2 and Spider-Man 2 have showcased impressive visuals and instant loading that differentiate them from the existing library of the PS4. Therefore, fans feel like the generation has just begun despite being three years old.
While most consoles are superseded in 7-8 years, fans argue that the PS5 and Xbox Series S|X can stay longer since developers have just begun to make games centered around these systems.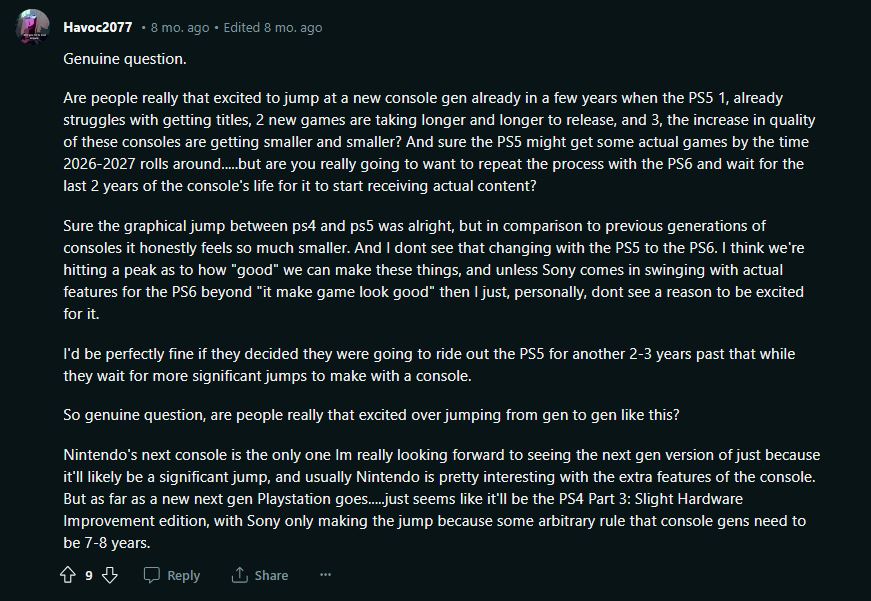 We share a similar opinion as the fans in this regard. The PS6 arriving by 2029 would be perfect since this would allow developers plenty of time to get used to the unique hardware of the current systems.
This would also help manufacturers plan their launch better, helping them avoid the situation that held the consoles back for over two years.
Nonetheless, the release date of the PS6 is anybody's guess for now. Sony is currently focused on pushing the PS5 after finally experiencing a massive boom for the console and its demand.
The gaming giant hopes to set new records this Fiscal Year, using various promotions to achieve this goal.
Was our article helpful? 👨‍💻
Thank you! Please share your positive feedback. 🔋
How could we improve this post? Please Help us. 😔
[News Reporter]
Avinash is currently pursuing a Business degree in Australia. For more than three years, he has been working as a gaming journalist, utilizing his writing skills and love for gaming to report on the latest updates in the industry. Avinash loves to play action games like Devil May Cry and has also been mentioned on highly regarded websites, such as IGN, GamesRadar, GameRant, Dualshockers, CBR, and Gamespot.