Best Gaming Keyboard?
Build Quality -

9/10

Switches -

8.5/10

RGB Lighting -

9/10

Value -

7/10

Software -

7.5/10

Performance -

9/10
Review Summary
The K100 RGB marks Corsair's foray into a fully customizable keyboard realm, featuring a whopping 110 keys equipped with the groundbreaking OPX optical-mechanical switches. With its robust build and comfortable usability, the K100 RGB leaves a positive impression, further accentuated by the inclusion of a cushioned wrist rest that can be detached. Among the array of features it brings to the table, you'll find specialized media shortcut keys, a tactile volume dial, a multifunctional iCUE wheel, and a set of six programmable macro buttons. Given the price point of $229, it's important to ensure that its value proposition aligns with one's specific needs and priorities.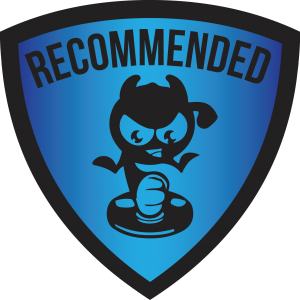 Pros
Unique Optomechanical Switches
Extensive Customization
Stream Deck Compatibility
High-Quality Build
Slim, well-padded, and removable wrist rest
Cons
Steep Price Tag
Complex Software Interactions
Specific Target Audience
Learning Curve
Corsair stands as an innovative and deeply dedicated manufacturer of advanced mechanical keyboards designed for the mainstream audience, and they are not stepping back with the Corsair K100 RGB. Historically speaking, the PC keyboard industry has recently encountered a period of stagnation. While the market is flooded with numerous mechanical keyboards, their evolution has largely remained stagnant, characterized mainly by superficial visual enhancements. Most manufacturers stick to proven methods, utilizing similar technological foundations and mechanical switches as their competitors.
They only differentiate themselves with their offerings through design, software features, or pricing to stand out amidst the competition. Yet, the time seems ripe for a transformative shift in the mechanical keyboard industry, or at least a more substantial leap forward compared to recent incremental improvements. Enter the Corsair K100 RGB, Corsair's latest addition to the gaming keyboard arena, the subject of our review today. Carrying the torch from its predecessor, the K95 RGB.
Why you can trust Tech4Gamers:

We understand the importance of making informed decisions. That's why our team spends significant time testing every product we review.

Find out more about how we test.
This keyboard emerges as one of Corsair's most exceptional and premium gaming peripherals to date. With the Corsair K100 RGB, you can experience the next level of gaming excellence and typing precision. Consequently, this keyboard seamlessly merges top-tier features, futuristic design, and unparalleled performance. The moment your fingers touch its meticulously crafted keys, you'll sense the pulse of innovation beneath your fingertips.
---
Key Takeaways
The Corsair K100 RGB emerges as a flagship mechanical keyboard that combines an innovative design with a multitude of features. With its distinctive OPX optical-mechanical switches, it offers a responsive and comfortable typing experience.
The things I liked about the Corsair K100 RGB are Innovative Switches, Sturdy Build, Enhanced Comfort, Visual Appeal, Stream Deck Compatibility, Distinctive Features, Functional Controls, and Premium Feel.
The things I have not liked about the Corsair K100 RGB are the High Price Point, Complex Software Integration, Learning Curve, Transition Challenges, Catered Towards Specific Audience.
The Corsair K100 RGB keyboard would be a perfect fit for enthusiasts gamers, content creators, professional gamers, tech enthusiasts, multitaskers, RGB enthusiasts, users with deep pockets, and mechanical keyboard aficionados.
---
It's an entrance to a realm where precision converges with dazzling illumination, macros flow in perfect harmony, and every keypress invites you to unlock a universe of possibilities. Moreover, the name signifies more than a rehash or relaunch of its forerunner. With this revision, Corsair doesn't just rebrand the previous keyboard; rather, it presents a significant step forward in design and functionality. Improving upon perfection is a challenge, but Corsair is making an effort with their new keyboard, the K100 RGB.
Priced at $229, it's clearly an upgrade from the $179 K95 RGB Platinum, featuring a new color scheme, unique optomechanical switches, a programmable dial, more RGB lighting, and a sleek wrist rest. Despite numerous changes, the K100 retains the superb core design of the K95. Some enhancements are only marginal. Offering more features and customization options than any other gaming keyboard on the market, the K100 is ideal for those who want a taste of everything. However, more isn't always better, and the high price tag and highly individualized features may not provide much value to the majority of consumers. To find out where it stands, make sure to read the entire review thoroughly.
Specifications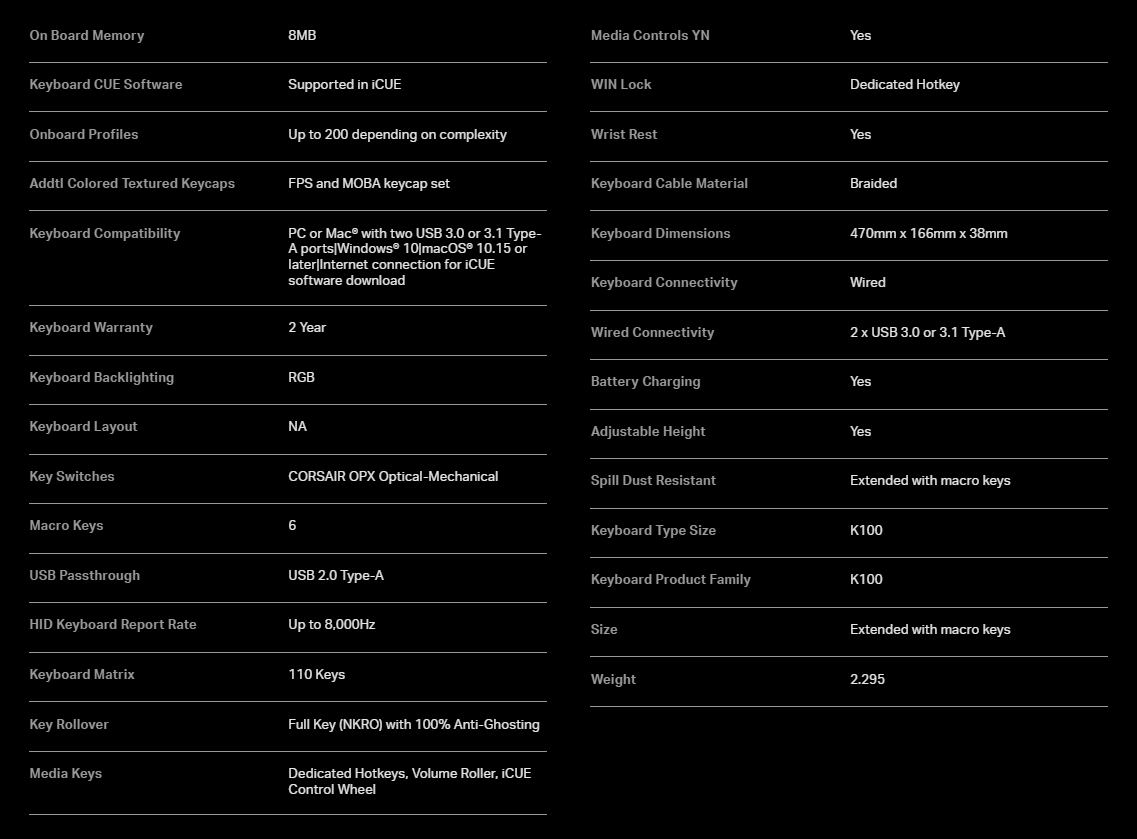 Box Contents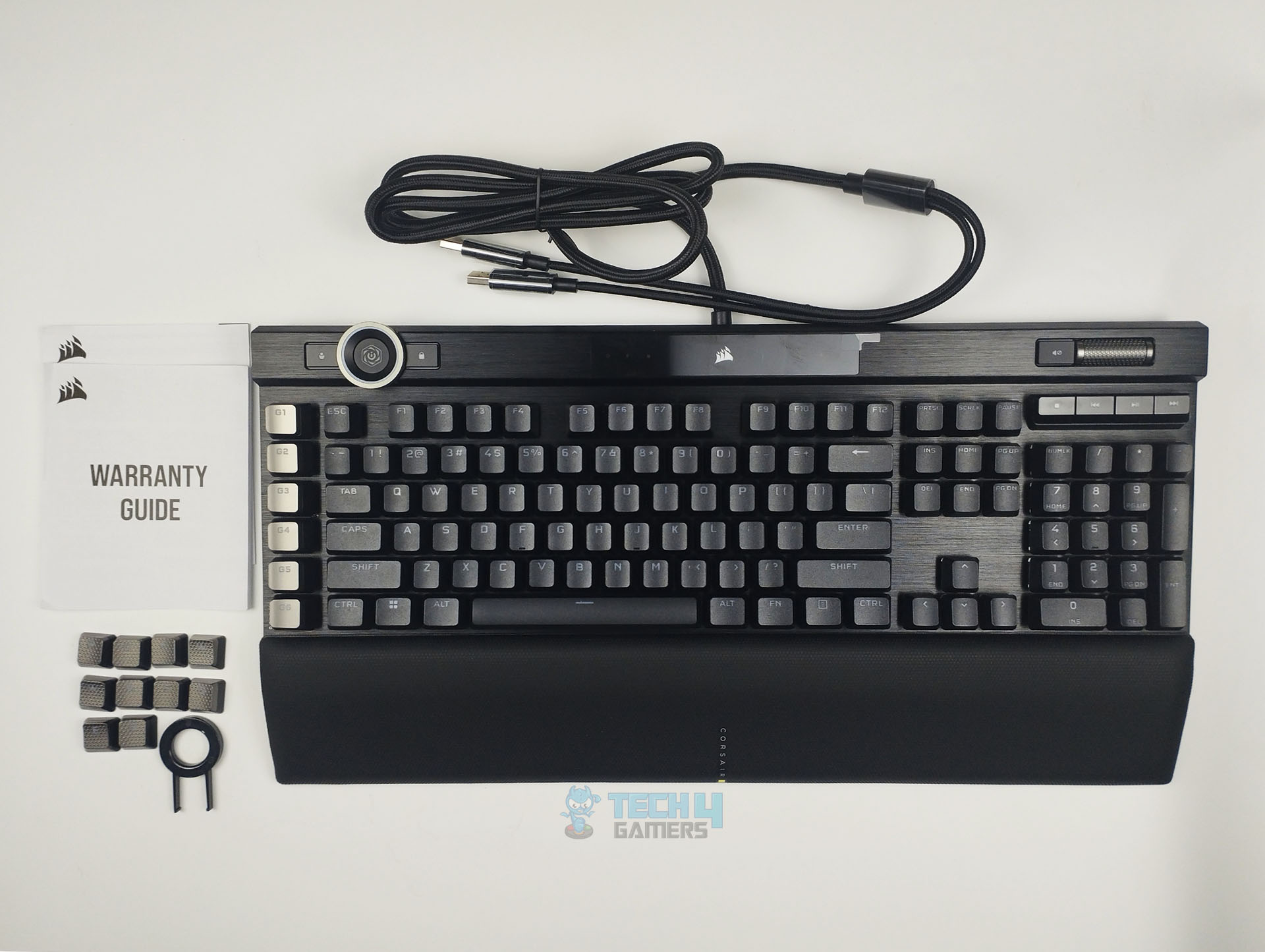 K100 RGB Optical-Mechanical Gaming Keyboard
Detachable magnetic cushioned leatherette palm rest
FPS and MOBA keycap sets with keycap puller
Quick start guide
Safety leaflet
Warranty card
First Impressions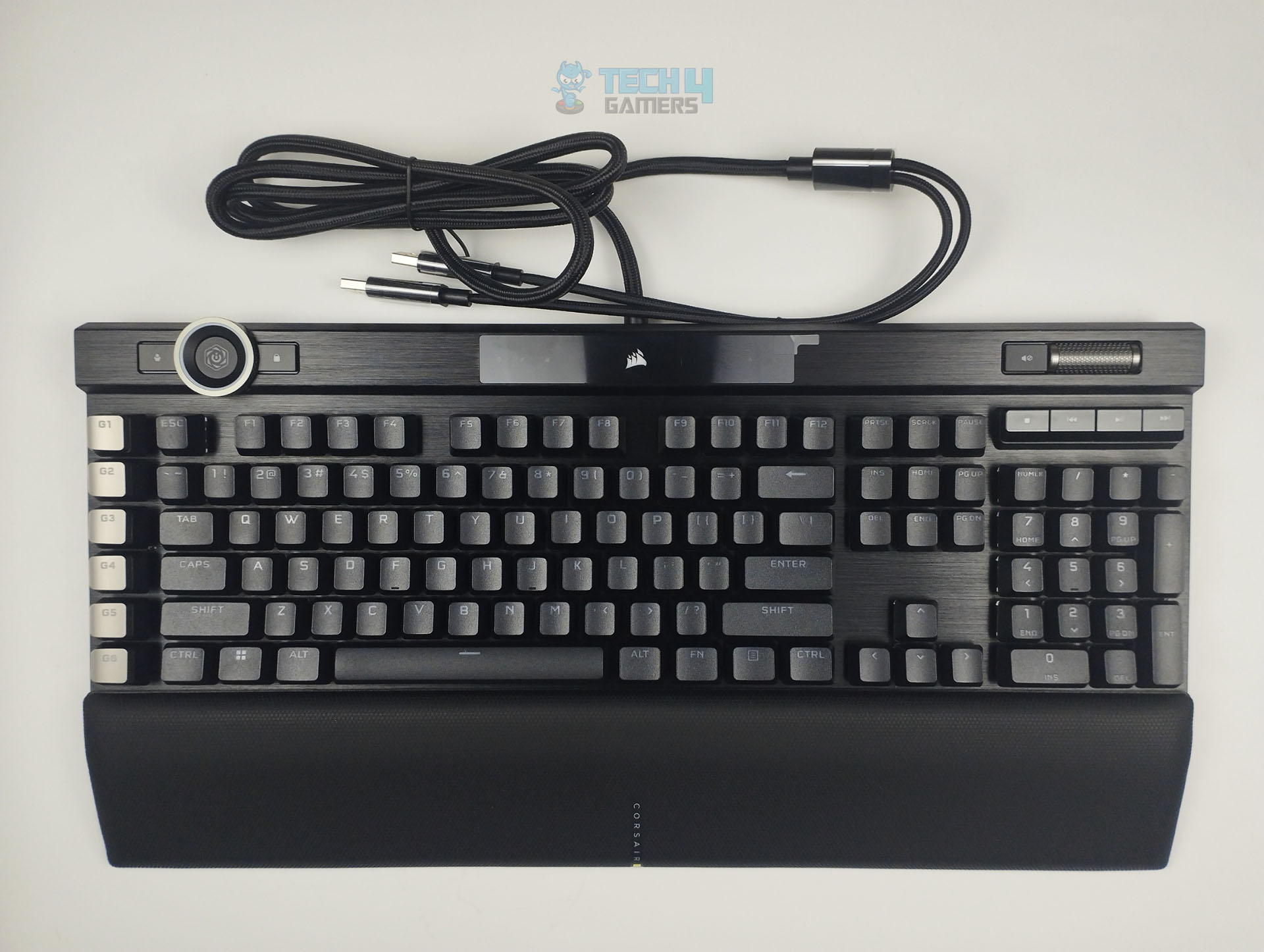 The Corsair K100 RGB Gaming Keyboard arrived in a sturdy cardboard package. Consistent with Corsair's other peripherals, the packaging design features a black background accented by bright yellow highlights. In the center, an image showcases the keyboard itself. Without a doubt, the Corsair K100 RGB qualifies as a piece of substantial hardware equipment. What sets it apart is its unique optomechanical switches and cutting-edge technology.
Weighing approximately three pounds, it surpasses the weight of many full-sized boards, hindering its portability. If you seek a keyboard for a "set it and forget it" approach, the K100 is a viable choice. However, keep in mind that accommodating both the keyboard and the accompanying wrist rest requires a fair amount of desk space. Unprecedented in Corsair's keyboard lineup, the Corsair K100 RGB includes a full-size wrist rest that complements the package. Noteworthy is the increased cushion area and the pleasantly textured synthetic fabric covering.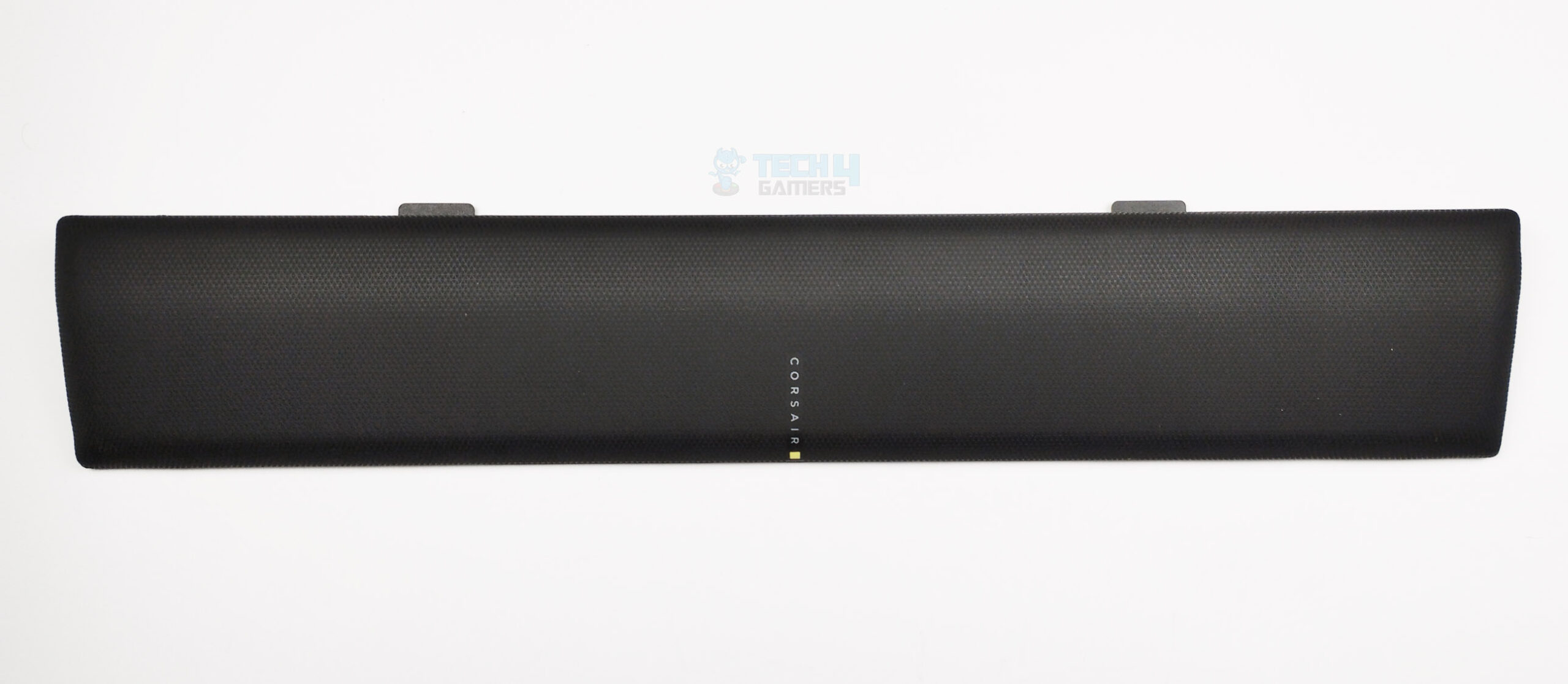 Moreover, Corsair has transitioned from fragile plastic clips to magnets for wrist rest attachment, ensuring swift attachment and removal within seconds. It's important to note that while the magnetic connection serves well in normal usage, it might struggle to secure the rest of the keyboard is elevated or subjected to rough movements. Having said that, the plush, cushioned surface stands out for its superior comfort compared to other wrist rests in my reviewed collection.

However, it's essential to acknowledge that this comfort might make it more susceptible to wear and tear over time. The K100 model I reviewed featured Corsair's groundbreaking OPX optical-mechanical switches. Worth mentioning is an alternative K100 version with Cherry MX Speed switches for users preferring the traditional tactile sensation. Regardless of the version, you'll be interacting with linear-based keys.
Design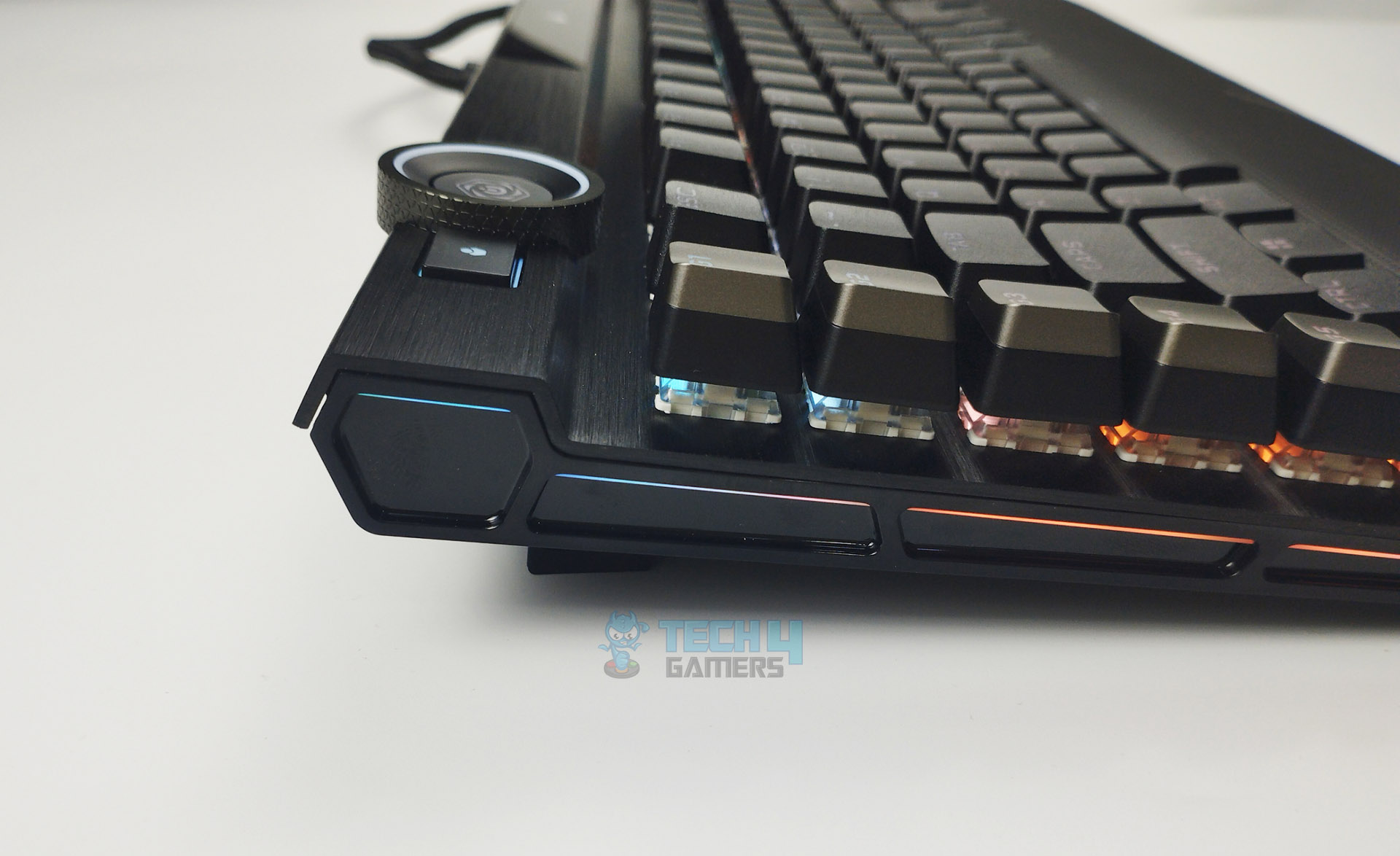 When compared to the K95 RGB Platinum introduced by Corsair a few years back, the latest Corsair K100 RGB proves to be quite comparable in terms of size and macro keys. While it might not exactly resemble the original K95 RGB Platinum, it upholds the same aesthetic standards, featuring a brushed aluminum frame and a key layout that appears to float above the chassis. This design facilitates easy cleaning, as most dirt and dust can be blown off the keyboard's metal surface.
Additionally, much like its predecessor, the K95 RGB Platinum, the Corsair K100 RGB is an expansive control panel of a keyboard, brimming with all the conveniences a PC gamer could desire. Its dimensions measure 1.44 x 18.44 x 6.5 inches (HWD) or 1.44 x 18.44 x 9.44 inches (HWD) with the addition of the slim yet well-padded, removable wrist rest. The additional desk space it occupies might be a reasonable trade-off for the features it offers.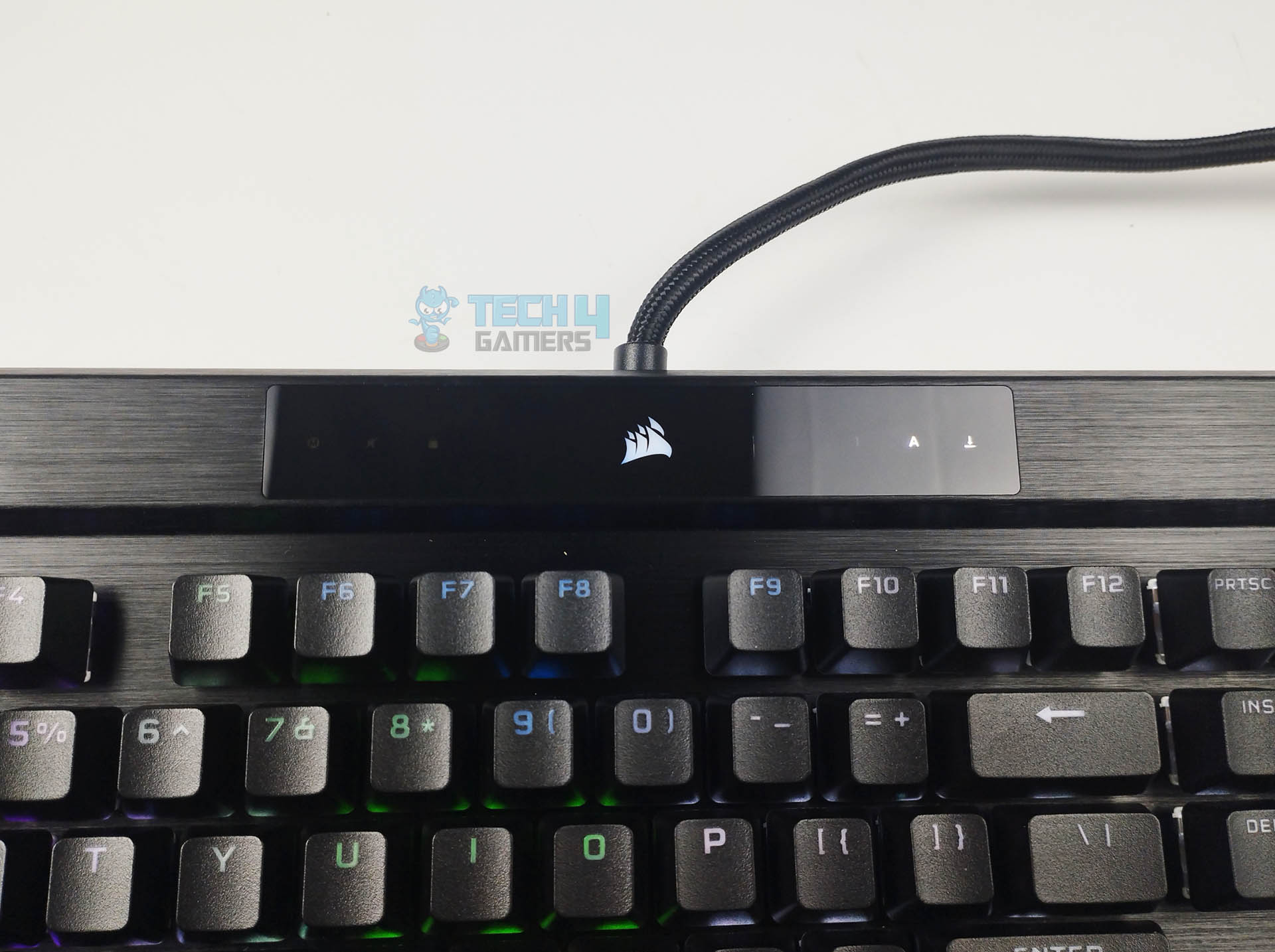 The overall appearance of the keyboard hasn't undergone significant changes. The glossy Corsair logo still graces the top of the chassis, as it has since the beginning. The indicator LEDs also find their place on this strip, although they remain hidden from view when the keyboard is idle. Even when activated, the indicator lights emit such a dim glow that they remain inconspicuous unless one actively seeks them out. The keyboard comprises 104 regular keys alongside six macro keys, G1 through G6, situated to the left of the primary key set.
The K100 can be customized for scrolling, spinning, clicking, or tapping, providing versatile usage. With the Corsair K100 RGB, Corsair took a significant step by ensuring compatibility of one of their mechanical keyboards with the industry-standard ANSI layout. Furthermore, the 6.5-inch Spacebar and the seven 1-inch ALT, CTRL, WIN/Menu, and Fn buttons constitute the keyboard's bottom row. In addition to standard system-level functions and user-defined macros, the K100 can be synchronized with Elgato's Stream Deck software.
This feature empowers users to assign video-editing tasks such as shifting sources and streaming scenes to the additional keys. For streamers, these keys can serve as overlay buttons to switch between the main camera and the in-game feed quickly. However, the added row of keys presented a challenge for me, as I needed to retrain my fingers to access them. Accidental taps on G1 or G6 occurred occasionally, as my muscle memory was accustomed to the "Esc" and "Ctrl" buttons at the keyboard's farthest edge.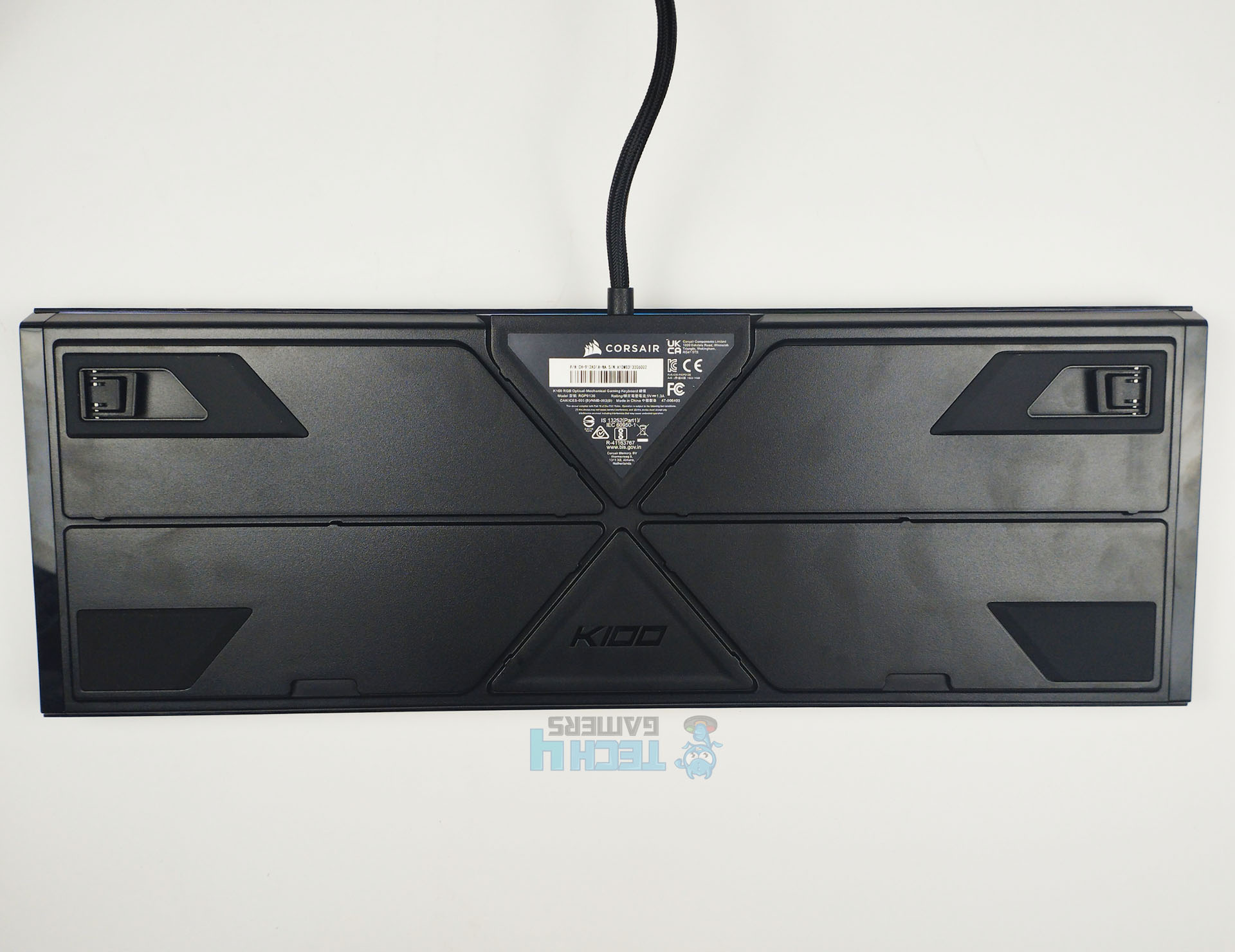 The bottom of the Corsair K100 RGB has been equipped with cable channels, simplifying the process of hiding mouse or headset cords. The keyboard boasts four substantial rubber feet that effectively prevent it from sliding on any hard surface. Once seated on a desk, the pads offer such a firm grip that any attempt to move the keyboard sideways causes the tilted feet to retract.
Keycaps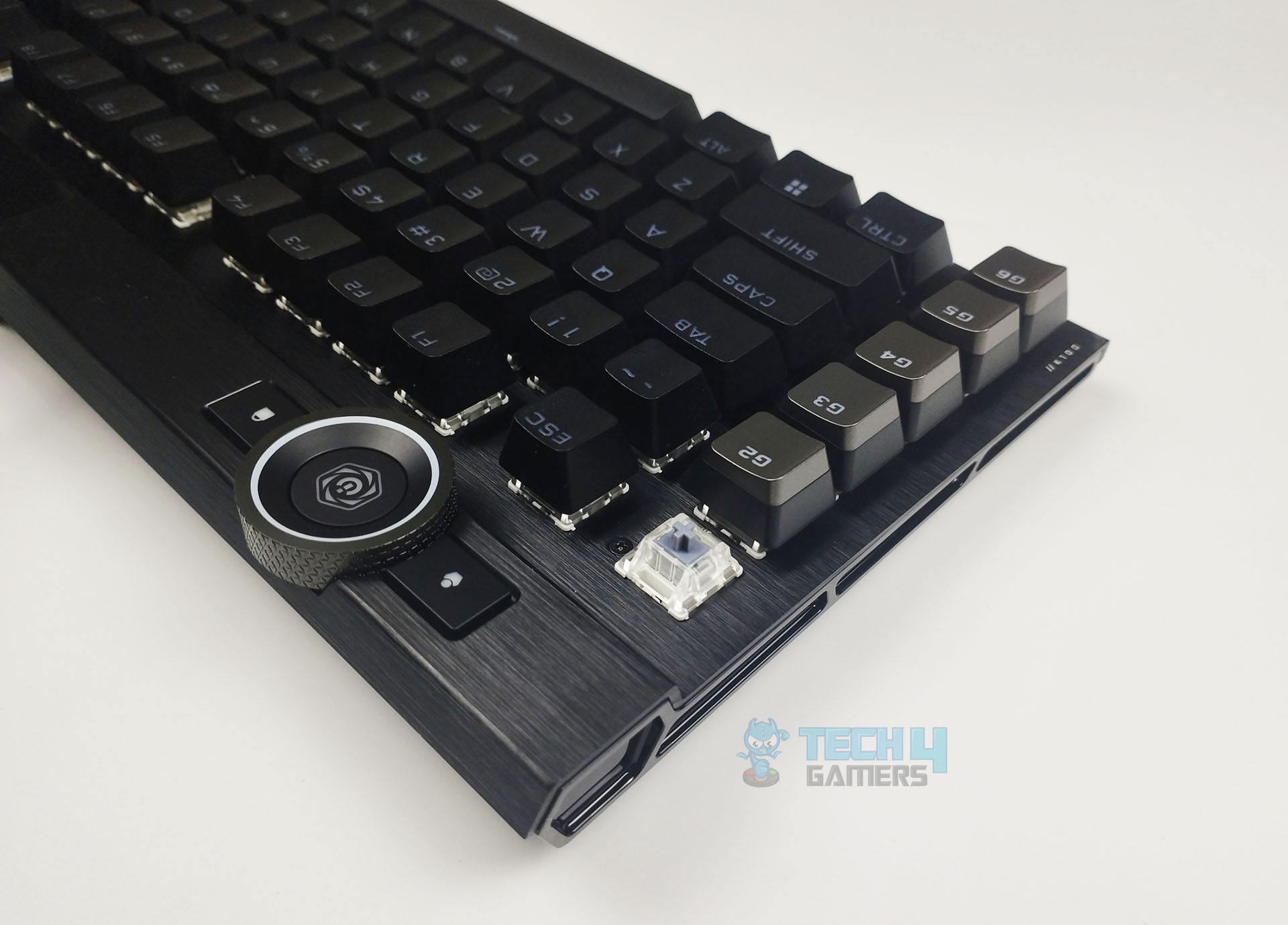 If you're new to the world of mechanical keyboards, some of the terminologies mentioned above might be unfamiliar. In essence, PBT keycaps that are double-shot or double-layered stand out as highly durable choices. The inclusion of double-shot black PBT keycaps adds a nice touch. As a result, the K100 sets a new longevity standard. However, it's worth noting that these premium keycaps, being pricier than regular single-layered ones, will typically cost you around $50 if you buy a separate set of them.
Consequently, these keycaps contribute significantly to the reason Corsair prices the keyboard at $229. The PBT keycaps of Corsair K100 RGB feature large, futuristic-looking characters. Notably, the primary and secondary characters on the keycaps are placed toward the top, ensuring the keyboard's LED lighting is fully visible. The keyboard also comes with an extra set of 10 keycaps, colored in dark grey and designed with textured, curved tops to offer tactile feedback during gameplay.
The first set of keycaps caters to FPS players, while the second set is intended for MOBA players. Consequently, both sets share similar contours and textures. However, they have two distinct keycaps in common—the W and the D—but their contours differ.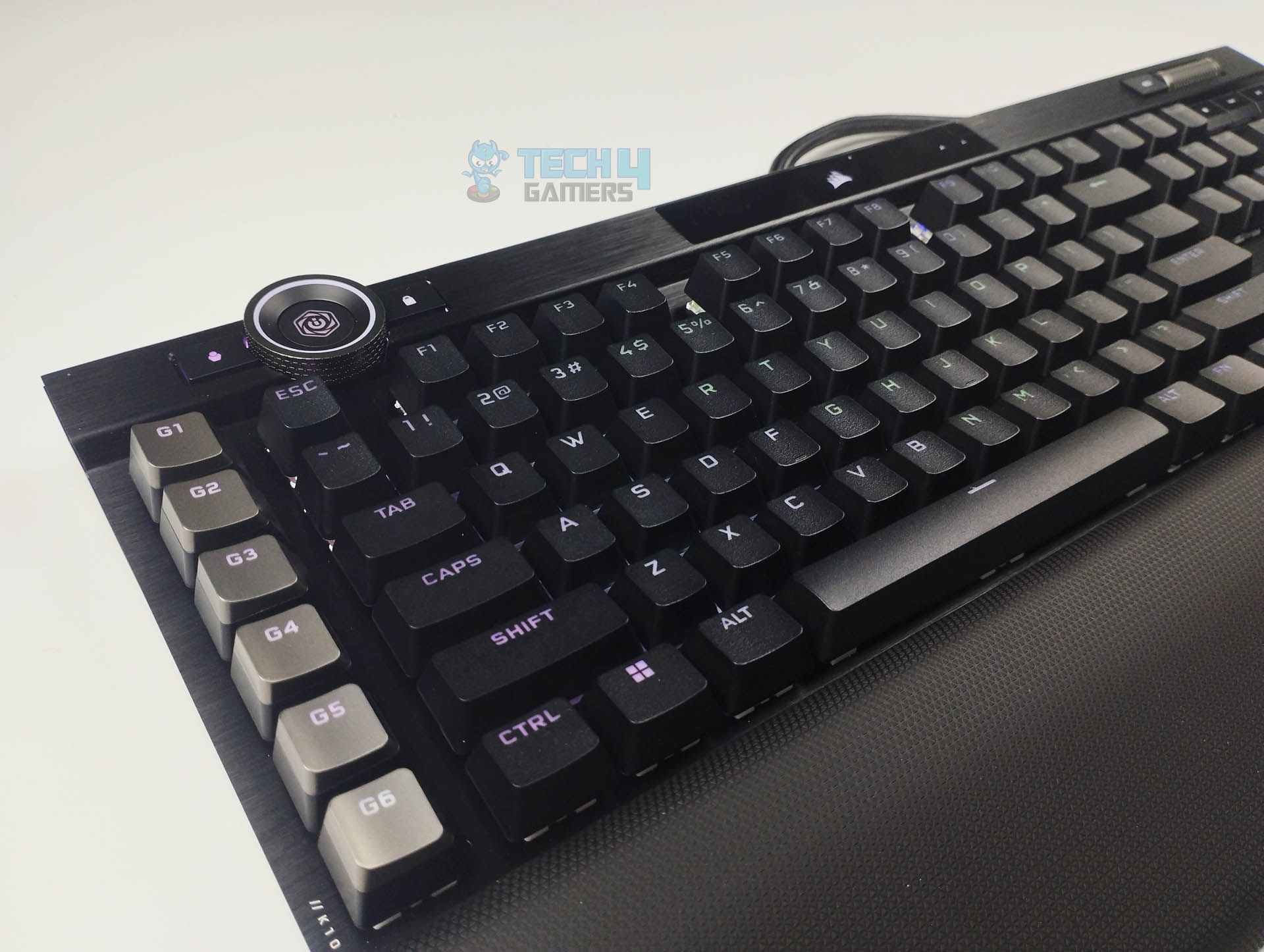 In contrast to the additional ten gaming keycaps provided by Corsair, the six G keys positioned to the left of the regular keys are grey and contoured, though they lack texture.
Connectivity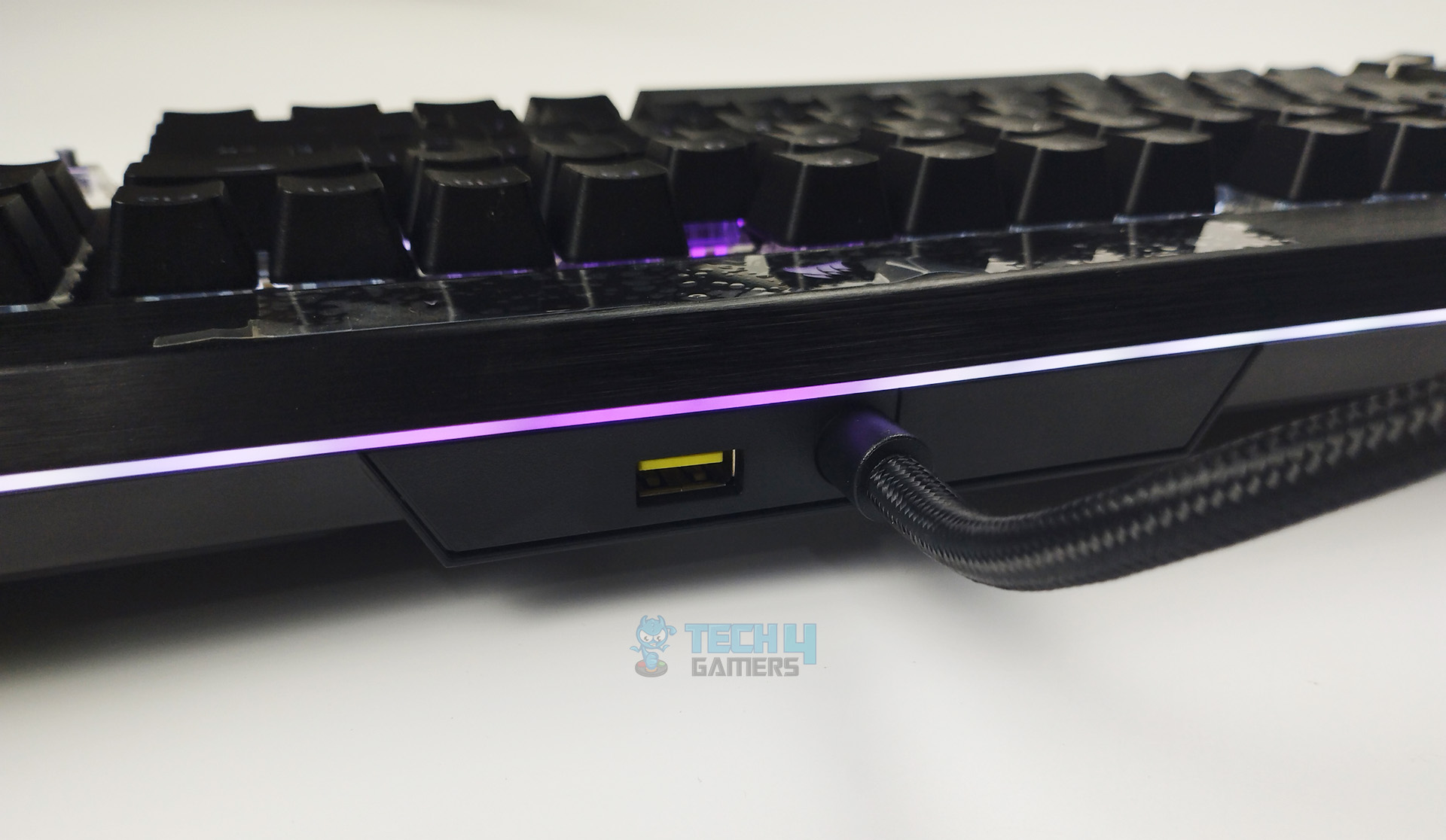 The Corsair K100 RGB features a single rear-facing USB 2.0 connector. However, at the end of the keyboard's connection cord, not one but two USB connectors are present. This dual-connector setup addresses the keyboard's higher power requirements, which exceed what a USB 2.0 port can deliver. To accommodate this, Corsair has devised a system that draws power from the additional port when the keyboard isn't connected to a USB 3.0 or later port.
While the primary purpose of the second connection is to power the keyboard, it also serves as the driver for the keyboard's USB host port. Corsair has opted for a comprehensive pass-through approach instead of an internal USB hub. Consequently, the inclusion of the second USB connector is necessary, irrespective of power needs, to establish a link with the host port. This configuration results in a somewhat more intricate setup than strictly required, but it ensures the keyboard's complete compatibility with USB 2.0 ports.
Switches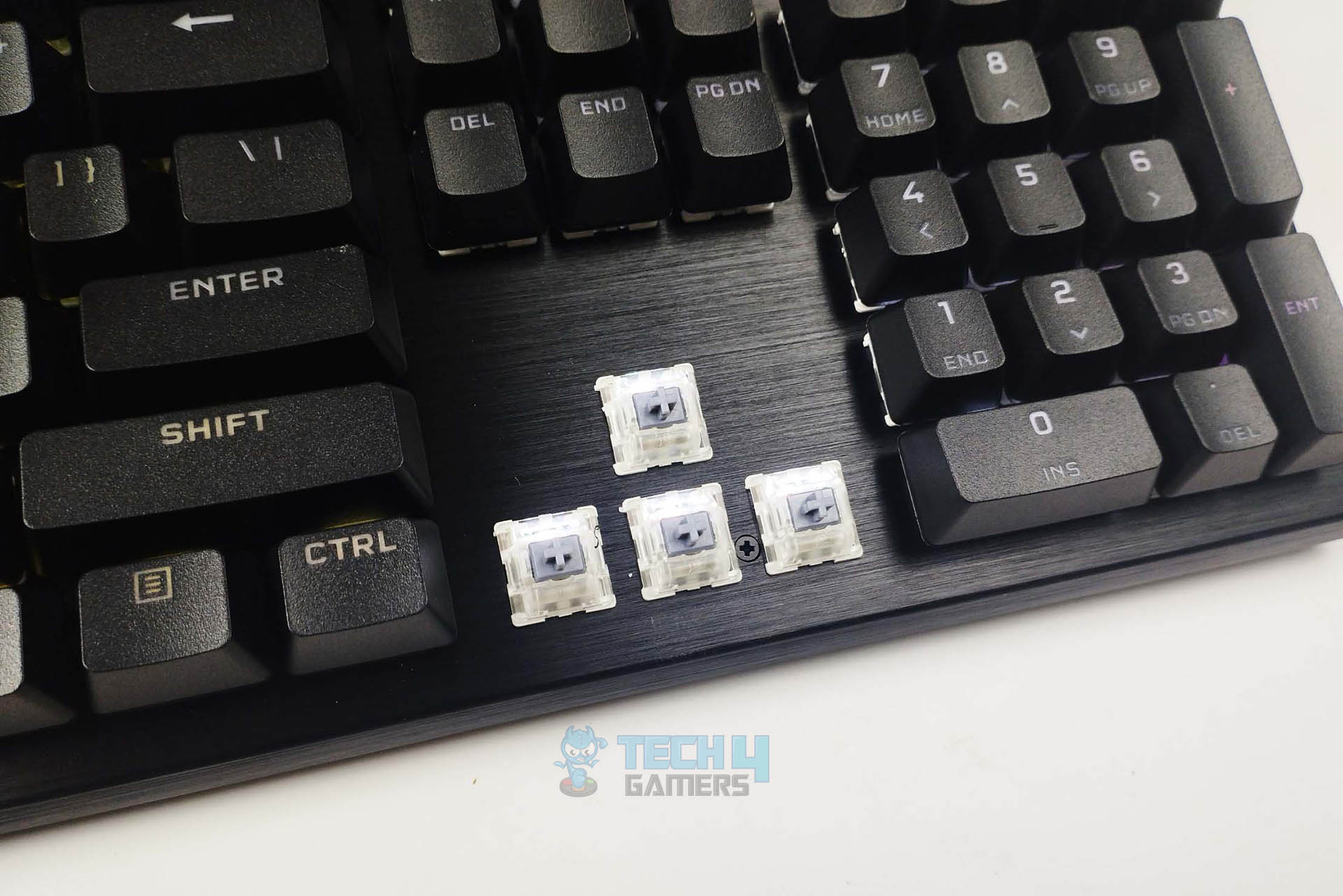 When writing a keyboard review, I make it a point to use the keyboard as my primary input device for a minimum of a couple of weeks. A typical week in my routine involves extensive typing, some gaming sessions, and casual browsing. While I personally lean towards tactile switches like the Cherry MX Brown for such tasks, I don't have any reservations about using linear switches. The K100 switches represent a significant innovation. This product stands as the debut of Corsair's latest OPX optomechanical switches.
Corsair has combined two prevalent trends in the market: adopting optical-mechanical technology and developing their own switches that blend the mechanical feel with the use of light to register keystrokes. These optical switches have been tailored to emulate the sensation of their mechanical counterparts. Unlike traditional mechanical switches, there are no electrical contacts involved in the operation of these optical switches. Consequently, the only moving component within these switches is the spring responsible for returning the key to its original position. This approach eliminates the typical drawbacks associated with mechanical contacts, such as debounce delay and wear, while maintaining fully perceptible tactile feedback.
To illustrate this concept, instead of the traditional mechanical switch mechanism, optical or optomechanical switches employ a laser cutoff to discern whether a key has been pushed. Upon pressing a key, a plunger descends, interrupting the laser's path and thus triggering the key press. Corsair asserts that optical switches offer heightened durability and quicker responsiveness due to the elimination of debounce delay—a brief pause between keystrokes designed to prevent inadvertent taps.
According to Corsair, their OPX switches boast an astonishing lifespan of over three times that of high-quality mechanical switches, with the ability to endure up to a staggering 150,000,000 keystrokes. Much like other optical switches, the OPX keys exhibit an extremely sensitive activation point, engaging at a mere 1mm of travel with a gentle 45 grams of force. The total key travel distance has been reduced from the standard 4mm to 3.2mm. In comparison, the Cherry MX Reds, often known for their "feather-light touch," necessitate a 2mm travel distance for activation.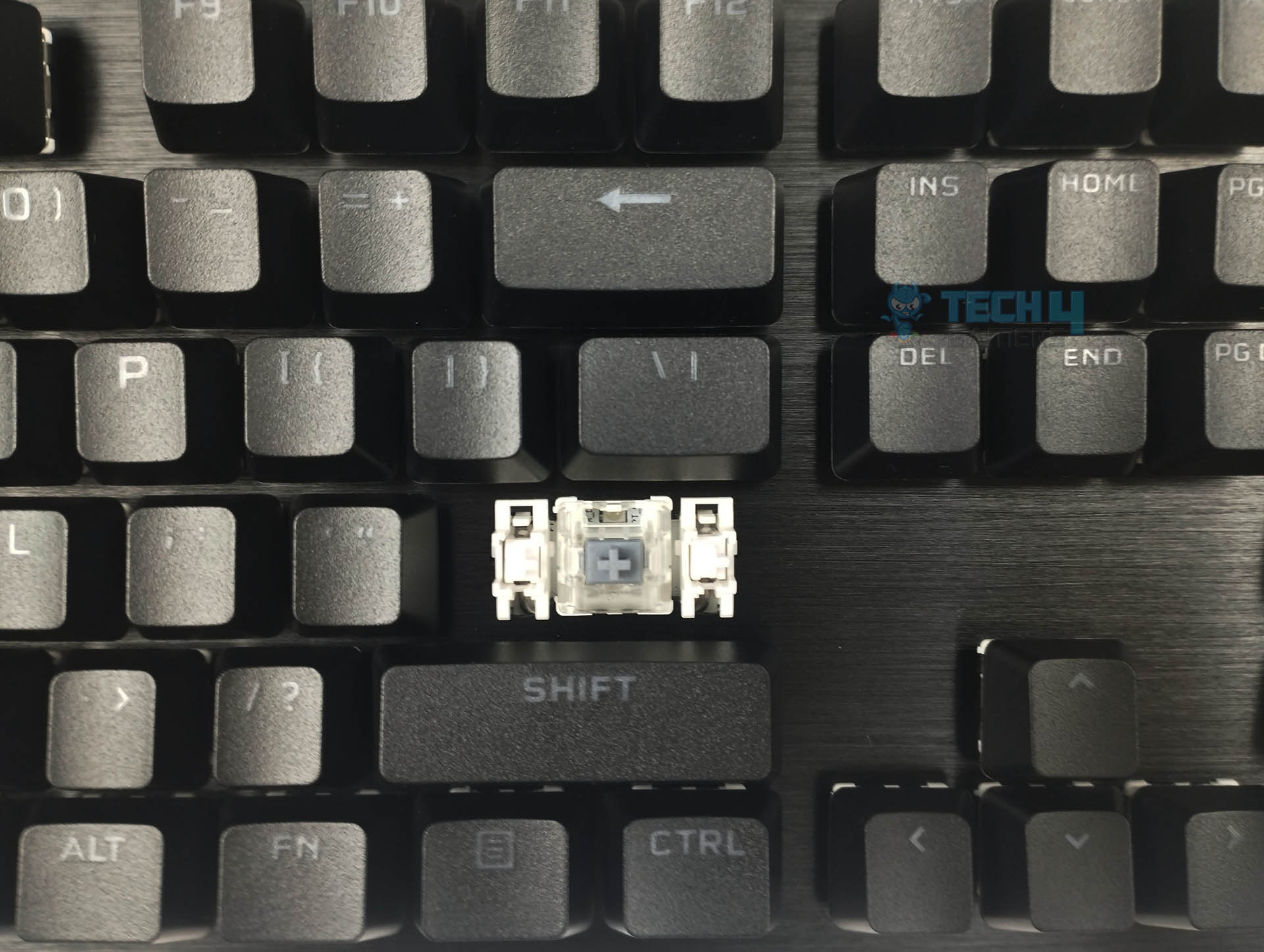 Initially, I anticipated that the OPX switches would mirror the feel of Cherry MX Red switches, but my assumption was incorrect. The force-travel curve of the OPX switches is nearly flat, resulting in consistent resistance throughout the key's journey. These keys are intended to be gently tapped, and when fully depressed, they exhibit a slight degree of compression. A mild yet unexpected resistance becomes apparent as you push the keys all the way down. It's akin to the keys attempting to rebound before your press concludes.
Initially, the keys felt unfamiliar, but over time, I've become acclimated to the sensation. Due to these characteristics, they offer a more organic experience compared to linear mechanical switches. The smooth key travel and the moderate force required to actuate the keys contribute to relatively low long-term fatigue, which is particularly advantageous for professionals and frequent typists. While adapting to the Corsair K100 RGB's unique key feel might require some effort initially, once you adjust to lightly pressing the keys instead of bottoming them out completely, you'll likely find it a rewarding typing experience.
After several weeks of usage, the only instance where I experience resistance is when I press a key all the way down. Nevertheless, it's a distinctive sensation that seasoned mechanical keyboard users are likely to perceive. The blend of the ultra-sensitive actuation point and the slight resistance towards the end of the keypress journey makes it clear that these switches cultivate an acquired taste. Moreover, the Corsair K100 RGB also offers Cherry MX Speed Silver switches, which are purely mechanical yet equally responsive for those who prefer a sensitive key feel.
Here you can listen to how the new OPX optomechanical switches on the Corsair K100 RGB sound like:
RGB Lighting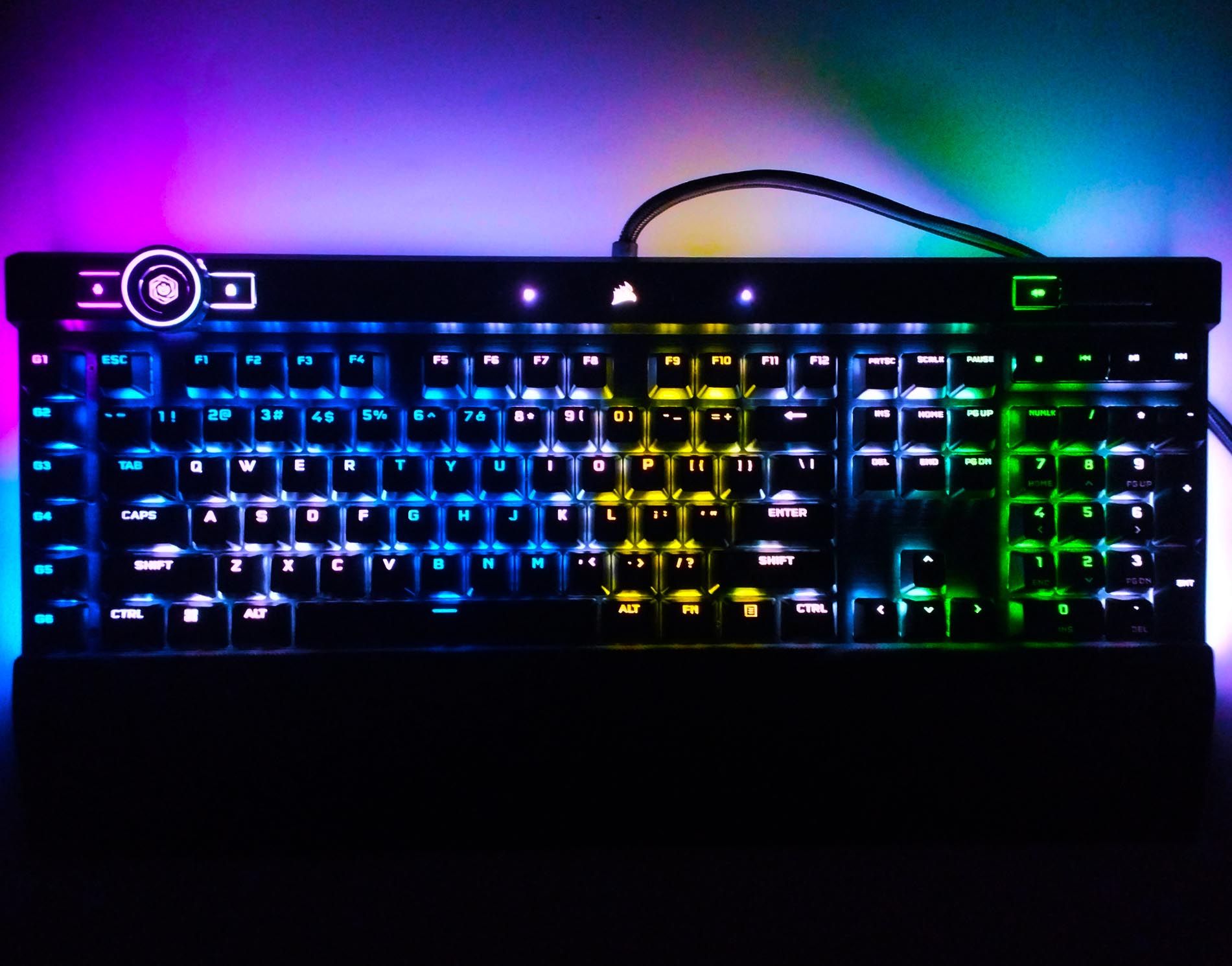 The Corsair K100 RGB's aesthetics have undergone enhancement to align with its "higher-than-high-end" status. The RGB light strip enveloping the edges and rear accentuates the brushed aluminum top surface more prominently. While I wouldn't categorize it as having a strictly "professional" appearance—due to the presence of RGB lighting—it undoubtedly exudes an air of opulence.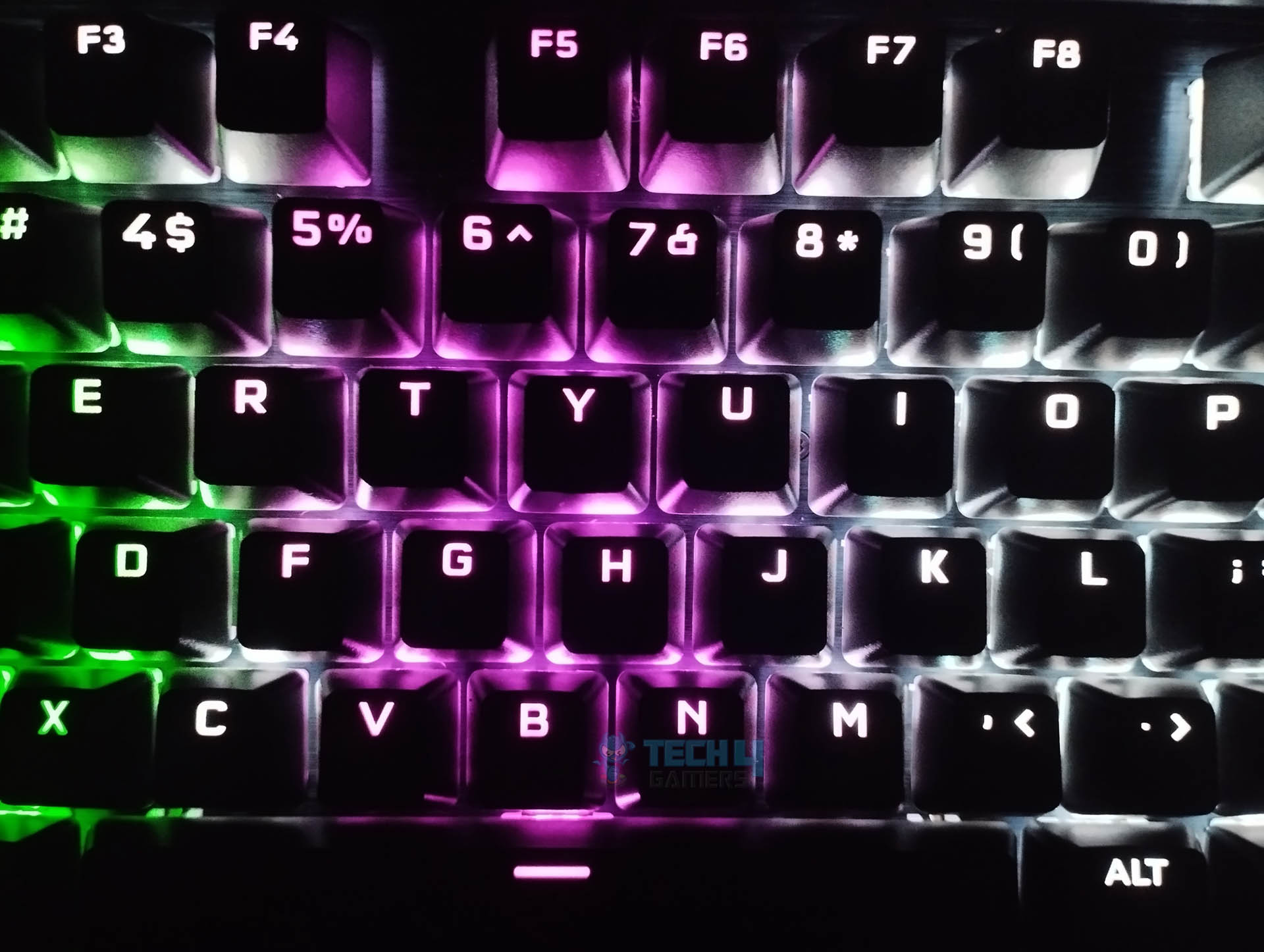 The K100 gives off an impression of being a premium and pricey product, and that perception holds true, considering its actual cost.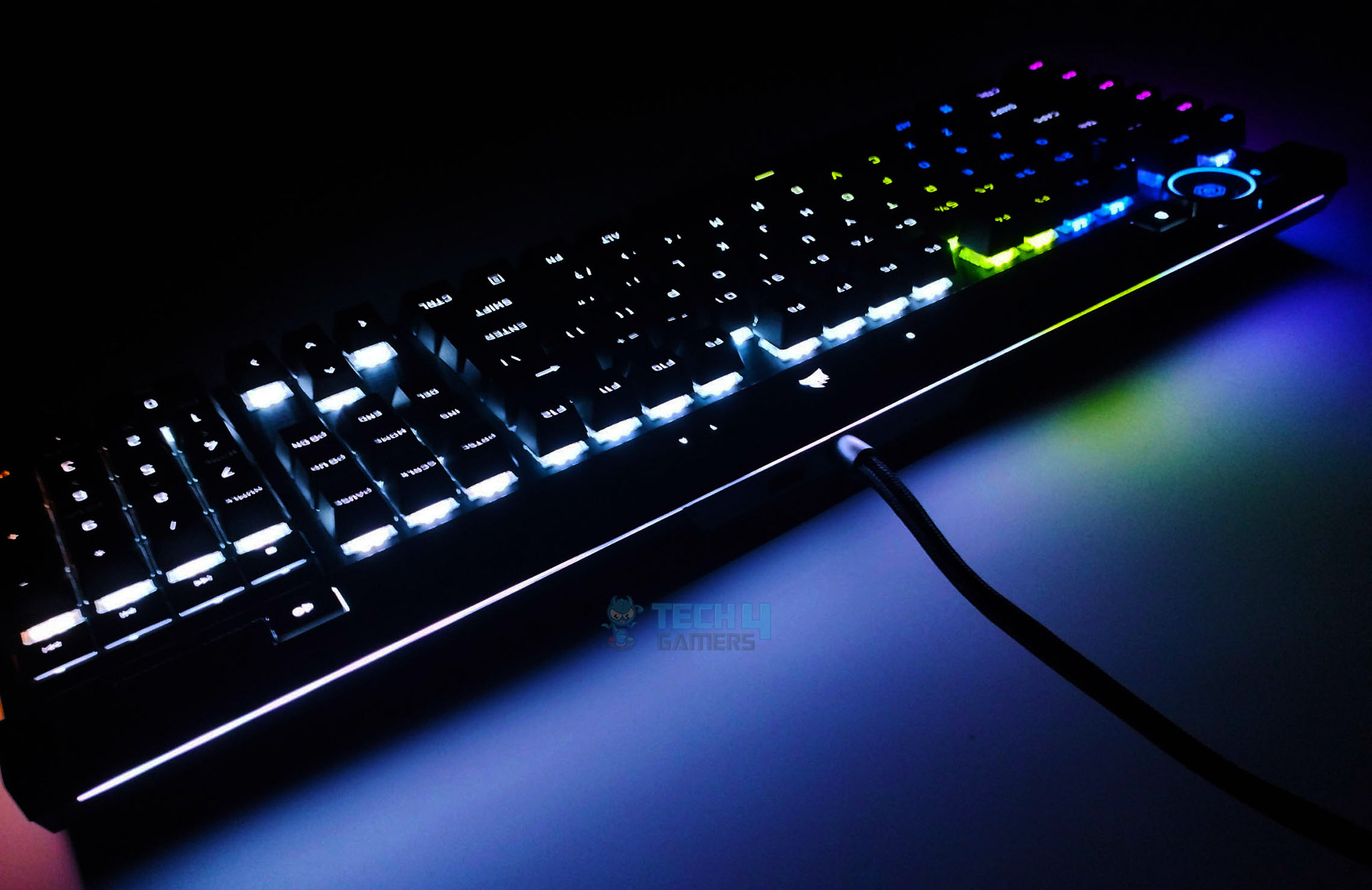 The implementation of RGB lights across various aspects of the keyboard is evident. It's intriguing to consider that Corsair might explore incorporating their vibrant Capellix LEDs onto the wrist rest or even into the cable in a future iteration. That's not a recommendation so much as an observation that almost everything else has been illuminated.
Performance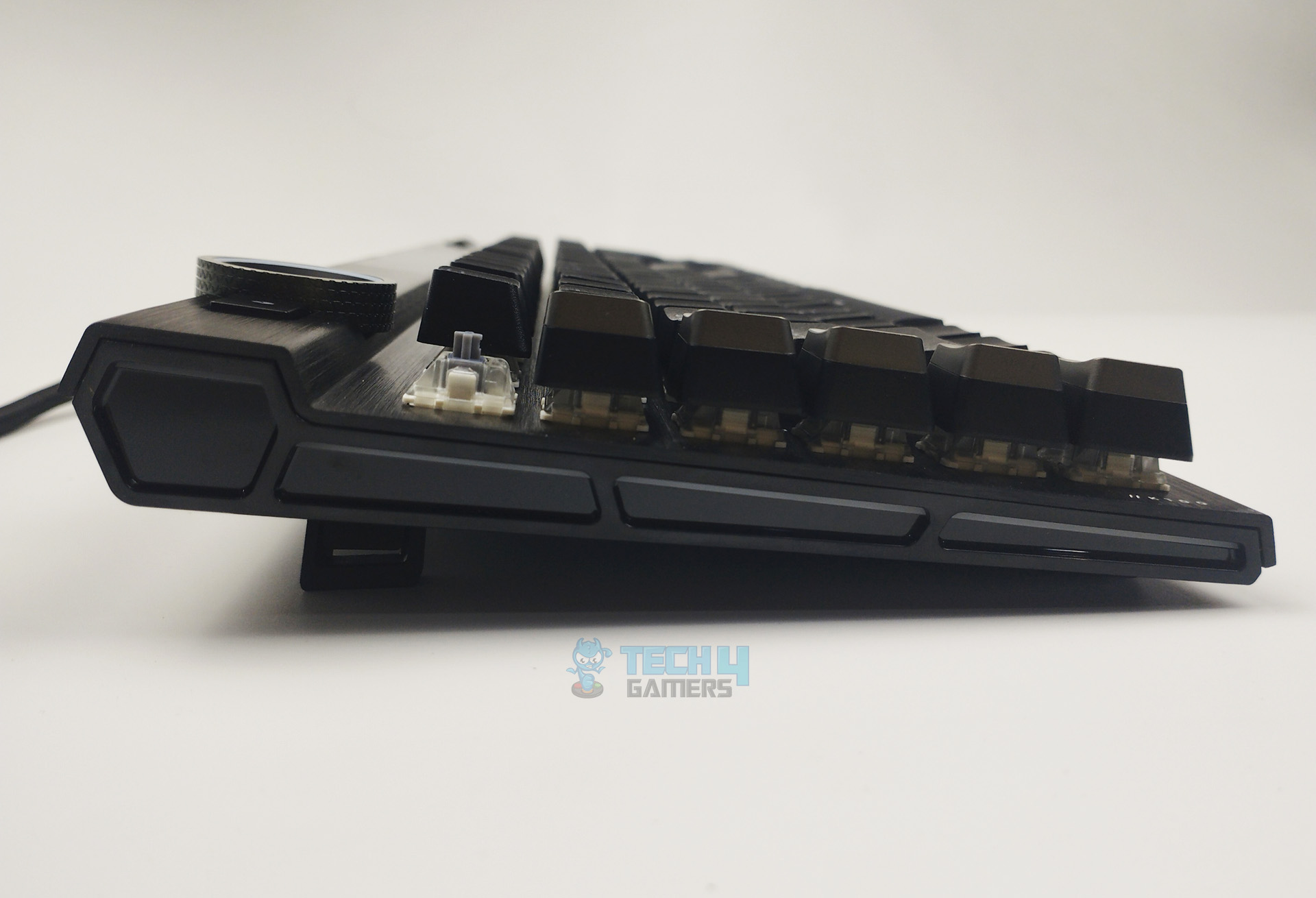 For those of you curious about my assessment of the tactile experience with OPX switches, let me provide some insights. Corsair's OPX optical-mechanical switches distinguish themselves as some of the most responsive switches I've had the opportunity to use. The K100 touts an impressive polling rate of 8,000Hz and relies on a laser mechanism to detect key presses, positioning it as a standout gaming keyboard. In comparison to the red switches on other recent gaming keyboards I've tested, the OPX switches notably feature a shorter actuation point and travel distance. This distinction became more pronounced during typing, as opposed to actual gameplay scenarios.
The sense of bottoming out these switches was satisfying without leading to fatigue, contributing to a notably reduced error rate on the K100 in comparison to a standard mechanical Red switch keyboard. Although Corsair's OPX switches aren't as quiet as Cherry MX Reds, they strike an excellent balance akin to the comfortable middle ground found in Brown switches. Personally, my preference still leans towards Brown switches, especially when considering late-night gaming sessions—a quieter keyboard is greatly appreciated by my noise-sensitive household.
I rigorously tested the K100 across a diverse range of video games beyond typing, including titles like Valorant, Overwatch 2, Dota 2, Doom Eternal, Ghostrunner, and Street Fighter 6. The results were satisfying, particularly when I paired the keyboard with the equally feature-rich Corsair Darkstar Wireless Gaming Mouse. Given its intended gaming use, the Corsair K100 RGB Optical-Mechanical Keyboard naturally excels in this domain. It offers comfort and convenience during extended gaming sessions, and the iCUE software empowers players to achieve remarkable feats across games of varying difficulty levels.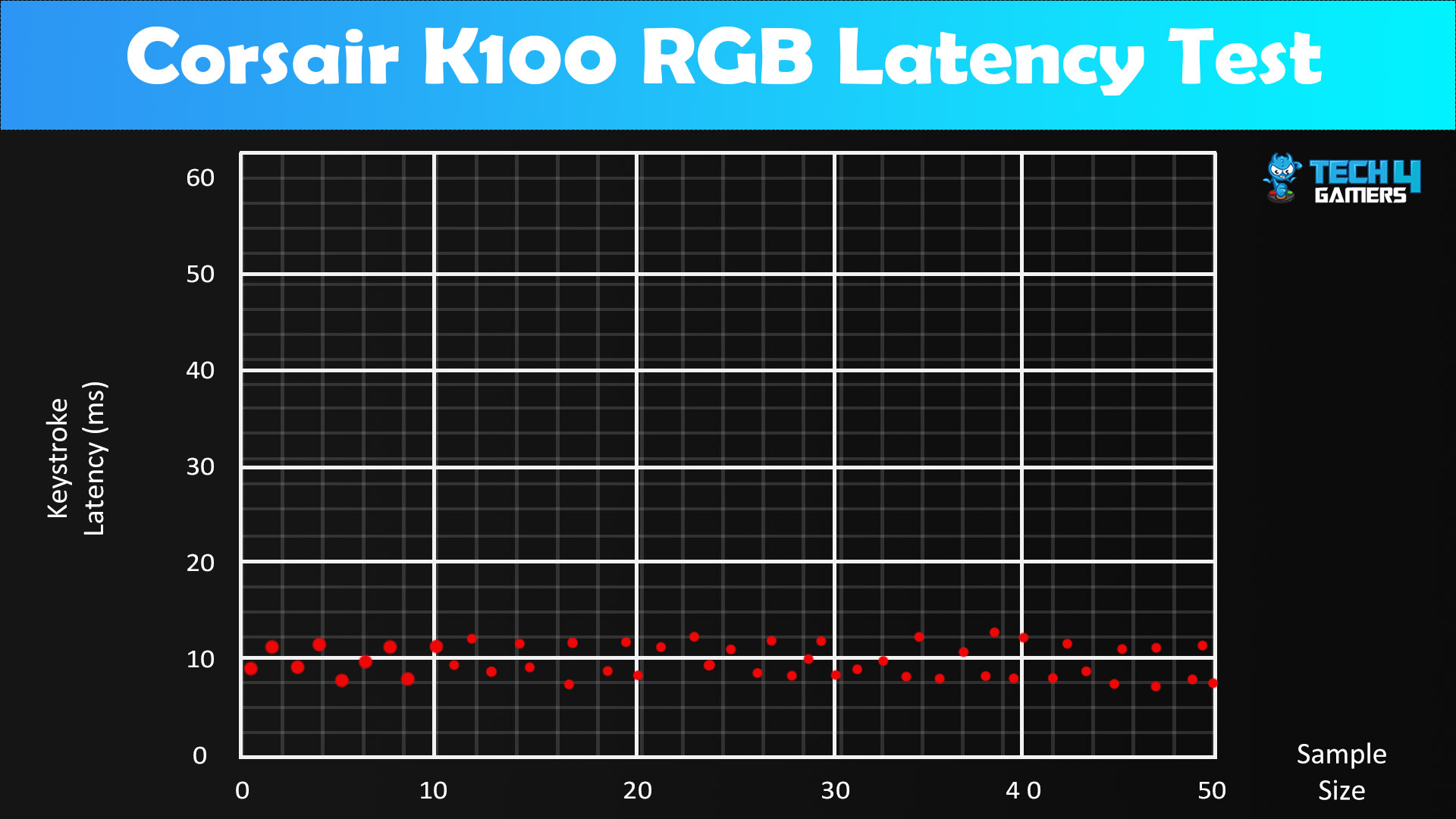 The zero debounce of the OPX switches is undeniably advantageous, allowing for lightning-fast keypresses to register seamlessly and without errors. However, the shortened actuation distance doesn't necessarily confer a competitive edge for players like me who don't possess the lightning-fast reflexes and intense focus often seen in esports professionals. While it might indeed provide an edge for those players, it remains debatable whether the shorter actuation distance of OPX switches grants an advantage to someone like me, a relative novice. Nevertheless, the incorporation of PBT keycaps notably enhances the overall tactile experience of the switches and keys.
It's worth noting that those who favor tactile and clicky inputs should be aware that they might be more prone to unintentional mistouches and errors. Additionally, I'd like to highlight the audible aspect of the OPX switches on the K100. The heightened noise level and the distinct hollow sensation characteristic of Corsair's linear switches might resonate with certain individuals. However, it's evident that the K100 keyboard isn't universally tailored to every user. Notably, the keycaps, much like those found on the majority of gaming keyboards, boast greater height and thickness in comparison to those on productivity-oriented keyboards and laptops.
Unless your desk is ergonomically elevated, the included wrist rest with the K100 becomes a necessity for comfortable typing. Fortunately, Corsair has crafted a soft and cushioned wrist rest that effectively counteracts hand fatigue during extended usage. If I were compelled to choose between the MX Speed and OPX switch options for the K100, my preference would lean toward the former. This choice is influenced more by personal inclination and the novelty of the OPX switches rather than discernible performance improvements.
Features
The K100 offers comprehensive options for both physical and digital customization of every individual key. With the assistance of the iCue software, you can remap any key on the keyboard, create macros, and assign distinct RGB lighting effects to each switch. Further details about the iCue software will be elaborated upon below. It's noteworthy that discovering a pre-built keyboard with such an extensive scope for personalization is rather uncommon.
Media Controls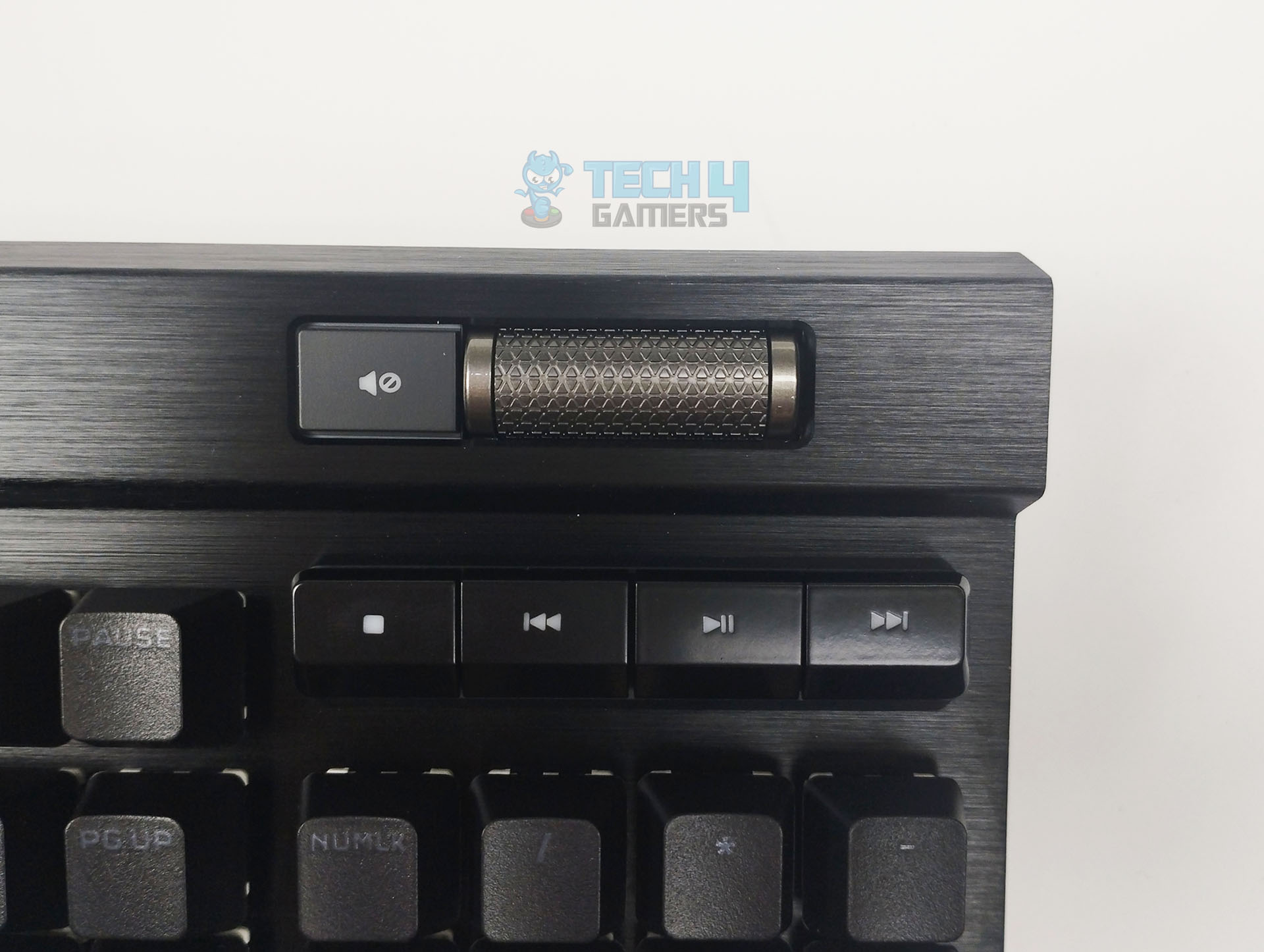 As anticipated, the media controls occupy their designated space, situated at the upper-right corner just above the number pad. These controls encompass play, stop, skip, rewind, and mute buttons, accompanied by a generously sized metal volume roller. The redesigned volume wheel stands out as a marked improvement over previous iterations featured in Corsair's gaming keyboards. Frequently, manufacturers impose limitations on customizing these controls, particularly when they are in the form of buttons rather than conventional keys. In this aspect, Corsair deviates from the norm by providing you with full control.
Their proprietary software, iCue, empowers you to remap all of these controls, offering the ability to assign volume adjustment scrolling to the wheel in both upward and downward directions. While the Platinum XT and K95 Platinum both incorporated the standard array of functions, encompassing macro and media keys as well as USB passthrough, there's an addition that sets the K100 apart. A distinctive feature is a metallic knob protruding to the left of the top bar, positioned between the Esc and F1 buttons—an innovation previously unseen in Corsair's lineup.
iCUE Control Wheel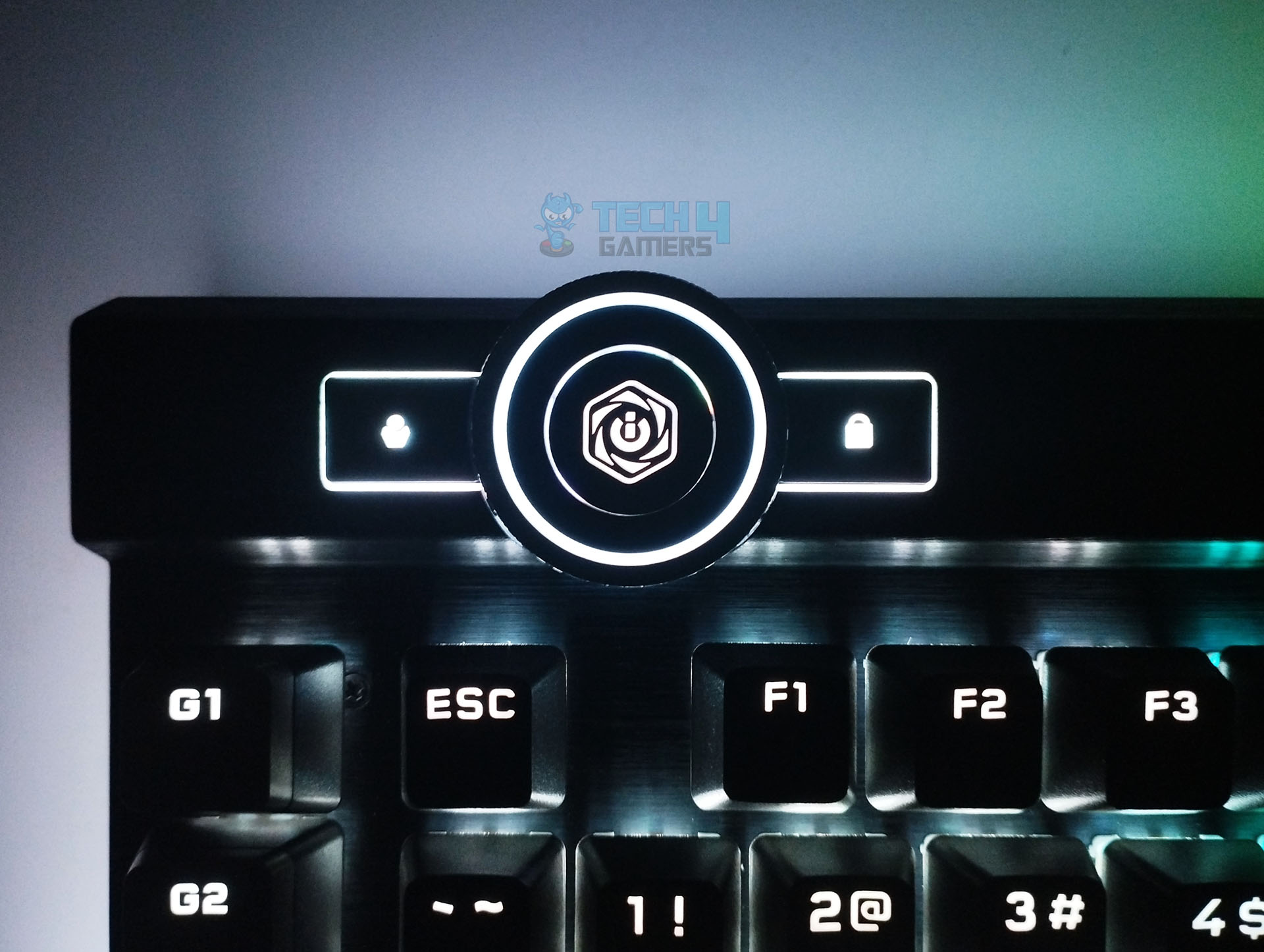 The most noticeable aesthetic addition is the second metallic wheel, positioned in the upper left corner of the keyboard and crafted from textured aluminum. Regarding unique features, initially, I had assumed that the iCUE control wheel would solely allow for selecting between macros and window configurations. However, it introduces a novel dimension—a versatile macro dial that offers access to a range of preset scrolling functions or your customized configurations.
This horizontal-twisting wheel delivers finer control compared to the vertical volume roller. Operating it accurately requires the use of two fingers, making it particularly suitable for tasks demanding precise adjustments rather than casual manipulation during other activities. The iCUE Control Wheel excels in providing meticulous adjustments and effortless, precise scrolling. Its standout feature lies in its adaptability; a central button facilitates switching between various function modes, color-coded for ease of identification. A simple click of the wheel's center button swiftly transitions between all the available features within a profile. The color of the central wheel denotes its current mode, changing upon each press.
By default, the blue color governs the brightness of the RGB lights; green lets you fast forward or rewind in music and media playback; white enables you to navigate through different tracks in your playlist. Admittedly, this seems somewhat redundant, given that dedicated keys for these functions are present on the opposite side of the keyboard. Lastly, the red mode allows you to record macros without needing iCue. You also have the option to assign personalized actions or macros to the wheel. For further configuration settings of the control wheel—such as navigation, application switching, and zooming—you'll need to access iCue.
However, I discovered that its utility in gaming was limited due to the requirement to shift an entire hand away from the keyboard to utilize it, especially when six programmable G keys are conveniently positioned right next to it. Nevertheless, within a single keyboard profile, you can employ the dial for various tasks. As it turns out, the control wheel offers eight A/B adjustments, catering to functions like brightness control, track scrolling, vertical scrolling, zooming, and more.
For someone like me who often engages in image editing both for passion and profit, I found the wheel particularly handy for zooming. I could swiftly zoom in for detailed edits, make necessary adjustments, and then promptly zoom out again. The control wheel stands out as one of the keyboard's two significant new features, contributing to its price surpassing that of the vast majority of rival gaming keyboards. However, its use is specific, and without a non-gaming purpose for the control wheel, I wouldn't find myself utilizing it extensively.
Its capabilities do have limits. Not many inputs truly benefit from scrolling controls, and while creativity might lead to unique applications, it's not an automatic enhancement for most users. Furthermore, the control wheel appeared somewhat flimsy and imprecise, with the outer ring being sharp enough to cause occasional discomfort during rotation. Notably, the dial lacks compatibility with Elgato's Stream Deck software — a notable omission considering the compatibility of other keys. Integrating some audio and lighting functions from Stream Deck into the dial's modes would have been a logical enhancement.
Powered By Axon
The K100 boasts further upgrades beneath its surface. An NXP LPC54605J512 CPU is at the core of the Corsair K100 RGB. The ARM Cortex M4 CPU has 512 kB of flash memory, 200 kB of SRAM, and a clock speed of 180 MHz. Compared to the processors often seen in gaming keyboards, this one is outstanding. It features unprecedented onboard storage, accommodating a whopping 200 keyboard profiles in contrast to most high-end gaming keyboards, which can only store five profiles.
Following in the footsteps of CPU manufacturers, Corsair's new K100 RGB gaming keyboard has multithreading through a built-in AXON SoC to provide a high polling rate. Astonishingly, it has a polling rate for key presses that is eight times as fast as standard keyboards, at 8000Hz. The concept of "hyper-polling" sounds impressive, but its practicality is limited. The 8000 Hz polling rate seems to serve little use beyond promotional purposes since no human being can respond at such rates.
Moreover, the difference between 1 millisecond and 0.25 millisecond is imperceptible to the human senses. Keyboards typically have a polling rate of 1000 hertz, which means that inputs are sent to your PC in under a millisecond. While ultra-fast esports players might argue they can capitalize on the difference between a millisecond and a quarter-millisecond of lag, it's a tough claim to buy into fully. Certainly, my own gameplay remains unaffected by this difference.
Software Compatibility
iCUE
The Corsair K100 RGB, akin to other mechanical keyboards, demonstrates enhanced performance when utilized alongside its corresponding software. The K100 integrates two separate software solutions for configuration. For coordinating your lighting with compatible Corsair products, crafting lighting, setting up macros, and managing onboard storage, the company offers its extensive iCUE software, which, while comprehensive, retains a degree of complexity.
A notable instance lies in the similarity between the "Lighting Effects" and "Hardware Lighting" tabs, potentially leading to confusion when delving into the multifaceted aspects of keyboard customization. Within this software, numerous avenues for customization are available. Nonetheless, the software's usability can, at times, prove less than intuitive. With perseverance and experimentation, however, the optimal settings for your keyboard can be discovered.
iCUE is one of the most dominant software programs for managing PC peripherals, with Corsair constantly introducing innovative features and possibilities. I haven't come across a company with more flexible customization options than Corsair. Each button can be set to perform almost anything you want it to. After the iCUE recognizes the Corsair K100 RGB keyboard, it will expand the instructions to include a new loop that demonstrates the novel rotary wheel and all the possibilities it offers us.
Towards the upper left of the screen, you'll see the profile selection. The Corsair K100 RGB Platinum has room for two hardware profiles that can be stored in the keyboard's capacity and an unlimited number of software profiles while the iCUE is in use. When you save a hardware profile, you won't need the software anymore—any computer to which you connect the keyboard will be able to use all of its advanced and lighting features. Notably, Corsair provides an active community forum where individuals have generously shared numerous downloadable lighting profiles.
Despite the occasional intricacies of iCUE, its capacity for achieving extensive customization is undeniable. Among the various features offered by iCUE, I frequently find myself gravitating towards "Instant Lighting," a function that enables the selection of a single color as the default for all Corsair devices. This proves particularly useful when desiring an uninterrupted movie viewing experience devoid of the dynamic distractions brought forth by the ever-shifting spectrum of RGB lighting.
Ultimately, iCUE boasts a broad array of customization options and generally streamlines its functionalities. However, the K100's new additions inadvertently accentuate its limitations. While arranging and establishing new modes on the iCUE control wheel is a straightforward process, it necessitates the designation of macros and commands as "hardware actions" instead of conventional actions. This oversight is easy to make and, although rectifiable, can be time-consuming and potentially vexing.
Elgato Stream Deck
The keyboard also boasts compatibility with the Elgato Stream Deck. Elgato, a company acquired by Corsair in 2018, retains its favorability among Twitch and YouTube content creators due to its acclaimed hardware and software offerings. Hence, the incorporation of Stream Deck compatibility into Corsair's gaming products appears quite logical. To utilize the macro keys for streaming-related tasks, it is necessary to download Elgato's Stream Deck application and manually configure them.
The six dedicated macro keys positioned on the left side of the K100 can be effortlessly programmed through the Stream Deck software to execute a diverse range of functions. These include launching frequently used applications, capturing clips, performing various chat-related actions, adjusting in-game voice, and much more. Once again, the appeal of Elgato's hardware and software among gamers stems from the expansive community that has developed numerous plugins enabling an array of actions to be executed with a single click.
However, harmonizing Stream Deck functions with K100 macros demands a certain finesse. Initially, Stream Deck inputs only function when both the iCue and Stream Deck applications are active. Furthermore, Stream Deck takes precedence over macros configured in iCue. This results in non-streaming macros losing functionality as long as the Stream Deck app remains active. Grasping these intricacies while slightly adding complexity compared to employing a dedicated keypad designed for video production cues like Elgato's Stream Deck hardware becomes pivotal.
There might be instances of frustration when an unintended action is triggered due to overlooking the status of Stream Deck. Yet, if you prefer avoiding additional clutter on your desk and seeking a broader spectrum of inputs, Stream Deck proves transformative for streamers. It significantly streamlines the automation of common actions and adjustments, simplifying the setup and execution of streams. For regular usage, the K100's default settings prove adequate for routine tasks and casual gaming. Nonetheless, the Stream Deck application caters to the inclinations of those who desire a keyboard that is as distinctive beneath its surface as it is visually.
Bottom Line
In conclusion, while room for enhancement always exists, the K100 boasts unparalleled software support. Abundant features empower extensive keyboard customization possibilities. Nevertheless, navigating certain specific tasks might require some experimentation. My principal grievance stems from the inconvenience of utilizing two separate software entities for keyboard controls. Streamlining the user experience would be greatly facilitated if Corsair were to amalgamate these two programs into a unified utility. The above videos effectively underscore the reality that certain adjustments might entail as many as four or five sequential steps to finalize.
Should You Buy It or Not?
The Corsair K100 RGB's elegant design and powerful functionality don't come cheap. Normally priced at $249.99, it is much more costly than Corsair's own K95 RGB Platinum, K95 RGB Platinum XT, and other competitors' gaming keyboards. The new OPX switches operate smoothly and are pleasant to use. Metal control wheel improves utility, but not necessarily for gaming; a higher polling rate certainly isn't technically essential unless you're an exceptional player with Spider-Sense.
Moreover, the iCue control wheel and other unique features are undeniable improvements, but they will only pique the interest of the most productivity-obsessed automation hounds. It's also possible that some people won't appreciate the updated features, especially the new switches. Extra features, such as buttons and dialers, might be seen as gimmicks that leave you wondering whether you have too much on your plate.
The K100 doesn't provide any groundbreaking innovative features. However, the K100 is an excellent choice if you need a keyboard with a wide range of controls and capabilities. If you do a lot of content production in your own time, you'll like the K100's metal control wheel. It is the best of the best for the minority of aficionados, content creators, and professional gamers who can make use of the extra inputs and lightning-fast actuation speed.
Ultimately, the K100 is a high-quality, albeit unusual, alternative for anyone looking for a costly upgrade — a showcase for their gaming station with the whole gaming keyboard trimmings. It is a welcome innovation in the tired, commoditized keyboard industry of recent years. Overall, it provides a unique alternative to the standard mechanical keyboards that dominate the gaming keyboard market, and I find that this makes for a superior product.
Was our article helpful? 👨‍💻
Thank you! Please share your positive feedback. 🔋
How could we improve this post? Please Help us. 😔