Update:
Following the release, Overwatch 2 has continued to receive negative reviews. Currently, 10% of the 72.5K reviews are positive. With nearly 65K negative reviews, Overwatch 2 has now become the worst-rated game on Steam.
Original story:
Following the release of Overwatch 2, the title was said to be an inferior version of the first game. Blizzard also scrapped the previous game, with plenty of content being similar between the two. Therefore, many believed that the sequel was a new game in name only.
While Overwatch 2 was released on October 4 last year, it skipped the Steam platform. However, Blizzard has recently released it on Steam, and thousands of users have begun to review bomb the title.
Why it matters: The PVE mode for Overwatch 2 was claimed to be an important part of the sequel. However, Blizzard canceled the mode a few months ago, offering standalone missions instead. In addition to the previous issues, this became a huge red flag for fans.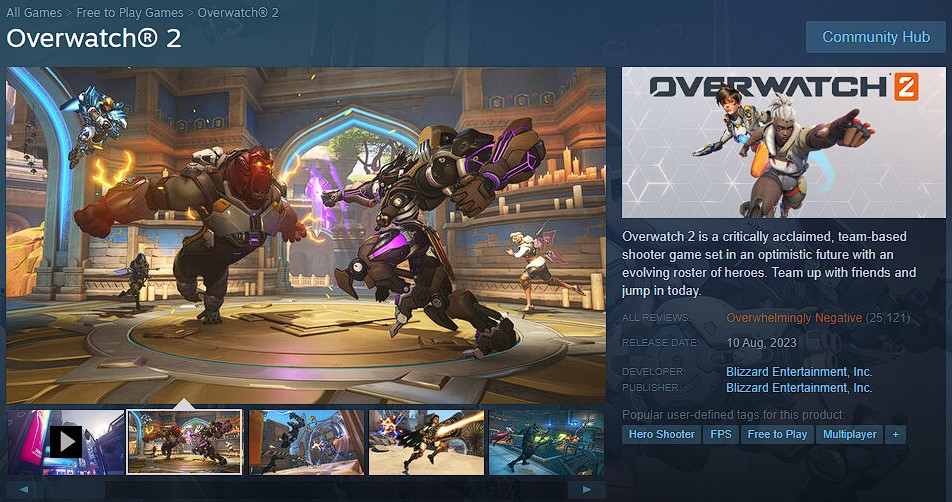 Currently, Overwatch 2 has more than 25K reviews on Steam. Among these reviews, 86% are negative, making it one of the worst-reviewed Steam games. As such, it is safe to say that Overwatch 2 has had a disastrous launch on the platform.
The reviews point to the game's microtransactions as a major negative. While this element was always a part of the IP, the recent implementations have received criticism for being overpriced and egregious.
Unlike the first game, Blizzard took a free-to-play approach with Overwatch 2. This has likely incentivized the studio to push for more microtransactions. Furthermore, the studio's decision to shut down the first game has also been criticized.
With all the controversy around Overwatch 2, it is not surprising that it received a less-than-stellar reception on Steam. The game has become notorious for broken promises and poor monetization practices in the industry.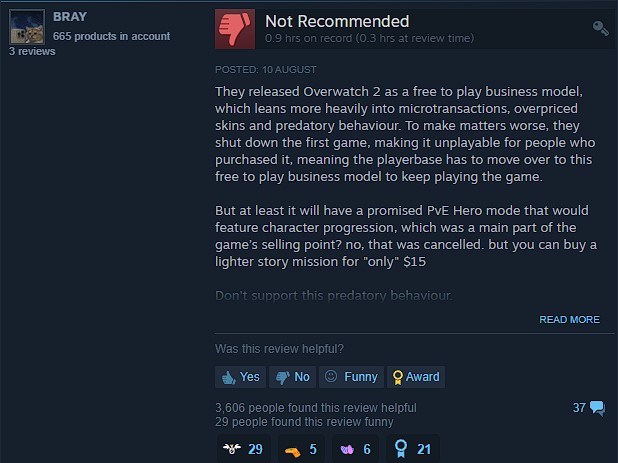 While review bombing has become a trend in the industry, there may be a lot of validity to the negativity around Overwatch 2. With nearly 90% of the reviews being negative, the game may never fully recover from its poor reputation.
Still, the game's issues did not stop it from performing well in the past. It turned out to be the third most-played game in the US at launch in 2022 and also saw over 50K concurrent users on Steam recently.
Since its release, the game has reached over 35 million players, generating over $100 million. These figures are likely to increase in the coming months, but Blizzard has done little to convince fans that Overwatch 2 is a worthy sequel to the original release.
Was our article helpful? 👨‍💻
Thank you! Please share your positive feedback. 🔋
How could we improve this post? Please Help us. 😔