We are a few months away from the launch of Intel's 13th Gen Raptor Lake Processors, which are rumored to be announced in September and released on October 17th.
Today we have performance numbers of Intel Core i7-13700k if you pair it with DDR5 memory standard compared to DDR4. The new processor is equipped with 8 Performance and 8 Efficiency cores, making up the 16-cores total. The Core i7-13700k reportedly features a 3.4 GHz base clock and a 5.3 GHz boost clock in addition to 30MB of L3 cache.
Moreover, these Intel 13th Gen CPUs would already be available for purchase together with new Intel Z790 chipset motherboards on the launch day, and early 2023 is the anticipated release date for the mid-range motherboards based on the Intel H770 and B760 chipsets.
The support for DDR5 memory is another of the forthcoming CPUs' main features, and it appears that the Intel 13th Gen Processors greatly benefit from DDR5 memory. Recent tests and leaks indicate that the Raptor Lake Processor will work 20% faster with DDR5 than with DDR4 memory.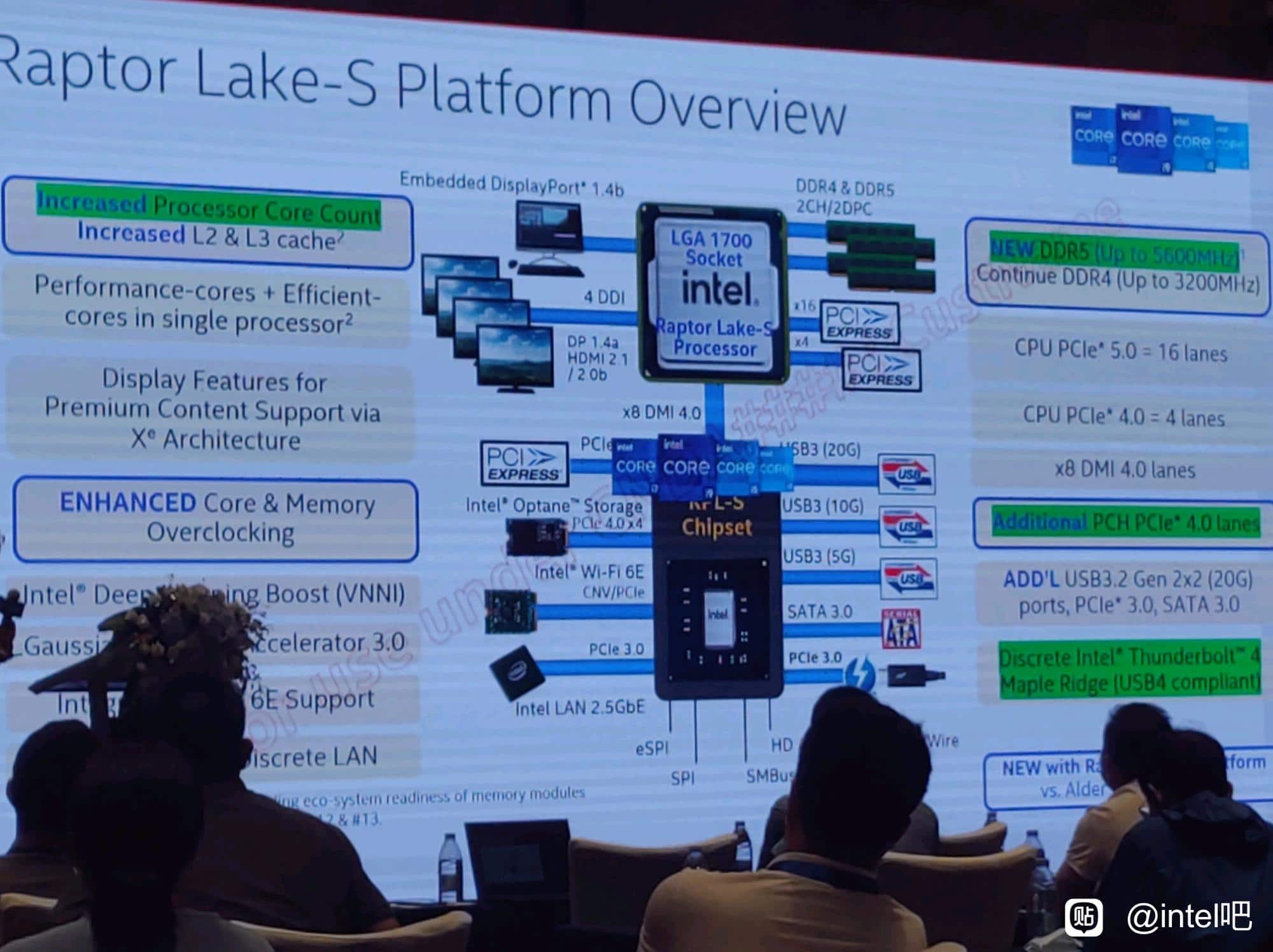 Benchleaks claimed that they had tested the next Intel Processors with both DDR5 and DDR4 memory while naturally keeping all other specifications constant.
The DDR5 Test bench had the Z690 Steel Legend WiFi 6E/D5, while the Core i7-13700K with DDR4 system used the ASRock Z690 Steel Legend WiFi 6E. The only difference between the two motherboards is the memory slots.
The native, supported data speeds for Raptor Lake were used by the DDR4 system with DDR4-3200 memory and the DDR5 system with DDR5-5200 memory. Since both computers had 32GB (2x16GB) of RAM according to their Geekbench 5 entries, the outcomes are comparable.
DDR4 outperformed DDR5 by 1% in single-core performance at first glance, giving the impression that there was little change. However, DDR5 dominated multi-core ratings and delivered roughly 20% faster results.
[GB5 CPU] Unknown CPU
CPU: Intel Core i7-13700K (16C 24T)
Min/Max/Avg: 5304/5382/5361 MHz
Codename: Raptor Lake
CPUID: B0671 (GenuineIntel)
Scores, vs AMD 5800X
Single: 2069, +19.7%
Multi: 19811, +84.4%https://t.co/5jlgOMSUpg

— Benchleaks (@BenchLeaks) July 23, 2022
The difference is evident and worth noting. It suggests that as next-generation processors benefit more from DDR5 memory, we may be going slowly in that direction shortly, where we gradually shift from DDR4 to DDR5. Furthermore, the price gap between DDR5 and DDR4 has already been narrowing as recent reports indicate that the price of DDR5 memory fell by 20% in May alone.
Choosing which DDR5 memory to purchase in 2022 can be very difficult because the technology is still in its infancy, and there is still a lot to be discovered as more and more processors make the most of DDR5 memory. Check out our top 10 DDR5 sticks in 2022 based on cost and performance.
What are your thoughts? Would you install DDR5 memory in your next build? Do you think it's worth the upgrade?
Related News: AMD Ryzen 7000 Will Be Hotter And More Power Hungry
Was our article helpful? 👨‍💻
Thank you! Please share your positive feedback. 🔋
How could we improve this post? Please Help us. 😔