A new blower-style dual slot cooler was spotted for the GeForce RTX 4090 graphics card. Blower-style coolers are a thing of the past and are not a standard way for cooling high-performance graphics cards like the GeForce RTX 4090.
Up to the Nvidia 10 series cards, the First Founder's Edition cards were all equipped with blower-style coolers. Nvidia then replaced its blower-style cooler with Axial type fans, providing better cooling and lower noise for the RTX 20 and 30 series.
Some custom board partners like Gigabyte still launch graphics cards with blower-style coolers like its Turbo lineup, but it's mostly made for users who work with small builds where space requirements are not ideal for triple slot coolers.
The current generation of graphics cards requires advanced cooling, while the Nvidia GeForce RTX 4090 is equipped with a vapor chamber cooler. Still, custom board partners are trying to incorporate the GeForce RTX 4090 with a blower-style cooler on a Gigabyte PCB.
Gigabyte RTX4090 Blower pic.twitter.com/b4Sj6MQT7Z

— MEGAsizeGPU (@Zed__Wang) February 23, 2023
The first one to spot the new GeForce RTX 4090 Blower card was MEGAsizeGPU, which provided clear images and specifications. The unknown GeForce RTX 4090, featuring a Blower-style cooler, is a dual-slot graphics card equipped with the 16-Pin power connector found on Nvidia RTX 40 series cards.
According to the provided specification sheet, the GeForce RTX 4090 Blower Edition graphics card will come with 16384 cores and 512 Tensor Cores. The card will also have a core clock of 2520 MHz equipped with 24 GB of GDDR6X memory on a 384-bits bus.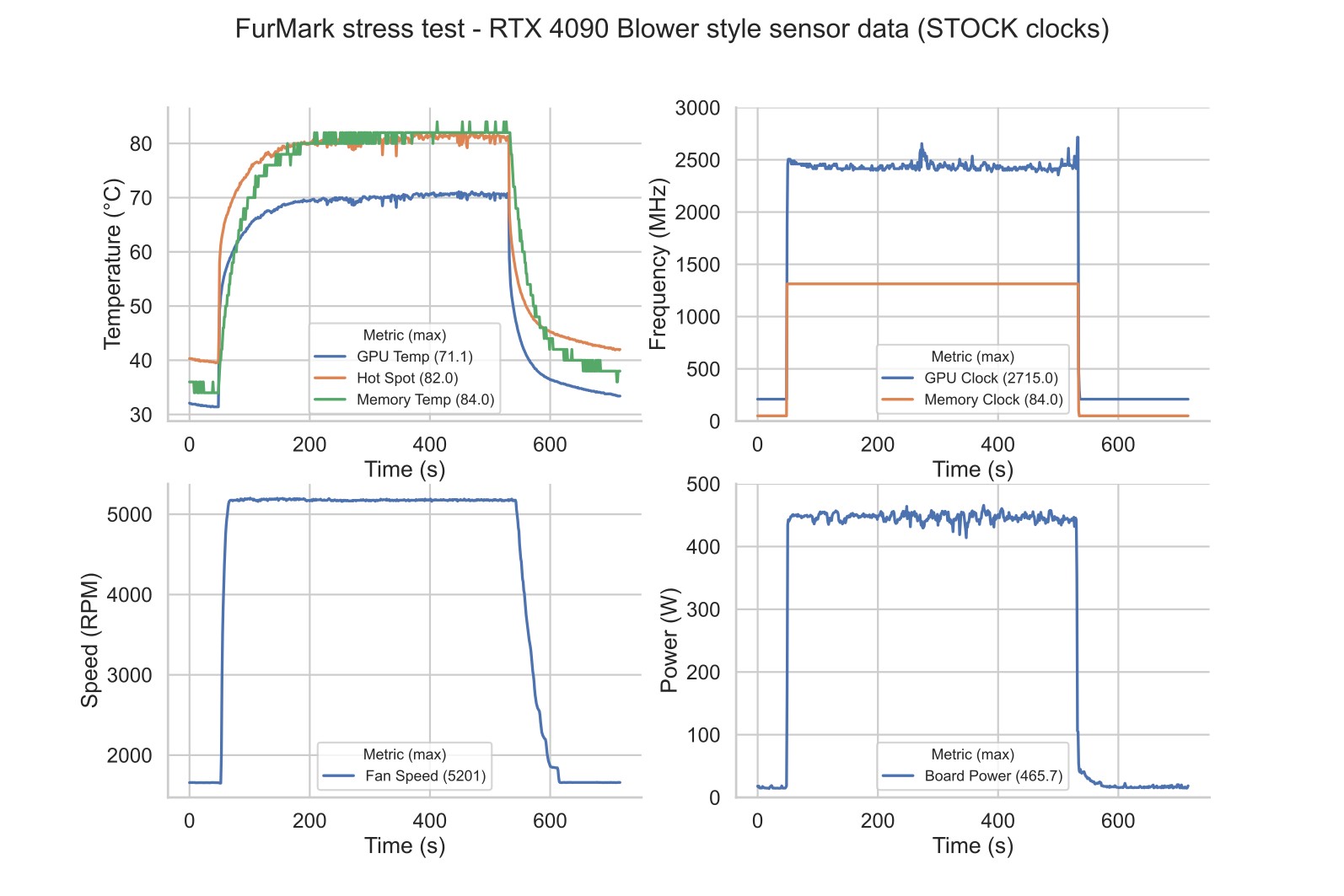 A similar GeForce RTX 4090 card was previously spotted with the same dual-slot cooler design. The said card reached a max temperature of 78C and a hot spot temperature of 80C. The memory on the card was also running hot and was going 98C with fan speed at 5200 RPM.
The temperature on the blower-style GeForce RTX 4090 is relatively high, but that should be expected since custom board partners and Nvidia ship it with triple or quad-slot coolers.
There is no information about the card manufacturer yet, though it's using Gigabyte PCB. What are your thoughts on using blower design coolers by current generation cards?
Was our article helpful? 👨‍💻
Thank you! Please share your positive feedback. 🔋
How could we improve this post? Please Help us. 😔