AMD Ryzen 7000 3D V-Cache processors will be launched on 28th Feb 2023, and media outlets will soon start publishing reviews. Still, one foreign website seemed to break NDA and posted gaming benchmarks of flagship Ryzen 9 7950X3D on 22 games on 1080p resolution.
The benchmarks demonstrate the comparison between the two flag processors, Ryzen 9 7950X3D and Core i9-13900k, in which both processors are coupled with AMD Radeon RX 79000 XTX graphics card.
The benchmark test was performed on many old games, such as Shadow of War (2017), Shadow of the Tomb Raider (2018), and F1 21.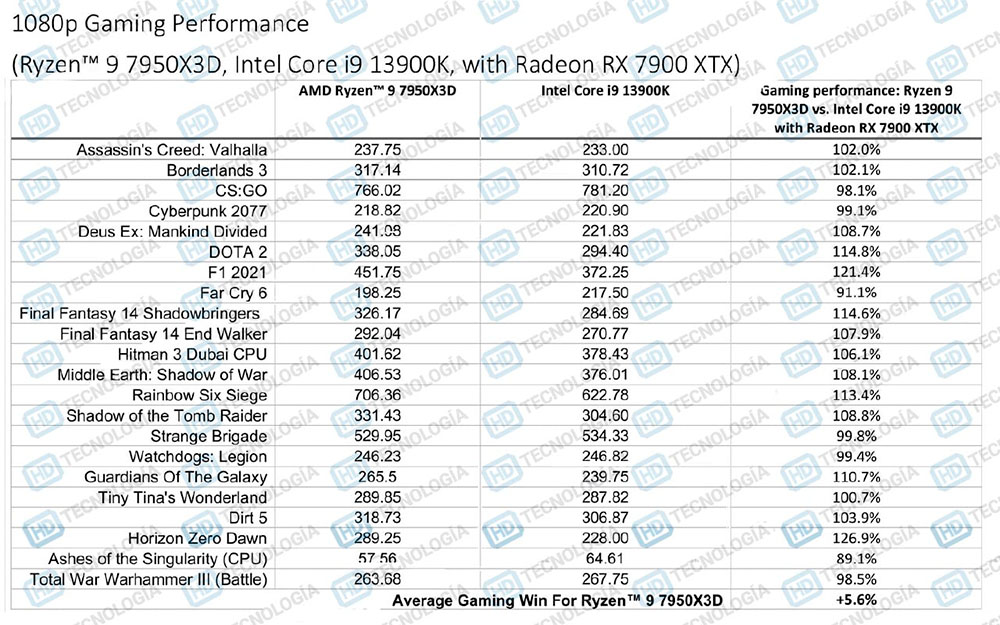 As you can see in the benchmarks above, with 32 GB of DDR5 RAM at 6,000 MHz (2x 16 GB), we could translate everything into that, on average, at 1080p resolution, the AMD Ryzen 9 7950X3D is around 5 .6% faster than the Core i9-13900K.
This average comes from the test of 22 games. When we look at the benchmark data, old games like F1 21 are breaking the average most with a +21.4% difference concerning the CPU.
You can be suspicious here because the extra cache memory is used more in this F1 21, and therefore, the difference in performance is higher.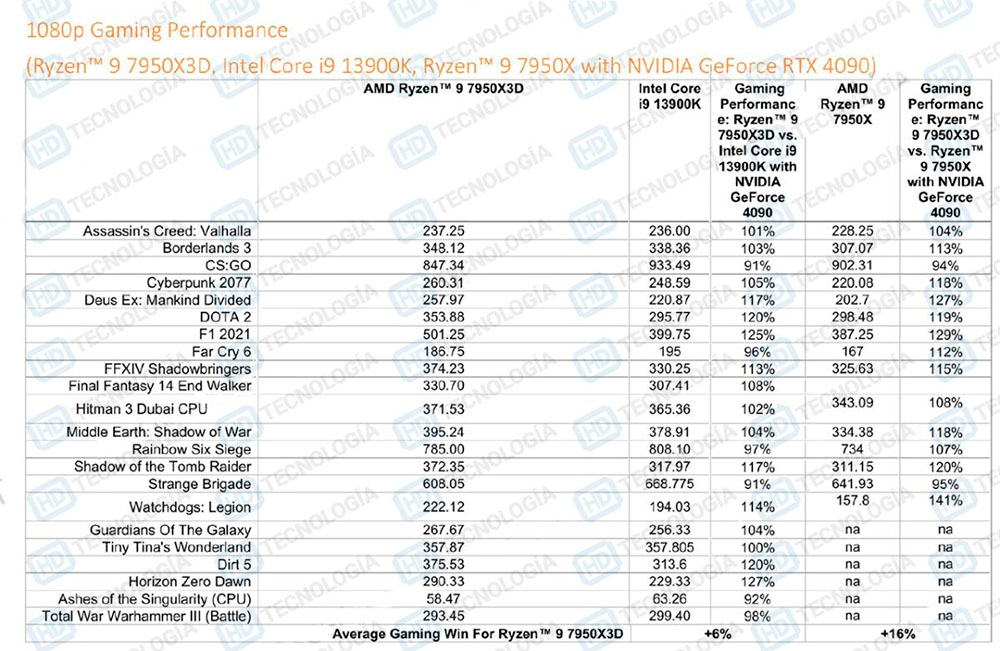 NVIDIA's top-of-the-line Nvidia GeForce RTX 4090 graphics card was also used in the second test of leaked benchmarks. With this change, the AMD Ryzen 9 7950X3D is again over 6% faster than the Core i9-13900K and just 16% faster than the AMD Ryzen 9 7950X.
Regarding its "predecessor," the performance difference may be too low for the price difference between the two CPUs considering Ryzen 9 7950X3D will go on sale for $699. The Ryzen 9 7950X is on sale for $434, so the AMD Ryzen 9 7950X3D costs $265 more and offers an average performance improvement of 16%.
And if we look at the benchmarks, the price difference between AMD Ryzen 9 7950x3D and Core i9-13900K is also noticeable as Ryzen 9 7950x3D costs about an extra $120 and offer around 6% additional performance. To this is added that the motherboards are also slightly more expensive on the AM5 platform.
If you only think about gaming, the best option is the AMD Ryzen 7 7800X3D, but it will not launch until April. Now we know the reason: it would cannibalize the sale of all the company's CPUs in the gaming spectrum.
Are you excited about Ryzen 7000 3D V-Cache processors? Share your thoughts in the comment section below.
Was our article helpful? 👨‍💻
Thank you! Please share your positive feedback. 🔋
How could we improve this post? Please Help us. 😔