Worth The Big Bucks?
Review Summary
The Obsbot Tiny 2 webcam offers impressive upgrades over its predecessor. Its larger dual-ISO sensor promises enhanced performance, while a refined design accommodates this new hardware. The webcam's impressive autofocus, tracking, and zoom functionalities, along with gesture and voice controls, make it suitable for professionals, content creators, educators, and remote workers. However, its premium price tag may deter budget-conscious consumers. Despite minor drawbacks, the Obsbot Tiny 2 stands out as a high-quality webcam with advanced features for those seeking top-tier video quality and versatility.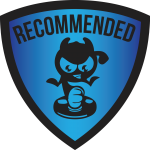 Image Quality -

9/10

Facial and Motion Tracking -

8.5/10

Low-Light Performance -

8.5/10

Value -

7/10

AI Enhancements -

7.5/10
Pros
High-Quality Picture
Facial and Motion Tracking
Extensive Software Features
Dual Native ISO Technology
Unique Gimbal Mechanism
Cons
High Price Point
Beauty Mode Functions Could Be Better
Insufficient Noise Cancellation
Lack of Support for 1440p Resolution
The picture quality and tracking capabilities of the Obsbot Tiny 4K completely blew me away when I saw them for the first time. Since then, different competitors have come forward to pose a threat to its dominance. To counter this, Obsbot came up with a new surprise. Can a webcam that's already been named "Tiny 4K" be improved upon? Of course, by replacing it with a tinier one. With the release of Tiny 2, Obsbot has once again come up with the industry's best webcam thanks to extensive upgrades made to the entire package.
The sensor in Obsbot's second-generation 4K camera has been greatly improved from its predecessor, making it capable of producing some of the highest-quality pictures available in a webcam. Moreover, the remote control and tracking features are what make this webcam stand out from the rest and earn it my praise. Furthermore, the hardware is also much more refined than before. Significantly, it's a huge improvement over the predecessor it replaces.
Why you can trust Tech4Gamers:

We understand the importance of making informed decisions. That's why our team spends significant time testing every product we review.

Find out more about how we test.
---
Key Takeaways
The Obsbot Tiny 2 webcam impresses with its upgraded sensor, exceptional facial and motion tracking, and extensive software features. Its dual native ISO technology ensures clear and vivid video quality in various lighting conditions. Furthermore, the unique gimbal mechanism allows for precise positioning.
The things I have liked about the Obsbot Tiny 2 are its High-Quality Picture, Facial and Motion Tracking, Voice and Gesture Controls, Versatile Mounting, Compact and Sleek Design, Extensive Software Features, Wide Field of View, and Dual Native ISO Technology.
The things I have not liked about the Obsbot Tiny 2 are its High Price Point, Lack of Windows Hello Compatibility, Lack of Portrait Mode, and Inefficient Background Blur.
The Obsbot Tiny 2 perfectly fits Professionals Seeking High-Quality Video, Presenters and Educators, Content Creators, Remote Workers, Tech-Savvy Users, and Individuals Looking For the Best with a Higher Budget.
---
Specifications
| | |
| --- | --- |
| Dimensions | 47*44*62.02mm |
| Weight With Mount | 143.3g |
| Without mount | 95.6g |
| Image sensor | 1/1.5" CMOS |
| Effective pixels | 50M |
| Aperture | f/1.9 |
| FOV (D) | 85.5° (4:3) |
| FOV (H) | 72.9° |
| Equivalent Focal Length | 26mm |
| Minimum focus distance | 10cm |
| Zoom | 1-4x |
| Focus Type | AF/MF |
| HDR | Support |
| Gimbal | Non-removable |
| Controllable Range | Pan: ±140°;Tilt: 30°~ -70° |
| Mechanical range | Pan: ±150°;Tilt: ±90° |
| Max controllable speed | 120°/s |
| Audio input | Built-in dual omnidirectional mics with noise reduction |
| Audio Modes | Noice-Reduction / Automatic Gain Control |
| Power | 5V/0.8A |
| Auxiliary Functions | Gesture Control, Voice Control |
| Auxiliary App | Obsbot Webcam |
Box Contents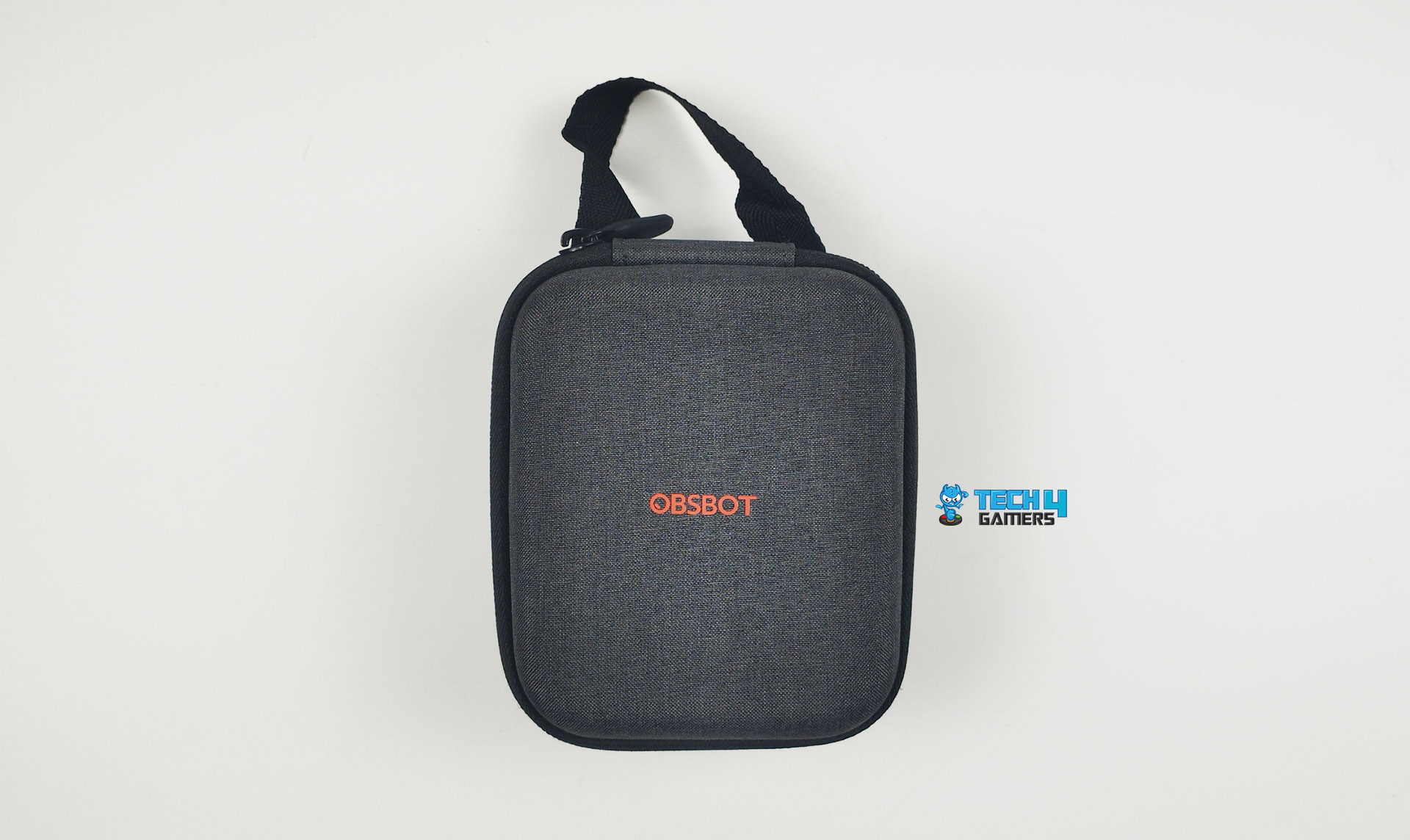 I appreciate the attention paid to the packaging of cameras such as the Obsbot Tiny 2, namely the carrying case it comes with. The Obsbot Tiny 2 is packaged not just in a box but also in a robust carrying case. Among the many things it can carry are a webcam, a monitor mount, a USB-C to C cable, and a USB Type-C into Type-A converter. It's helpful for portability, as it's not easy to come across a case designed for a webcam, so this makes it more convenient to bring along on travels without sacrificing image quality.
Here is the list of all the box contents that are provided with the Obsbot Tiny 2:
Obsbot Tiny 2
Obsbot Tiny 2 Adjustable Mount
USB-C 3.0 cable
USB-C to USB-A 3.0 Adapter
Obsbot Tiny 2 Storage Case
Obsbot Tiny Smart Remote 2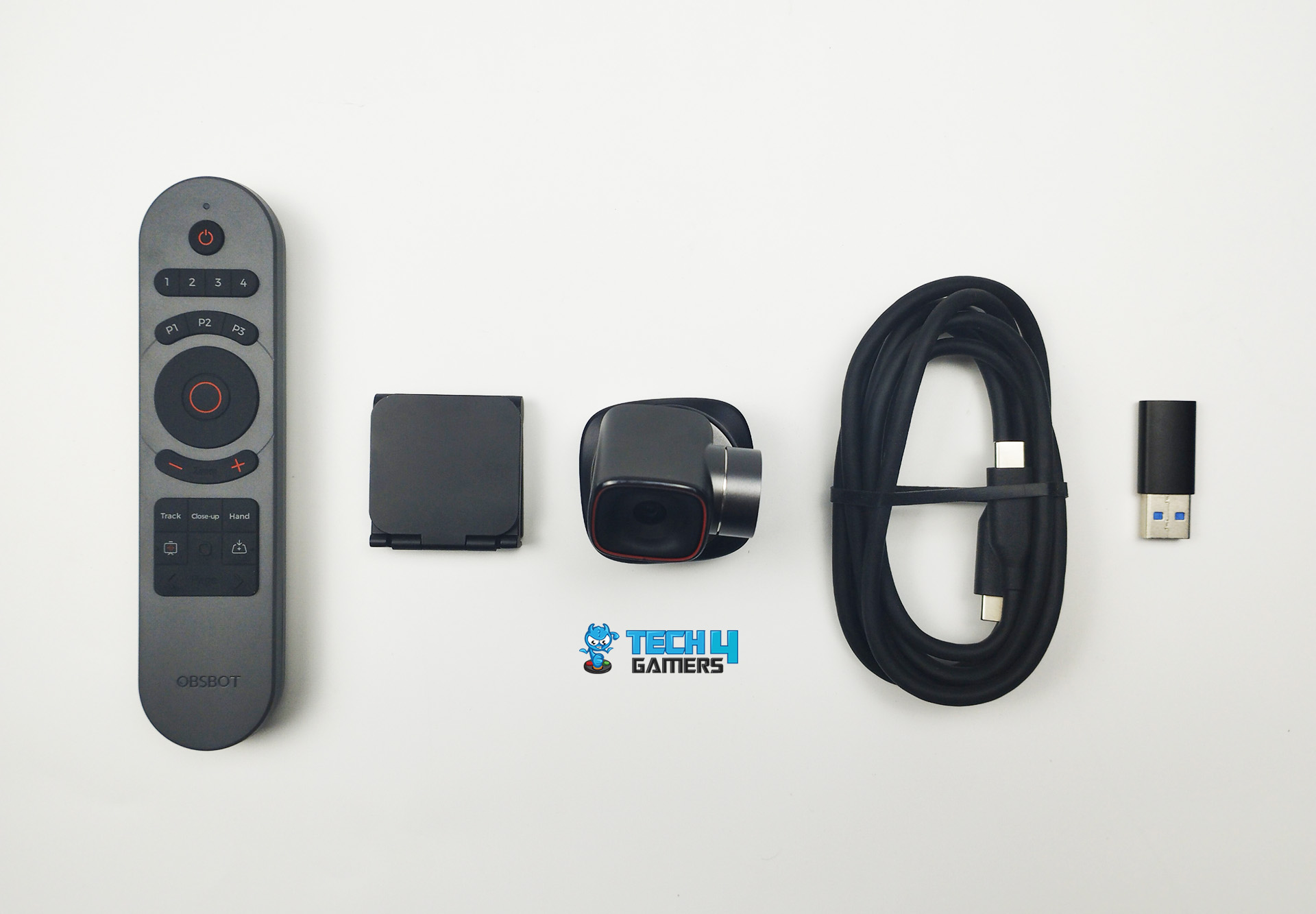 How Does the Obsbot Tiny 2 Webcam Look Like?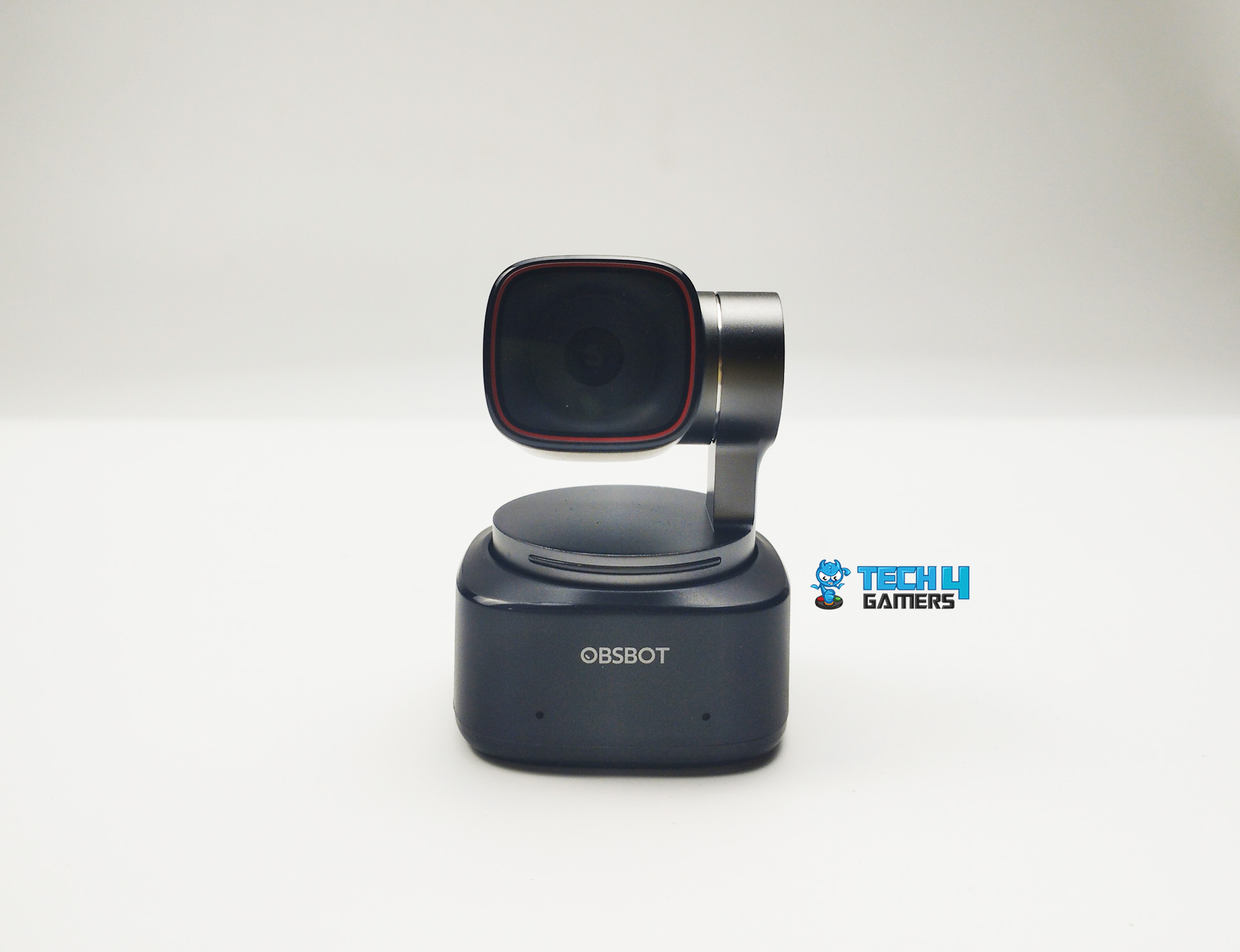 The Obsbot Tiny 2 gives off a sleek elegance, reflecting meticulous attention to design detail that goes beyond its predecessor. Its compact and lightweight frame, measuring 47x44x62.02mm and weighing 143.3g with the mount (95.6g without), not only enhances portability but also fits without any intention of attracting attention or causing disturbance in any setting.
Furthermore, the smooth, streamlined body, coupled with its secure zippered pouch for safe storage and a 3-foot USB-C cable for hassle-free connectivity, embodies a blend of functionality and aesthetics. Its design, reducing height by over 30mm and width and depth by over 10mm, is a thoughtful enhancement, offering a modern, sophisticated look without compromising on performance.
What Makes Obsbot Tiny 2 Feel More Premium?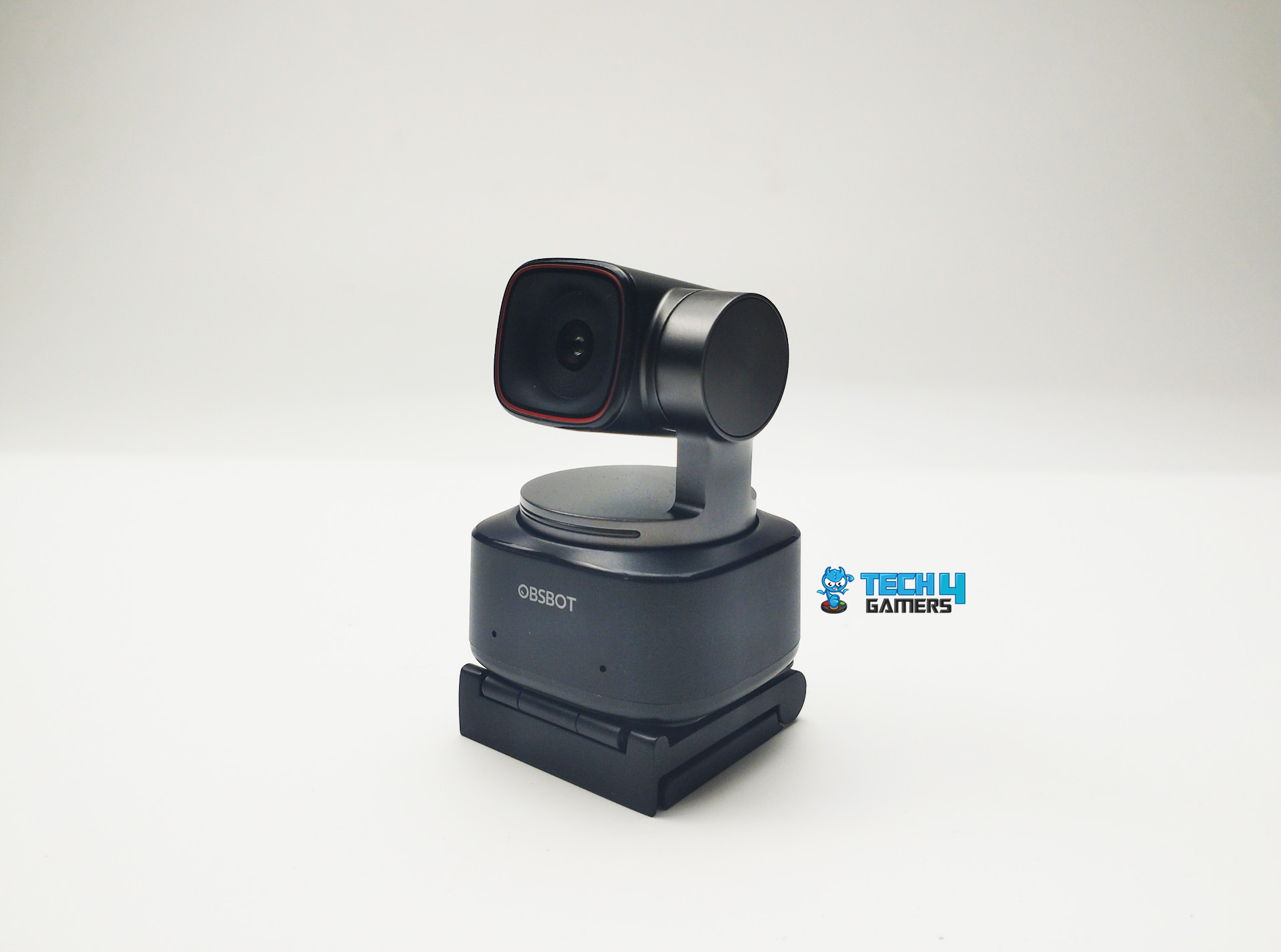 In addition to the improved visual quality, I also appreciate how the webcam now seems more high-end. The Tiny 2 has improved slightly in build quality over the original. Unlike most cameras, which are explicitly plastic, every component of the gimbal and camera mechanism looks like it was built of metal, and it looks great. The bottom still looks like it was made of plastic. Additionally, it is held in place by magnets and a metal frame at the base.
Comparatively, it has a more basic design than the Tiny 1 but provides the same level of stability. In addition, the upper portion has a really stylish appearance. Fortunately, there is still a red border around the camera and a front-facing light that changes color to indicate the webcam's status, which includes blue when tracking is active, yellow once the tracked object has disappeared, and green once tracking is turned off.
Is a Gimbal-Equipped Webcam Right for You?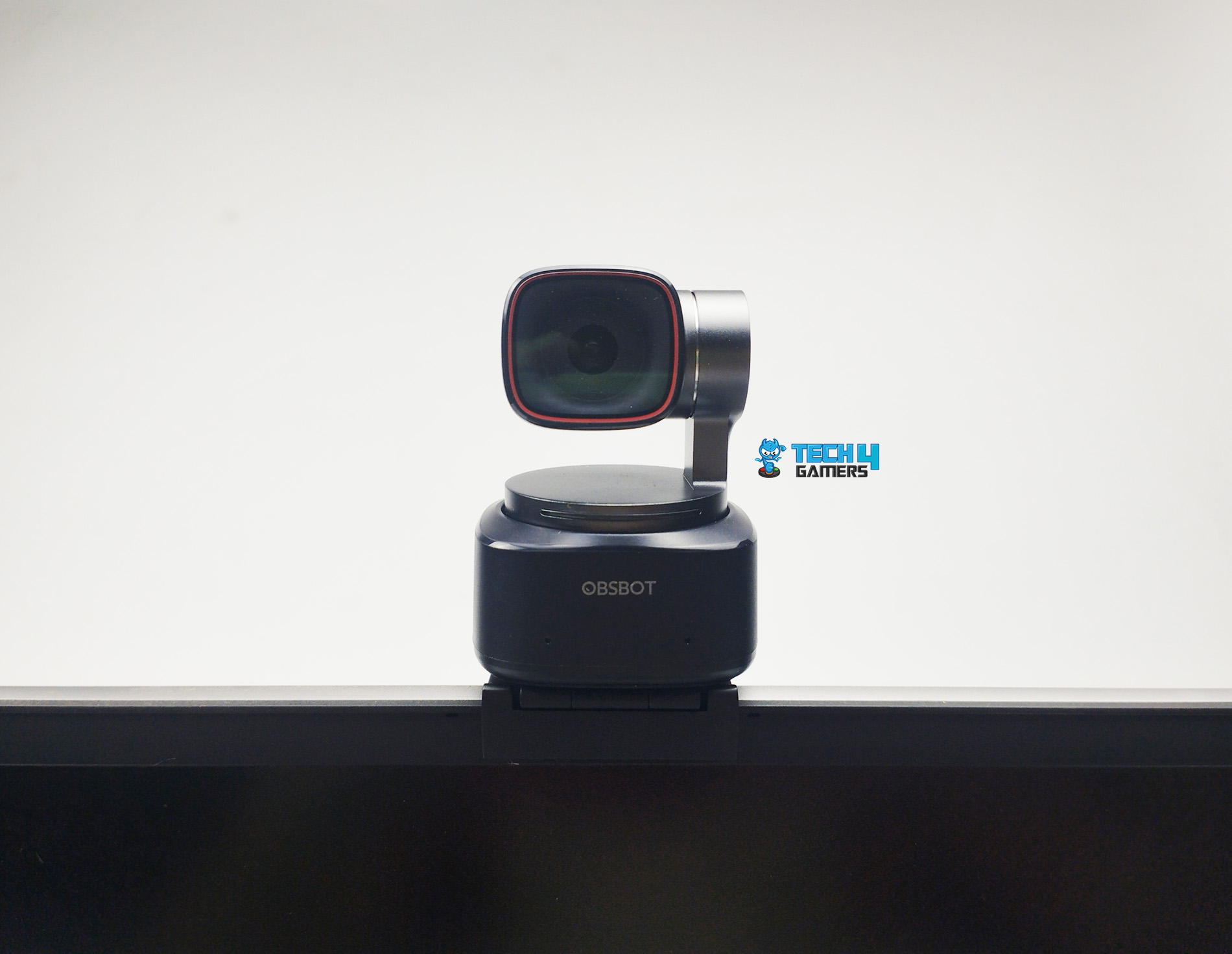 It's a testament to the Tiny 2's quality that I haven't yet mentioned. Obsbot's primary selling point: a separate gimbal that enables the camera to swivel and pan to maintain you as a centerpiece of attraction. The Tiny 2 improves upon this by including zoom, a function also utilized by cameras provided by Microsoft's Windows Studio Effects. In a typical Zoom call, you won't even notice this, and to be fair, several individuals actually prefer a stationary webcam that doesn't track their movements.
However, a webcam that tracks you around could be useful if you prefer to move around while working or if you're presenting a presentation in a traditional office setting. I also think it's important to note that the gimbal is software-controlled but gives in to physical force within its range of motion. As a result, this allows you to manually rotate the camera if you don't want to utilize the software controls or flip the camera downwards to switch it off for privacy.
Notably, the gimbal can be moved in both the horizontal and vertical planes. The hardware allows for horizontal panning of up to 150 degrees in both directions and a complete tilt of 90 degrees in either direction. On the other hand, the software control only allows for a total of 140 degrees of panning in either horizontal direction and a tilt of up to 70 degrees in the upward or downward directions.
As per my usage, that's still a lot of freedom, and you probably won't need much more than that in most situations. Unfortunately, the inability to switch to portrait mode is a major drawback. If the user wants to make vertical content, it would have been a useful maneuver to have, though I suppose the majority of individuals use smartphones for that.
What Can the Obsbot Tiny 2 Webcam Do? A Closer Look at Its Features
AI Enhancements
At first, I wondered exactly how much the Obsbot Tiny 2 webcam would improve. When I saw the specifications, it now has a better picture sensor, surprise AI enhancements, and aesthetic improvements that do somewhat justify the high price. However, I would suggest against using them because the AI enhancements are not quite accurate enough to trick anyone.
Beauty Mode: Beauty Mode stands out as a prominent AI feature in this webcam. It offers presets like Classic, Native, and Men, along with options to adjust body slimness and shoulder width. Notably, the Men preset narrow round faces and give lips a subtle pink tint in Native mode. While I'd appreciate the ability to fine-tune skin tone and intensity, basic facial retouching is acceptable. However, most filters leave room for improvement.
Background Blur: Furthermore, it has a background bluer effect that, in my opinion, is not particularly appealing; it struggles a little bit to determine what to mask out, although not as much as Zoom does. It appears a little messy when combined with the phony-looking blur.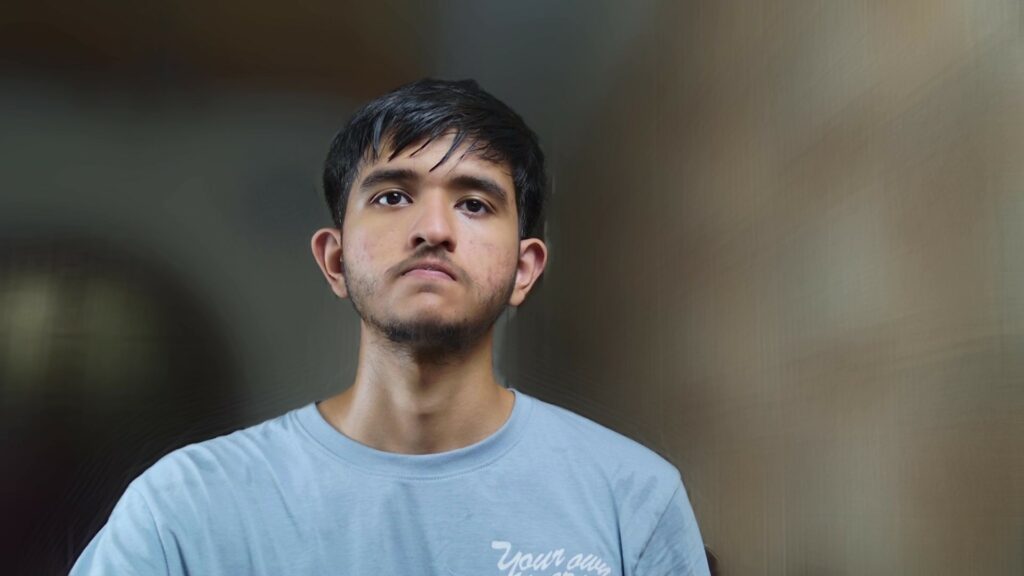 Group Mode: This mode is designed for group meetings. The frame view in Tiny 2 smartly resizes to include everyone once the group mode is activated, ensuring no one is left out of the view. As a result, this feature elevates its usability in collaborative settings, making it a convenient choice for team interactions.
HDR: Other notable features include HDR and image settings, including brightness, exposure, and anything else you need to get the level of quality you want. I mostly used the webcam with HDR mode enabled, as it greatly enhanced the image quality.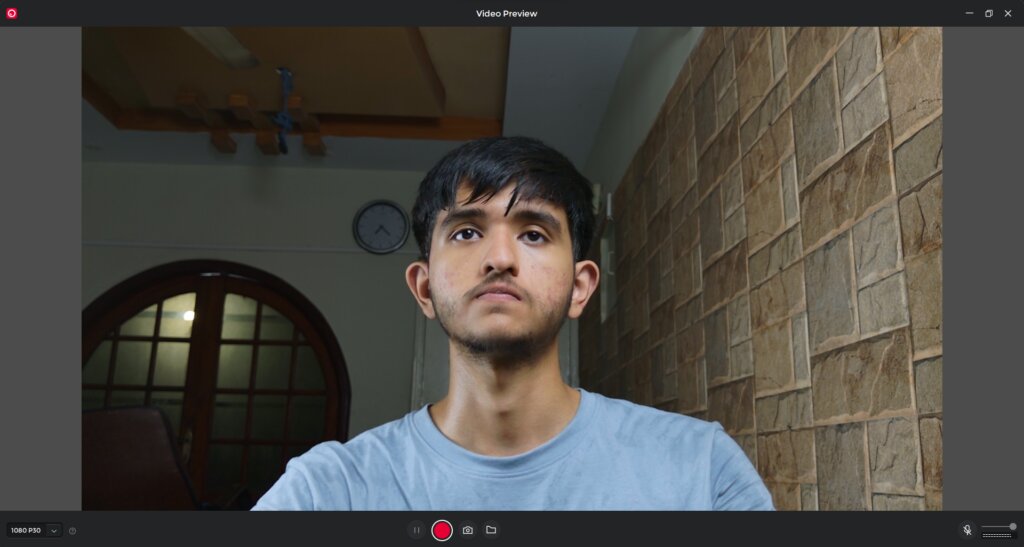 Whiteboard and Desk Mode: It also features Whiteboard and Desk modes. Unlike digitally tracked cameras, a swiveling base lets it cover more movement without degradation. Unfortunately, I lack a whiteboard to test this completely.
Privacy Protection: It is an enhanced feature by Obsbot. By using the Obsbot WebCam App, you can schedule video or image streaming. On activating private mode, the camera plays the pre-recorded video or image, allowing you to step away while ensuring your message reaches the audience on your streams. Furthermore, it offers a secure way to protect your personal data effortlessly.
How Does Obsbot Tiny 2 Perform in Tracking and Autofocus?
When it comes to tracking, Obsbot is head and shoulders above the rest, making it my preferred webcam for a while. Every single one of the 50 megapixels on the sensor's surface helps the camera focus accurately and 4 times faster than with PDAF, thanks to the groundbreaking All-Pixel Auto Focus Technology. All credit goes to the well-regarded Deep Neural Learning Network Algorithm, which helps its tracking technology, making it accurate and fluid. What's more, it can now also automatically zoom in and out as needed during tracking.
When you turn on tracking, the Obsbot Tiny 2's gimbal will pan and tilt to keep you in the middle of the webcam's field of view. It has the best autofocus and tracking I've seen, and it can follow not only your head but also predefined zones, such as your upper or lower body, or you can even create different customs zones in addition to tracking well across the board and transitioning between positions in a way that feels very natural.
Notably, the phase-detection autofocus technology doesn't flash comparable to the contrast-AF-based technologies used by many webcams. It follows you very closely and accurately, so you may go wherever you like. If it stops tracking you, you can simply walk back into the camera's view, and it will resume where it left off. The algorithm works nearly all the time, but it would be wonderful to be able to customize the interval it detects before it thinks you've actually moved. It's not perfect, and the default seems a little too long before it assumes.
Furthermore, the Obsbot Tiny 2 has the added bonus of letting you manually tilt the gimbal to make it see you if it ever fails to track you again. In this respect, low-light functionality is equally important. To test this out, I turned off the lights and went to the far corner of my room with the tracking turned on. It was surprising that the Obsbot Tiny 2 could still follow me and keep me focused in the pitch black. In sum, the Obsbot Tiny 2 is clearly the greatest webcam in this domain, thanks to its clearer image quality and significantly superior tracking.
How Do Gesture and Voice Controls Compare in the Obsbot Tiny 2 Webcam?
In this subheading, I will provide a comparison between the gesture and voice controls offered by the Obsbot Tiny 2 Webcam.
Dynamic Gesture Controls
At first, the Obsbot Tiny 4K introduces us to the gesture controls, which let users toggle webcam settings like tracking and zooming with a hand motion in front of the device. One more interesting feature of the Tiny 1 was a hand gesture that brings the webcam's attention to your face. Fortunately, all of these features remain in the Obsbot Tiny 2.
With the addition of a new gesture for dynamically adjusting the zoom level instead of simply toggling between fixed zoom factors, making an L with both hands. Because I tend to wave my hands around a lot while I'm talking, which often results in things like surprise zooming in the middle of a rant, I find voice control to be significantly more handy than gestures.
Voice Controls
There are still optional gestures you can use, but you can now say "Hi Tiny" to wake up the webcam and then say "Track me" or "Unlock me" to access the newly introduced functions. You read that right: instead of figuring out how to make motions work, you can now control the webcam by talking into it. The webcam's voice command recognition is outstanding. Like smart speakers, "Hi Tiny" is a conventional wake-up word. Similarly, whenever you feel like it, you can simply say, "Unlock me," and the webcam will no longer be tracking you.
Furthermore, you can also use the commands "zoom out further" and "zoom in closer." Additionally, Using the Obsbot WebCam software, you can even swap between fixed gimbal positions using voice commands. If you have "macros" or predetermined scenarios set up, you can use the "position [one/two/three]" command to perform this. Surprisingly, though, you don't need any program to accomplish the aforementioned.
However, while attempting to fine-tune the software's parameters with the mouse, you may find that the gimbal moves too little or too much. Furthermore, you cannot lock an axis. Thus, every attempt to pan will result in a tilt. It's debatable whether using one's voice is less embarrassing than using your hands during a call, but if you're muted, you can speak directly into the webcam without drawing attention to yourself. Ultimately, due to the webcam's constant listening capabilities, some users may find it a little unsettling.
Here is the List of all the voice commands.
| | |
| --- | --- |
| Hi, Tiny | Awake Obsbot Tiny 2 from sleep mode |
| Sleep, Tiny | Put Obsbot Tiny 2 into Sleep mode |
| Position One | Move to the preset position. If you didn't add a preset position, then the camera will not respond to your command. |
| Position Two | Move to the pre-set position two. If you didn't add a preset position, then the camera will not respond to your command. |
| Position Three | Move to the pre-set position three. If you didn't add a preset position, then the camera will not respond to your command. |
| Zoom In Closer | Zoom in |
| Zoom Out Further | Zoom out |
| Track Me | Select and start tracking the target in the view of the camera |
| Unlock Me | Stop tracking the person |
Is a Separate Remote Control Worth It for the Obsbot Tiny 2?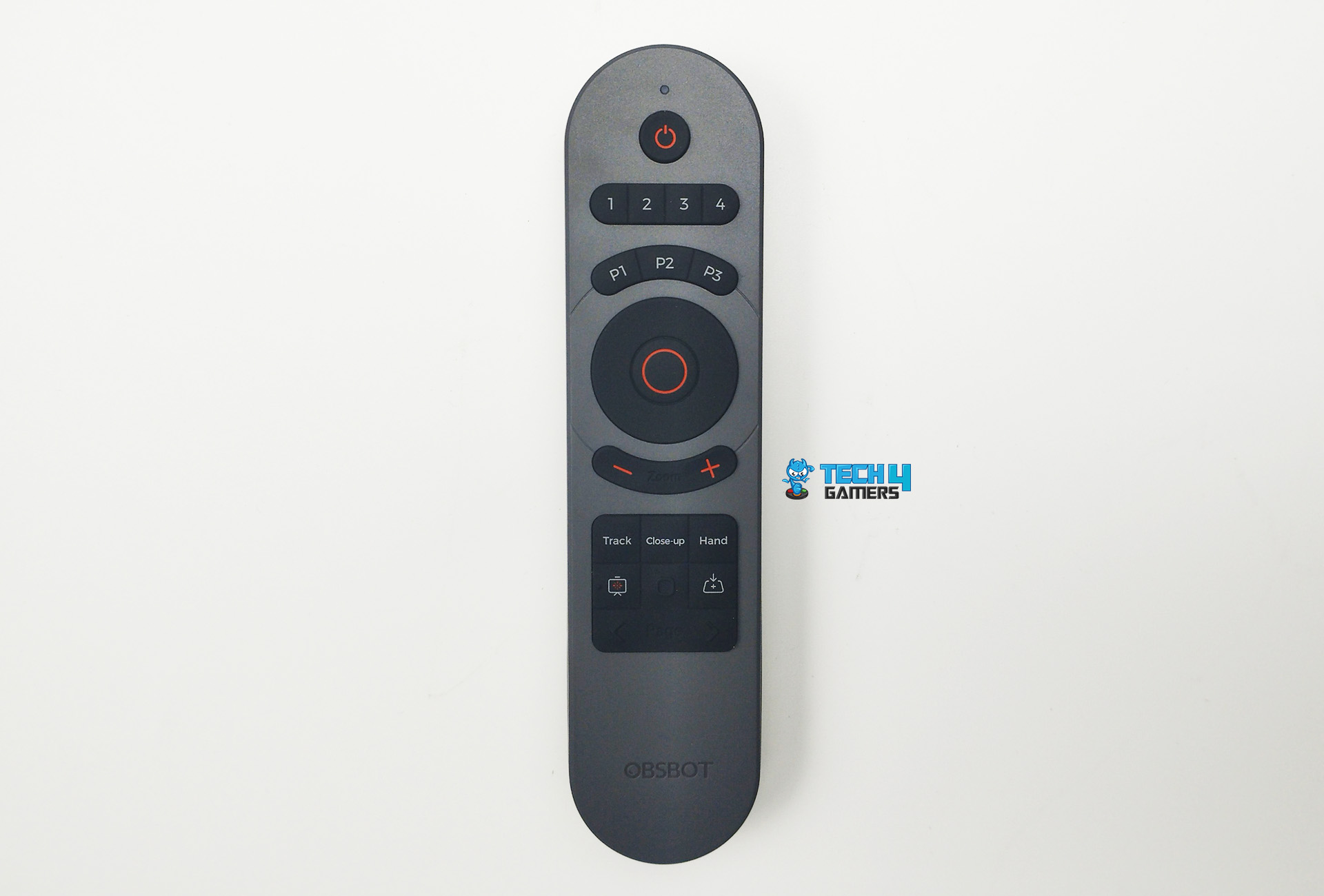 If you'd prefer something other than gestures or voice commands to use the Obsbot Tiny 2, you can get a separate remote control for it. The improved Obsbot Tiny Smart Remote 2 integrates a presentation clicker and webcam control system into a single device, making it simple to adjust the angle, zoom, and focus of different cameras at once. I rarely used it because the in-built controls suit my needs just fine. However, it's still quite neat.
It plugs into your computer through a USB dongle and gives you complete control over your webcam, allowing you to use features like tracking, changing gimbal positions, and other modes such as desk, beauty, HDR, hand tracking, and whiteboard mode. Notably, it simplifies recording whiteboard content. With a press of the Whiteboard button, the camera auto-adjusts its focus to center the whiteboard, ensuring clarity in capturing the displayed information.
Overall, it is a perfectly suitable presentation remote. Thanks to a pretty powerful built-in laser pointer for use on a physical whiteboard and buttons for moving through slides in a PowerPoint presentation. As a result, this opens up a lot of possibilities for using your webcam in conjunction with PowerPoint during presentations. Furthermore, even though it's a bit cumbersome, you can also use the remote to interact with the UI and navigate between windows.
As per my usage, I don't have a personal need for any of this. However, I can certainly understand how it may be useful for others while giving presentations. The remote costs $49 when purchased separately. However, you may save $10 when you purchase the two products together from Obsbot's online store, just like I did.
How Is the Obsbot Tiny 2's Video Quality?
It provides a significant improvement in video performance, taking webcam video quality to an entirely new level. The standard for "Good enough" video quality has risen. The notable improvements came from the webcam's insides, most notably to the sensor. A 1/1.5-inch 50Mpixel CMOS image sensor featuring f/1.9 aperture makes it one of the most powerful sensors in a webcam.
It allowed them to improve the image quality over the model that preceded it. All thanks to the combination of the 1/1.5″ CMOS and Obsbot Camera calibration technology to deliver greater detail, better dynamic range, and more accurate colors, just as they would appear in nature, proving that 4k is about more than simply pixel number.
Consequently, the Obsbot Tiny 2 outperforms any competing 4K webcam, allowing you to provide your viewers with footage that is both clear and vivid. It's incredible that Obsbot manages to squeeze such a large sensor into such a compact chassis. Although the low-light footage isn't noisy, the default settings make it look adequate due to the high contrast between dark and light areas of the screen.
How Does the Dual Native ISO Technology Perform?
The Obsbot Tiny 2 is a camera that adeptly adjusts to varying lighting conditions, be it dark or bright, thanks to its dual native ISOs housed in a single CMOS. In scenarios of bright light, it utilizes a lower ISO setting to render realistic colors without over-brightening the image, and conversely, it ups the ISO in dimmer settings, ensuring your face is favorably illuminated regardless of the ambient light. Moreover, its Dual Native ISO Technology facilitates the capturing of two photos in rapid succession, which significantly contributes to producing HDR footage.
Additionally, the software allows users to manually tweak certain settings like shutter speed and ISO sensitivity, providing a degree of control over the image quality. Nonetheless, these manual customizations failed in effectiveness when faced with continuously fluctuating lighting conditions. In such scenarios, AI enhancements do help the webcam better manage the tone and white balance.
Despite this minor drawback, the camera excels in delivering sharper, cleaner images with reduced noise, largely owing to its bigger sensor. As a matter of fact, the 85.5-degree field of view is commendable, although the performance does taper off slightly under extremely dim lighting conditions, which is a point worth considering.
What Are the Supported Resolutions?
Like the original Tiny webcam, this one offers multiple video settings, from 720p at 30FPS to 1080p at 30FPS or 60FPS, and even 4K at 30FPS. While the 4K option makes details pop, the 1080p60 mode faithfully replicates the smooth motion you'd see on a TV. You can capture stunning video with either, and your calls on Teams or Zoom will stand out in vivid detail because those platforms accept the Tiny webcam's video formats.
Unfortunately, the Tiny 2 does not support 1440p, even though it is quickly becoming the standard for streaming-oriented webcams, due to the fact that this provides an alternative to 4K that is both visually superior and perhaps more efficient in terms of system resources. Lastly, it has a USB 3.0 connector, which allows it to transfer 1080p video without having to downscale the resolution or change the encoding format.
Is the Obsbot Tiny 2's Microphone an Improvement?
Generally speaking, Tiny 2's microphone is an improvement over the original, and it picked up my speech clearly from a variety of distances. However, the mic is still not up to the mark that I was expecting. Nevertheless, it is still better than the majority of microphones on webcams, which are not even fantastic for a webcam, which typically has mediocre mics.
Coming back to my point, the mic picks up a lot of background noise because it's omnidirectional. As you can see in the video above, the microphone captured my fan's noise. However, with an air conditioner, it does the job well. Plus, the noise reduction algorithm overprocesses the signal in order to get rid of that noise, and it does not work as expected. Having said that, Tiny 2 turns off after two minutes of inactivity, pointing at the floor, and its microphone gets off by default. If I have to be lenient, it does an adequate job of high-quality video with adequate audio. At the very least, it ensures your voice is clearly captured.
How Does Obsbot Tiny 2's Software Enhance User Experience?
The Tiny 1's software was nearly perfect: user-friendly, efficient, and flawless. Similarly, the Tiny 2 continues this tradition admirably. It allows for gimbal adjustments, zooming, and tracking through voice or gestures. It also maintains a smooth transition between wide, medium, and narrow fields of view, which is a standout feature. Now, the Obsbot WebCam software opens up a whole new world of possibilities for this webcam.
Here, the aforementioned features are extended. With a few simple adjustments, you can have the camera automatically zoom in on your face, the top or lower body, or both. In addition, there is now a group option and a hand-tracking mode, both of which could come in handy for showcasing manual tasks. If you move your hands too quickly, it has difficulties keeping up with them, but otherwise, it works quite well.
That is to say, the Tiny 2's new features have made things a little more complicated than they needed to be. For instance, human tracking capabilities include not only regular tracking but also motion tracking with other options that I have mentioned above, which can be quite troublesome to deal with. It's like a trial-and-test method where you'll either need to do some experimenting or stick with the default settings.
Should You Buy The Obsbot Tiny 2?
Buy it if
You're Looking for High-Quality Video Streaming
The Obsbot Tiny 2 webcam offers 4K resolution with a 30fps frame rate, making it a top choice for content creators and professionals.
You Want AI-Powered Enhancements
The OBSBOT Tiny 2 comes with AI tracking capabilities that keep you in the frame as you move and other handy enhancements, making it ideal for dynamic presentations or video calls.

Don't Buy it if
You're on a Tight Budget
The OBSBOT Tiny 2 is not the most budget-friendly option available. If you're looking for a basic webcam without the advanced features, there are cheaper alternatives that you might want to look at.
You Want Excellent Built-In Microphone Quality
The OBSBOT Tiny 2's built-in microphone may not meet your needs if you require high-quality audio for your streams or meetings.
Bottom Line
The Obsbot Tiny 2 is a top-tier webcam, ideal for those looking for facial tracking and pan-tilt-zoom features. It competes well with higher-range webcams, excelling in most categories with its sharp imagery, reliable tracking, and gesture and voice controls in an attractive manner. Although it lacks Windows Hello compatibility, the emphasis is clearly on quality over additional features. Moreover, the Obsbot Tiny 4K stands out with its unique metal construction, robotic rotation and tilt, versatile mounting, and virtual camera with skin smoothing and color effects, making it suitable for stand-up presentations due to its excellent autofocus and tracking.
The main downside is the price, which may put off many, thinking a cheaper webcam could be enough. However, for those seeking high-quality imagery and functionality, the Obsbot Tiny 2 is unmatched. Moreover, its upgraded sensor, enhanced configuration, zoom options, and convenient voice controls, despite being slightly unsettling, make the Obsbot Tiny 2 a worthy investment, even if some additional features don't meet the Obsbot claims.
Coming Next: ORICO 5-Port Multi-Function Power Station DUK-5P Review
Was our article helpful? 👨‍💻
Thank you! Please share your positive feedback. 🔋
How could we improve this post? Please Help us. 😔
[Hardware Reviewer]
After many years of exploiting various pieces of hardware, Abdul Hannan now serves as an editor at Tech4Gamers. He's been in the PC hardware reviewing industry for almost a decade, and his staff of passionate geeks and reviewers is second to none.
Abdul Hannan is constantly seeking new methods to improve the performance of his computer components since he is an ardent overclocker. He is well-known for providing the most extensive and unbiased analysis of the newest and greatest hardware for PC gaming, including everything from GPUs to PSUs.