Nvidia has long been known to lead the graphics cards market for PC gaming. The company is famous for pushing the boundaries of technology with introductions like ray tracing, DLSS, and the recent DLSS 3 frame generation.
While competitors like AMD continue to offer compelling products, Nvidia has established itself as the market leader. Recent releases from the company have drawn criticism for terrible pricing, but consumers continue to buy Nvidia products.
This is also evident in Newegg's best-selling GPU list, with Nvidia's last-generation mid-range offering, the GeForce RTX 3060, standing at the first spot on the list.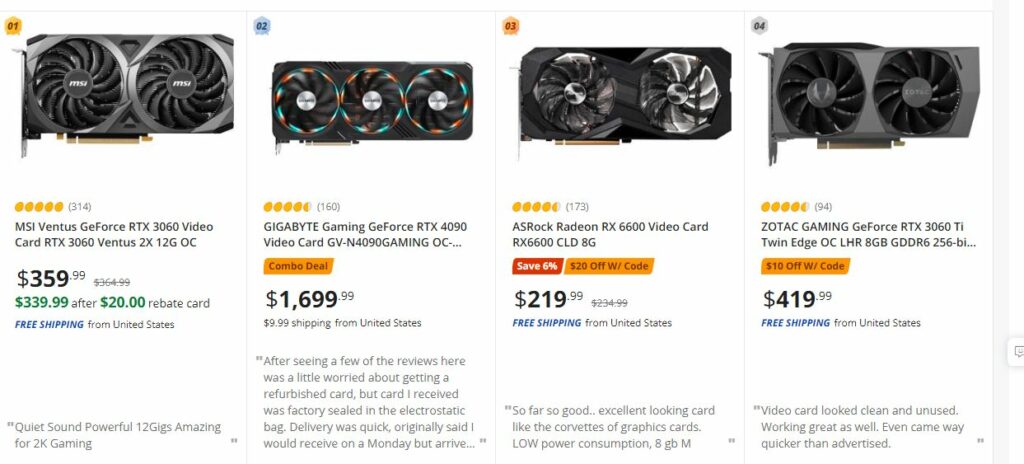 Looking at the list, Newegg's top 10 graphics cards are mostly limited to Nvidia products. While AMD's RDNA 2 line-up is consistently superior in value, only two AMD graphics cards can be found in the top 10.
The 60-tier GPU from Nvidia has always been a popular choice for gaming enthusiasts looking to build a PC without spending too much money. While the GeForce RTX 3060 may not live up to the standard of GPUs like the GeForce GTX 1060, it can handle most modern games comfortably.
Recently, VRAM requirements have also been discussed in the PC gaming community. Consumers have criticized Nvidia for handicapping capable hardware like the GeForce RTX 3070 and RTX 3080 with 8GB and 10GB VRAM, respectively.
The GeForce RTX 3060 does not have to deal with these issues since the GPU packs a whopping 12GB of VRAM. With each new release, this VRAM capacity proves to be a great asset to the GPU, allowing PC Gamers to use it to its full potential.
The Steam hardware survey also recently revealed the GeForce RTX 3060 as Steam's most popular graphics card. Therefore, Newegg's listing appears to line up with the survey results.
Surprisingly, the much cheaper AMD Radeon RX 6600 for $220 is two spots behind the GeForce RTX 3060. The former was launched at a similar MSRP but has since seen significant price cuts.
While it stays very close to the GeForce RTX 3060 in terms of performance, gamers have skipped the much cheaper product. This further highlights Nvidia's hold on the PC gaming industry.
Similarly, the RX 6650XT is also found on the 8th spot, while it offers superior performance at a similar price to the GeForce RTX 3060. As such, gamers may have picked the Nvidia offering for options like DLSS, superior ray tracing, and extra VRAM capacity.
Another reason for the GPU's current popularity could be Nvidia's recent releases. The RTX 40-series has failed to offer great value for midrange consumers, with the company spiking prices for each new release.
This means that consumers on a budget have no option but to consider last-generation graphics cards if they prefer Nvidia products. Luckily for them, the GeForce RTX 3060 is still capable at popular resolutions like 1080p and can even handle 1440p gaming with tweaked settings and DLSS.
Was our article helpful? 👨‍💻
Thank you! Please share your positive feedback. 🔋
How could we improve this post? Please Help us. 😔