Best MMO Gaming Mouse?
Review Summary
If you have a budget of $100 and intend to buy a wireless MMO mouse, I recommend the Logitech G604. When utilizing a palm grip, this mouse is quite pleasant to use. Furthermore, it performs quite well. If you want even more control, you can assign a G-Shift button to execute a different set of commands when pressed down. However, if you do not want a large number of thumb buttons, there are cheaper variants available. Consequently, this mouse has all the buttons you need to dominate the competition or simplify your workflow.
Build Quality -

7/10

Value -

7/10

Performance -

8/10

Design -

7/10

Software -

8/10
Pros
Dependable Wireless Connectivity.
Plethora of Controls
Remarkable Hero 16K Sensor
Enduring Battery Life
Cons
Form Factor isn't Comfortable
Slippery Base
Non Rechargeable Battery
Cumbersome Button Assignments
Can there be too many buttons on a gaming mouse? Players of games with low cooldowns, such as MMORPGs, MOBAs, and strategy titles, would definitely respond "Never." That is why Logitech came up with the G604 Lightspeed, a wireless MMO/battle royale mouse with six macro buttons right beneath your hand. When searching for a wireless mouse without any noticeable latency, many gamers turn to Logitech. Consequently, the Logitech G604 Lightspeed is an intriguing wireless gaming mouse that succeeds the G602 and improves its design and performance while also adding some of the design and capabilities of the G502.
Why you can trust Tech4Gamers:

We understand the importance of making informed decisions. That's why our team spends significant time testing every product or service we review.

Find out more about how we test.
---
Key Takeaways
The Logitech G604 is an excellent wireless gaming mouse because it combines responsiveness, adaptability, and personalization. The G604 has Logitech's HERO sensor, which provides responsive tracking. Moreover, it is robustly constructed out of gaming-grade components to last through hours of use.
The things I liked about the Logitech G604 are its 16,000 maximum DPI and adjustable sensitivity, both Bluetooth and Lightspeed compatibility with 15 customizable controls, including six thumb buttons, and enduring battery life.
The things I disliked about the Logitech G604 are its non-rechargeable battery. It lacks RGB lighting controls and a higher price point compared to some other gaming mice, the form factor may not be comfortable for everyone, and some users may find the button assignments cumbersome.
MMO or MOBA gamers will feel right at home with the Logitech G604. They will benefit from the 15 fully programmable controllers. Moreover, Users with bigger hands may appreciate the G604's manageable size and ergonomic layout.
---
The Logitech G604 Lightspeed also won the Best MacOS Gaming Mouse For Fortnite Award.
The Logitech G604 brings back a lot of memories for me. Looking back to the Logitech G600, it's pretty incredible to see how far the industry has come in several years. From a wired model chock-full of more buttons than the average gamer could use, we now have a wireless peripheral with a textured palm rest, two kinds of connectivity, and a month of uptime from a single AA battery. We also had the Logitech G602 in the interim, to which the G604 bears more than a passing resemblance. Having said that, gaming mice have come a long way, and comparing the G604 to the G600 presents a great distillation of how and why.
It is not as feature-packed as its predecessor, the G602, but it is one of the few wireless alternatives available and belongs to a category of mice that we do not see nearly as frequently as we used to. Consequently, the G604 will serve as the ideal mouse for World of Warcraft and DOTA fans. Although it has a lot of fantastic capabilities, its weirdly humped body form is at the top of a list of drawbacks that prevent the device from being an ideal MMO sensation.
It is priced at $100, which is on pace with some of the top gaming mice but far less compared to the wireless Logitech G502 Lightspeed. Since it bears the torch of both lines in one device. I put the G604 through its paces to see how it would fare in actual use. I spent a considerable amount of time playing games to get a sense of the mouse's layout, controls, ease of use, software, and general experience and to establish whether or not it was worth the asking price. Let us dive further into the in-depth review of this mouse.
Related: GLORIOUS Model D Minus Mouse Review
Specifications
| | |
| --- | --- |
| Product Name | G604 Lightspeed Wireless Gaming Mouse |
| Product Brand | Logitech |
| Price | $99.99 |
| Product Dimensions | 7 x 4.7 x 1.9 in. |
| Weight | 135 g |
| Sensor Type | Optical |
| Sensor Model | Hero 25k |
| Resolution (CPI/DPI) | 100 – 16000 |
| Maximum Acceleration | 40 G |
| Max Tracking Speed | 400 IPS |
| Polling Rate | 1000 Hz (1 ms) |
| Lift Off Distance | ~1.2 mm |
| Switches (Lifespan) | Omron D2FC-F-7N (G) (20 million clicks) |
| Feet's (Lifespan) | PTFE |
| Onboard Memory | Yes |
| Smoothing / Filtering | No |
| Hardware Acceleration | No |
| Buttons | 15 |
| Color | Color |
| Warranty | 2 Years |
Box Contents
When you open the package, you will discover a G604 mouse (whose USB connector lies underneath the battery cover), a single AA alkaline battery, an extension cable for your USB connection, some instructions, a logo sticker, and a power adapter. Simply insert the battery, connect the USB dongle to your computer, and start playing, or you can also pair it over Bluetooth to use the mouse with your setup.
First Impressions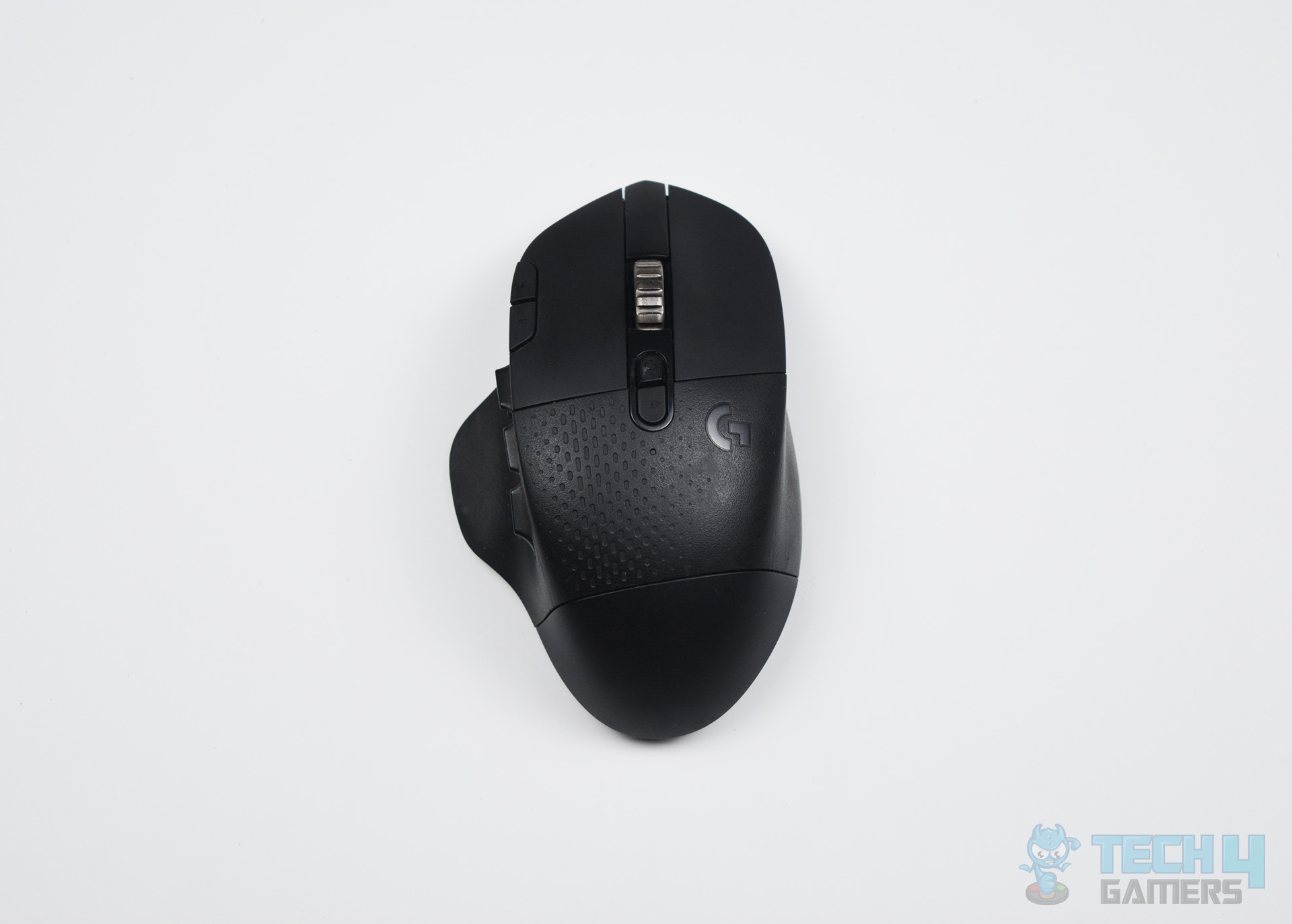 The Logitech G604 can easily be mistaken as an office mouse as compared to a gaming mouse. Many of Logitech's most recognizable mice have been at my disposal, and I have enjoyed using them all. Logitech has produced a number of excellent gaming mice over the years, including the widespread and inexpensive G305 wireless model, the powerful and futuristic G Pro series, the reliable and dependable G703, and the robust and hefty but comfortable G502. The fact that their HERO sensor technology not only provides excellent battery life for the wireless mouse but also offers some of the greatest tracking performance available.
So what would happen if you drove that technology and placed it in a huge, strange design blob that had its foundation from a vague mouse that only a small number of people enjoyed back in the day? The G604 is what you would receive then. Notably, this mouse's whole aesthetic is based on the same principle, and although I do not love it very much, I do like the side button cluster. The Logitech G604 Lightspeed is almost identical to the G602 in many respects, right down to the swept-out thumb rest and the six customizable buttons it has in two rows.
The rear has a little Logitech G logo. Fortunately, the ergonomic shape includes support for your thumb, and the various black finishes provide visual variety. Sadly, there are no additional color options currently available. Similar to its predecessor, it has a metallic material, a notch scroll wheel featuring a physical toggle that may be used to set the wheel's weight and allow it to spin freely. The sleek, uniform black finish complements almost any set-up. It has a respectable size and weighs 135 grams with a battery, albeit the balance is off to the back, and you can not adjust it with custom weights.
As a matter of fact, this makes it a little cumbersome compared to lighter gaming mice. The use of a lithium battery may help, but even so, this is still a huge, hefty mouse that does not meet the standards of the modern market. Notably, this mouse is one of the heaviest I have used in years. Because of how heavy it is, it is best for games that do not need massive, fast swipes. All in all, the portability is good. Its bulky design may be off-putting. Nevertheless, at least it is wireless, and its receiver fits neatly within the mouse. Fortunately, this facilitates carrying inside a typical laptop case.
Design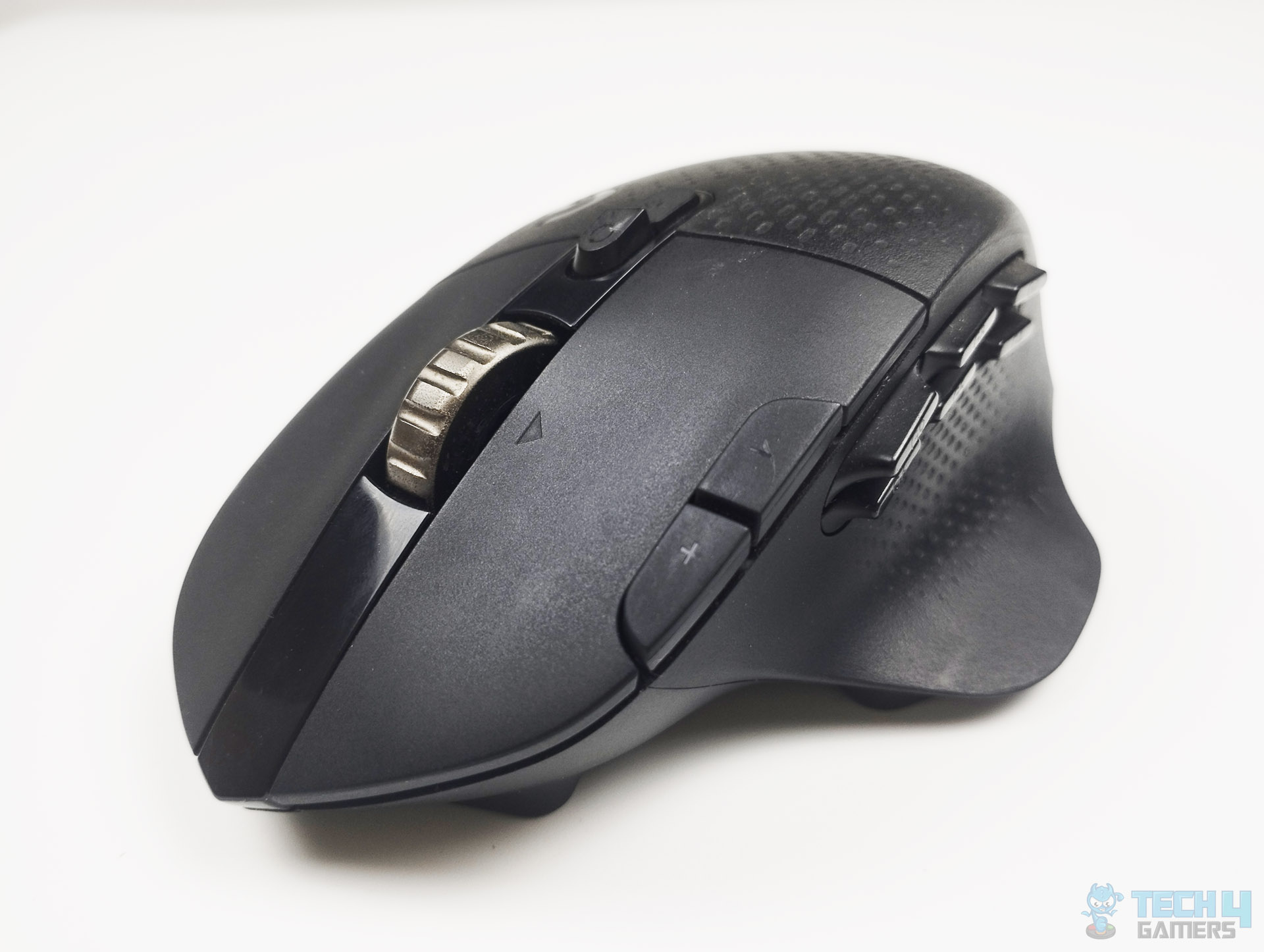 The buttons and materials are satisfactory. However, the mouse's physical appearance comes first. The G604 measures 1.7 x 5.2 x 3.1 inches but seems much taller because of the sharp ascent from the bottom to the central bulge. A mouse can be more ergonomic and easier to operate if it has a "sweet spot," or raised area, to rest the knuckle of your pointer finger. Although the Logitech is taller, it is flatter in the center, making it easier on the hand. The G604 has not deviated much from the G602 in terms of its basic layout.
It is still a right-handed ergonomic mouse, with the thumb rest raised and six buttons placed conveniently within easy reach. The mouse continues to be comfortable to use for users with bigger hands and can even be preferable for gamers that utilize a claw grip as opposed to a palm grip. The thumb buttons are also much improved over their predecessors, featuring large, flat surfaces rather than tiny prisms that were difficult to press. Notably, players in the middle of a strenuous skill process will appreciate how simple it is to tell the buttons apart, even without looking.
After several hours of inspecting its materials and design, I realized that the gripped surface at the bottom is detachable, allowing you to get access to the G604's AA battery housing and a place to keep the wireless dongle. There is a little magnet in the battery cover to keep it from falling off while playing, and that has not happened to me yet. The exclusion of RGB lighting is the sole component that is really lacking. It makes sense to leave it out since doing so would significantly increase the battery life of a wireless mouse. However, a simple display showing the number of profiles and DPI settings available on a mouse may be quite helpful.
Having said that, I feel like Logitech rushed through the design process for the G604. Its sensor and side buttons are well-executed, but the rest of its design is a mash-up of features from the long-forgotten Logitech mouse and those from more recent models. When compared to competing $100 mice, the higher feet are a dealbreaker. The mouse's hefty wheel rattles about within the mouse's frame. Moreover, the bulky design makes it impractical for use with most games and makes it difficult to travel with, even when using the Bluetooth feature for work purposes.
Comfort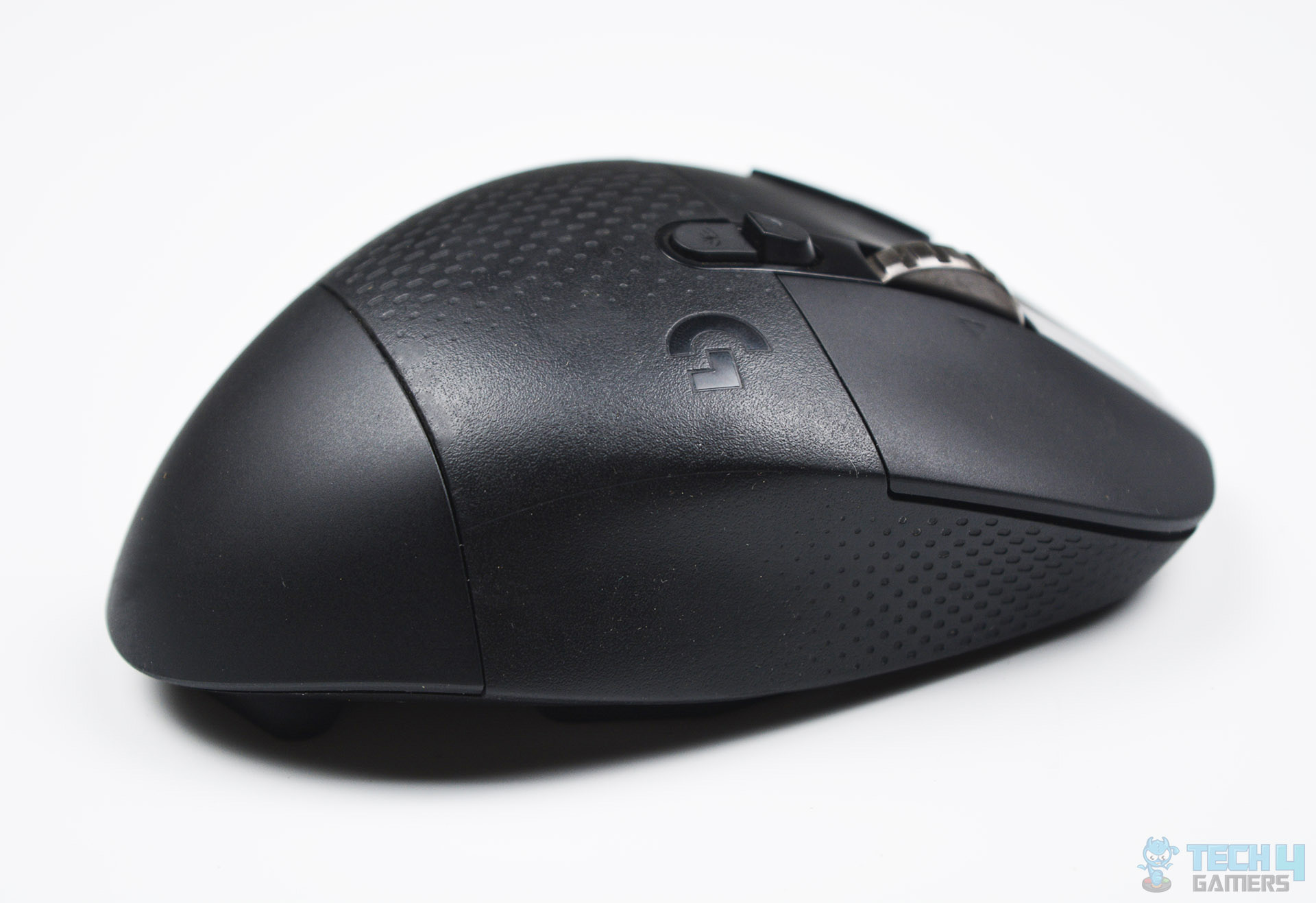 An excellent gaming mouse will feel natural in your hand. The perfect gaming mouse has controls that seem so effortless that you do not have to give them a second thought when using them. You should not have to change your use habits or preferences to suit the mouse. If you are upgrading to the G604 from a smaller, lighter mouse, it might require a few games for it to become natural in your hands. The mouse may not feel quite right at first, but after a day or so, it should be fine. Fortunately, the overall look is more sophisticated than previous models.
It is mostly black, but the middle area features a thin layer of soft-touch covering for comfort. The rounded thumb rest provides a secure grip despite the absence of gripping materials, making it simple to pick up and carry. The sleek design belies a high-performance gaming mouse with a sensor that can track the movement of rapid actions. Additionally, the six-button cluster on the mouse's left side strikes a solid balance between the few buttons on most gaming mice and the plethora of buttons on MMO mice.
They conform nicely to the shape of my hand, and setting them up in the Logitech G Hub program was a breeze. As a result, this appears to maintain your thumb poised to utilize the side buttons, but for my not-very-big hands, it felt awkward and uncomfortable. My thumb only just touches the mouse's little thumb wing when I hold it normally. However, the thumb wing continues to be a great addition; it somewhat allows me to keep my grip on the mouse relaxed and comfortable even though the palm of my hand was slipping straight down the back of the mouse because of its steep slope and lack of rubberized grip compared to the middle and sides.
Grip Styles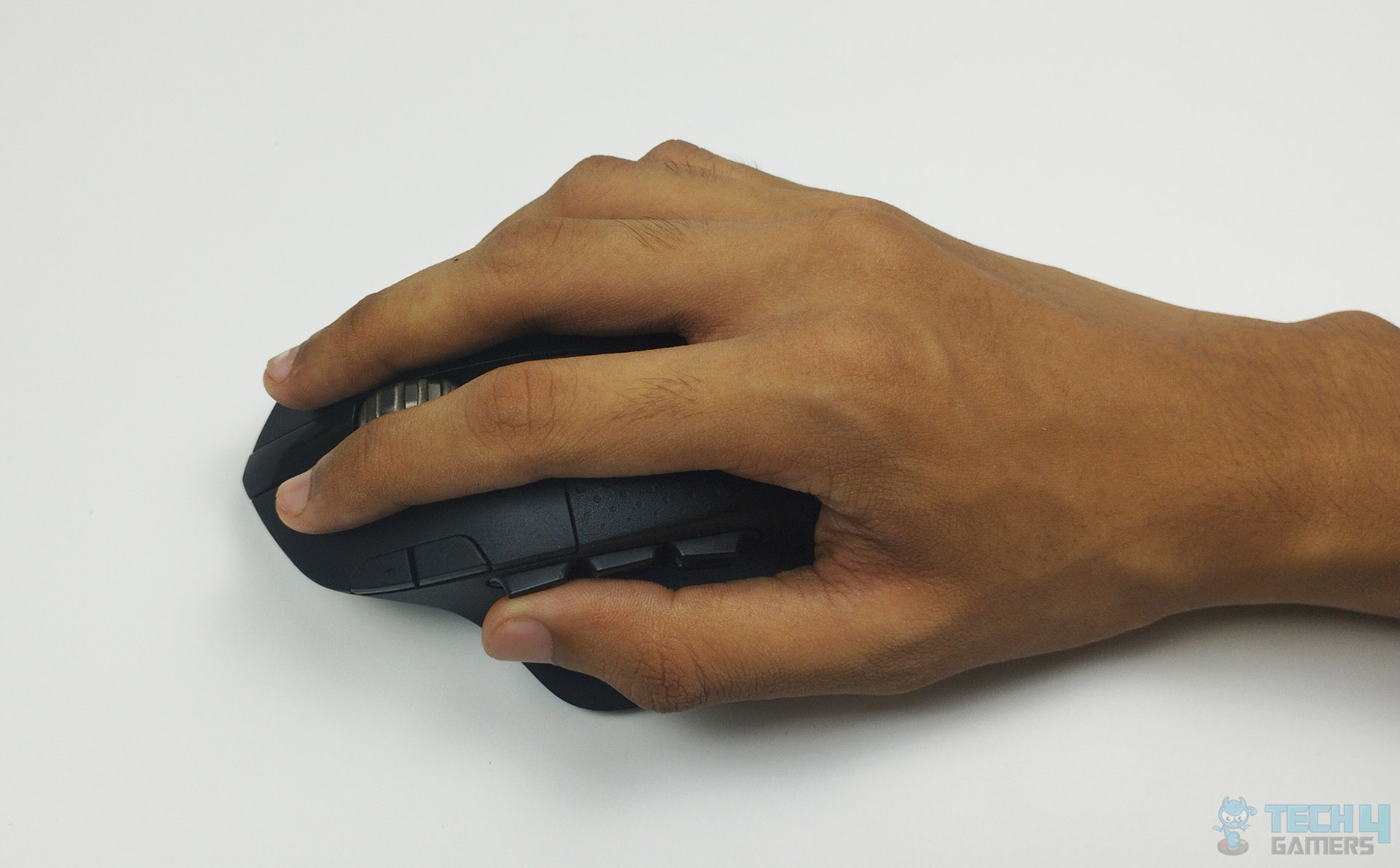 The G604 is comfortable to use with a palm grip due to its ergonomic design. The greater size and contoured design make it a pleasant place to rest your hand. Because your whole hand may rest on the mouse, you will not become as tired from gaming or working on the computer for lengthy periods of time.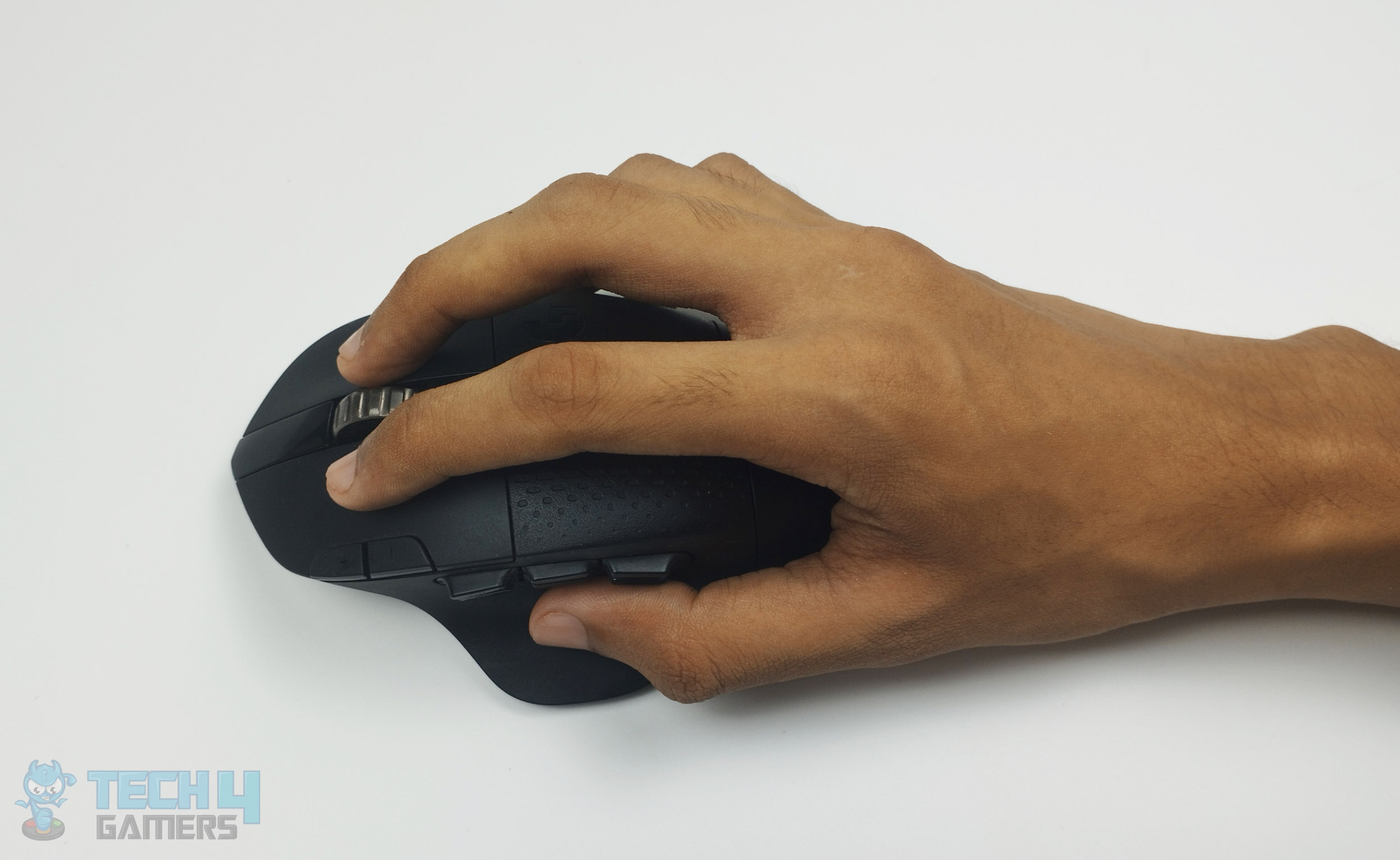 The Logitech G604 is too bulky and lengthy to use with a fingertip grip. When using a mouse with a fingertip grip, just the fingers make contact with the mouse rather than the palm or the base of the hand. Users with a fingertip grip may find it difficult to keep a firm grip on the G604 due to its greater size and longer body.
Claw grip users can use the Logitech G604. However, it may not be the best suitable choice for them. Having said that, claw grip users who value rapid access to extra buttons without compromising comfort will like the G604's ergonomic design and button location, which makes things simple to reach.
A Good Read: Corsair Dark Core RGB Pro Review
Buttons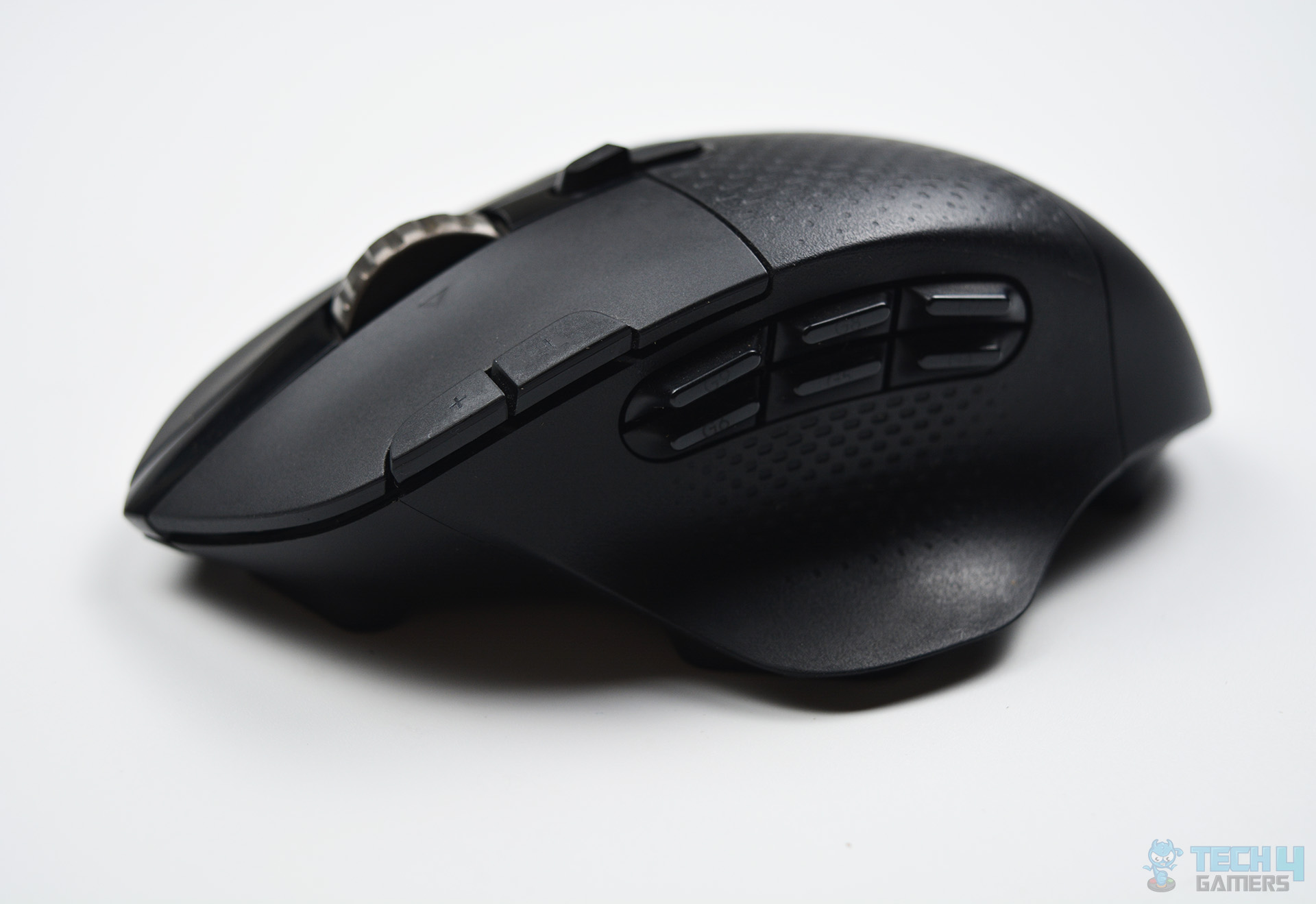 There are a whopping fifteen inputs on the right-handed G604 Lightspeed Wireless. On the top, we have two primary main buttons. In addition to this, it has a scroll wheel that includes a click-down with two tilt inputs. Pushing the sides of the scroll wheel, either way, activates the tilt inputs, a feature I have seen reappear on a few mice in recent months. Consequently, this adds two additional programmable inputs. Additionally, the mouse wheel has an option for ratcheted scrolling in addition to the standard continuous/hyper-scrolling.
The scrolling mechanism is the G502's mechanically toggled metal infinite wheel. No, not even the streamlined, lighter, and more modern version of that wheel. Not at all; this is the full-fat, substantial variation. While the infinite scroll wheel is as useful as ever, the extra weight causes the mouse to wiggle side to side while in free-wheeling mode. I do not see why Logitech is sticking with this bulkier version of the wheel rather than the newer, thinner one I just described. Perhaps they needed to dispose of some extra inventory. However, the tactile scroll increments are really substantial and enjoyable, and you probably will not play with the wheel in infinite mode anyhow.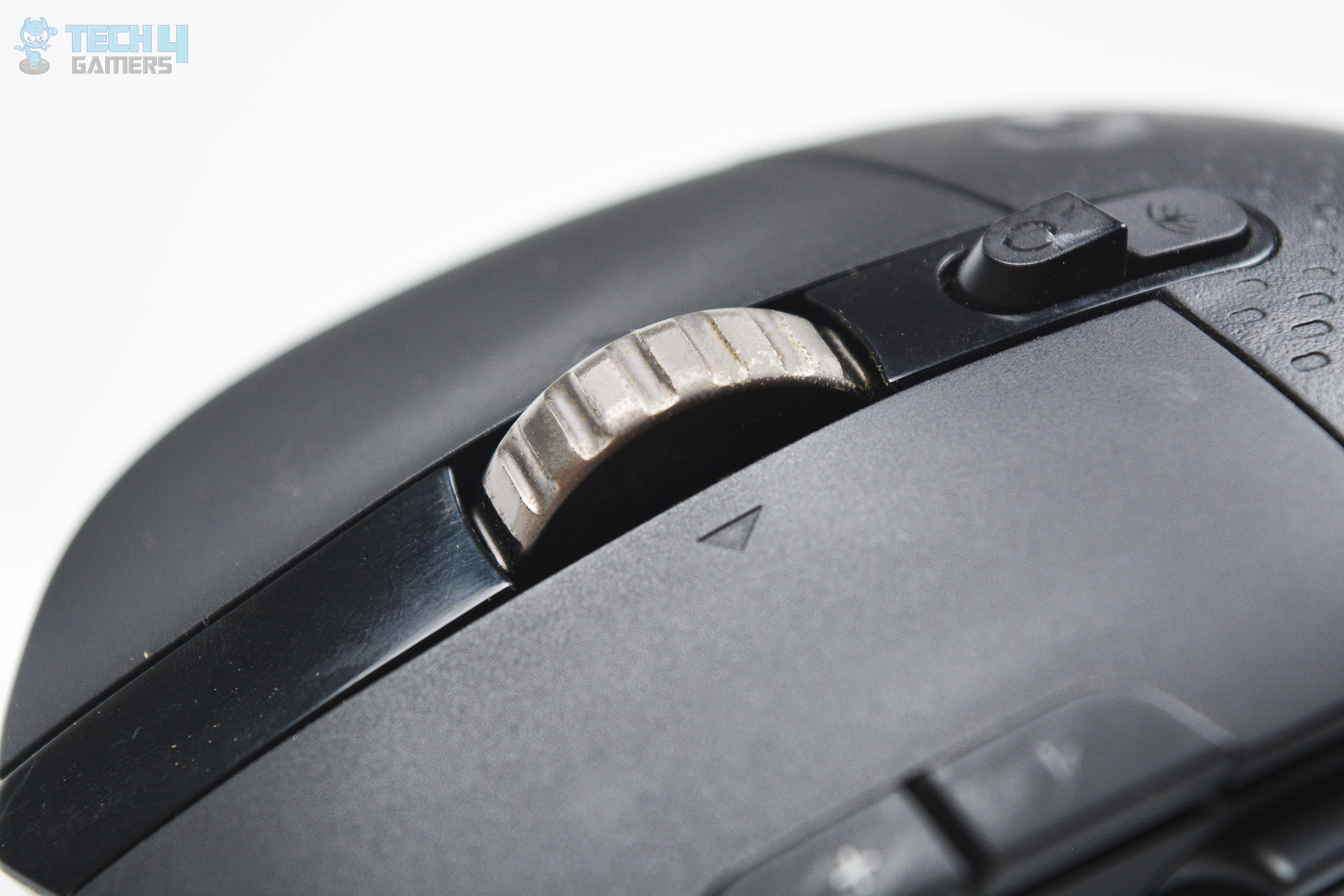 Moreover, the default DPI slider is located to the side of the primary left-click button, along with the plus and minus buttons. The accessibility to plus and minus buttons is nice. However, the customizing possibilities for these buttons do not always play along with games. Like previous Logitech mice, the primary switches are the industry-standard Omron mechanical types, which some competitors have begun to avoid. In contrast to the current trend for TTC and Kailh switches, Logitech is uninterested in the true performance-enhancing technology, which is the optical switch, which guarantees exceptional speed and reliability.
The six micro buttons on the G604 are strategically placed so that you can press the front ones using the outermost part of your thumb and the rear ones with the center of your thumb. I find it quite helpful for tapping out macro buttons in games and using it as a navigational aid in Chrome and other applications. In order to avoid accidental clicks, the buttons stick out from the body in the shape of tiny rectangles. Each button features a rounded bottom that facilitates a pulling action from the base to the surface.
Unfortunately, this only works for the buttons on the bottom row since the upper three are too close together to pass beneath. I would not say these are the most pleasant buttons ever, but when you need so many inputs in a small area, simplicity is paramount. The buttons all have a similar tactile profile, making it easy to switch between them. When compared to the soft buttons of the G602, the DPI switch buttons are a huge improvement. While using the G502, I often found myself with a significantly different DPI after accidentally pressing one of these buttons.
Beneath the scroll wheel on the top panel are two more buttons: one for toggling among wireless modes and another for connecting Bluetooth. These controls are among the trickiest to reach since pressing them requires repositioning the index or middle finger. The mouse can be connected by a micro-USB receiver for maximum performance, or it can connect wirelessly through Bluetooth. Additionally, it has a power button on the bottom. The click latency of the Logitech G604 is quite quick. In games where quick reactions are required, such as competitive shooters, there will be no noticeable lag. All in all, it is steady and precise enough for its intended genres of multiplayer online battle arena and role-playing game use.
Similarly: Corsair Harpoon RGB Wireless Review
Underside PTFE Feet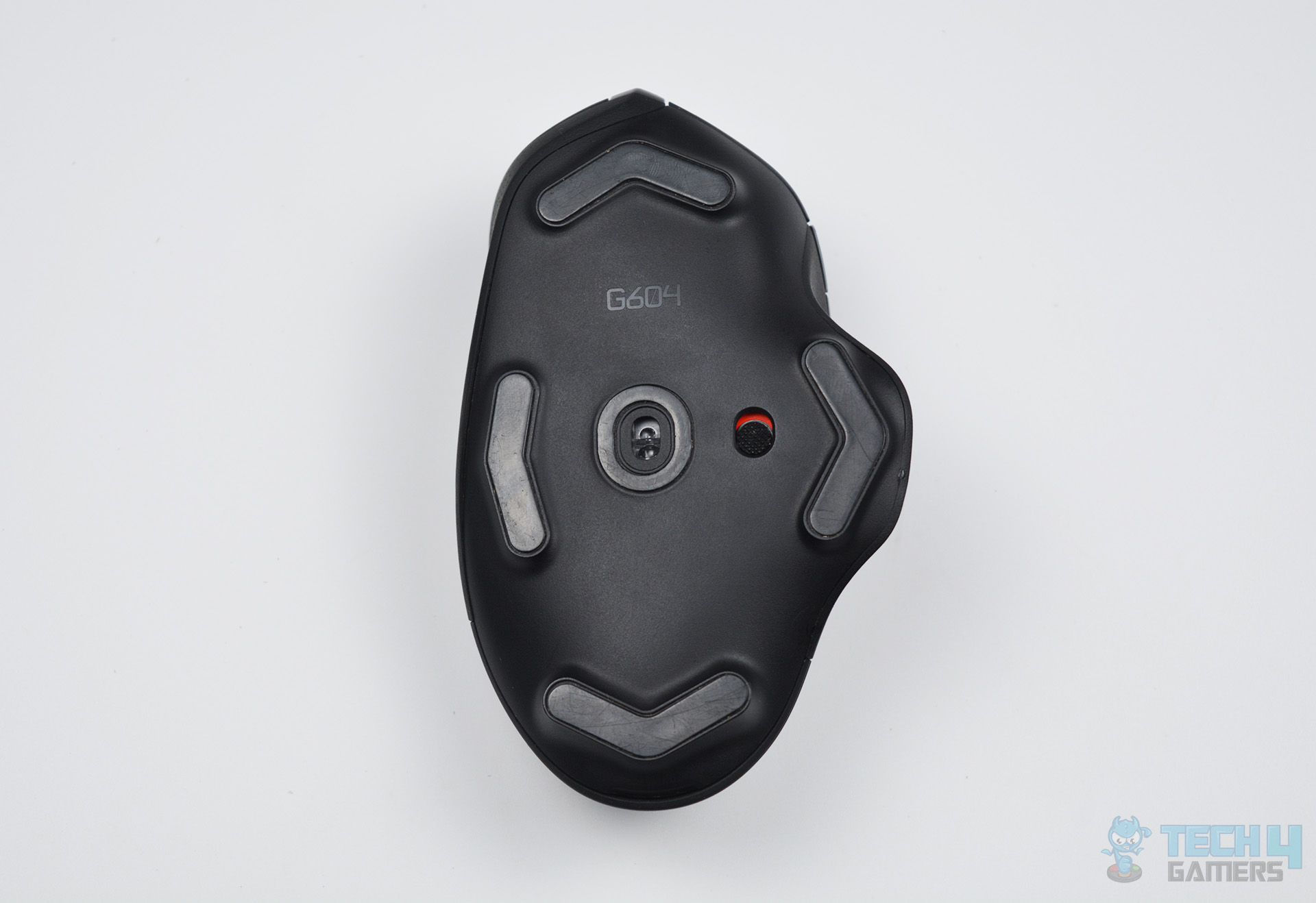 A mouse this size is really unreasonable. Instead of being flat like other mice, the bottom of this one is curled and tilted sharply. The mouse's four cardinal direction edges have plastic arrows on which the gliding feet rest. Surprisingly, this aesthetic decision is completely unfamiliar to me. The glides do not consist of white PTFE, and they do not have a very smooth finish or rounded corners.
The mouse may be bulky, but its smooth feet make it easy to move on both a mouse mat and your desk. Unfortunately, the mouse does not come with any additional feet, but you can probably find some online if you need them. It has one of the most surprising glides I have ever seen on a major brand mouse. Surprisingly, its odd feet provide the impression that it is floating over my desk. Maybe that is a good thing?
Build Quality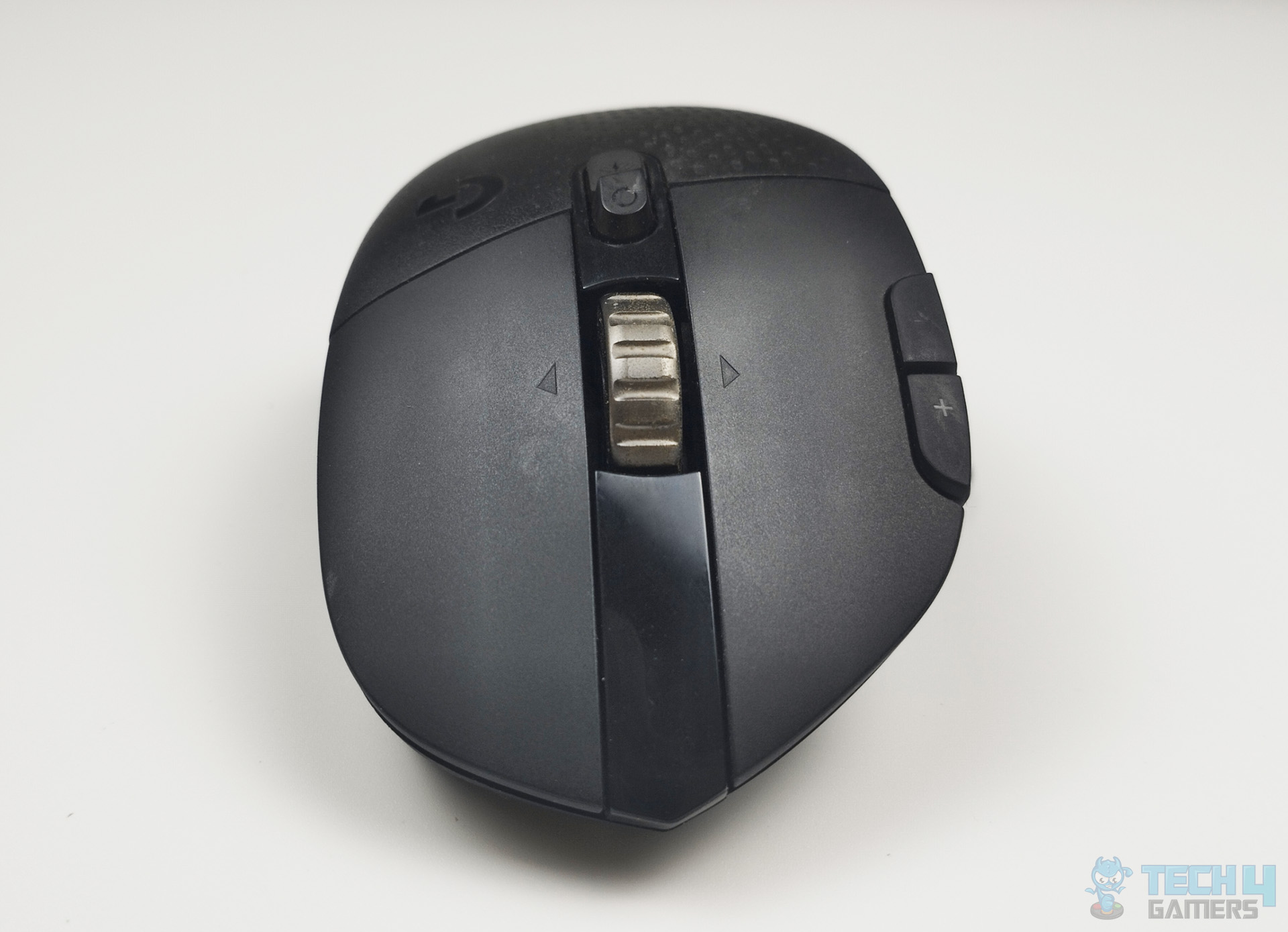 Excellent craftsmanship characterizes the Logitech G604. The weight of the tilted input scroll wheel causes some rattling, but otherwise, the mouse seems solid. The mouse wheel shakes and jiggles a little, but it might be because it is tiltable. Aside from that, the construction is sturdy, and the latex-based grips on the grip position and thumb rest are comfortable. The G604 Lightspeed's back compartment is quite empty, but that is because it is. The clicking of the mouse is extremely subtle and should not be audible even in a very quiet room.
Also Read: Types of Mouse Grips
Battery Life
The mouse's single AA battery and USB receiver are both stored in a compartment at the device's rear. The G604 Lightspeed makes the most of its AA battery, which is impressive given that I am not fond of non-rechargeable battery-powered mice. Logitech claims that a single charge can power your device for up to 240 hours when using 2.4GHz Lightspeed wireless and up to 5.5 months when using Bluetooth. I have been using the G604 as my main mouse for the past few weeks and have not had to change the battery yet. Fortunately, it is still alive and well. You can forget about turning the mouse on and off since the battery will enter standby mode when it is not in use.
In most cases, I would rather recharge than replace, but if the battery really does last as long as Logitech claims, it should not come up too frequently. Great battery life. However, it seems inefficient and antiquated to use throwaway cells in such a high-end peripheral. Of course, you could buy a set of rechargeable AA batteries, but it would have been far more convenient to use a lithium-ion battery that only needed to be charged occasionally.
You might be interested: Razer Basilisk X Hyperspeed Review
Connectivity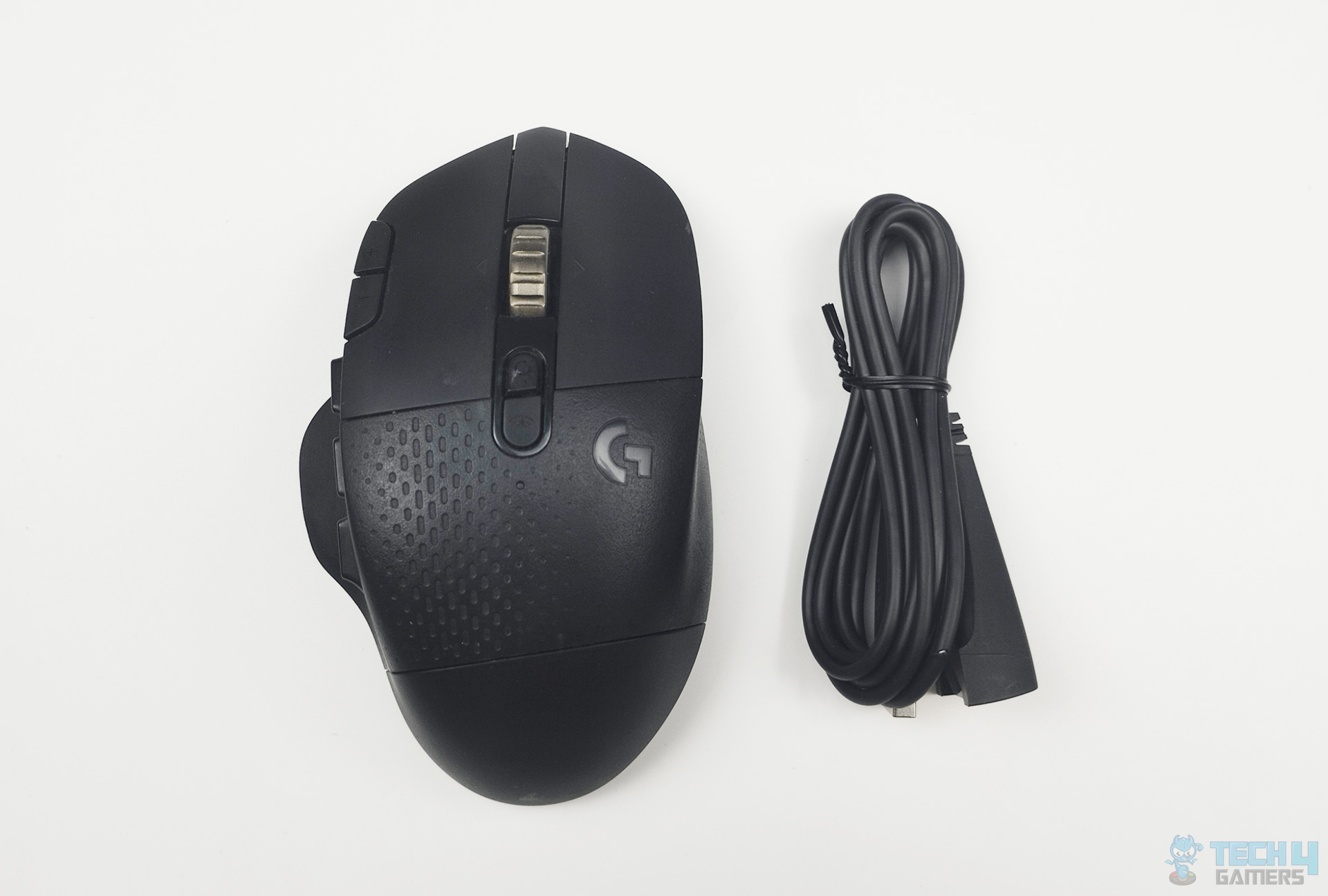 The G604 has a number of advantages over the G602, the most notable being its ability to connect by Bluetooth as well as a USB dongle. In addition, it just takes one button push to toggle between the two. Consequently, this allows you to connect the G604 to your gaming PC through USB and immediately switch to a Bluetooth connection for your laptop or mobile device. In addition, the G604 has a much longer battery life when connected through Bluetooth, so you should consider using both simultaneously for work and play.
The G604 is a competent wireless mouse, albeit I had more connection issues with it than with other wireless gaming mice I have tested this year. When using the G604 through the Lightspeed connection (a kind of 2.4GHz wireless connectivity) often performed flawlessly with no discernible latency, but on rare occasions, it failed to register clicks. However, I still think the wireless dongle is better than Bluetooth for gaming since the latter adds enough delay to be annoying. Unfortunately, there is no wired option for usage with this mouse.
Sensor
Within the body of the G604 Lightspeed is Logitech's Hero 16K sensor, which, as the name implies, is capable of tracking at a maximum of 16,000DPI. Fortunately, you can change the DPI range of the sensor throughout a broad range. The G604's motion and control are smooth and accurate, so you may make it as quick or slow as you want. It offers the mouse flawless tracking and extraordinary battery life. Notably, the mouse's HERO (High Efficiency Rated Optical) 16K sensor is the result of years of research and development, and it is largely responsible for this.
The HERO can keep up with your craziest sweeping motions since it records at a maximum of 400 inches per second without any smoothing or filtering. I put it through its paces in tests measuring mouse input lag and click latency, where it shined. Notably, Lightspeed's wireless connection is at least as fast as a cable one. The cursor never lagged behind the action, and there was no discernible delay in receiving input. Moreover, you can change the polling rate to 125Hz, 250Hz, 500Hz, or 1000Hz, and the lift-off distance is small enough that it will not detect motion when you lift the mouse to reposition it.
Notable Mention: Corsair Ironclaw RGB Wireless Review
Performance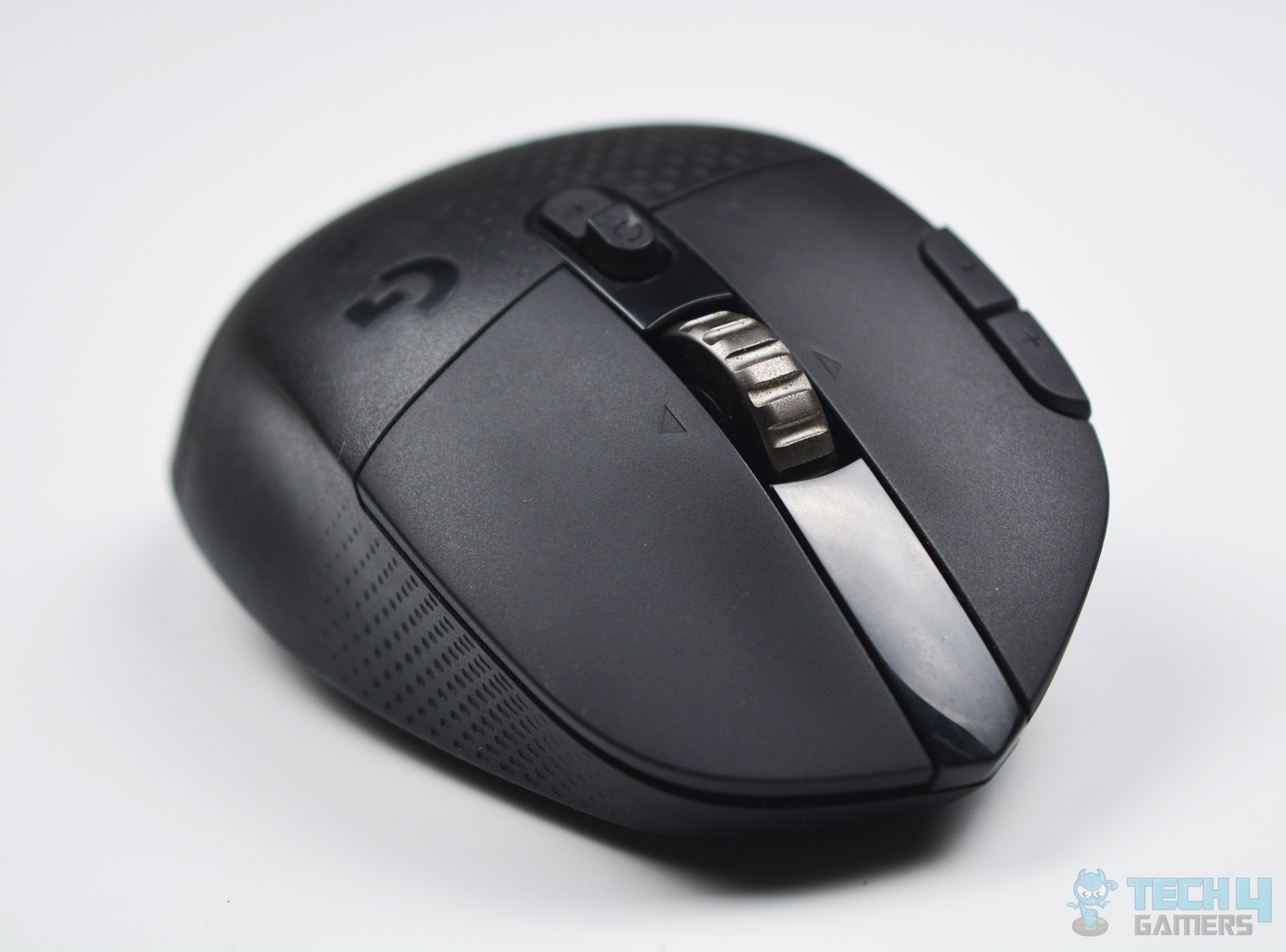 The G604 Lightspeed mouse was an eye-opener after I had correctly tied the thumb buttons to functions I really use in games. Consequently, it continues Logitech's tradition of flawless wireless performance in gaming mice. While maintaining mouse smoothness at more than 300 FPS in Valorant, of course. Consequently, I jumped into a long series of Destiny 2 strikes. As a result, I found out that tracking was really simple to depend on, allowing me to fire hand cannon bolts into foes' vulnerable points regularly.
The G604 sounds great in any genre. I thought I would not like the six little thumb buttons because they would be too hard to tell apart, but I ended up really liking them. Notably, I played Overwatch, Destiny 2, and Final Fantasy XIV while testing the peripheral. Surprisingly, I ended up paying great attention to DOTA 2 due to its high button count. In DOTA 2, I play Meepo as a midlaner, which allows me to make use of a wide range of control that stack to do more damage or provide more offense.
By assigning them to the thumb buttons, I was able to focus on the action on the screen without having to move my hand up and down the keyboard constantly. It gave me instant access to my six most-used abilities and items while freeing up my left hand for situational moves. The G604 Lightspeed's Hero 16K sensor performed well in my tests, and I had no trouble finding my target. Since I first started playing DOTA, I did not use them all very often since certain actions are more naturally suited to one hand than the other.
Veteran Macro users, however, will find plenty to their liking: the buttons are all reasonably spaced apart, easy to use, and compatible with G-Shift's secondary actions. You can program a G-Shift button to activate a secondary set of controls whenever you press and hold the set button. Putting frequently-used functions like voice chat, abilities, and items on the thumb buttons made it much simpler for me to keep my cool under pressure.
Games that make a good case for using the V key for rapid melee attacks should really have that button moved to the thumb on this mouse. The thumb buttons, in addition to the right and left clicks of the scroll wheel, simplify actions like strafing and tilting in games like Rainbow Six Siege. It has so many viable possibilities that it would take an eternity to exhaust them all. When combined with the Lightspeed dongle's maximum polling rate of 1,000 Hz, it is a performance worthy of use in professional MOBA esports titles.
Bluetooth, on the other hand, allows for polling rates anywhere from 88Hz to 133Hz. The G604 works appropriately for gaming, but its heft and the sound it makes as it scrapes over the mouse pad keep bothering me. Because of its size and weight, it is best used with a palm grip; those with tiny hands should look elsewhere. The Logitech G604 is not ideal for fast-paced gameplay due to its substantial weight. In addition, there is no practical method to greatly reduce its weight beyond the setup of a battery adapter to enable the use of AAA batteries in place of AA batteries, thus achieving the lowest weight.
Logitech G Hub Compatibility
You can customize the Logitech G604 and install new firmware updates by using the G Hub program from Logitech. I spent many hours with G Hub and came away liking it but not loving it. The Logitech G Hub is, in the majority of instances, an excellent program. Setting DPI defaults, making macros, and allocating commands for side buttons and scroll-wheel tilt are all fairly straightforward. Additionally, it supports a large number of profiles and macros, some of which are game-specific. The Logitech G604 can save up to five profiles onboard, allowing you to take your settings with you wherever you go.
On the other hand, G Hub on your PC can save as many profiles as you wish, letting you create and synchronize unique settings for each game in your library. Even though the method for transferring G Hub profiles into the mouse is a little complex, the mouse can retain your settings and utilize them across Bluetooth connections to different PCs. It is important to note right now that the Logitech G604 lacks any kind of customizable RGB lighting.
It is a shame there is not an option to synchronize the appearance of your mouse with the keyboard or any other lights on your system, but at least that is one less thing to do with the program. You can choose from a wide variety of buttons, including Logitech's useful G-Shift capability, which provides access to an additional menu of mouse settings. With the exception of the receiver/Bluetooth toggle and the wheel lock buttons, all other buttons on the mouse are programmable, especially the left click, although with some difficulty. With the addition of the G-Shift function on the mouse, you can have a total of 29 programmable inputs for your computer.
The Macros tab is where the real magic happens. Here you can add any commands you like that are not currently available. You can program a macro to do anything from adding an additional function to a key command similar to Shift or Alt to performing a series of tasks with a single button press. The G Hub software also allows you to set the DPI sensitivity of your mouse. Moreover, G Hub also allows you to create profiles tailored to certain games. The program will automatically activate a profile when you launch a game for which you have made one, which might be annoying on occasion. However, you can alternatively establish a single, permanent profile.
My one and only complaint with G Hub is that it may be inconsistent when it comes to automatically switching profiles. After spending hours crafting refined button instructions for DOTA 2, I found myself mauled by my opponents despite my best efforts to defend my throne. When I started DOTA 2, the G Hub program would not let me play without manually switching to the DOTA 2 profile from the desktop configuration. It was a very expensive lesson, but there are methods to address this problem by making use of the mouse's five onboard profiles.
Although Logitech provides a lot of customization choices, I found it problematic that I could not assign the Back and Forward buttons to Mouse 4 and 5, which are common controls in many games nowadays. I ended myself having to resort to less-than-ideal keybindings such as the semicolon and apostrophe. However, games did recognize Forward as Mouse 4 and DPI Shift as Mouse 5, although the latter's simultaneous functions were undesirable. Although, the mouse's many buttons and macro settings make it useful for non-gaming tasks as well; for example, you can program the mouse's hyper-fast scroll wheel to do a series of backspaces or deletes or assign the thumb buttons to perform the Copy and Paste functions.
Budget Option: BenQ Zowie EC2-B Review
Should You Buy It or Not?
Since 2014, gaming mice generally have improved greatly, and the G600 series is no exception. The Logitech G604 strikes a nice balance between minimalism and button capacity. The G602 originally retailed for $80 but is now available for much less. Additionally, the mouse uses disposable batteries, which seems out of place for what is normally a high-end device. The Logitech G604, however, promises to provide gamers of MMOs with a reliable tool and lives up to its promise in every respect.
If you have a massive hand and need exactly this many additional side buttons, this mouse may be ideal for you. Most folks, in my opinion, would be better off investing in pretty much any other renowned mouse for $100. As a result, it will be easier to move about your workplace and carry. The Logitech G604 Lightspeed is a tradeoff product; gamers who want a lot of hotkeys for a difficult game will receive them but at the expense of a mouse that is not as pleasant as it might be. As for me, I always make form my first priority.
If you have a mouse that fits well in your hand, you will quickly learn to make the most of your device. However, the Logitech G604 might be worthwhile if you disagree or place a higher value on being able to fit nearly every one of a game's controls as possible onto your mouse. For a wireless gaming mouse with so many bells and whistles, the price tag of $100 is reasonable, albeit maybe a little much for such an apparent trade-off. Priced in this range, the Logitech G604 Lightspeed Wireless Gaming Mouse is a good bargain.
Consequently, a wireless mouse with superior performance, precision, and extensive personalization options will set you back an additional $50. Having said that, the mouse isn't perfect, of course: A $100 mouse should probably have RGB lighting and a rechargeable battery, and the thumb buttons require a fairly involved learning curve to use correctly. But if you play massively multiplayer online (MMOs), multiplayer online battle arena (MOBA) games, or other genres where you need a ton of commands at the tip of your thumb, the Logitech G604 is one of your better options.
Conclusion
As an experiment, I found my time using this mouse to be rather interesting. It demonstrates that the HERO framework is adaptable enough to support a mouse of this size and that additional side buttons need not compromise ergonomics. It also demonstrates the need for the rounded corners, smooth bases, and reduced weights that have become the norm in the gaming industry. You can not go wrong with the Logitech G604 Lightspeed.
It is a high-quality, wireless, customizable gaming mouse. Some may find the Logitech G604's mix of high-end features typical of professional (Esports) player peripherals and lower-end features more confusing than helpful. The Logitech G604 is not perfect, but it is a great choice for MMO and MOBA gamers since it shines where it matters, like speed and precision, and because it offers a wide variety of buttons. Notably, it is unrivaled in terms of gaming performance and with almost limitless button customization options.
Its robust build and even more impressive battery life are equal to its performance. The mouse's dual wireless modes and other features make it useful for both at-home gaming and casual office work. It has all the conveniences of wireless without significant drawbacks, except for the side buttons, which are a minor fault.
In my opinion, my criticisms of it are less and will likely go unnoticed by the typical player. Besides that, it is a perfect combination of performance and functionality. The Logitech G604 has outstanding compatibility. The program is available for both Windows and macOS users to download, allowing them complete control over the interface. Fortunately, the mouse's buttons are completely functional in both operating systems.
Coming Next: Logitech G Pro Wireless Review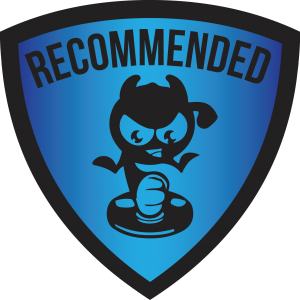 Learn more about Tech4Gamers Awards
Was our article helpful? 👨‍💻
Thank you! Please share your positive feedback. 🔋
How could we improve this post? Please Help us. 😔