The iPhone 15 Pro series leads Apple's latest smartphones. It brings the A17 chipset, USB-C support, and more.
In addition to the other headlining features, Apple boasts native gaming capabilities along with ray tracing support for the iPhone 15 Pro lineup. Recently, the company announced AAA titles would be natively playable on the iPhone 15 Pro series.
Among these titles, Apple pointed out Assassin's Creed Mirage and Resident Evil 4, highlighting the gaming capabilities of the smartphone. In a recent interview, the company claimed the iPhone 15 would be the best game console.
Why it matters: Apple is not traditionally known for its influence in the gaming industry, which is dominated by the likes of PlayStation, Nintendo, and Microsoft. However, it appears to be confident with the latest smartphones.
Speaking to IGN, the company discussed several parts of its newfound focus on gaming. When comparisons were made between the iPhone 15 Pro and consoles like the Xbox Series S, Apple said it did not want to compete in this space.
Instead, the iPhone 15 Pro is an all-purpose device. The company believes iPhones allow much more freedom than consoles, providing usage like photo-taking, social media browsing, and more.
The fact that the new iPhones can play games natively, in addition to all of this, makes it a unique introduction to the market. This is why Apple believes that it will be the best gaming console. Jeremy Sandmel from Apple said:
"I think they say the best game console is the one you have with you."
While Apple had already delved into the market previously, its recent efforts have led to several innovations.
The company has introduced upscaling tools like MetalFX to ensure games can hit impressive visuals and performance. Additionally, the iPhone 15 Pro supports ray tracing, a massive feature for the current-generation consoles.
Last week, Apple demoed Resident Evil Village on the iPhone 15 Pro, highlighting that it can achieve 30FPS on the new smartphone. This puts it miles ahead of popular handhelds like the Nintendo Switch.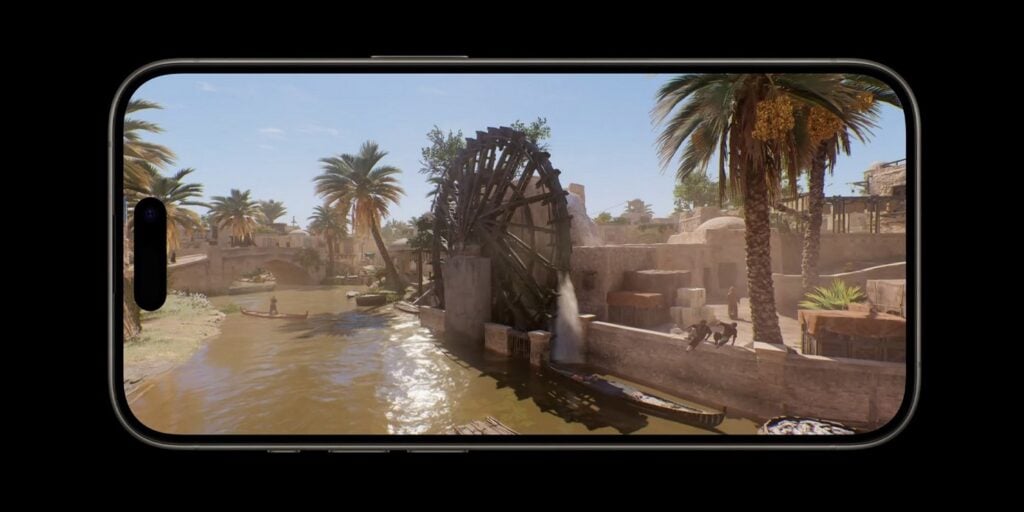 While many have expressed concerns about touchscreen controls being less than ideal for gaming, Apple has ensured that developers are given the freedom to decide on a control scheme for their games.
Add-ons like the Backbone and controllers like the DualSense are also supported, allowing users to enjoy playing their favorite games using a traditional controller layout on the iPhone.
Such levels of freedom highlight Apple's commitment to working closely with developers. Elaborating on this aspect, Tim Millet stated that developers are provided with a varied set of tools to optimize games for these platforms.
This allows them to strike a balance between visuals and performance suited to the hardware and its limitations. The unified architecture across multiple Apple devices helps streamline this process further, enabling compatibility between Macs, iPads, and iPhones.
As such, Apple has made it clear that a close partnership with AAA studios like Capcom is a massive priority for gaming support on iPhone 15 Pro.
The new iPhone marks yet another step forward for handheld gaming. Following the release of consoles like the Nintendo Switch, handheld gaming has seen renewed interest, encouraging more innovations and developments.
Was our article helpful? 👨‍💻
Thank you! Please share your positive feedback. 🔋
How could we improve this post? Please Help us. 😔
[News Reporter]
Avinash is currently pursuing a Business degree in Australia. For more than three years, he has been working as a gaming journalist, utilizing his writing skills and love for gaming to report on the latest updates in the industry. Avinash loves to play action games like Devil May Cry and has also been mentioned on highly regarded websites, such as IGN, GamesRadar, GameRant, Dualshockers, CBR, and Gamespot.