Comparison of the performance of an Intel Iris Xe Vs Nvidia GeForce MX350. What are the pros and cons of each card? And which one wins in this duel? Let's take a look!
The new Iris Xe graphics card is built into laptops with 11th-generation processors. Iris Xe, which Intel recently unveiled, is now present with Core i5 and i7 processors. Because of it, there is tough competition in the market.

With the revolutionary GPU and integrated graphics of the brand-new Intel® Iris® Xe graphics so, designers and creators may enjoy richer gaming experiences and work more quickly.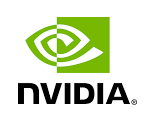 What is Intel Iris Xe?
The new Iris Xe graphics card is a dedicated GPU for laptops with 11th-generation processors. Intel recently launched Iris Xe, which is now available with Core i5 and i7 processors. A new instruction set architecture is part of Intel Xe. Intel Iris can support up to three simultaneous 4K HDR displays, which is great for gaming, multitasking, and content creation.
What is Nvidia MX350?
Selected brands of laptops include an integrated GPU called the NVIDIA® GeForce® MX350. It speeds up your laptop for both work and play, giving you the best-integrated performance of up to 2.5X. It also has the most recent technology for reducing power consumption, giving you the ideal combination of performance and long battery life.
---
Key Takeaways
The new Iris Xe graphics card is a dedicated GPU for laptops with 11th-generation processors. It comes with Intel's

cutting-edge 10nm+ process, which results in very high efficiency.

The Nvidia MX350 is significantly superior, but they are roughly similar in terms of power. However, the Iris Xe lacks the limited 2GB of VRAM.

When It comes to Graphics Quality and Overall Performance, Nvidia MX350 beats Intel Iris Xe by a small margin.
As both are integrated GPUs, power consumption is the main factor. Nvidia MX350 outperforms Intel Iris Xe in terms of low power consumption and good battery Health.
---
Intel Vs Nvidia Rivalry
Since a few years ago, Intel HD has advanced significantly, and current Intel HD may even outperform Nvidia's entry-level GPUs, despite Nvidia having a much, much stronger GPU than Intel's.
Now, Nvidia is also a well-known GPU manufacturer, which on the other hand, has also competed in the market for a decade now making one of the best graphic cards out there. They have pioneered several graphics technology advancements, and they typically supply discrete or high-performance solutions for desktop or laptop computers. They have focused on graphics card production and advancement, particularly in the last decade.
Despite the fact that Intel has been producing GPUs for a while—first the Intel GMA and then the Intel HD Graphics—the company is best recognized for its processors. These are typically built into the motherboard (intel GMA) or the CPU (intel HD); they are not terrible, but they are not practical for many jobs. To Know more about such rivalries between intel and Nvidia you can always check out this.
Intel Iris Xe Graphics Vs NVIDIA GeForce MX350
The MX350 is significantly superior, but they are roughly similar in terms of power. However, the Iris Xe lacks the limited 2GB of VRAM, which might make the integrated graphics slightly superior. Online comparisons claim that the MX350 is superior; however, I'm not sure how much RAM it has. VRAM somewhat constrains the MX350, but at worst, it will use system RAM, as does Xe, and Nvidia also has greater driver support.
The Tiger Lake SoCs and, consequently, the integrated GPU is produced by Intel using the cutting-edge 10nm+ (10nm SuperFin) process (enhanced 10nm process), which should result in very high efficiency.
The Nvidia GeForce MX350 and Nvidia GeForce GTX 1050 both utilize the same GP107 Pascal processor. According to Nvidia, the memory bus is reduced in size by half to 64 bit (GDDR5) and 2.5 times faster than an i7-1065G7.
Division 2, Metro Exodus, and Rage 2 are among the toughest games of 2019, but they can only be played at the lowest detail levels. However, initial tests reveal performance that is on par with a GTX 960M and somewhat slower than the GTX 1050.
Fifa 20 and other less demanding games should function properly at high settings and even at 1080p. But this always also depends on the processor and main memory that are being used. For thorough gaming benchmarks, see below.
Technical Specs Difference
Aside from the basic comparison, now let's dive further into the Intel Iris Xe vs MX350 by comparing the specs.
Aspects of general performance include architecture, the basic clock rates of the GPU cores, the manufacturing process, texturing, and calculation speed. These parameters hint at performance, but you must take their benchmark and gaming test results into account for an accurate evaluation. Some graphics cards' power requirements can easily exceed their nominal TDP, especially when overclocked.
| | | |
| --- | --- | --- |
| Pipelines / CUDA cores | 96 | 640 |
| Core clock speed | no data | 1354 MHz |
| Boost clock speed | no data | 1468 MHz |
| Number of transistors | no data | 3,300 million |
| Manufacturing process technology | 10 nm | 14 nm |
| Thermal design power (TDP) | no data | 25 Watt |
| Texture fill rate | no data | 29.98 |
Gaming Benchmarks
In our gaming benchmarks, the Intel Iris Xe was a bit ahead in terms of performance. However, keep in mind that there are other factors, such as heat dissipation and noise. On average, we saw a difference of 6-10 fps between the two graphics cards. If you're considering a graphics card for your system and want one with more power, then Intel's technology will be better for you.
For gamers who enjoy playing video games at an average FPS of 60+, it may not matter which one you get as both have similar performance to each other. The following table gives an idea of Frame per Second (FPS) at different resolutions.
| | | |
| --- | --- | --- |
| Full HD | 27 | 47 |
| 1440p | 20 | no data |
| 4K | 14 | no data |
Frame Rates
The settings you choose will heavily influence the average frames per second in different games using Iris Xe MAX Graphics and GeForce MX550. There is no question that Nvidia will outperform Intel iris xe if your settings are in ultra mode. Frame rates can change based on the operating system and other elements.
This would allow gamers to play games that are typically low-fidelity and less demanding visuals, enabling them to play at 60 frames per second or higher with ultra graphics.
Shadow of the Tomb Raider
In the picture below, we can see that IRIS XE MAX falls short of the MX 350 by a very small margin. While playing Tomb Raider, both of the graphic cards have pretty good quality graphics.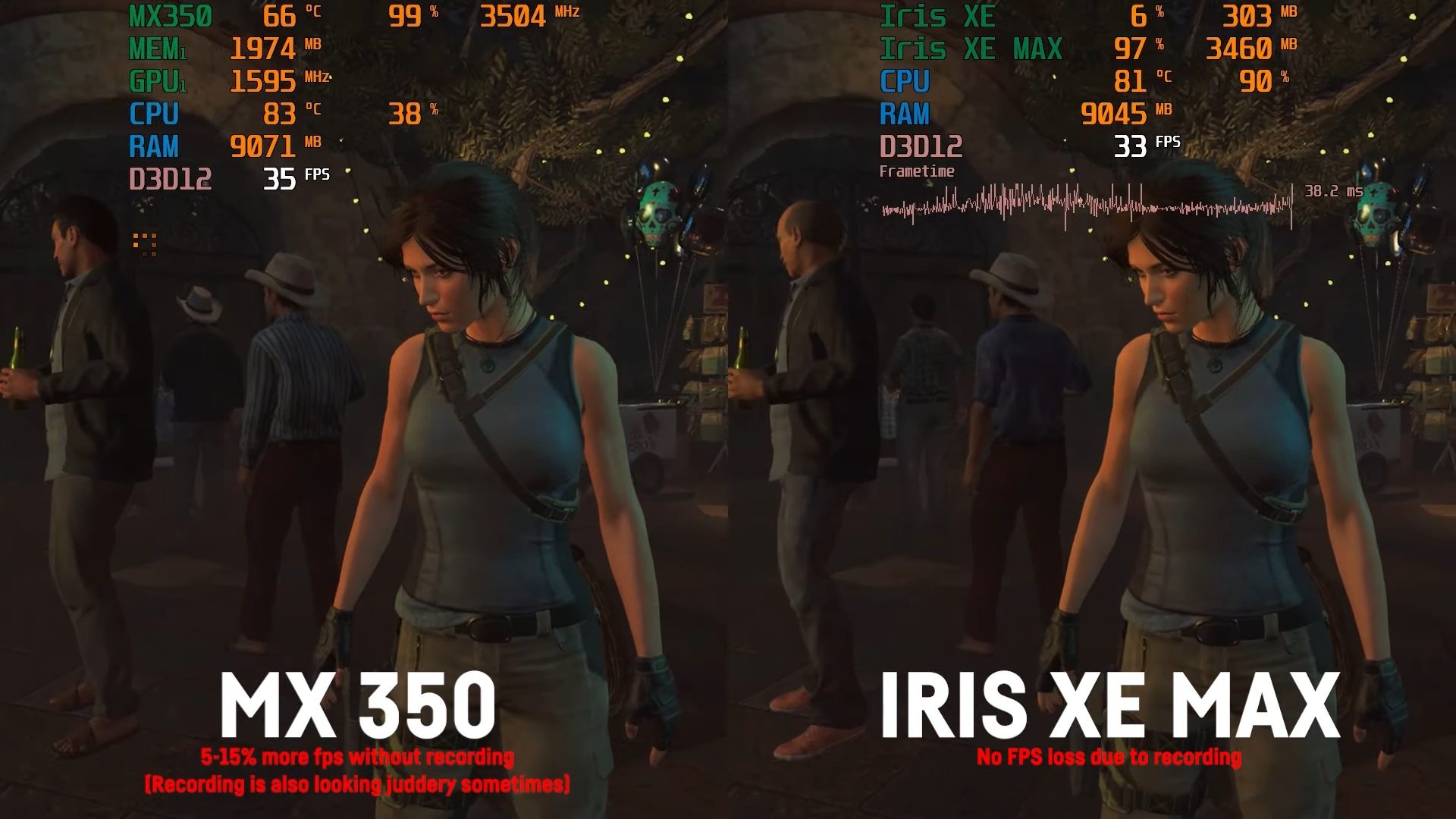 Wither 3
We can see that IRIS XE MAX only misses out on the MX 350 in the image below. Both graphic cards have pretty high-quality graphics when playing Witcher 3.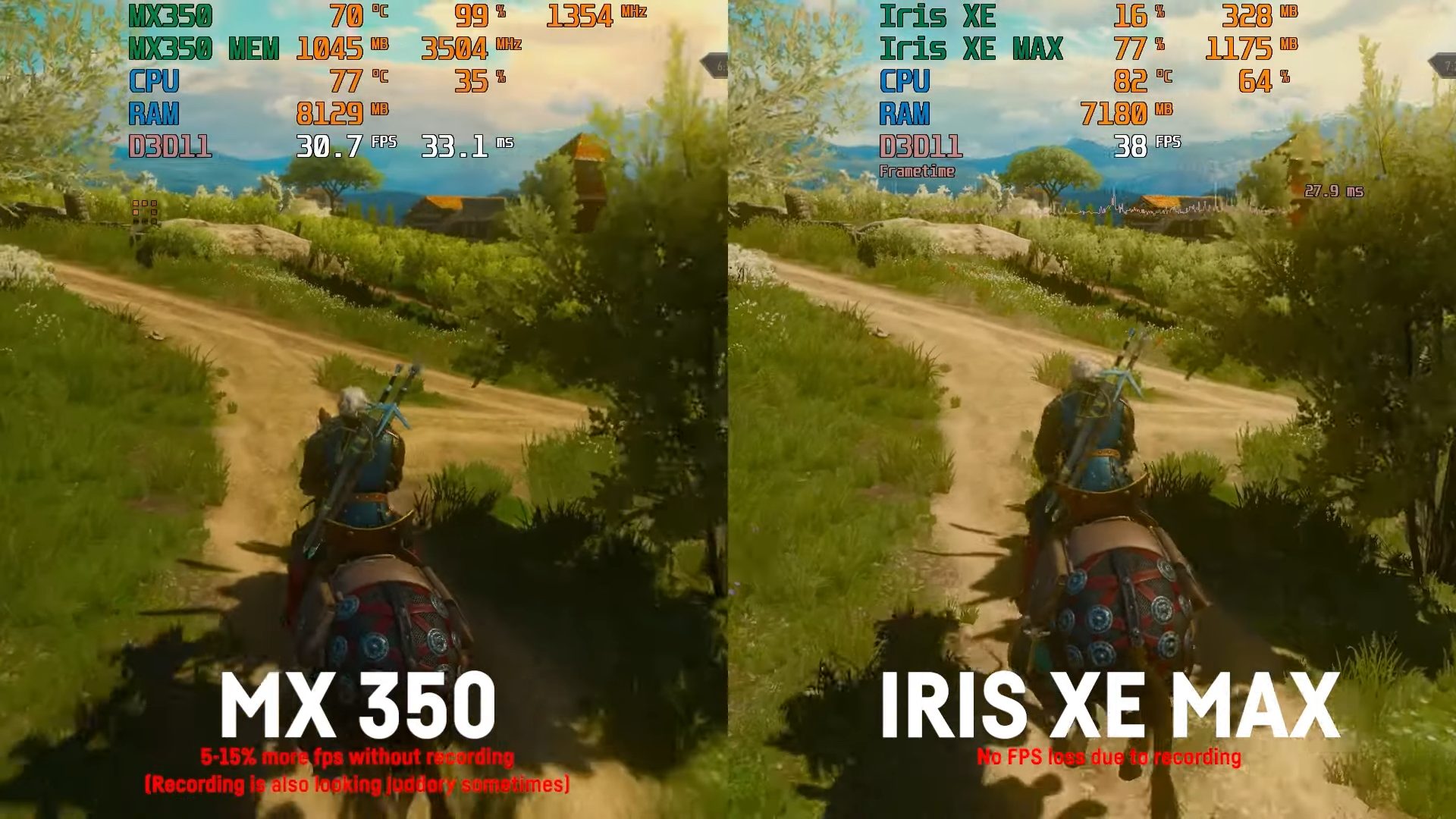 Rocket League
Playing Rocket league, we can see a big margin in Intel Iris Xe vs NVIDIA MX350 graphics. Intel Iris Xe has an FPS of almost 75, while NVIDIA MX350 has an FPS of more than 90.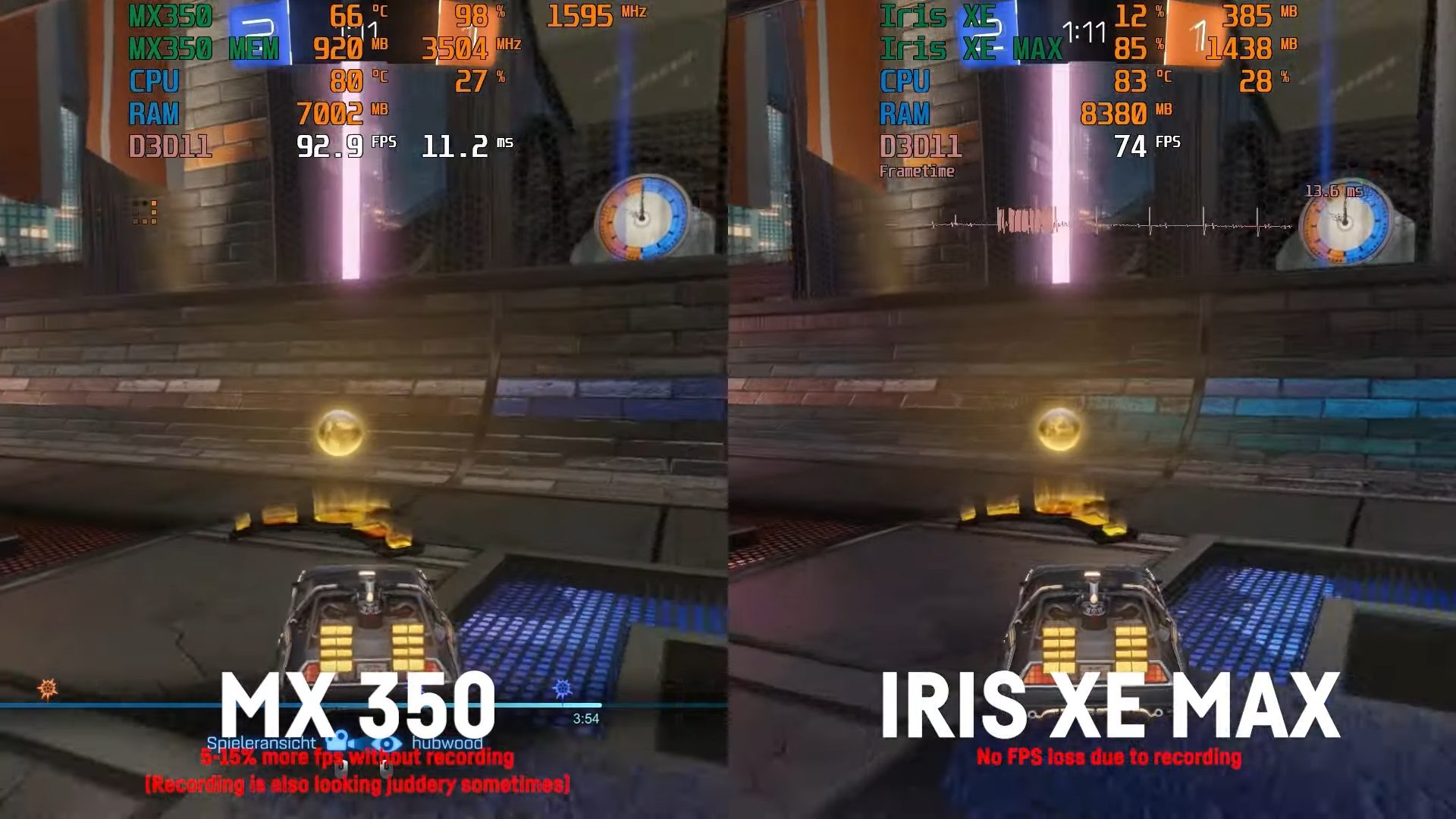 Compatibility
Both GeForce MX550 and Iris Xe MAX Graphics are quite compatible with other computer parts. When choosing a future computer configuration or upgrading an existing one, compatibility should be taken into account.
Connection slots and buses are soldered to the notebook motherboard to accommodate their size. They both have a PCIe 4.0 x8 interface. Supplemental power connectors are another issue with graphics cards, although they do not require any special power connectors beyond what is provided with them.
Memory
Installed memory parameters are significant because more VRAM enables your graphics card to store content like high-resolution frames and more complex textures. Sometimes Better memory is sometimes mistaken for higher FPS; however, that isn't necessarily the case. But it makes the experience smoother and more reliable, particularly at high graphical settings.
| | | |
| --- | --- | --- |
| Memory type | LPDDR4x | GDDR6 |
| Maximum RAM amount | 4 GB | 4 GB |
| Memory bus width | 128 Bit | 64 Bit |
| Memory clock speed | 4266 MHz | 12000 MHz |
| Memory bandwidth | 68.26 GB/s | 96 GB/s |
Graphics Review
The Intel Iris Xe beats out its competitor when it comes to benchmarks. The average FPS was 38 for a video game on the Intel chip and 13 for a video game on NVIDIA's GPU. At low settings, you will not notice much of a difference between the two. But when you turn up the ultra settings, I would recommend going with an Intel chip for about 100 dollars more. The intel iris xe has significantly higher frame rates than its opponent.
When running at ultra settings, the intel iris xe scored around 60 frames per second, whereas the Nvidia GeForce mx350 only managed 23 frames per second. The results were similar in a different gaming environment as well; the intel iris xe had an average FPS of 46 while the Nvidia GeForce mx350 averaged 17.
When looking at this data alone, it seems that if you want a smooth gaming experience, you should go with an intel chip over a competitor's product.
GPU benchmarks
There are many Graphics Cards on the market, and it can be difficult to find out which one is best. To do that, we need to start with a few simple benchmarks.
3DMark Cloud Gate GPU and 3DMark 11 Performance GPU both test different things, but they are still good starting points when it comes to comparing Graphics Cards. When you're looking at these two tests, here's what you should pay attention to:
3DMark Cloud Gate FPS
This measures a single GTX 960's performance versus multiple GPUs running in SLI or Crossfire mode and allows for easy comparison between different GPUs or modes of GPU performance. It also reflects what users might experience playing games on one PC without Windows.
API support
We have heard that Iris XE would not support CUDA, but that it will fully support DirectX, Shader Model, OpenGL, OpenCL, and Vulkan. The Nvidia Mx350, which has excellent support and uses the Vulkan Graphics API, is the same. On the other hand, Intel Xe is only compatible with and supports Vulkan 0.16.
Price Comparison
However, Nvidia MX 350 laptops are slightly more expensive than Intel iris Xe laptops. Both integrated graphic Cards. The Pascal architecture is used in the GeForce MX350, and Gen. 11 Ice Lake is used in the Iris Xe Graphics G7.
Iris Xe Graphics G7 is produced using a 10 nm process, while GeForce MX350 is produced using a 14 nm process.
Conclusion
This graphic card might be the best option for gamers that prioritize things like fps or power efficiency. Regarding gaming on a budget, NVIDIA GeForce MX350 offers good performance at a cheaper price range of $150-190, which gives them a good advantage. But if you're looking for something in between both worlds and still prioritize things like performance or cost, one might be left wondering what graphic cards are the best choice to have when looking for budget gaming.
Overall, Intel Iris Xe Graphics G7 96EUs seems to be the best option with great potential, but not everything will work out as well. These are all factors people should consider before purchasing a new graphics card because every game is different.
Was our article helpful? 👨‍💻
Thank you! Please share your positive feedback. 🔋
How could we improve this post? Please Help us. 😔
[Comparisons Specialist]
I'm a passionate computer hardware expert specializing in CPUs and GPUs. With a lifelong curiosity for hardware and extensive hands-on experience, I provide valuable insights, practical advice, and in-depth analysis on these components. Engaging with the hardware community, I exchange knowledge and stay at the forefront of technological advancements.
Get In Touch: [email protected]