Windows users encounter a series of errors when they use their PC. The errors appear in front of them in different forms, messages, and even codes. It is very important to have knowledge of why errors like WHEA_UNCORRECTABLE_ERROR have occurred and what you can do to fix them.
Key Takeaways
WHEA_UNCORRECTABLE_ERROR occurs when there is an issue related to hardware in the computer.
You can fix the error by performing a BIOS reset, Updating drivers, wiping viruses, taking RAM test, and files and settings test via command prompt.
To prevent the error from occurring in the future, it is important to regularly update your PC and drivers, do underclocking, and scan for malware regularly.
What Is The WHEA_UNCORRECTABLE_ERROR?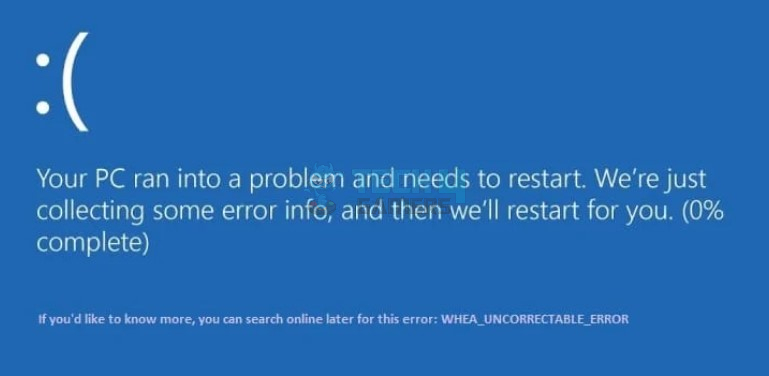 The WHEA_UNCORRECTABLE_ERROR occurs in the form of the blue screen of death. WHEA (Windows Hardware Error Architecture) is responsible for reporting your operating system with any errors or issues that are occurring because of your hardware.
You will be displayed with the WHEA_UNCORRECTABLE_ERROR message whenever an issue stands uncorrected or unfixed. In case the blue screen of death occurs along with this error, your computer will most likely crash or give itself a restart.
Error Message: Your PC ran into a problem and needs to restart. We're just collecting some error info, and then we'll restart for you. If you'd like to know more, you can search online later for this error: WHEA_UNCORRECTABLE_ERROR.
What Causes The Error?
The error has multiple different causes that are associated with different components. Here's the list of causes the team of Tech4Gamers discovered behind WHEA_UNCORRECTABLE_ERROR.
Underlying issues in hardware components. This might be your RAM, GPU, CPU, or even a PSU.
Overclocking may also be linked to overheating of components.
Installation of incorrect drivers or leaving drivers un-updated.
Issues like corrupted files or hidden malware in the system.
Methods To Fix WHEA_UNCORRECTABLE_ERROR
I have performed thorough research and collected a few fixes for this error. Using these fixes will help you eliminate this error and prevent it from happening later. Before heading towards bigger fixes, I'll provide you with some quick fixes that you can perform.
Update Your Windows.
Tone down the overclocking of your CPU/GPU.
Now I'll provide you the detailed fixes to get rid of the error.
Take A Look At Your Hardware
You should look at the hardware components inside the PC casing. Make sure all the components are sitting well in their places. You also need to ensure the components are clean and not covered by dust or debris.
Other than that, you need to ensure they are all functioning properly and do not have any loose wires or any issues preventing them from doing so.
Run A RAM Test
A RAM test is offered by an application of Windows. This application runs your RAM through a series of tests and provides you with all the possible issues that might be in it.
Here's how you can carry out a RAM test:
Type 'Windows Memory Diagnostic' in the Windows search bar.

Open the application. Image credits: (Tech4Gamers)

A confirmation window will be displayed with two options. Click on 'Restart now and check for problems (Recommended).'

Click on the first option. Image credits: (Tech4Gamers)

Your PC will restart itself and run the test. The test may take a while, depending on the size and issues in the RAM.

The memory test is being carried out. Image credits: (Tech4Gamers)

Once the test is completed, your computer will boot, displaying all the issues it found while running the RAM test.
Fix Errors Via Command Prompt
The command prompt feature is a similar test that goes through your files and different settings and corrects any issues it finds.
Here's how you can fix WHEA_UNCORRECTABLE_ERROR using the command prompt:
Type 'Command Prompt' in the Windows search bar.
After Command Prompt opens, type the command 'chkdsk /r' and press 'Enter.'

Command prompt diagnostics result. Image credits: (Tech4Gamers)

Any issues spotted will be fixed.
Reset Your PC
The last step you can take to fix this problem is to reset your PC. Now, keep in mind that this will wipe your data and undo any changes you made to your settings. A reset will most likely fix the issue as it will wipe any file, data, setting, or virus causing the error.
WARNING: Before performing a reset, make sure to create a backup of everything important, as everything will get deleted.
How To Prevent The Error From Occurring Again?
Since errors that occur on PC are super annoying, here's a list of things I have tested that have helped me prevent the WHEA_UNCORRECTABLE_ERROR from occurring again.
Give the PC regular updates.
Regularly update the drivers.
Carry out a malware scan occasionally.
Do not overclock your PC unnecessarily.
Occasionally carry out a hardware diagnostic to spot any underlying issues.
Keep your data safe by backing it up on another drive.
Get your PC good quality hardware.
Clean your PC regularly every 2-3 months.
Frequently Asked Questions
What does WHEA_UNCORRECTABLE_ERROR do?
It indicates that there are underlying issues related to hardware that need to be fixed in order for the PC to function well.
How should I get rid of the WHEA_UNCORRECTABLE_ERROR?
Many fixes include updating your PC and drivers, resetting BIOS, testing files through the command prompt, testing RAM, and wiping any hidden malware.
Will the reset wipe everything on my PC?
Yes, it will wipe any sort of data stored on your PC. Therefore, it's important that you create a backup of all your important data on another device.
Was our article helpful? 👨‍💻
Thank you! Please share your positive feedback. 🔋
How could we improve this post? Please Help us. 😔