Cyberpunk 2077 is finally set to add new content to the expansive open-world RPG next month. Phantom Liberty promises massive changes to the game's core mechanics in addition to famous actors like Idris Elba.
With a plethora of new trailers and gameplay footage over the last few months, fans are excited for the next big chapter of Cyberpunk 2077, which is also reflected in the game's current position on Steam's best-sellers charts.
Over a month before Phantom Liberty, Cyberpunk 2077 has already become the third-best-selling game on Steam.
Why it matters: Much like the game's initial launch, Phantom Liberty is expected to be one of the biggest releases of 2023. CDPR has packed the expansion with enough content and changes to convince former players to return for another adventure in the game.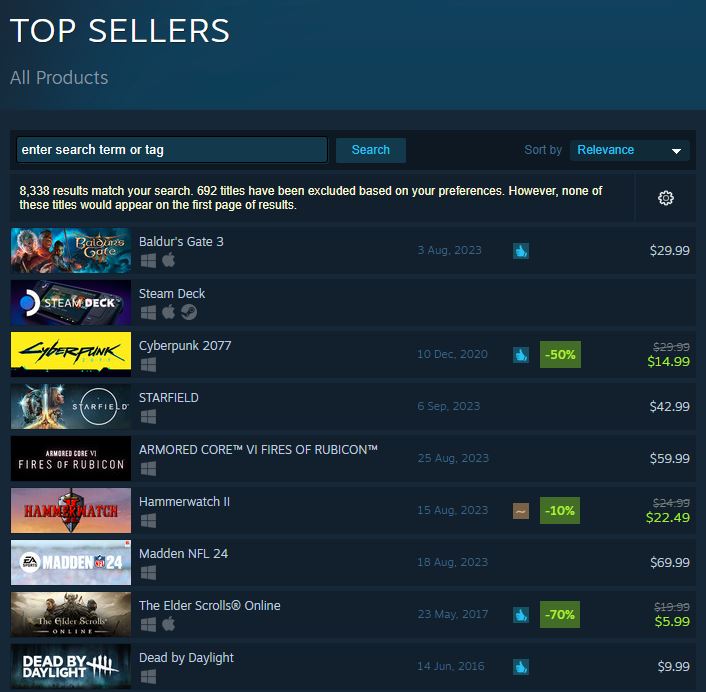 It should be noted that the list above excludes free-to-play releases like CS:GO.
Cyberpunk 2077 is currently 50% off on Steam. This sale, coupled with the excitement for Phantom Liberty, likely encouraged several new players to try the game.
CDPR's latest release is no stranger to the Steam best-sellers charts. The game has already been on the list at various points of its lifecycle, but it continues to remain relevant in 2023.
With anticipated releases like Starfield and Armored Core 6 just over the horizon, Cyberpunk 2077 has still not been left behind. The game is currently outpacing both anticipated titles on Steam.
Recently, CDPR acknowledged that Cyberpunk 2077 has made a massive comeback on Steam. Following several years of patches and updates, over 80% of the game's user reviews are currently positive on Steam.
However, CDPR believes that there is still work to be done. The studio had earned an exceptional reputation with The Witcher 3, but much of this was lost with Cyberpunk 2077.
CDPR hopes to win back lost trust through the promising revamp and the Phantom Liberty expansion.
While Phantom Liberty will be released to the public on September 26, the developer recently conducted a tour in Poland, allowing players to get hands-on time with the game for an hour.
Early impressions of the expansion have been extremely promising, and expectations are high for CDPR to deliver an enthralling RPG experience in the Cyberpunk 2077 universe.
Was our article helpful? 👨‍💻
Thank you! Please share your positive feedback. 🔋
How could we improve this post? Please Help us. 😔