Best Performance Mouse?
Review Summary
The Corsair Nightsabre Wireless is a compelling choice for those seeking a high-performance, customizable, and comfortable gaming mouse, especially if you prioritize wireless functionality and long battery life. However, if budget constraints or a preference for extremely lightweight or minimalist designs are your primary concerns, you might want to explore other options.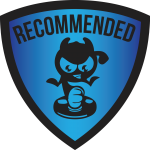 Build Quality -

8.5/10

Performance -

9/10

Value -

7.5/10

Software -

8/10

Design -

8/10
Pros
Premium Build Quality
Versatile Customization
Long Battery Life
Comfortable Ergonomics
Wireless Performance
Cons
Potentially Expensive
Not Extremely Lightweight
Learning Curve for Software
The Nightsabre Wireless is Corsair's latest addition to its gaming mice collection, which seems to be a remarkable product. From a technological standpoint, this wireless mouse stands out with hardly any wishes. It is primarily designed for FPS enthusiasts, and it also caters to the preferences of MOBA and Battle Royale players. As a matter of fact, this is evident in its robust build, balanced, symmetrical shape, and comprehensive array of features.
Having said that, the Nightsabre Wireless comes at a price of $169.99 with a standard two-year warranty. Considering the cost, the pivotal question arises: Does the quality of its features and performance justify its price? To answer this, let's delve into hands-on testing to uncover more about its practical experience by exploring various attributes of this mouse.
Why you can trust Tech4Gamers:

Our round-ups feature products that are based on dedicated hands-on testing by our team of experienced hardware experts.

Find out more about how we test.
---
Key Takeaways
The Nightsabre Wireless is a high-performance gaming mouse designed for enthusiasts who prioritize wireless convenience, customization, and comfort. Boasting a premium build with a stylish design, the mouse also features extensive customization options.
The things I have liked about the Nighstabre Wireless are its Premium Build Quality, Versatile Customization, Wireless Performance, Long Battery Life, Quick Charging, Comfortable Ergonomics.
The things I have not liked about the Nightsabre Wireless are that it's Potentially Expensive, Not Extremely Lightweight, Understated Design, and Learning Curve Software.
The Nightsabre Wireless is a perfect fit for Professional Gamers, Customization Enthusiast, Long Gaming Sessions, Comfort-Seeking Users, and Corsair Ecosystem Users
---
Specifications
According to the specifications, the Nightsabre Wireless is quite similar to the Corsair Darkstar Wireless, a mouse that I previously reviewed a few months ago, which was specifically designed for MMO/MOBA gamers.

What's Inside the Box?
Nightsabre Wireless Mouse
Slipstream Wireless Reciever
Manual Guide & Warranty Information
USB-A to USB-C Cable
How Does the Nightsabre Wireless Look Like?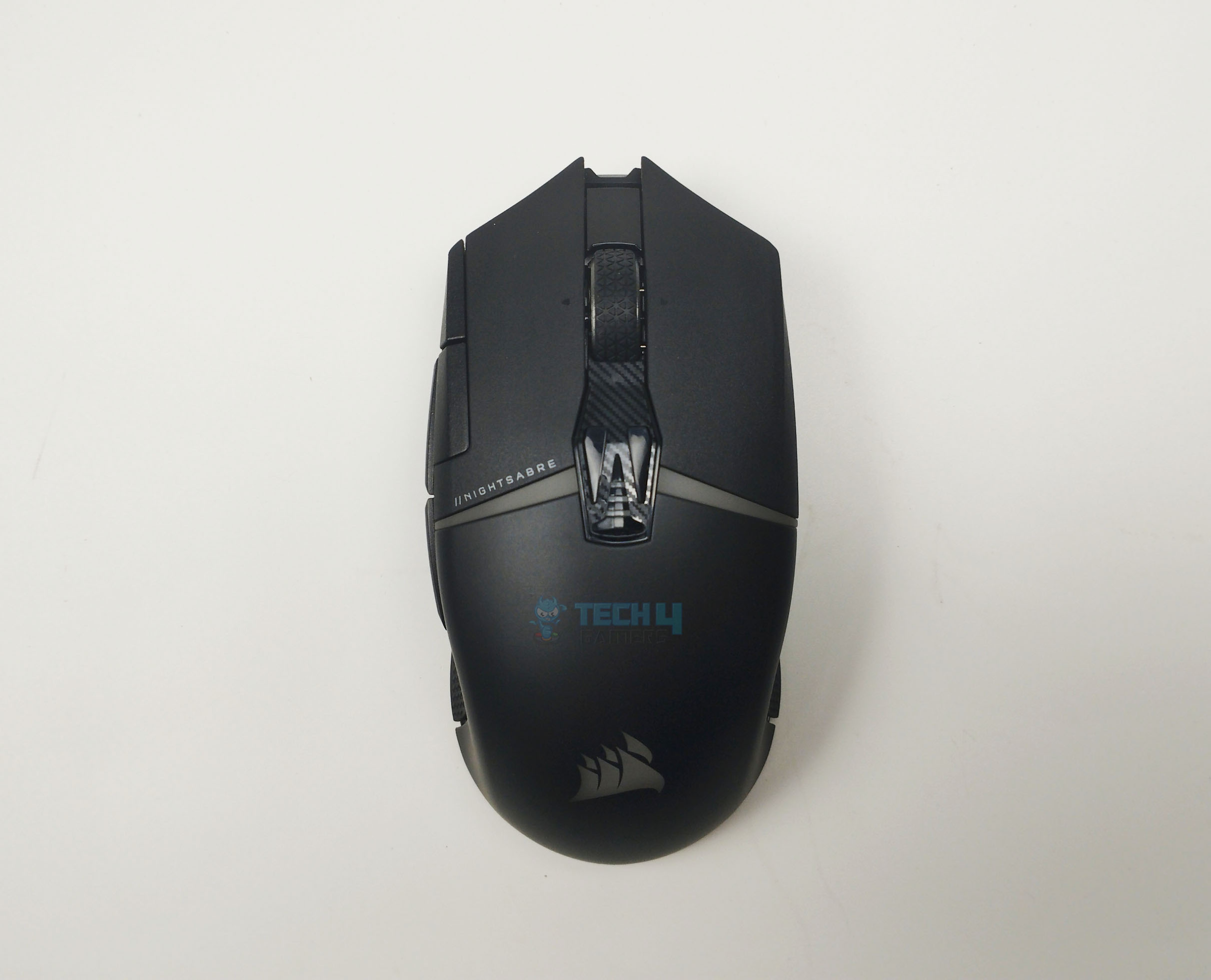 The Nightsabre Wireless by Corsair seamlessly continues the company's well-known established design. Its body is crafted from matte black plastic that gives a stylish look with subtle metal and carbon fiber accents. Moreover, the primary color choices of dark gray and black contribute to its sleek appearance. However, it's a tad disappointing that the mouse is only available in a single color, which is black. Despite its non-flashy design, it carries a certain sophistication.
In keeping with Corsair's style, the peripheral's name is prominently labeled in light grey on the upper portion, just above the lower left RGB zone. Notably, the mouse follows a symmetrical design, though with a limitation for left-handed users due to the presence of two additional buttons on the left side, perfectly positioned for the thumbs of right-handed individuals.
There are, in fact, four additional buttons if we include the two on top of the left primary button. Furthermore, the design set forth a slightly wider feel to the left side, emphasized by the bump of the side buttons from the case. Having said that, the design is completed by a USB-C connector, which is situated on the front of the mouse, adding a modern touch to its overall aesthetic.
What Shape Does It Have?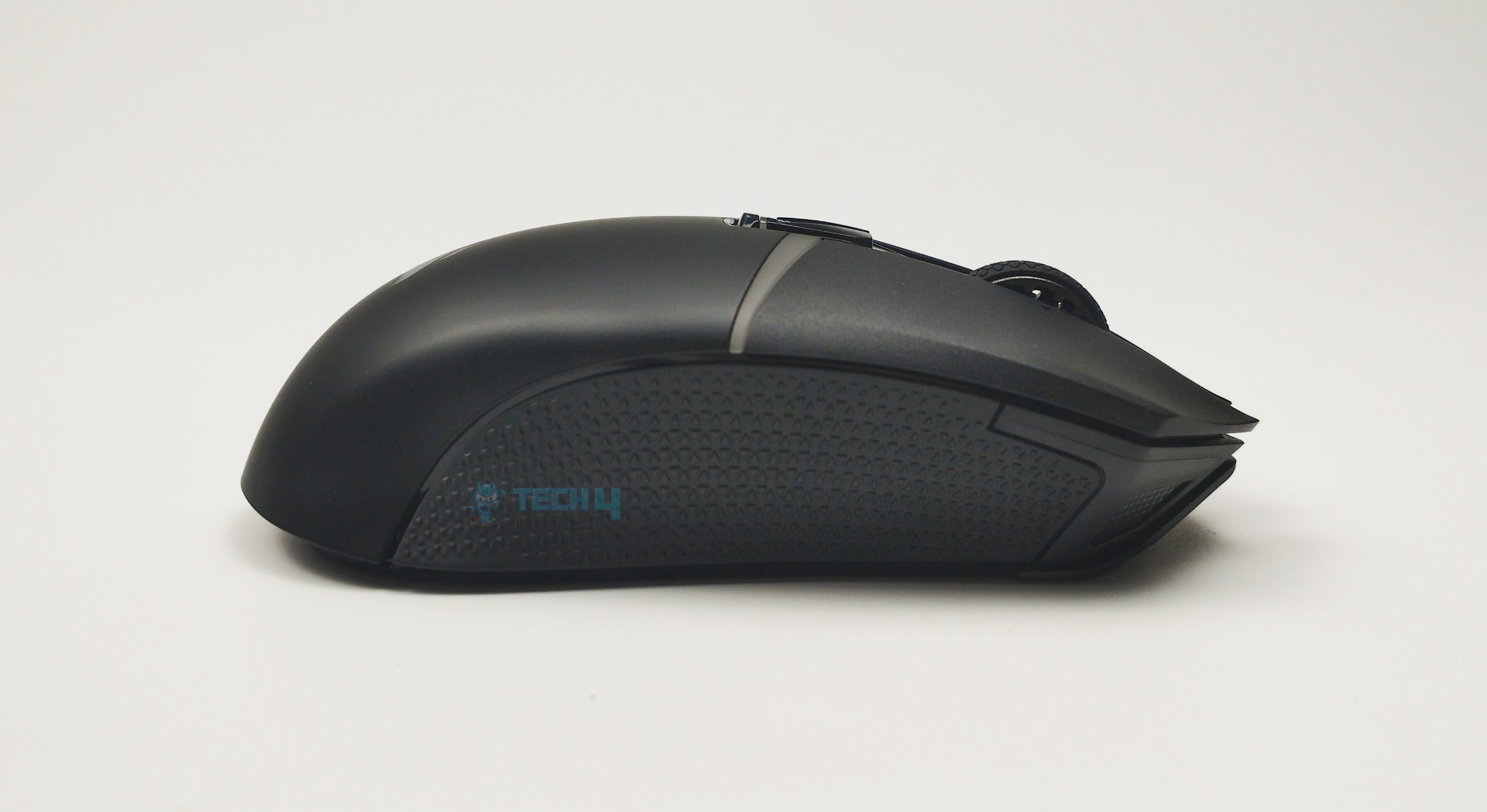 The Nightsabre Wireless is a medium-sized gaming mouse with a symmetrical, relatively long form factor that gradually narrows toward the center and widens toward the back, boasting exact dimensions of 129.41 x 63 x 40.41mm. In terms of size, it comfortably sits in the middle of the pack, striking a balance that complements its top-notch ergonomics. Its design facilitates a great grip, making it easy to use for extended periods, thanks to its symmetrical structure.
As a result, this versatility in design and shape makes it suitable for a broad spectrum of hand sizes and grips. During testing, even with hands larger than average, I found that the mouse fits snugly in my palm, and its wireless connectivity through Slipstream Wireless allowed for remarkable precision and flexibility, uninterrupted by a wire. Consequently, the mouse proves highly convenient to carry around, being slightly wide but not excessively so.
Notably, it features a storage compartment on the underside for storing the wireless USB receiver. Adding to the user-friendly experience, the mouse's weight of 96.9g proved satisfying during my testing. It aligns with the weight of other gaming mice across various genres, sitting just a touch heavier than mice tailored specifically for fast-paced games like FPS.
Is It a Solid Mouse?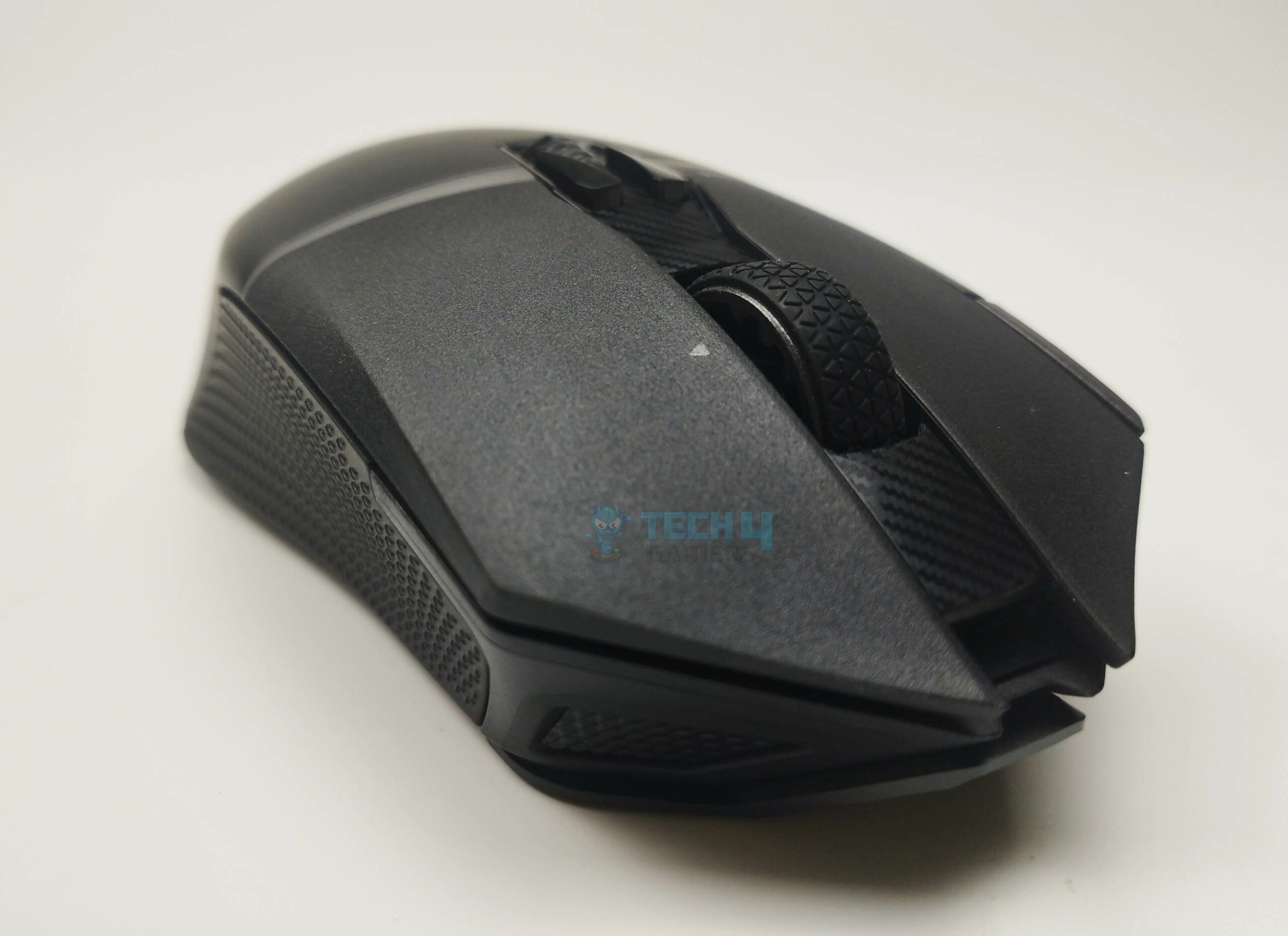 The Corsair Nightsabre Wireless not only fascinates with its stunning appearance but also shows off exceptional build quality, consistent with Corsair's reputation in the past. Even if it is built with matte plastic, the mouse's construction is robust, instilling trust in its durability. The left and right click buttons, along with the side panels, feature textured surfaces that enhance grip, adding a practical touch to the aesthetic appeal.
Furthermore, a metal bracket elegantly wraps around the USB-C charging connector on the front, creating a visually similar design that also supports the mouse's highest foot on the bottom. Ultimately, the overall build is outstanding, and during my testing, it gives off a high-end, pleasing vibe, contributing to a positive user experience.
Which Grip Styles Can Be Used?
Since the mouse's shape is optimal, it provides a comfortable grip for individuals with varying hand sizes. It is particularly well-suited for medium-sized hands, but even if you have large hands like mine, it will be a good fit for those if you use it with either a palm or claw grip. However, due to its relatively small breadth in the middle, individuals with extra-large hands may find it somewhat awkward to use.
Conversely, if you have small or extra-small hands, reaching the side buttons on the left side and the couple of buttons on the top of the left-click button may pose a challenge. In short, it's worth noting that the design, while accommodating a range of hand sizes, may require a slight adjustment for those at the extreme ends of the spectrum.
What Kind of Features Does the Nighsabre Wireless Have?
With a plethora of gaming mice available in the market. One question that might arise is why you should leave them and consider purchasing a Nightsabre Wireless. Let's explore the features that make it a worthwhile choice for MOBA, FPS, and Battle Royale genres.
Buttons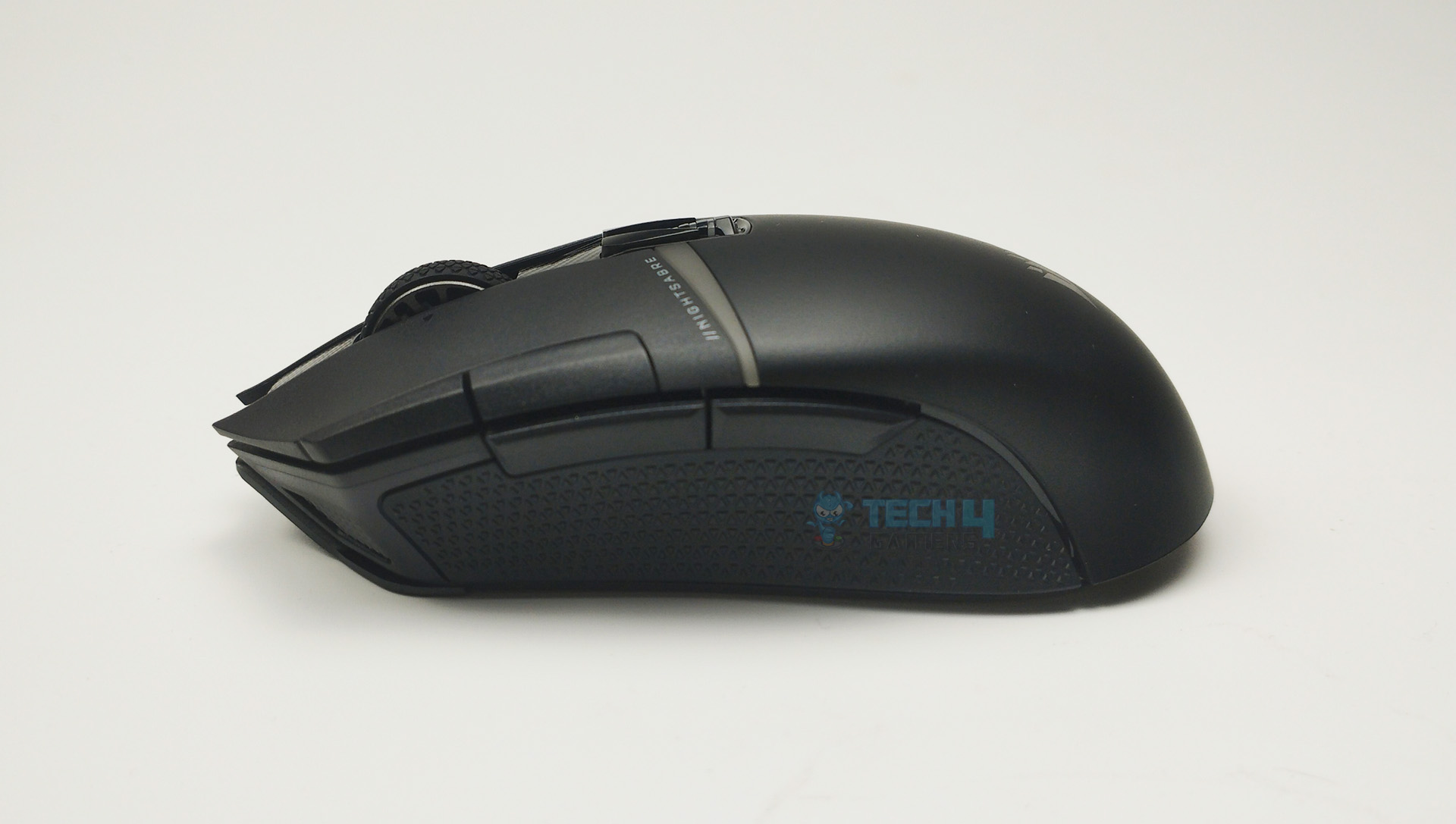 The Nightsabre Wireless has a total number of 11 buttons and the flexibility to program up to 10 of them. Hence, it offers a customizable gaming experience that can be tailored to your personal preferences. By giving you the option to remap buttons and the ability to record macros, which provides extensive options for personalization. It's worth noting that while the left-click button cannot be customized, the multitude of programmable options compensates for this limitation, offering ample room for customization.
Having said that, Corsair's implementation of Quickstrike technology on the primary buttons is remarkable. This technology, featuring spring-loaded components, eliminates any space between the buttons and optical switches. As a result, during my testing, this arrangement ensured near-zero latency, enabling rapid and smooth execution of inputs. In practical terms, this translates to faster and more responsive in-game clicks and shots.
Buttons Placement
Furthermore, beneath the mouse wheel's grooves and well-gridded surface, two triangular buttons allow users to quickly toggle between five different user profiles, all of which can be conveniently stored in its accompanying software. Moreover, the left side hosts two buttons that are not only conveniently placed but also satisfying to press. In addition to this, positioned somewhat towards the front, two more buttons are placed that default to changing the CPI setting but are customizable for different functions.
It's worth mentioning that individuals with extra-small or small-sized hands may find reaching the front button challenging with their thumbs. In such cases, I would advise you to use the index finger instead. In the majority of my tests, the Nightsabre performed exceptionally well, meeting or exceeding expectations. The responsiveness of all its main buttons, particularly the primary ones, significantly enhanced my clicks and aiming, resulting in improved accuracy and speed.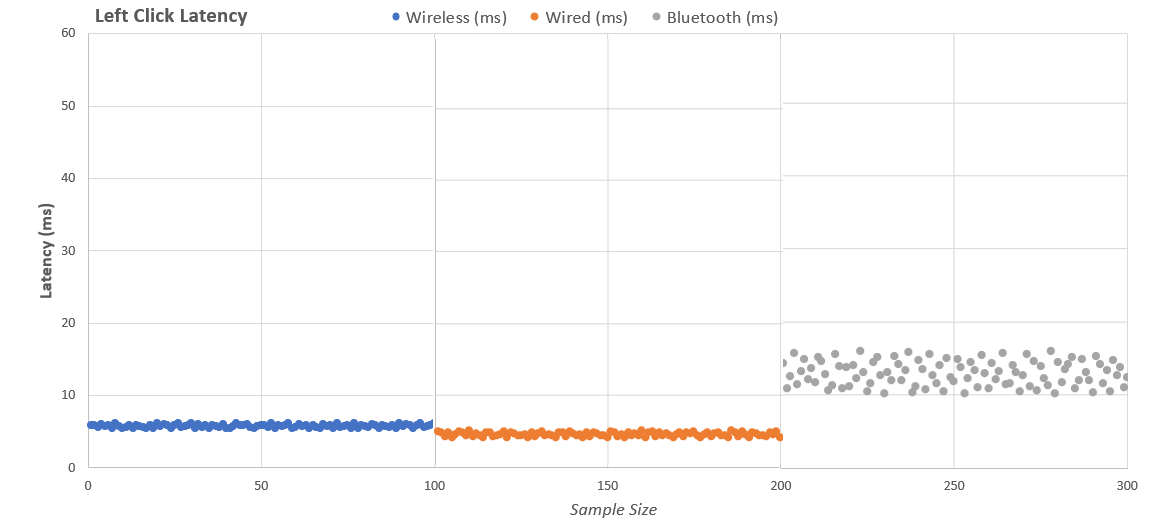 Additionally, one notable aspect is the astonishingly minimal click latency on the Corsair Nightsabre. This feature makes it well-suited for both casual and competitive play, ensuring a responsive gaming experience that excels across various genres. Ultimately, the overall sound produced by the mouse's inputs is not particularly loud, ensuring a quiet gaming experience without causing any disturbances to those around you.
Here is our video of the mouse Clicks Noise Test:
Scroll Wheel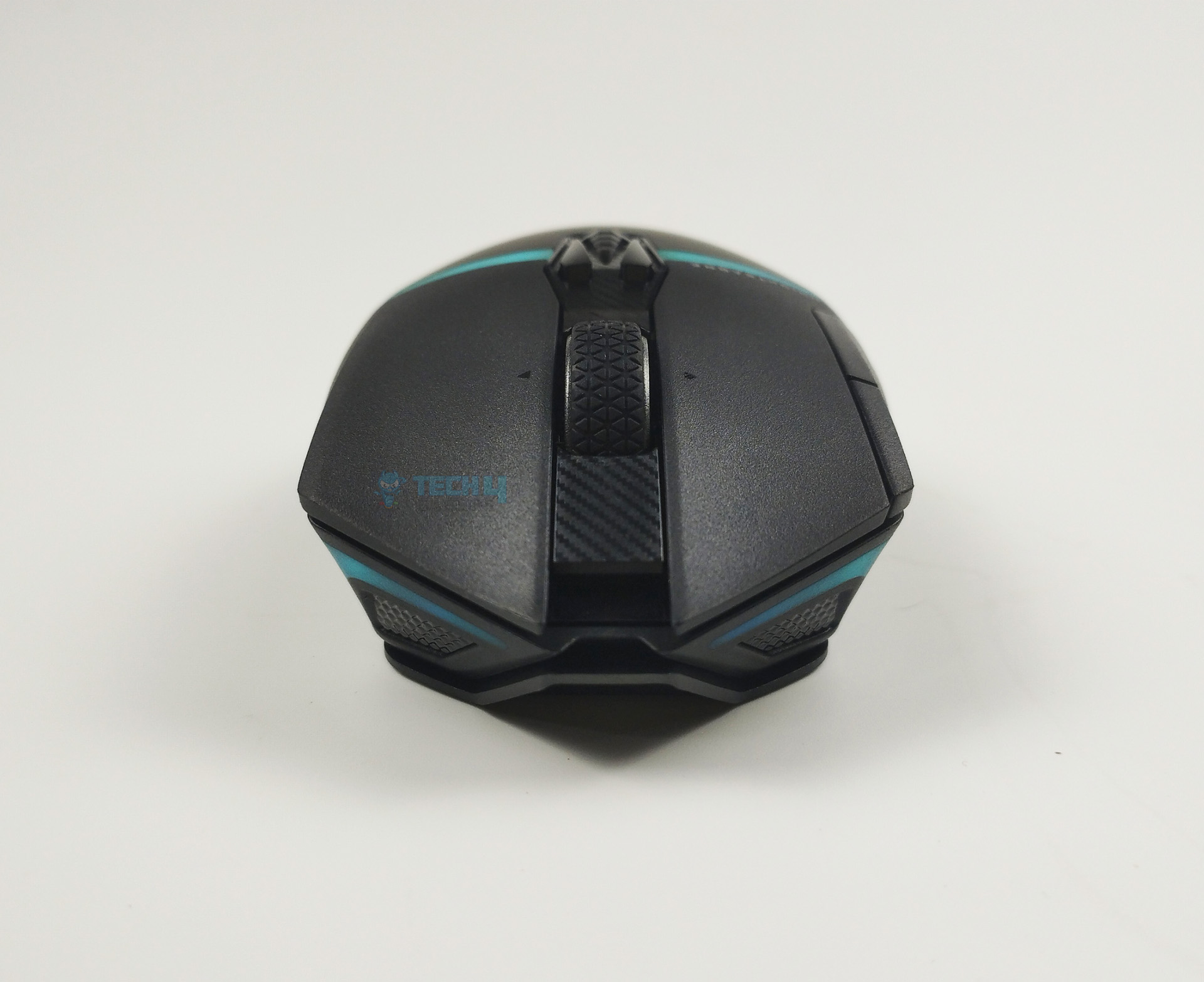 The mouse incorporates a rubberized scroll wheel with a textured surface to enhance grip. Additionally, clicking the wheel to the left or right can initiate various actions, providing an opportunity to experiment with button remaps and macros for a personalized experience based on your preferences.
Fortunately, the steps involved in using these features are well-defined, ensuring ease of customization without overwhelming the user. Moreover, the scrolling action is notably smooth and considerably precise. Lastly, when pressing the middle mouse button or the left and right tilt buttons, the tactile feedback is well-balanced and pleasant, adding to the overall acceptable experience.
Underside
On the bottom of the Nightsabre, five large, light-grey PTFE gliding feet surround the central optical sensor. These feet are made of sturdy plastic, showcasing excellent overall quality. Beyond its gliding capabilities, the mouse features a power button and a dedicated switch for toggling between wireless and Bluetooth connectivity. Notably, there's a convenient compartment for storing the wireless receiver. Coming back to the feet, they stand out for their exceptional performance, facilitating remarkably smooth movement on both mousepads and desk surfaces.
The Virgin grade PTFE material used in their construction ensures ultra-low friction, enabling quick and effortless motion. The gliding feet offered ample speed on various surfaces. It's worth mentioning that the sharp edges of the feet might pose a threat to more delicate mousepads, but overall, they contribute to a relatively smooth and pleasant experience. If the mouse is gripped too tightly, a slight dragging sensation during scrolling may be felt, but adopting a more relaxed grip mitigates this feeling.
Sensor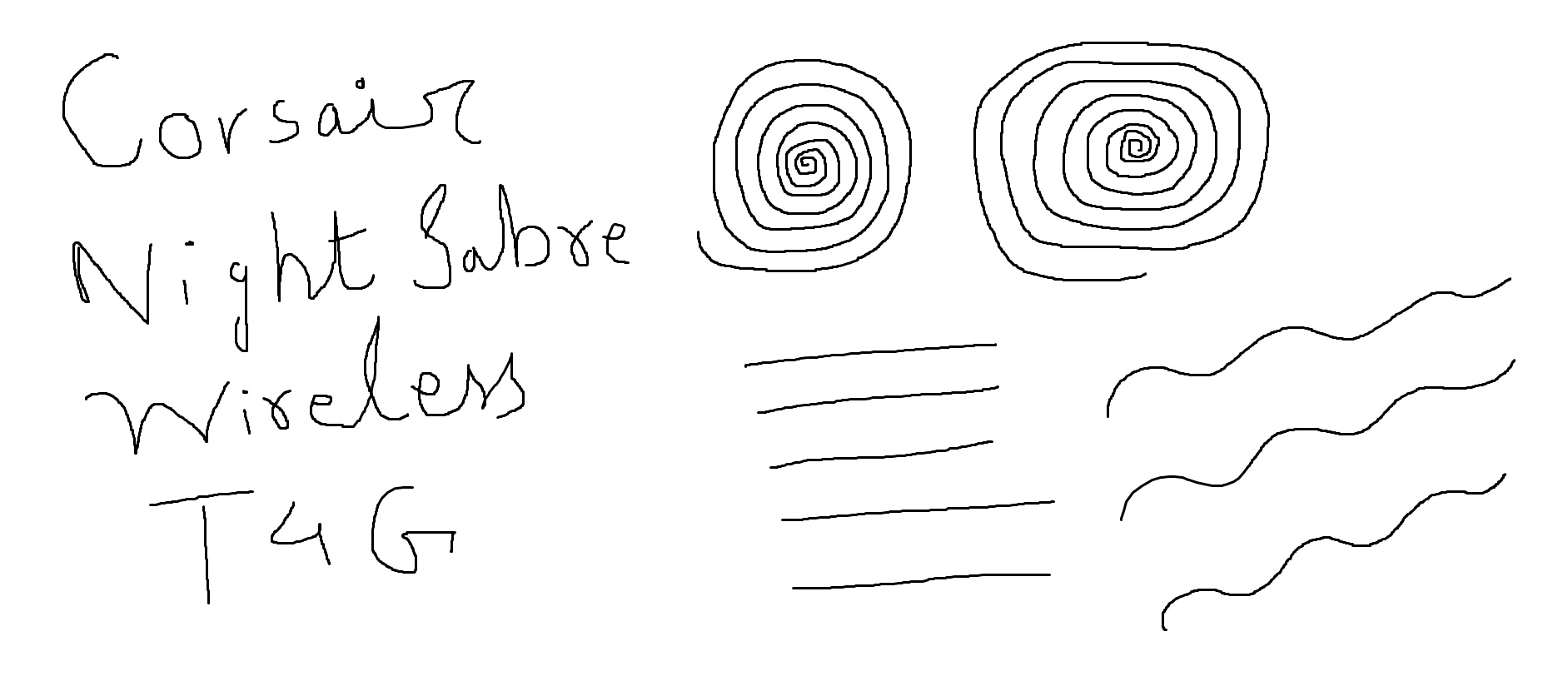 The Nightsabre Wireless houses the Corsair Marksman optical sensor, which I have previously tested in the M65 RGB Ultra Wireless. Therefore, it set a high bar, and my expectations were high, but it more than lived up to them with a sensitivity of 26,000 CPI, allowing fine-tuning in 1 CPI increments using the included software and 50 CPI increments through the hardware itself. The CPI features five sensitivity settings and a sniper mode, offering a wide range of customization options.
It's recommended to explore these settings to unleash the full potential of the Nightsabre Wireless, especially considering the default setting is 3200 CPI. To accommodate, an LED indicator is placed between the profile-switching buttons, conveniently displaying the current CPI setting. The software further enables customization of polling rate, adjustment of lift-off distance, and calibration for different desk or mousepad surfaces. Corsair collaborated with PixArt to design and refine this high-precision optical sensor.
It has a minimal energy consumption without sacrificing tracking accuracy. Furthermore, the maximum acceleration of this sensor is 50G, with an IPS value of 650. Since this is the case, the Nightsabre Wireless is able to track even the swiftest mouse movements in every direction possible. In terms of CPI performance, the Corsair Nightsabre Wireless stands unparalleled. Its response time is instantaneous, and the resolution range is as advertised. The sensor provides fast and accurate tracking across its entire range, displaying mouse movements on-screen almost instantly. On the other hand, even the slightest mouse movements are picked up with pinpoint accuracy.
Performance In Games
The sensor's excellent responsiveness met my needs of gaming without any visible smoothing or angle snapping. Coming from a background as a former professional CS: GO player, capping the CPI at 1000 met the requirements for my optimal gameplay. The sensor tracked motions accurately, and there were no issues with crashes or freezes during testing or gameplay, ensuring a seamless gaming experience.
Polling Rate
The Corsair Nightsabre Wireless provides a range of polling rates from 125Hz up to 2000Hz. In my view, even the most demanding users will find satisfaction. While higher polling rates are often considered marketing hype and may not be necessary, for the purpose of this evaluation, I tested the mouse at its rated maximum polling rate of 2000Hz.
At this maximum polling rate, the Corsair Nightsabre transmits two reports to the computer at around 1-millisecond intervals, slightly less frequent than some mice from other competing manufacturers, which send one report every 0.5 ms. Although not as consistent as some competitors, the performance is still quite good. In my daily usage, I found the Nightsabre Wireless's 1000Hz polling rate to be perfect, meeting my needs without any issues.
On-board Memory Profiles
The Nightsabre Wireless comes with the capability to store up to five user profiles in its onboard memory. Each profile can have its own unique button configurations, CPI settings, and more. The dedicated profile buttons on the Nightsabre Wireless simplify the process of toggling between your saved presets, allowing for quick and seamless transitions based on your preferences.
RGB Lighting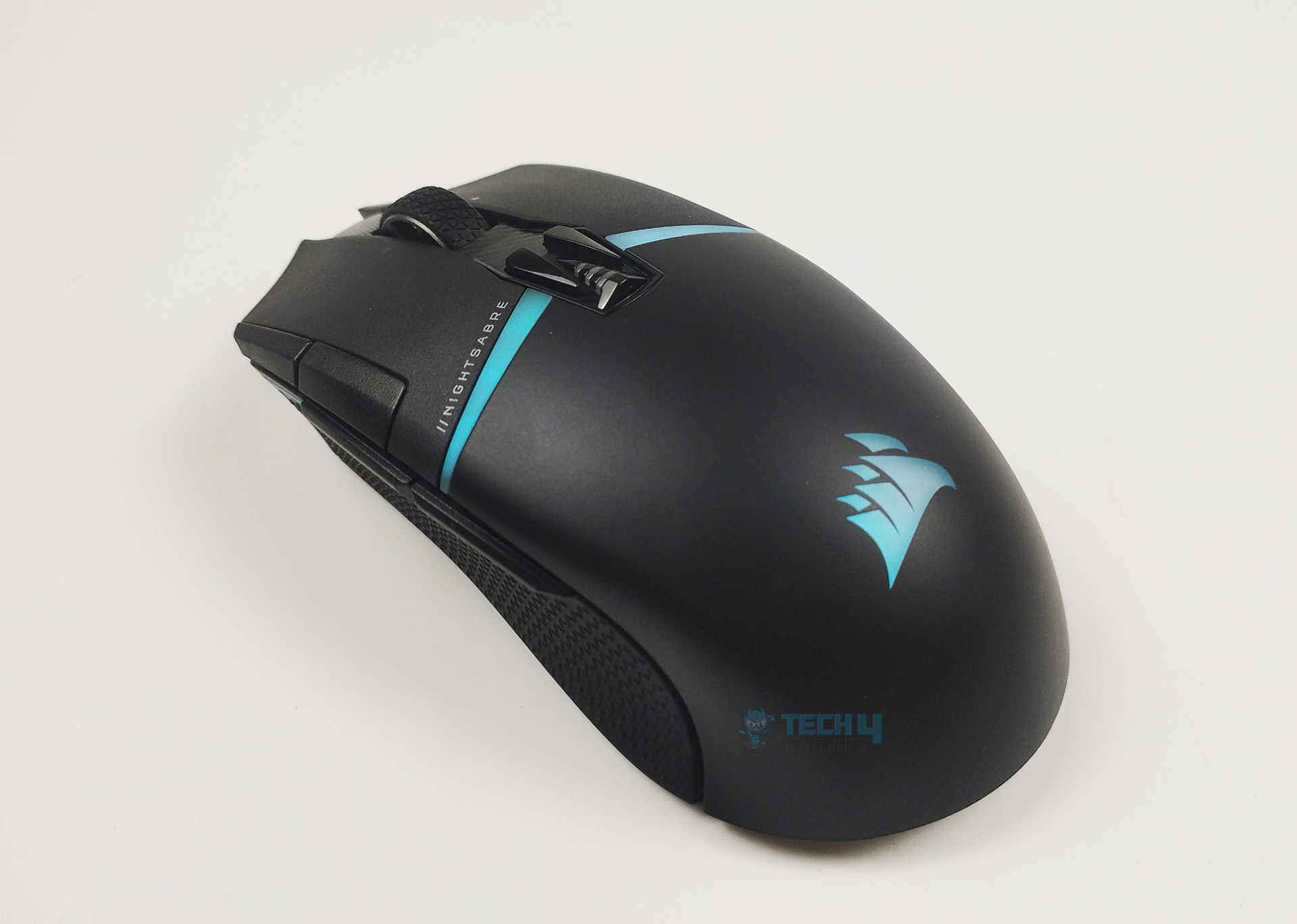 The Corsair Nightsabre Wireless boasts incredible versatility in the RGB lighting department. It features a total number of twelve distinct RGB lighting zones, featuring two on the front, one on the logo situated on the palm rest, three on the left-click, three on the right-click both in the glossy area, and an additional three encircling the underside of the mouse. Using the iCUE software, you can precisely adjust the RGB backlight to align with your preferred play style. In my tests, the RGB lighting proved both eye-catching and dazzling, contributing to an immersive gaming experience.
How Will Nightsabre Wireless Connect to My PC?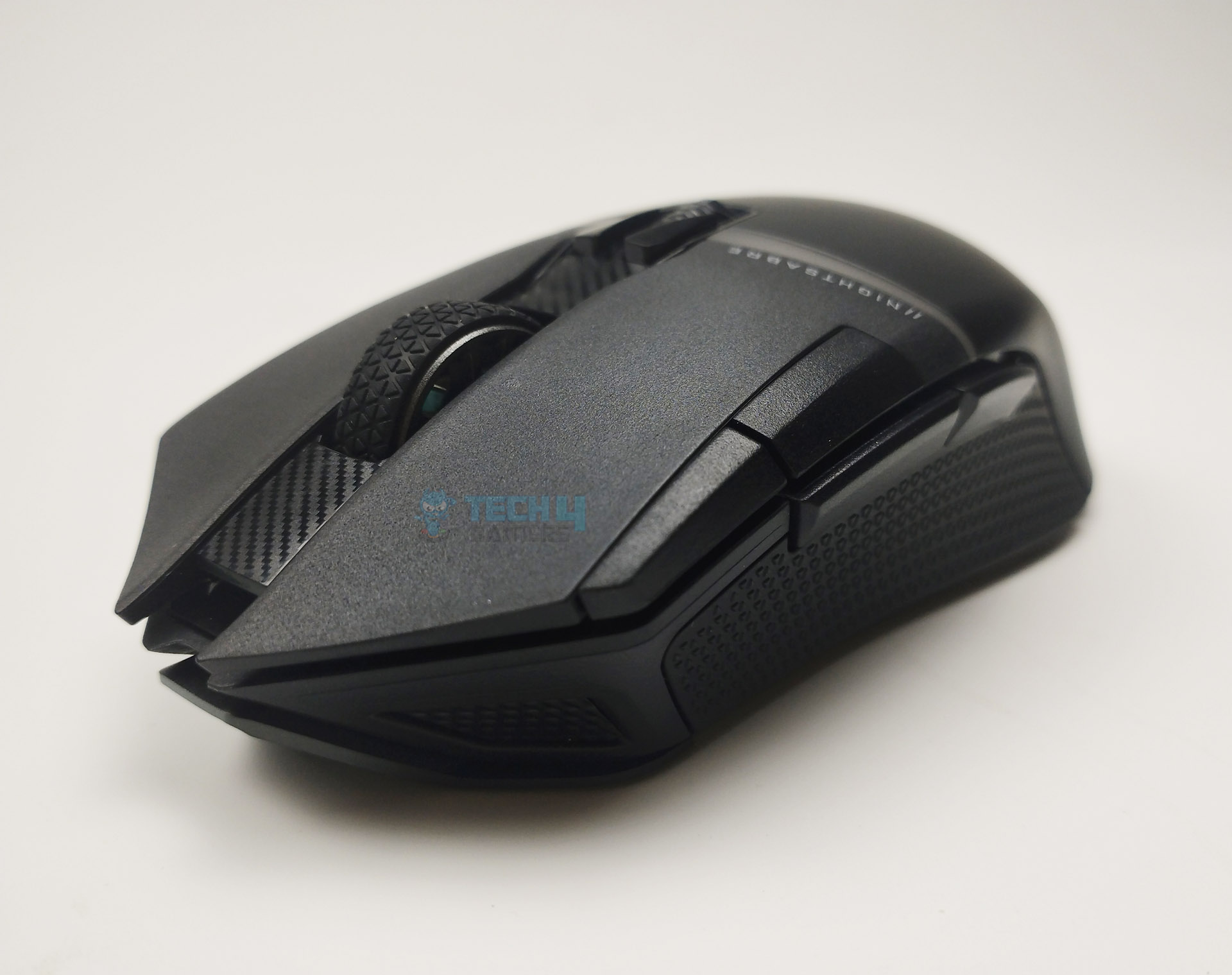 The Nightsabre from Corsair offers compatibility with all three connection methods, providing flexibility to users. Starting with the wired connection, the mouse features a braided wire, adding a premium touch. Although the cable isn't as flexible and retains some kinks from the packaging, it moves smoothly over desks without snagging. In addition to this, the USB port allows for simultaneous charging and play, ensuring uninterrupted use. For wireless convenience, the Nightsabre utilizes Corsair's Slipstream Wireless technology, using a sub-1ms 2.4GHz wireless receiver for unhindered freedom of movement.
In combination with its exceptional polling rate performance, it sets it apart from regular wireless mice. In my tests, I encountered zero issues with the wireless connection in terms of latency or responsiveness. Additionally, the mouse supports Bluetooth 4.2 + LE for wireless connections. Switching to Bluetooth mode was seamless, with my computer recognizing it instantly. While the latency remains excellent, professional gamers might notice a slight difference compared to the dedicated wireless mode.
How Long Is the Battery Life?
The Corsair Nightsabre Wireless comes with an advertised battery life of up to 65 hours when using the included USB receiver and up to 100 hours when using the Bluetooth connection. These figures hold true with the backlight turned off and the polling rate set to 1000Hz. In practical usage, the mouse lived up to its claimed values during continuous use.
During my game testing, notably in Valorant, I enjoyed an impressive 70-hour gameplay on a single charge using the 2.4GHz Slipstream without needing a recharge.
Similarly, when using Bluetooth connectivity, the Nightsabre offered an impressive 95 hours of non-stop use.
Furthermore, charging is a quick and convenient process, with just 15 minutes of charging providing up to 20 hours of playtime. The iCUE software offers additional customization features, allowing users to adjust the brightness of the RGB lighting, configure the mouse's sleep timer, and enable an energy-saving mode. You can also monitor the battery life of the gaming mouse with a multi-function LED indicator located on top of the device.
Customization Options
The Corsair Nightsabre Wireless offers flexibility with both software and hardware customization, aligning with Corsair's standard approach. In both modes, users can independently customize every setting. For software customization, the mouse utilizes Corsair's iCUE software, which, while well-organized, can be somewhat challenging to navigate for new users. Upon connecting the Nightsabre Wireless for the first time, the software restarts, allowing users to select and configure the mouse. Within the software, customization options include CPI, RGB lighting effects, polling rate, and surface calibration (requiring a cabled connection).
Furthermore, the software provides a range of typical options, allowing users to assign buttons for various actions, such as macros, media control, text pasting, shortcuts, profile switching, and more. In addition to this, the DPI tab enables users to customize the mouse's LED color and the buttons for adjusting DPI in steps. However, it's worth noting that the software's macro programming and button assignment features may not be as user-friendly as those found in other brands' customization software.
Should You Buy Nightsabre Wireless or Not?
Buy It if
Versatile Customization: The Corsair Nightsabre Wireless offers extensive customization through its iCUE software, allowing you to tailor settings like CPI, RGB lighting effects, and button assignments to your liking. If you appreciate a high degree of personalization, this mouse is an excellent choice.
Wireless Performance: With Slipstream technology and a reliable wireless connection, the Nightsabre Wireless provides fast and responsive performance. If you value a wireless setup without sacrificing performance, this mouse delivers.
Don't Buy It if
Budget Constraints: While offering premium features, the Corsair Nightsabre Wireless may be relatively expensive. If you have tight budget constraints and are looking for a more affordable gaming mouse, you might want to explore other options.
Preference for Lightweight Mice: If you prefer extremely lightweight mice, the Nightsabre Wireless may not be the ideal choice as it leans towards a more moderate weight. Consider your weight preference before making a decision.
Bottom Line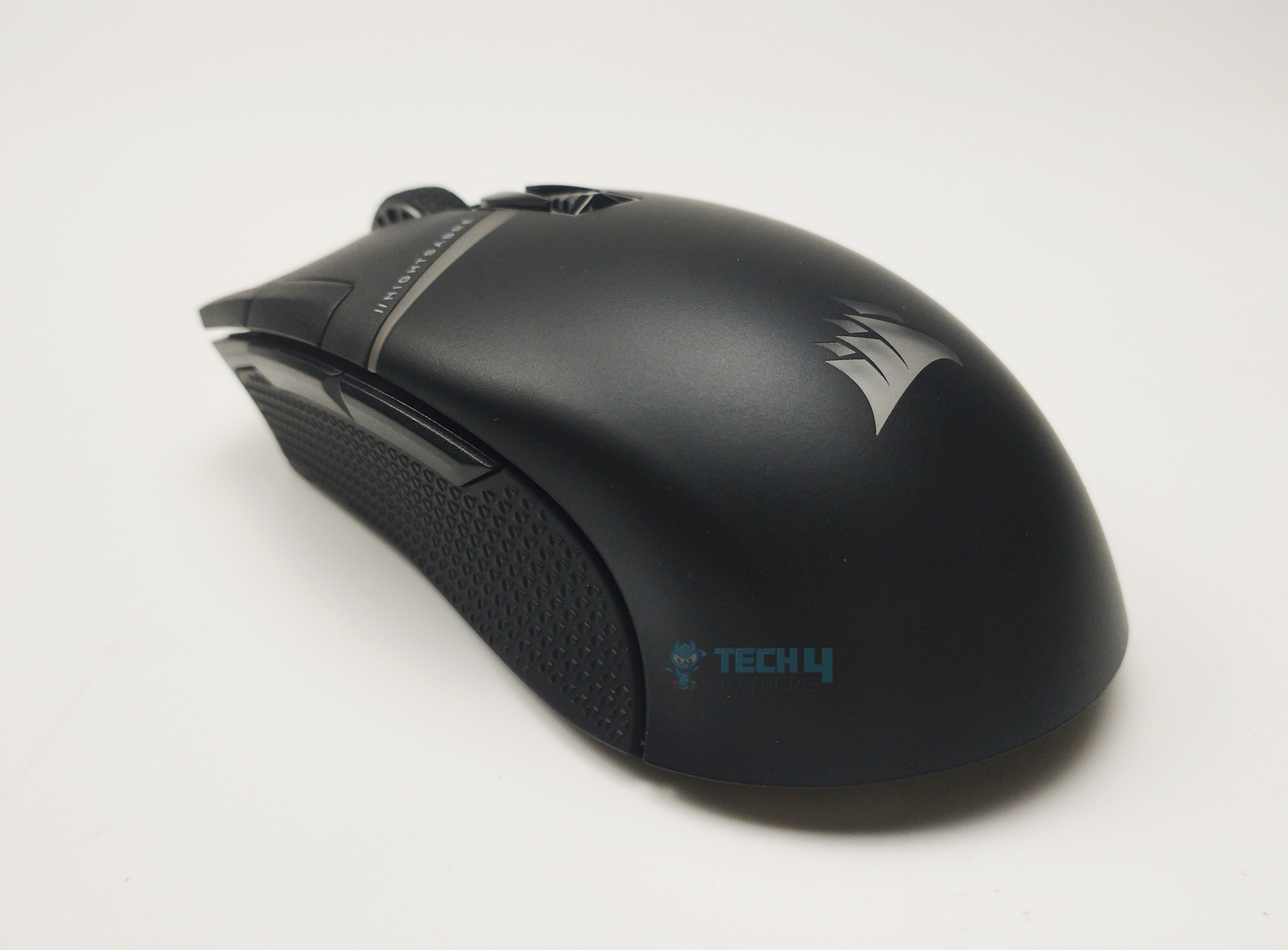 Corsair continues to showcase its expertise in the realm of high-performance gaming mice with the Nightsabre Wireless. It boasts a premium build and exceptional ergonomics, coupled with 12 separate RGB zones and 10 programmable buttons. The Nightsabre Wireless not only delivers outstanding performance but also offers an eye-catching appearance and a wealth of customization settings through the iCUE software. Despite not being ideal in terms of size and weight, the mouse is remarkably comfortable as per my usage.
It would take a magnifying glass for me to find any flaws. Thanks to the Nightsabre's fast and reliable wireless connection, testing it proved to be a pleasurable experience. The sensor provided me flawless performance with a high degree of accuracy, excelling in every competitive game it was used for. In a nutshell, for right-handers seeking a high-performance, programmable, and well-crafted gaming mouse, the Corsair Nightsabre Wireless stands out as an ideal choice.
Was our article helpful? 👨‍💻
Thank you! Please share your positive feedback. 🔋
How could we improve this post? Please Help us. 😔
[Hardware Reviewer]
After many years of exploiting various pieces of hardware, Abdul Hannan now serves as an editor at Tech4Gamers. He's been in the PC hardware reviewing industry for almost a decade, and his staff of passionate geeks and reviewers is second to none.
Abdul Hannan is constantly seeking new methods to improve the performance of his computer components since he is an ardent overclocker. He is well-known for providing the most extensive and unbiased analysis of the newest and greatest hardware for PC gaming, including everything from GPUs to PSUs.