Cudo Miner lets you mine cryptocurrency using the computer's GPU. Though, there may be times when Cudo Miner is not using GPU, which can negatively impact mining. Try reinstalling the software or restarting your graphics card driver to resume efficient mining in such a situation.
Key Takeaways
Cudo Miner may not use the installed GPU if the display drivers are outdated, overclocking is disabled, or the computer has multiple installed GPUs.
You can resolve the error by updating the display driver, enabling all coins in Cudo Miner, and turning on overclocking in the app.
Remember that your GPU should be legible for mining, have at least 4GB of memory, and be supported by Cudo Miner.
Why Is Cudo Miner Not Using Your GPU?
Cudo Miner may fail to utilize your GPU when you launch it for the first time on your computer. There can be multiple causes behind this; for instance,
Outdated or corrupt display drivers
Incompatible graphics card
Presence of bugs or glitches in the app's files or the drivers
Inaccurate Cudo Miner settings
How To Fix Cudo Miner Not Using GPU?
You can resume the GPU's functioning on Cudo Miner by restarting the display drivers, turning on Compute mode on your GPU, and many other ways listed in this section.
Restart Cudo Miner
Close the app completely on your system. Re-open it after a few minutes and check if the GPU works fine by analyzing the ongoing mining jobs or through the app settings.
Restart Display Driver
You should restart the display driver when experiencing performance issues with your GPU. It will solve glitches and other graphics-related issues so Cudo Miner can resume using the graphics card. Besides, we applied the same troubleshooting step when the Nvidia display driver failed to start on our computer.
Right-click on the "Windows" button on the "Taskbar."

Start Menu – Image Credits (Tech4Gamers)

Find and click on "Device Manager."

Device Manager – Image Credits (Tech4Gamers)

A new window will open up.
Navigate to "Display Adapters" and click on it.

Display Adapters – Image Credits (Tech4Gamers)

Right-click on the graphics card you use on your computer.
Choose "Disable Device" on the sub-menu.

Disable Device – Image Credits (Tech4Gamers)

Re-enable the graphics card driver after one minute.
Update Graphics Card Driver
Updating the graphics card driver brings new features and enhanced compatibility with previously unsupported programs and hardware. You can manually install an update file for the Nvidia graphics card from the official page or let your computer search for possible updates. Learn everything about updating drivers from our extensive guide.
Select "Update Driver" from the graphics driver menu.

Update Driver – Image Credits (Tech4Gamers)

Go with "Search Automatically For Drivers."

Search For Drivers – Image Credits (Tech4Gamers)

The computer will scan and install the necessary updates for your graphics card driver.
Ensure Compatibility
Cudo Miner can work with most modern GPUs, with a few exceptions. For example, you can not use Intel GPU for mining, nor does Cudo Miner support it. Check the list of supported hardware to verify your graphic card's compatibility with the app.
Also Read: Intel Chipset Device Software Failed
Reinstall Cudo Miner
Delete the application from your computer. Then, download it from Cudo Miner's official website and sign in with your credentials to eliminate glitches or bugs in the software's files.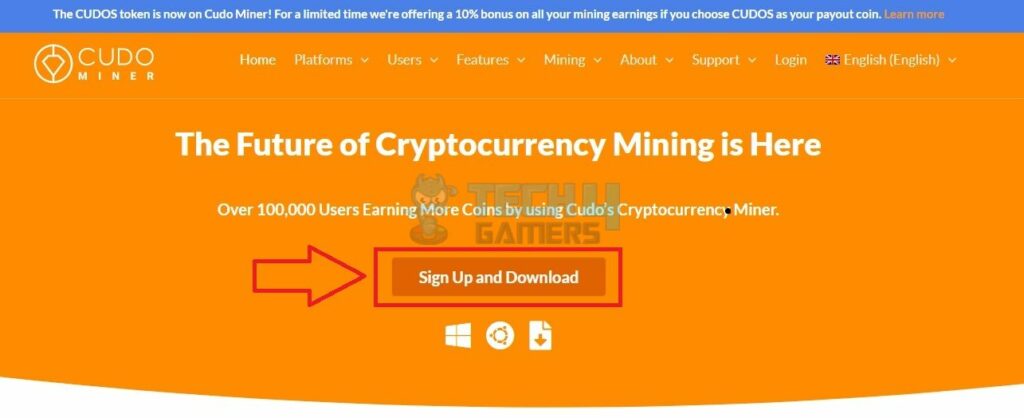 Inspect GPU Memory
The required GPU memory depends on the cryptocurrency you are mining. Cudo Miner recommends at least 4GB of memory for mining Ethereum, but you should get an 8GB graphics card for stabilized performance and growth of your cryptocurrency.
Turn On Overclocking
Along with increasing the hash rate for mining, overclocking also lets you optimize the performance of your GPU and customize the settings to meet your mining requirements. Therefore, enable overclocking to ensure Cudo Miner makes full use of your GPU.
Go to "Settings."
Find the "Enable Overclocking" option.
Turn it on via the toggle bar.

Enable Overclocking – Image Credits (Tech4Gamers)

"Save" the changes.
Also Read: Corsair Fan Not Lighting Up [FIXED]
Enable Windows Defender Exclusions
Windows Defender may sometimes flag Cudo Miner as potentially harmful, which could disrupt the mining performance and the overall functioning of the software. Enabling Windows Defender Exclusions in Cudo Miner will prevent the antivirus program from interrupting its performance.
On the "Settings" page, locate the "Windows Defender Exclusion" box.
Enable it from the toggle switch.

Enable Windows Defender Exclusion – Image Credits (Tech4Gamers)

Press "Save."
Allow Third-Party Miners
Cudo Miner may need you to turn on Third-Party Miners to detect and use the installed GPU on your computer. You can switch it on from the "Settings" page in the app.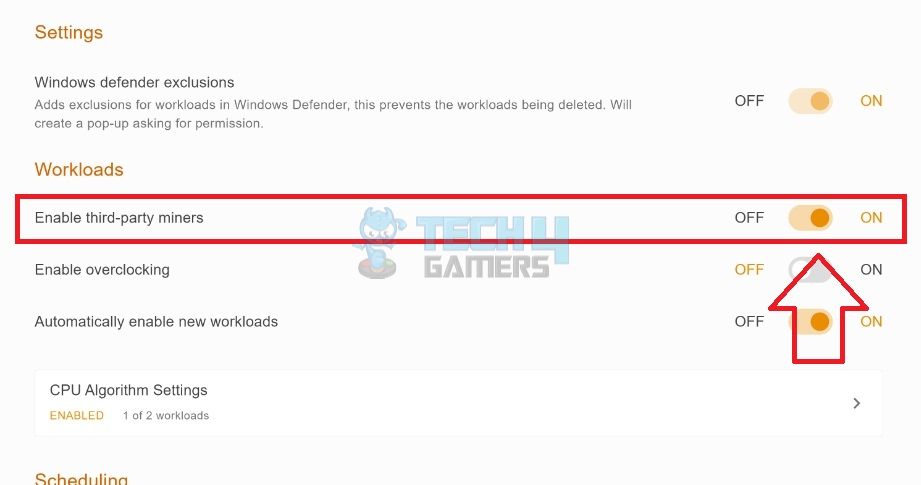 Enable All Coins
A Reddit user suggested enabling all coins in the app when Cudo Miner fails to work efficiently with the GPU.
Open "Cudo Miner."
Head to "Dashboard" from the left panel.
Click on the "Enable" button next to "Nvidia."

Enable GPU – Image Credits (Tech4Gamers)

Next, go to "Advanced Settings."

Advanced Settings – Image Credits (Tech4Gamers)

Enable all coins in the list.

Enable Coins – Image Credits (Tech4Gamers)
Activate Compute Mode On GPU
It varies with each graphics card manufacturer, though we have jotted down the general steps you can follow to find the Compute mode.
Right-click anywhere on the "Desktop" screen and choose the control panel option in the sub-menu.
Go to Settings or a similar option on your screen.
Look for an option related to "Compute" or "Mining."
Enable "Compute Mode" and save the changes.

Compute Mode – Image Credits (Tech4Gamers)

Restart your computer and launch Cudo Miner.
Also Read: RGB In Gaming: Everything To Know
Set Primary GPU
If your computer has multiple GPUs, remember to set one primary GPU in Cudo Miner for efficient cryptocurrency mining. Otherwise, the software may get confused between the two GPUs, leading to malfunctions.
Head to "Settings."
Pick "Mining Hardware."
Go to the "GPU" section and press "Advanced."
Next, find "Primary GPU" in the "GPU Settings."
Choose the GPU you want to work with and hit "Apply."
Contact Support
Join Cudo Miner's Telegram and Discord channels to seek support from fellow miners for the GPU trouble. You can also learn about the software and its mining techniques from the experts.
Final Words
Apply all the fixes mentioned above when Cudo Miner is not using GPU for mining. Make sure your graphics card has at least 4GB of memory so the software can use it for effective mining. If this guide helped you, also read what to do when Windows is not detecting a second GPU on your computer.
Frequently Asked Questions
Why Is Cudo Miner Not Using My GPU?
Outdated display drivers and incorrect Cudo Miner configurations are some reasons why it may fail to work with your GPU.
How Can I Check If Cudo Miner Is Using My GPU?
Open the "Task Manager" on your computer and head to the "Performance" tab to analyze GPU usage.
What Should I Do If Cudo Miner Is Not Using My GPU?
Enable overclocking and third-party miners, restart Cudo Miner, and ensure correct settings within the app to eliminate the problem.
Was our article helpful? 👨‍💻
Thank you! Please share your positive feedback. 🔋
How could we improve this post? Please Help us. 😔