Recently, we were excited about Evil Dead: The Game, which sold 500,000 copies in 5 days. The record was too high, at least that is what we believed until V Rising launched and stole the spotlight by breaking this record. V Rising sold over 500,000 in only 3 days and made its name on Steam's Top Sellers of the week.
It's official! 500,000 Vampires out there have stepped foot into Vardoran! Thank you all for joining us on this journey! pic.twitter.com/35pLD6DQW2

— V Rising (@VRisingGame) May 20, 2022
This open-world survival game is developed by Stunlock Studios that offers you the freedom to roam around the world in the third person. You can go as far as customizing your character to the fullest at the beginning of the game.
Like other survival games, you start the game by gathering basic items that allow you to craft first-tier weapons, and then you progressively increase the tier rankings.
However, you start as an awakened vampire where you have to climb up the empire ladder to reach the ranks of a Dracula. This twist is what might've hooked people to this game.
According to the Steam data analysis website, SteamDB, V Rising stands at the number #1 position for the best-selling game of this week (week 20 of 2022).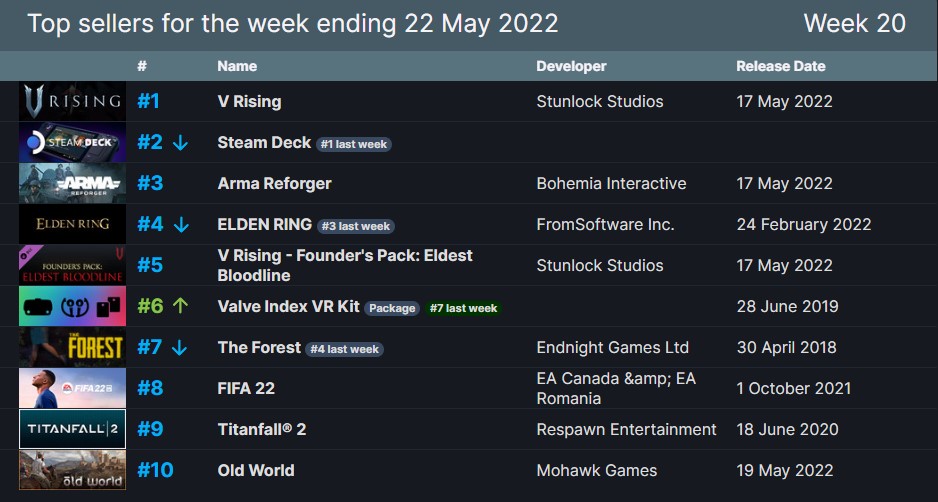 V Rising dominates the top ten list by having two of its variants, one is the game, and the other is its DLC. It tops Elden Rings, The Forest, FIFA 22, and Titanfall 2, but these games were released long ago.
However, V Rising topping Arma Reforger makes it an interesting candidate since both of the games were released on the same day. Additionally, Arma Reforger already had a huge following given its early hype for being a PC exclusive and because of the famed Arma series.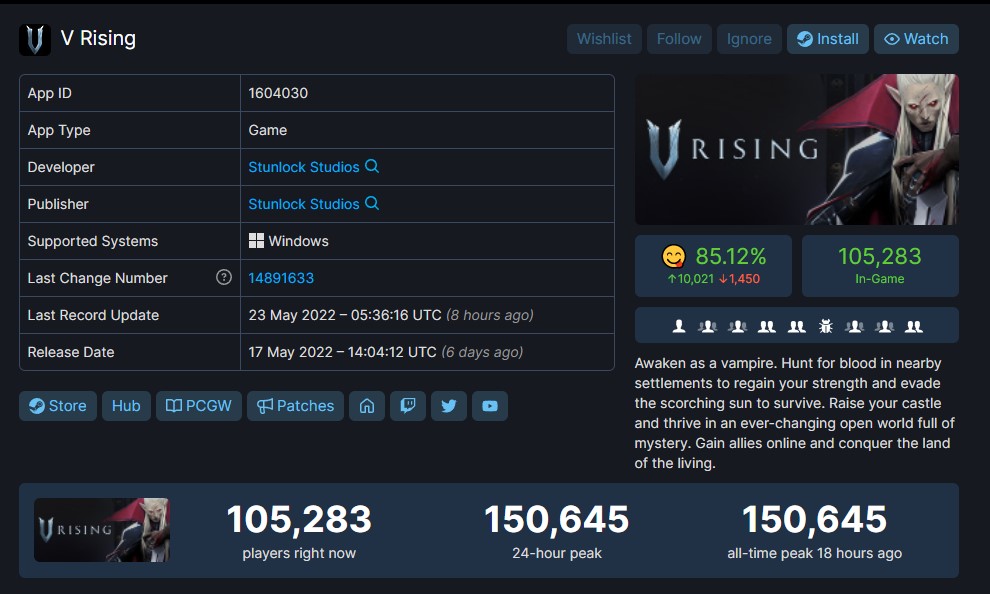 The popularity of this early access game does not stop here. V Rising achieved over 150,000 active players within 24 hours, 2 days after its release. This allows it to stand comfortably at the 6th position in the game with most players within 24-hours.
In comparison, top-rated games like GTA V, Elden Rings, Rust, FIFA 22, Team Fortress 2, and Density 2 stand below V Rising in the 24-peak active players. (Here's the list to check what the numbers are right now)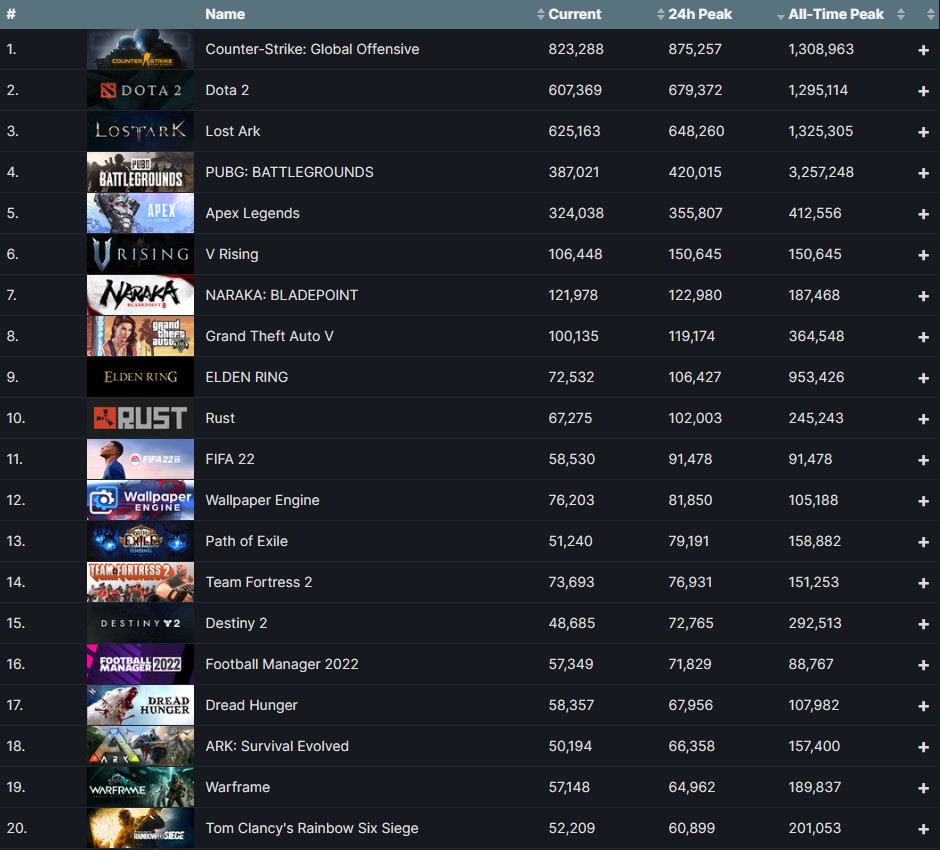 Furthermore, if we look at the number of active players from SteamDM right now, V Rising gathers over 100K concurrent players (as of writing this article).
The vampire based-game secures the 7th spot, towering above GTA V, Team Fortress 2, Elden Rings, Rust, FIFA 22, and ARK. This might not be a huge deal since this is a newly launched game.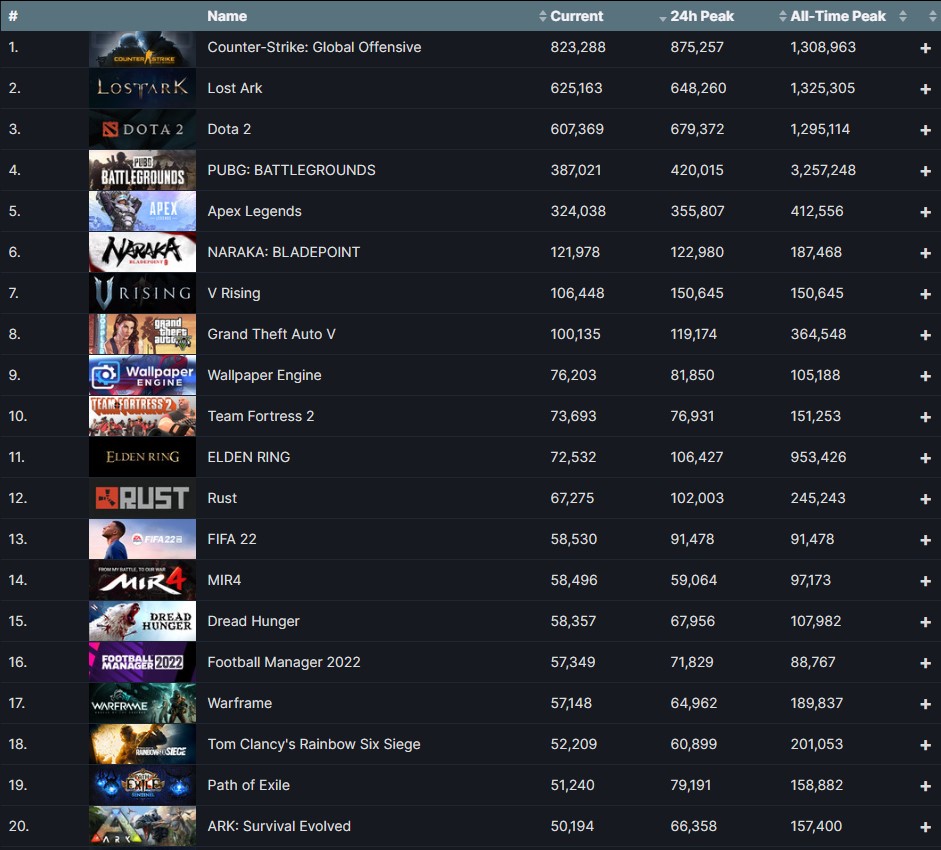 The 6th and 7th positions are ideally considered the top position for a new game since all the games above are usually multiplayer games that are played by thousands of people daily.
For V Rising to be in these positions and for selling over 500K units in only 3 days indicates that the game is doing well despite being an early access game.
The free-roam game will be under the early access label for the next 12 months, and if this progress is maintained or increased, it will make it one of the best games of all time.
Was our article helpful? 👨‍💻
Thank you! Please share your positive feedback. 🔋
How could we improve this post? Please Help us. 😔