Unity is a popular engine of choice for many indie developers, which equips thousands of developers worldwide with the tools required to bring their ideas and aspirations to life.
Games like Hollow Knight, Human Fall Flat, and more are powered by Unity, pointing to its influence in the gaming industry. However, Unity's leadership has recently made an announcement that poses massive threats to its current popularity.
Earlier this week, Unity announced a flat $0.20 install fee for developers meeting a certain threshold for their games.
Why it matters: Indie games are usually cheaper than AAA releases, making them less profitable for developers once costs for marketing, distribution, and other factors are paid off.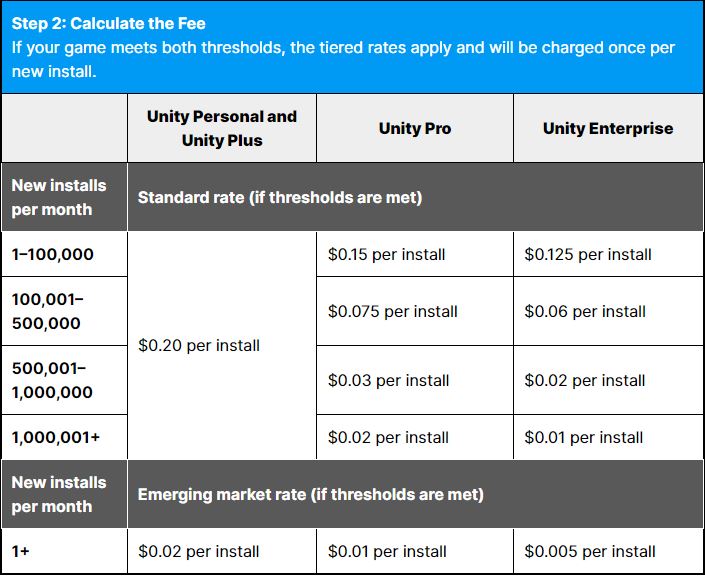 Unity's recent blog post reveals certain thresholds that have to be met in order to initiate the required payments per install.
For developers using Unity Personal and Plus, games are required to have generated over $200K over the last 12 months in addition to a minimum of 200K lifetime installs. Meeting this criteria makes developers eligible for $0.2 payments per install.
Games developed with Unity Pro and Enterprise have a higher threshold and must make over $1 million in the last year, along with 1 million lifetime installs. Such developers will pay anywhere from $0.01-0.15 per install.
We want to acknowledge the confusion and frustration we heard after we announced our new runtime fee policy. We'd like to clarify some of your top questions and concerns:

Who is impacted by this price increase: The price increase is very targeted. In fact, more than 90% of our…

— Unity (@unity) September 13, 2023
Unity's announcement was met with widespread criticism and concern from indie developers.
The company was quick to issue a clarification statement, claiming that this change would impact less than 10% of its current customers due to the thresholds introduced for the payment plans.
However, Twitter users have since pointed out that 10% of Unity's userbase comes out to around 23,000 developers, leading to a massive impact across the indie gaming industry.
The announcement also led to concerns about reinstalls, potentially leading to install-bombing in worst-case scenarios, where users or third parties intending malice could continuously reinstall games to negatively impact developers.
Following the clarification, Unity claims reinstalls will not be counted for the $0.2 fee, but it has not clarified how it intends to differentiate between fresh installs and fraudulent game installs.
Despite the clarifications, the announcement has not been well-received. Unity has also been forced to close two offices and cancel a meeting after its offices received death threats in the wake of this controversial announcement.
Was our article helpful? 👨‍💻
Thank you! Please share your positive feedback. 🔋
How could we improve this post? Please Help us. 😔
[News Reporter]
Avinash is currently pursuing a Business degree in Australia. For more than three years, he has been working as a gaming journalist, utilizing his writing skills and love for gaming to report on the latest updates in the industry. Avinash loves to play action games like Devil May Cry and has also been mentioned on highly regarded websites, such as IGN, GamesRadar, GameRant, Dualshockers, CBR, and Gamespot.