Starfield is the first major RPG from Bethesda Game Studios after Fallout 4. Compared to Fallout 4, Starfield boasts a larger world, more choices, and deeper mechanics.
Fallout 4 deviated from other Bethesda Game Studios releases, introducing a voice protagonist. However, Starfield is returning to a silent protagonist, with the reaction to the voiced protagonist from Fallout 4 also contributing to this decision.
During a recent interview, the Lead Starfield Designer elaborated on this decision, claiming that the studio almost gave its protagonist a voice again.
Why it matters: RPGs allow players to enjoy games based on their preferences and decisions. Therefore, a specific voice can sometimes be considered immersion-breaking if it does not fit the player's imagination.
In a recent interview with Polygon, Starfield Lead Designer Emil Pagliarulo revealed various details about the game.
Emil Pagliarulo stated that the game features over 200,000 lines of spoken dialogue, but none of these come from the playable character. However, this freedom and lack of constraint allowed the studio to pursue a more ambitious experience.
Since Bethesda Game Studios was not limited by a single kind of voice, the studio was free to allow players to create their own experiences. The Lead Designer further said:
"It was not having a voiced protagonist that allowed us to create such a big world."
When he was asked to elaborate on the reason behind the silent protagonist, Emil Pagliarulo said that the studio initially began development with a voiced protagonist in mind and even hired an actor to begin recording lines. He stated:
"We hired an actor, we got the voice, we listened to him and we were like, You know what, this guy is too specific."
Bethesda Game Studios wanted to offer a wide range of expressions, which would lead toward the goal of immersion and role-playing for the players. However, this was not attainable with one specific voice.
The studio then considered multiple voices, but this was still too specific for a game that allows thousands of combinations. Emil Pagliarulo stated that after multiple interviews, it soon became clear that a silent protagonist was the best approach for the game.
Additionally, the fan reaction to the voiced protagonist from Fallout 4 played a role in this decision.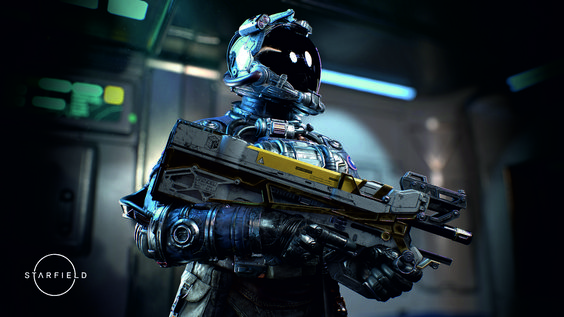 He also addressed the potential dislike for reading dialogue options. The Lead Designer pointed out that Fallout 4 made players read lines and wait for the same statement in the dialogue.
This further motivated the team to go with a silent protagonist.
Nonetheless, this decision appears to have worked. Fans worldwide are looking forward to an epic journey in space, with Starfield becoming the best-selling release on Steam days before its release.
Was our article helpful? 👨‍💻
Thank you! Please share your positive feedback. 🔋
How could we improve this post? Please Help us. 😔