Best Stylish Headphones?
Review Summary
The Razer Kraken BT Kitty Edition harmoniously blends captivating aesthetics and remarkable functionality, ensuring seamless connectivity across various Bluetooth devices. Moreover, personalization takes center stage with EQ and RGB customization through dedicated companion apps, while enduring battery life alleviates constant recharging concerns. Beyond its endearing appearance, this headset excels in sound quality and comfort, making it a comprehensive choice.
Build Quality -

8/10

Comfort -

8/10

Design -

8/10

Performance -

8/10

Value -

7/10

Software Compatibility -

7/10
Pros
Appealing Design
Balanced Sound Quality
Comfortable Fit
Long Battery Life
Sturdy Build
Cons
Microphone Performance
Lack of Portability
Issues with Companion Apps
Bluetooth-only Connectivity
In today's ever-changing gaming world, a good headset is crucial. As someone who balances work and gaming, I've come to understand the importance of a solid connection between comfort and functionality in a great headset. Whether it's helping me concentrate during work or enhancing my gaming experience, the Razer Kraken BT Kitty Edition stands out. It's like a cozy space for focused work or a reliable partner for gaming adventures. Over time, my criteria for headsets have naturally adapted to the benchmarks of the present.
Excellent sound quality and unwavering comfort have become my must-haves. These features are essential whether I'm tackling work tasks for hours or enjoying leisure activities. Historically speaking, my headset journey spans from budget options that wear out in a year to premium choices that endure my demanding usage for over two years. Amidst this journey, a hidden gem from Razer steps into the spotlight for today's review.
Why you can trust Tech4Gamers:

We understand the importance of making informed decisions. That's why our team spends significant time testing every product we review.

Find out more about how we test.
Allow me to introduce the star of tonight's show – the Kraken BT Kitty Edition, Razer's wireless Bluetooth take on their acclaimed Kraken gaming series, wrapped in an irresistibly charming design as my fellow esports players will relate, in the realm of FPS gaming, every sound matters. Each distant noise could hold a clue to victory. A single missed audio cue might tip the balance from triumph to defeat.
Hence, a headset's role parallels that of a top-tier gaming mouse – it's indispensable. Therefore, after spending a significant month immersed in the Razer Kraken BT Kitty headset, I'm ready to delve into its details and assess its merits. Beyond its visual appeal tailored to a specific audience, a crucial question arises – Does this feline-inspired headset justify your investment? Together, let's embark on an auditory journey, dissecting its features, performance, and overall value.
---
Key Takeaways
The Razer Kraken BT Kitty Edition combines style and function with its charming design and RGB-lit cat ears, appealing to gamers seeking a unique look.
The things I liked about the Razer Kraken BT Kitty Edition are its Stylish Design, Comfortable Fit, Balanced Sound Quality, Long Battery Life, Low Latency Gaming Mode, Quality Build, and Extensive Features Set.
The things I did not like about the Razer Kraken BT Kitty Edition are its Limited RGB Lighting Customization, Non-Folding Design for Portability, Microphone Performance, Lack of Play/Pause Button, Micro-USB Charging in the Era of USB-C, Limited Simultaneous Audio Capability. and Occasional Connectivity Issues.
The Razer Kraken BT Kitty Edition headset is a perfect fit for gamers and enthusiasts who prioritize both style and substance in their audio experience. Those who appreciate an eye-catching design with adorable kitty ears and customizable RGB lighting will find this headset particularly appealing.
---
Specifications
FREQUENCY RESPONSE
20 Hz – 20 kHz (44.1 kHz Sampling)
IMPEDANCE
32 Ω
SENSITIVITY
96 dB/mW at 1 kHz
DRIVER SPECIFICATIONS
40 mm
DRIVER TYPE
Dynamic Driver
EARCUPS
Over-Ear (Circumaural)
INNER EARCUP DIAMETER
Major Diameter 102 mm, Minor Diameter 88.5 mm
EARPADS MATERIAL
Plush Leatherette with Foam
NOISE CANCELLING
Dual Mic Noise Cancelation
CONNECTION TYPE
Bluetooth 5.0 connection
CABLE LENGTH
None
APPROXIMATE WEIGHT
0.66 lbs / 298 g
MICROPHONE STYLE
ECM
PICK-UP PATTERN
Omni-directional
MICROPHONE FREQUENCY RESPONSE
100 Hz – 10 kHz
MICROPHONE SENSITIVITY (@1KHZ)
-38 dBV/Pa (1 kHz)
VIRTUAL SURROUND ENCODING
None
VOLUME CONTROL
Yes (VOL + and VOL – Wheel)
OTHER CONTROLS
Power On / Pairing / Multi-Function Button
Up to 20 Hours with Lighting On

Up to 50 Hours with Lighting Off

LIGHTING
RGB LED for indicating power, pairing, and charging status
COMPATIBILITY
BT Connection: Mobile / System
First Impressions – A Leap Beyond Stereotypes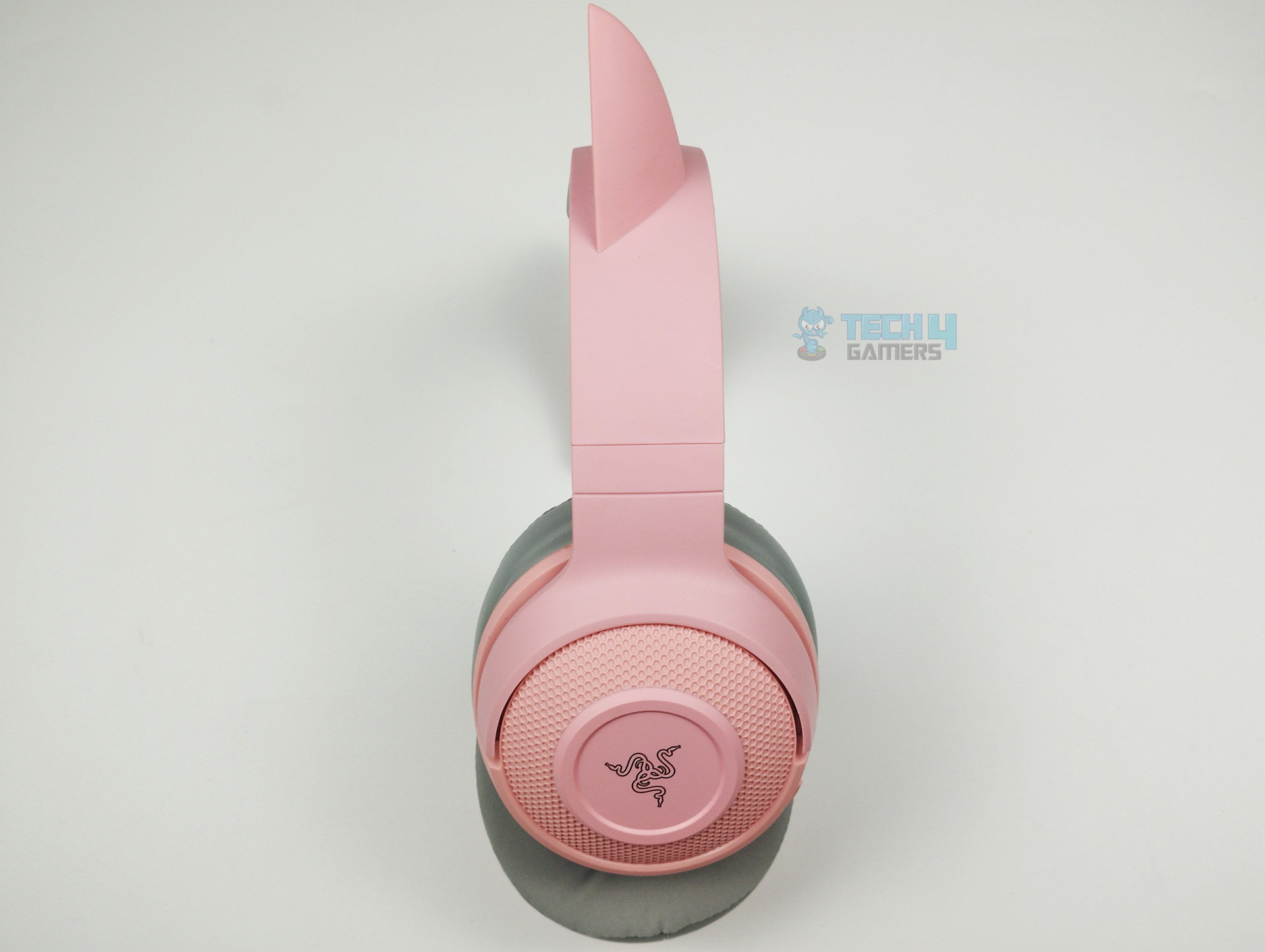 In the world of gaming gear, the Razer Kraken Kitty Edition arrives like a breath of fresh air. For some time, gaming peripherals seemed to be all about bold and flashy designs that might have felt a bit too much. If you were seeking something less showy and more versatile, your options often boiled down to aggressive reds, blacks, and an overload of RGB lights. But here's the exciting part – there's been a shift, a change that welcomes diversity in design to cater to a wider crowd. It's a simple concept, yet its execution within the industry marks a significant step forward.
Razer, a name well-known in the gaming community, previously introduced the original Kraken headset with those adorable detachable kitty ears – a playful touch that garnered attention. The storyline has evolved, and now these charming add-ons are elegantly woven into the Razer Kraken BT Kitty Edition. Fortunately, my past experiences with Razer's gear breed a sense of trust in the brand's craftsmanship as a whole. Ordinarily, gaming headsets sported what you could call a "hardcore gamer" look, which might not always blend well with carefully curated PC themes. Yet, the Kraken Kitty BT Edition takes a different route, introducing a delightful touch of quartz that stands out from the usual gaming aesthetics.
Let's take a moment to acknowledge that Razer has built a dedicated following over the years thanks to its mix of advanced technology, durability, and comfort. So, it's no surprise that the flagship Kraken gaming headset, now presented as the Kitty Edition, quickly earned its spot among gamers' favorites. The Kraken BT Kitty Edition stands tall as a symbol of uniqueness, blending comfort, sturdiness, and undeniable cuteness into one package. Priced at $99 on Razer's official website, this headset offers not only a built-in microphone and clear audio but also charming kitty ears.
While the fixed position of the ears might concern some users, the headset's lightweight design and range of features more than make up for this minor issue; at around 298 grams, the weight feels reassuringly solid, dismissing any worries about fragility. Moreover, the design is built for extended comfort, making it a promising companion for even those marathon gaming sessions. As I delve deeper, we'll uncover more about the Kraken BT Kitty Edition's strengths and aspects that warrant consideration.
Design – Kitty Ears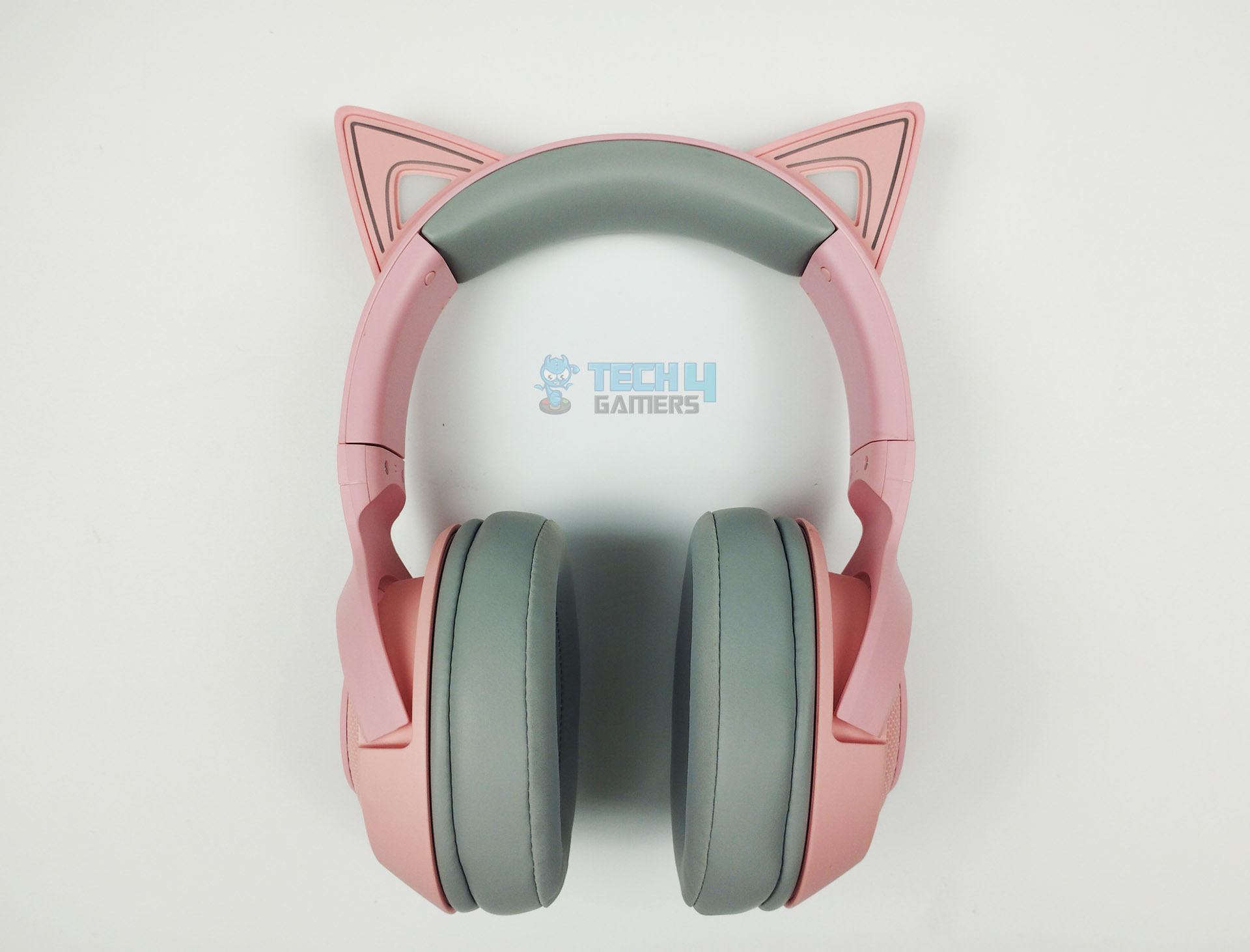 When it comes to the design of the Razer Kraken BT Kitty Edition, I'm drawn into the world where looks meet functionality. This review delves into the Kitty (Quartz) version, while my curiosity also extends to the captivating Hello Kitty and Friends variant. Both versions boast remarkable designs that easily catch the eye. Embracing the nekomimi trend with those charming cat ears, these headsets bring an adorable touch, even if my reservations about Neferpitou from Hunter X Hunter remain.
Initially, I wasn't entirely sure about the Razer Kraken Kitty BTs. However, any skepticism quickly faded in the face of the irresistible appeal of its charming feline additions. One feature that stands out is the choice of a radiant pink color, a decision that Razer deserves credit for. The star of the show is undoubtedly the two RGB cat ears perched atop the headband, an endearing touch that sets it apart.
While the ear cups maintain the familiar Kraken design, both sides proudly display the iconic Razer Logo, a symbol of quality and craftsmanship. The kitty headsets undeniably exude charm, but let's be real – for many, the allure lies in the captivating blend of RGB lighting and those playful cat ears. Indeed, within the broader context, wired headsets often share common functional traits. Yet, the Razer Kraken BT Kitty Edition rises above being simply labeled a "gamer girl" headset.
Its enchanting pink appearance, enhanced by the whimsy of the cat ears and RGB lighting, might attract the "e-girl headset" tag. But it's evident that this product is more than its appearance. For those in search of a gaming headset that offers both style and substance, delivering clear sound quality and unmatched comfort, the Razer Kraken BT Kitty Edition presents an alluring choice. Wrapped in its signature quartz color, it seamlessly complements the range of pink Razer products, blending harmoniously into your setup.
Furthermore, the gentle incorporation of grey accents on the earcups and the comfort strip of the headband adds a touch of sophistication, underscoring Razer's attention to detail. Notably, the choice between an all-pink design and the current presentation sparks intriguing thoughts. Opting for grey instead of white as a secondary tone strikes a practical and visually pleasing balance. This choice isn't just about aesthetics – grey stands up better to wear and tear over white, ensuring lasting appeal over time.
Comfort – A Perfect Fit for Prolonged Use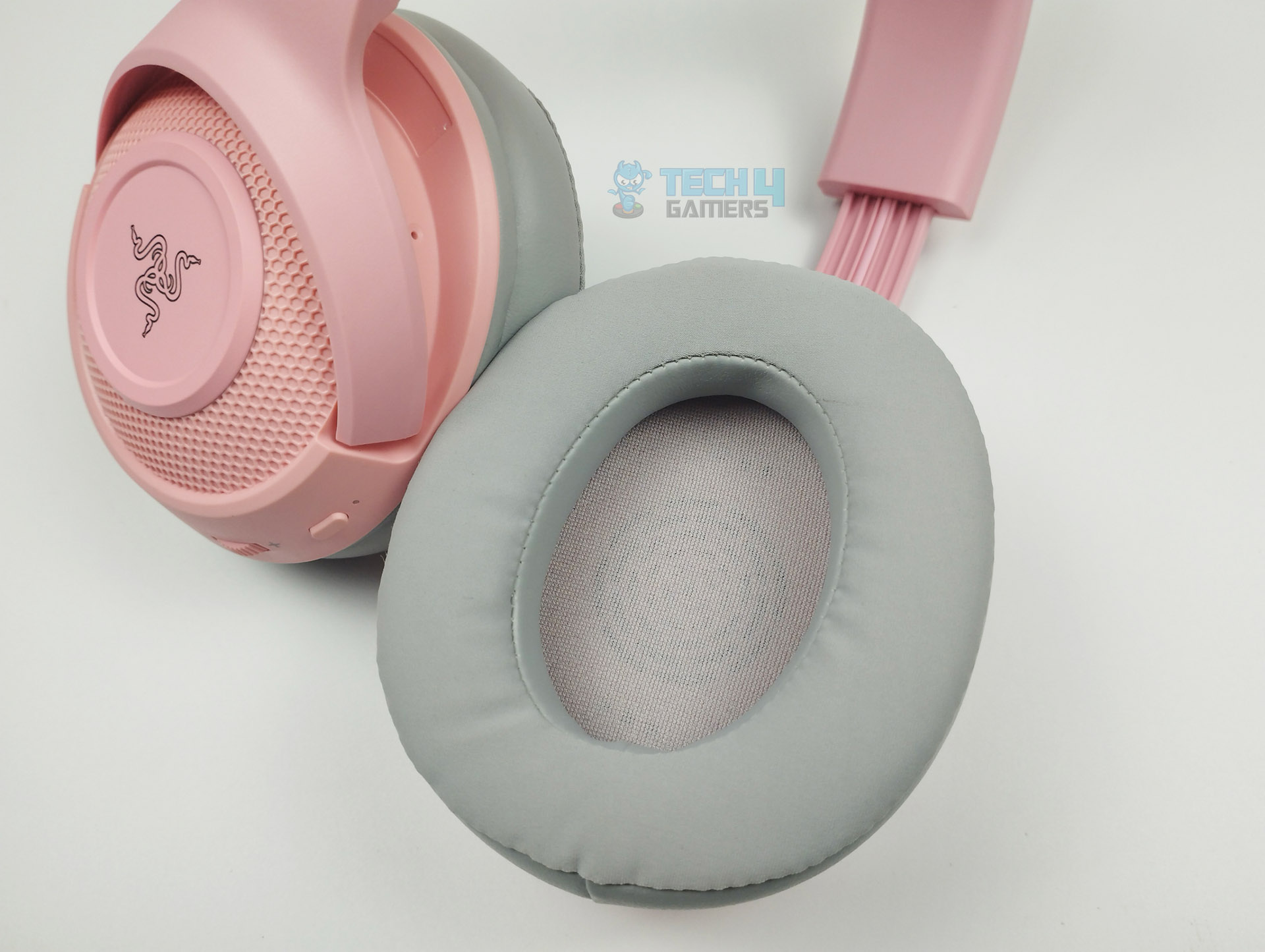 Let me emphasize how crucial it is for headphones to sit comfortably on my head and ears. I've realized that my head is a bit smaller than average, making it tricky for most headphones to cover my ears fully. Comfort is vital to avoid any discomfort, so I always aim for earcups that feel cozy. When I search for new headphones, I often need to return several pairs before finding the right one. Fortunately, the Kraken BT Kitty headphones didn't take much time to win me over with their exceptional comfort.
I'll admit I'm pretty committed to both gaming and work, sometimes spending countless hours with my headphones on. The challenge arises when my headphones can't keep up with these marathon sessions. But hey, then this headset – a delightful surprise. These headphones are incredibly comfy, with soft, cushiony earcups and a band that holds just snugly enough without causing any pressure on my head. I can wear them all day long without any discomfort. And believe me, it truly elevates my experience to a new level.
The ear pads and headband are lined with a soft leather-like material that ensures comfort during those extended gaming marathons. On top of that, the headband is fully adjustable, offering nine different levels to fit perfectly on your head. Unlike other headphones that need a while for your head to adjust, these ones felt comfortable on my head right out of the box. They're not loose, nor do they squeeze my head excessively. They provide a snug fit that finds the sweet spot between comfort and stability.
When I put them on, I noticed how well they conform to my head shape without causing any unnecessary tightness. As a result, this design choice is especially fitting for gaming sessions. These headphones are crafted to offer an immersive audio experience while keeping distractions minimal. It's important to note, though, that these headphones aren't designed for activities like running, where a secure fit matters. They excel at delivering clear game sounds and enabling engaging conversations on platforms like Discord.
However, they might not be the best pick for dynamic and physically intense activities. In my own trial, I extended the use of these headphones beyond gaming – during workouts, for example. They stay in place quite well, but there were moments when they subtly shifted during movements like bending to lift weights. The fact that they didn't fall off entirely speaks to their overall fit, but the slight movement suggests they might not be perfect for high-energy activities.
Build Quality – A Lightweight Powerhouse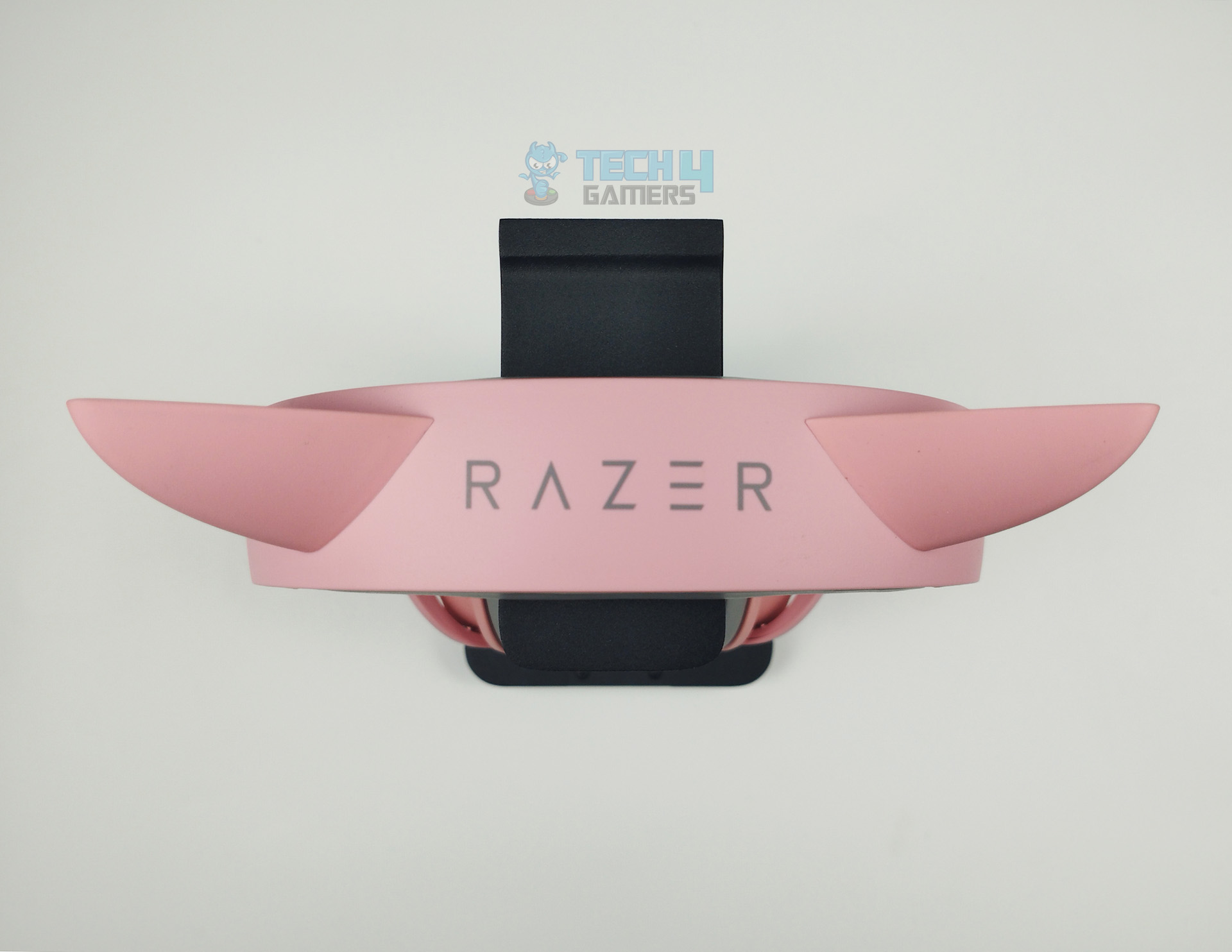 Let's dive into the build quality of this headset, a pivotal aspect that holds the potential to impact our gaming experiences profoundly. Remarkably lightweight yet boasting heavyweight features, the Razer Kraken BT Kitty Edition carves its space as a contender for the best gaming headsets. Crafted from premium-feeling plastic, this headset exudes a sense of quality that resonates with a touch of luxury. One notable aspect, however, is the lack of a foldable design, a factor that might be slightly disappointing for those on the move.
The absence of folding capability could raise questions about portability. Yet, this very aspect raises a thought – perhaps, this fixed structure contributes to enhanced durability. Drawing from my personal encounters, a significant portion of budget-friendly foldable headphones tend to falter after extended use. Yet, it's evident that these Razer headphones shine in terms of robustness, outpacing the fragility often found in cheaper counterparts. This assertion comes with a caveat – predicting longevity in the world of headsets remains a challenge.
Onward to another aspect, the non-detachable ears raise a valid concern. To be precise, having removable ears could have minimized the headset's public visibility, transforming it from an attention-drawing accessory to a more understated one. Although the headset itself is lightweight, the attached ears introduce a degree of inconvenience during travel. Now, to add a note from my perspective: The build quality of these headphones is undeniably impressive. The use of premium-feeling plastic manages to strike a balance between lightweight comfort and sturdy construction.
While the absence of a foldable design might seem like a minor drawback for travel, it might well contribute to the headset's overall durability. The robustness exhibited by these headphones sets them apart from the realm of cheaper, less enduring alternatives. Though the fixed ears might make them stand out in public, they also lend a unique charm that many users will appreciate. In essence, the Razer Kraken BT Kitty Edition showcases a thoughtful approach to design and construction, delivering both style and substance.
RGB Lighting – A Visual Spectacle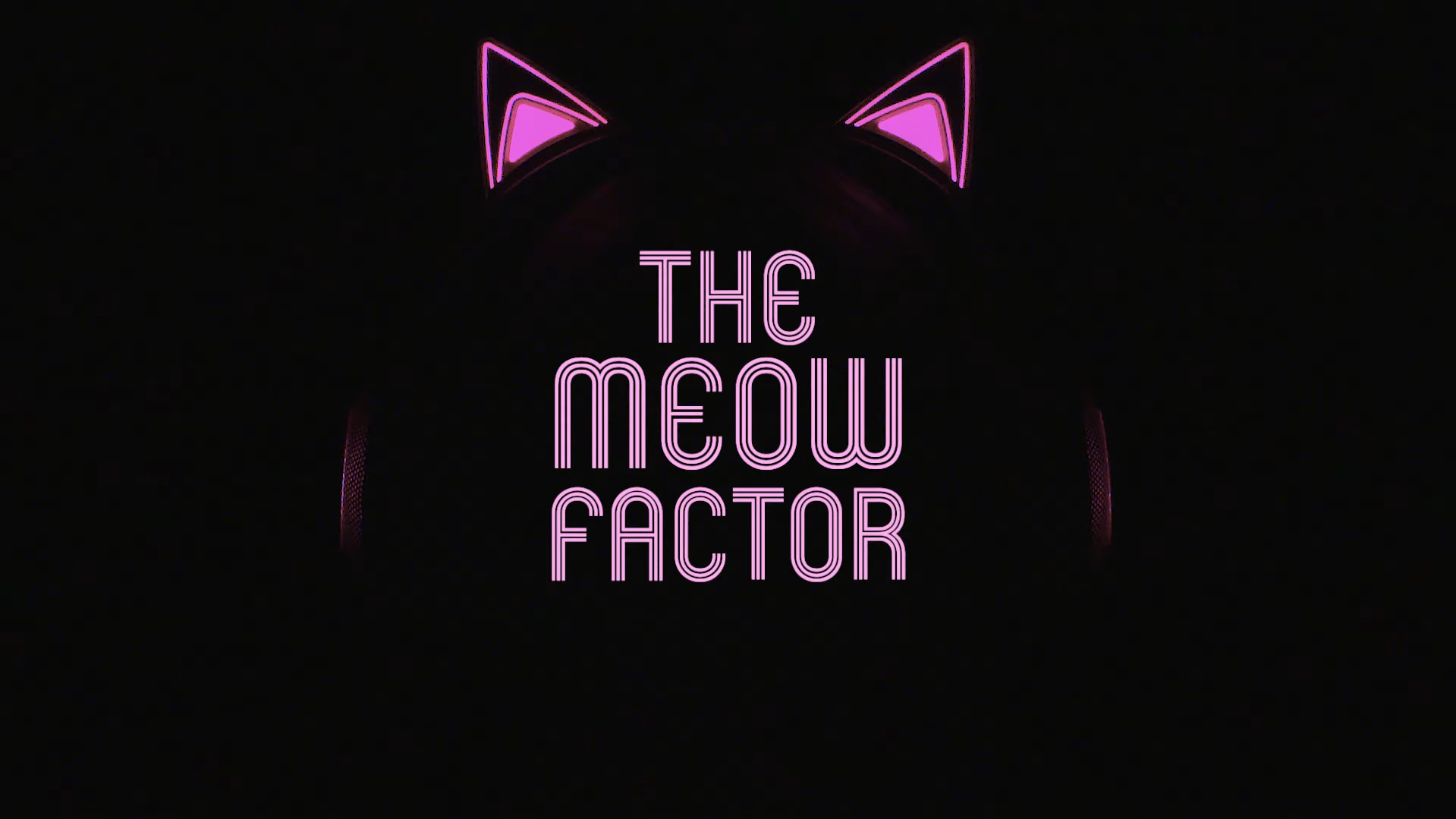 Now, let's delve into the realm of RGB lighting on this headset – a feature that often adds an extra layer of allure to gaming gear. The Razer Kraken BT Kitty Edition doesn't disappoint in this aspect, as it presents impressive RGB lighting not only on the earpieces but also on those adorable kitty ears. These illuminated elements undoubtedly contribute to the headset's visual appeal, making a statement even in well-lit environments.
However, it's worth noting that while the RGB lighting is indeed eye-catching, it's comparatively more restrained when compared to other offerings from Razer's lineup. Unfortunately, the capacity to layer various lighting effects is not present here. There's a sense of longing for the ability to fine-tune the speed of lighting transitions or to handpick a custom set of colors for the headphones to cycle through. At the moment, users are limited to choosing between preset rainbow effects or sticking to a solitary color for a specific effect.
Within the realm of effects, four options await static, breathing, spectrum cycling, and audio meter. Personally, I find a fondness for the spectrum cycling effect, drawn by the captivating charm of Razer's signature rainbow display. Unlike the breathing effect, there's a continuous flow of colors without any dimming in between. Furthermore, the static color option catches the eye with its vibrancy. Often, I opt for a pink hue to match the headband, occasionally pairing it with a crisp white for a harmonious contrast.
Now, let's introduce a personal touch: The audio meter effect introduces a captivating attempt at synchronizing lights with the melody and volume of the audio. Consequently, this endeavor should ideally yield a mesmerizing visual display. However, I must admit that I find this effect somewhat unappealing. At times, it resembles a flickering lightbulb that's on the verge of burning out. Additionally, when listening to softer or lower-volume tunes, certain notes don't resonate with the RGB lighting, creating an impression that the headphones aren't illuminating. Even in faster-paced songs, while the effect gains a semblance of coherence, it still tends to appear somewhat chaotic.
Control Scheme – Intuitive Command Center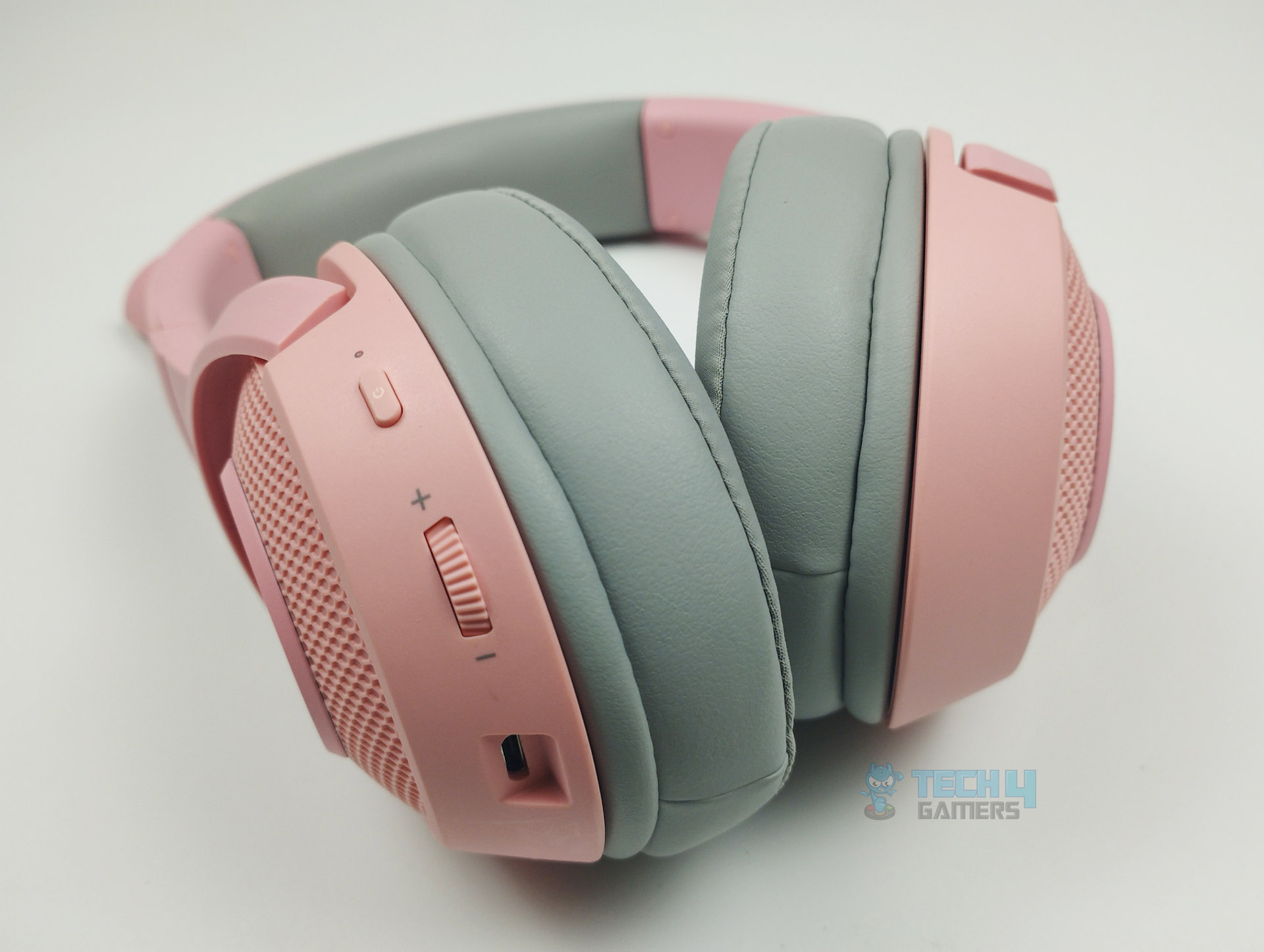 Now, let's delve into the control scheme of this headset, a critical aspect that defines the ease of use and interaction with the device. Although the absence of a 3.5mm jack confines you to Bluetooth connectivity, Razer has tactfully placed the power button and a volume dial on one side of the ear pad. Notably, this positioning ensures that essential controls are right at your fingertips, allowing you to fine-tune the audio experience without breaking immersion.
In the world of headsets, a well-designed control layout is akin to a finely tuned instrument – it enables effortless adjustments without interrupting your gameplay or entertainment. The Razer Kraken BT Kitty Edition seems to have grasped this concept, placing key controls within reach for seamless access. It's a testament to the product's user-centric design, acknowledging that quick adjustments are an integral part of the headset experience
However, let's address a minor hiccup in the control landscape. Despite the headset's price tag and the widespread acceptance of USB-C in recent times, it's somewhat disappointing that the Razer Kraken BT Kitty Edition relies on a micro-USB slot for charging. Embracing the latest in technology not only signals progress but also enhances user convenience.
In addition to this, one notable omission in the control layout is the absence of a dedicated play/pause button. This is a significant oversight, as such a button provides quick and hassle-free control over audio playback. With only a power button at your disposal, pausing audio playback is relegated to your connected device, a somewhat inconvenient process that disrupts the flow of use.
As a general principle, a well-thought-out control scheme ensures that essential functions are easily accessible without resorting to complex maneuvers or interrupting your concentration. Good controls enhance the overall experience, enabling you to focus on what matters – the audio, the gameplay, or your favorite content. In this regard, a good headset place controls intuitively and comprehensively, empowering users to shape their experience with simplicity and efficiency.
If you are still confused about all the features this headset has employed in its control scheme. Do not worry; Razer is kind enough to provide us with a guide. Here is the link to the video.
40MS Low Latency Connection – Gaming Mode Unveiled
When it comes to a headset designed by a brand deeply rooted in the gaming realm, it's a natural expectation for specialized features to accompany the package. And in the case of the Razer Kraken BT Kitty Edition, this anticipation isn't unfounded. The presence of a Gaming Mode is a nod to maximizing wireless performance during intense gaming sessions. Activating this mode proves vital for those aiming to optimize their audio experience while indulging in competitive gameplay.
Enabling Gaming Mode emerges as a strategic move to elevate your wireless audio performance. This choice results in a significant reduction in latency, ensuring that sound arrives promptly and minimizes the delay between your gaming teammates' complaints about your deficient warding skills as a support player on DOTA's map, which may have caused their low-skill death. Yet, here's where the intrigue deepens: While Gaming Mode undoubtedly enhances the audio experience.
There's a sense of uncertainty about the tangible differences between this mode and the standard setting. My personal encounters with the Kraken BT Kitty Edition in its normal mode have yet to reveal latency issues. Even in high-stakes scenarios like clutch rounds in Valorant, where split-second decision-making is paramount, audio cues from teammates reached me with ample time to secure victories. And in instances where victory eluded me, I didn't blame it on the headset's performance – it's the skills that determine the outcome, after all.
On a more serious note, the query arises: Why isn't the lowest possible latency the default mode at all times? The demand for seamless audio is persistent, regardless of the game or setting. It's an aspect that raises curiosity, given the gaming-specific nature of these headsets. In the grand scheme of things, the Razer Kraken BT Kitty headset ushers in a world without the shackles of wired connections, all while maintaining the remarkable performance witnessed in its Kraken series counterparts, which is a significant update in my books.
Bluetooth 5.0 – Seamless Connectivity
When I search for headphones, comfort is essential, but having a good Bluetooth range matters too. The Razer Kraken BT Kitty Edition builds on the success of its predecessor by nailing the basics. In wireless headphones, a strong signal range is key. Modern upgrades, like Bluetooth 5.0, ensure faster data transfers, letting you stay connected to Discord or movies even when you step away briefly. Thankfully, the Razer Kraken BT Kitty headset boasts Bluetooth 5.0 for a stable and power-efficient connection.
This means top-notch performance and minimal delay, making gaming a breeze. With Bluetooth, you can enjoy clear audio up to 30 feet from your device, enhancing your quality of life. I've been particularly impressed by these Razer headphones because their range is outstanding. I can move around my whole apartment without losing sound. However, keep in mind that although you can pair this device with multiple different devices, it can't play audio from more than one device at once, like Corsair Virtuoso RGB Wireless XT.
Moreover, It's a letdown that they didn't include a 3.5mm audio jack for easy connection to computer headphone jacks. On the flip side, I've seen Reddit posts where people complain about the headphones cutting out unexpectedly. Sometimes, the sound becomes glitchy or just stops completely, which isn't acceptable. Thankfully, turning the headphones off and on usually solves the problem. Still, it's strange that such issues arise at all. Cheaper headphones I've used in the past never gave me these kinds of troubles, so it's disappointing that Razer headphones have this problem.
Companion Apps – Razer Synapse, Chroma, and Audio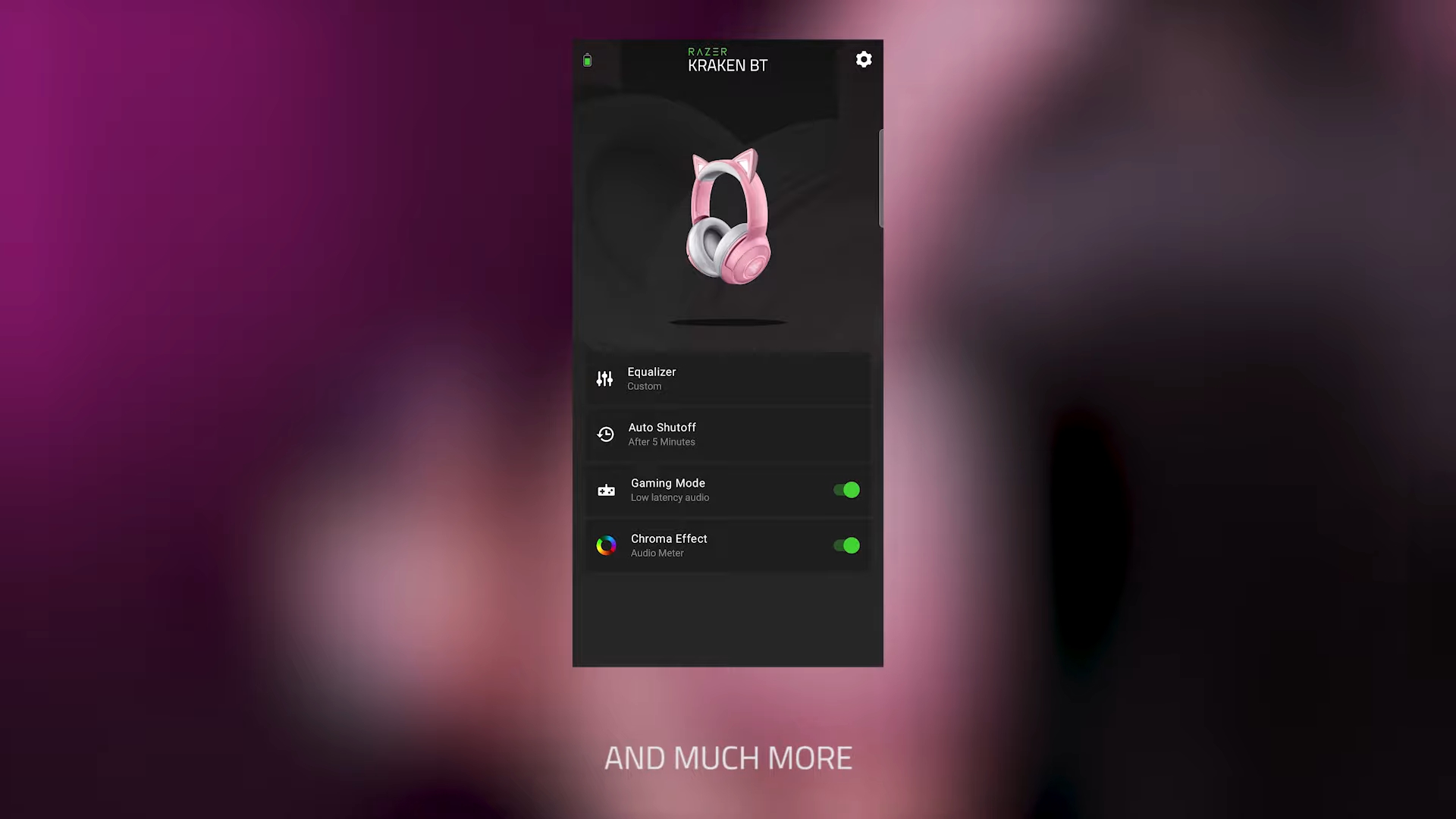 When I talk about an extensive features set, it's important to mention the apps that enhance these headphones. There are two apps you can get on your phone: Razer Chroma and Razer Audio. The former allows you to manage the lighting, whereas the latter lets you tune the sound. Using the Audio app, you can change the equalizer settings to different modes like amplified, enhanced bass, enhanced clarity, vocal, and default, or customize it to your liking.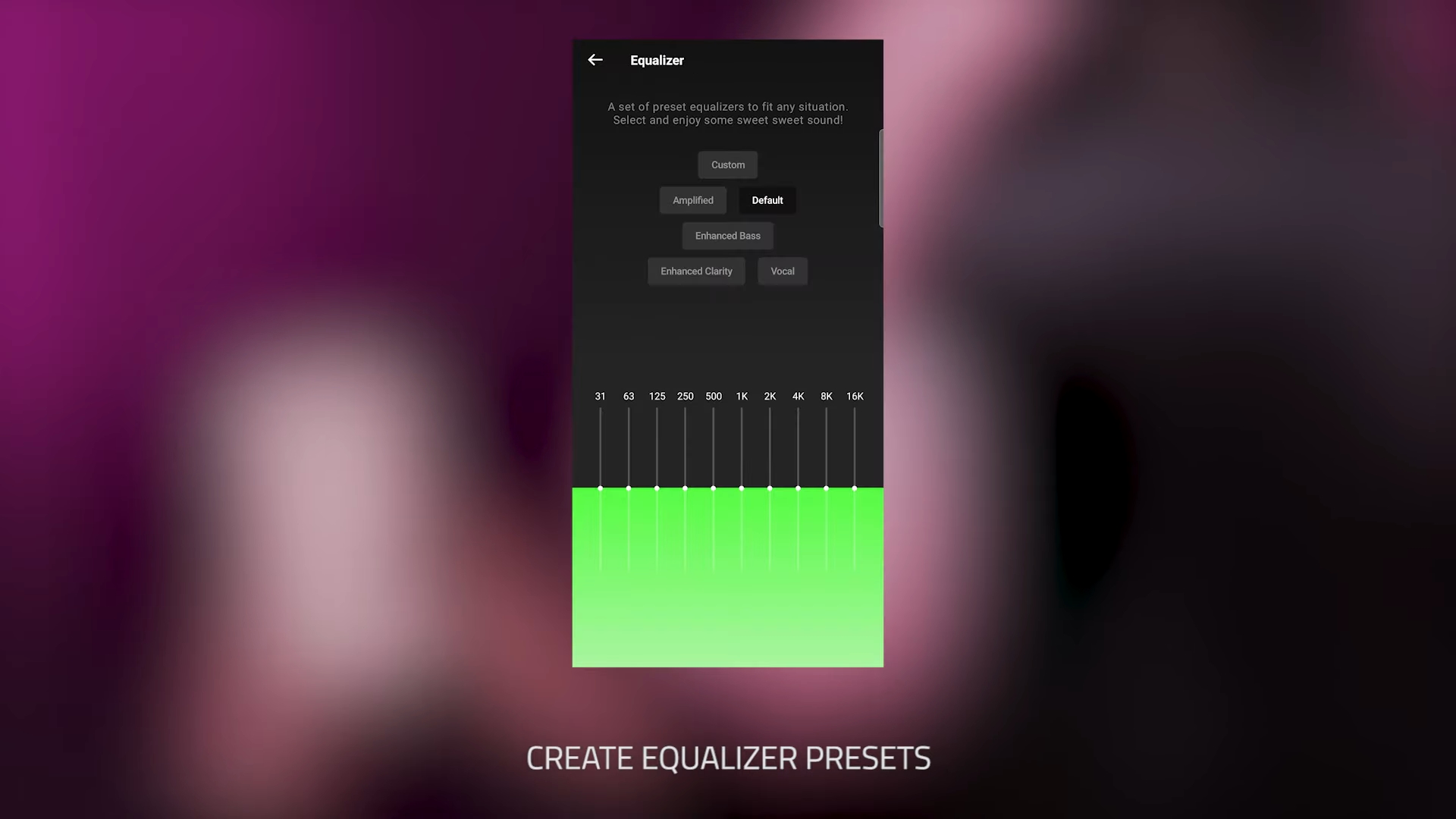 Personally, I tweak the EQ settings depending on whether I'm listening to music or podcasts. I haven't had any problems with the Audio app, but I must admit the Chroma app could use some improvement. One issue is that the color picker in the Chroma app doesn't remember the colors you pick after you exit the app. This can be quite frustrating, especially when you're trying to find a specific shade, and you don't remember its code. On a brighter note, these headphones work well with Razer's Synapse software, which gives you access to all settings through a user-friendly interface.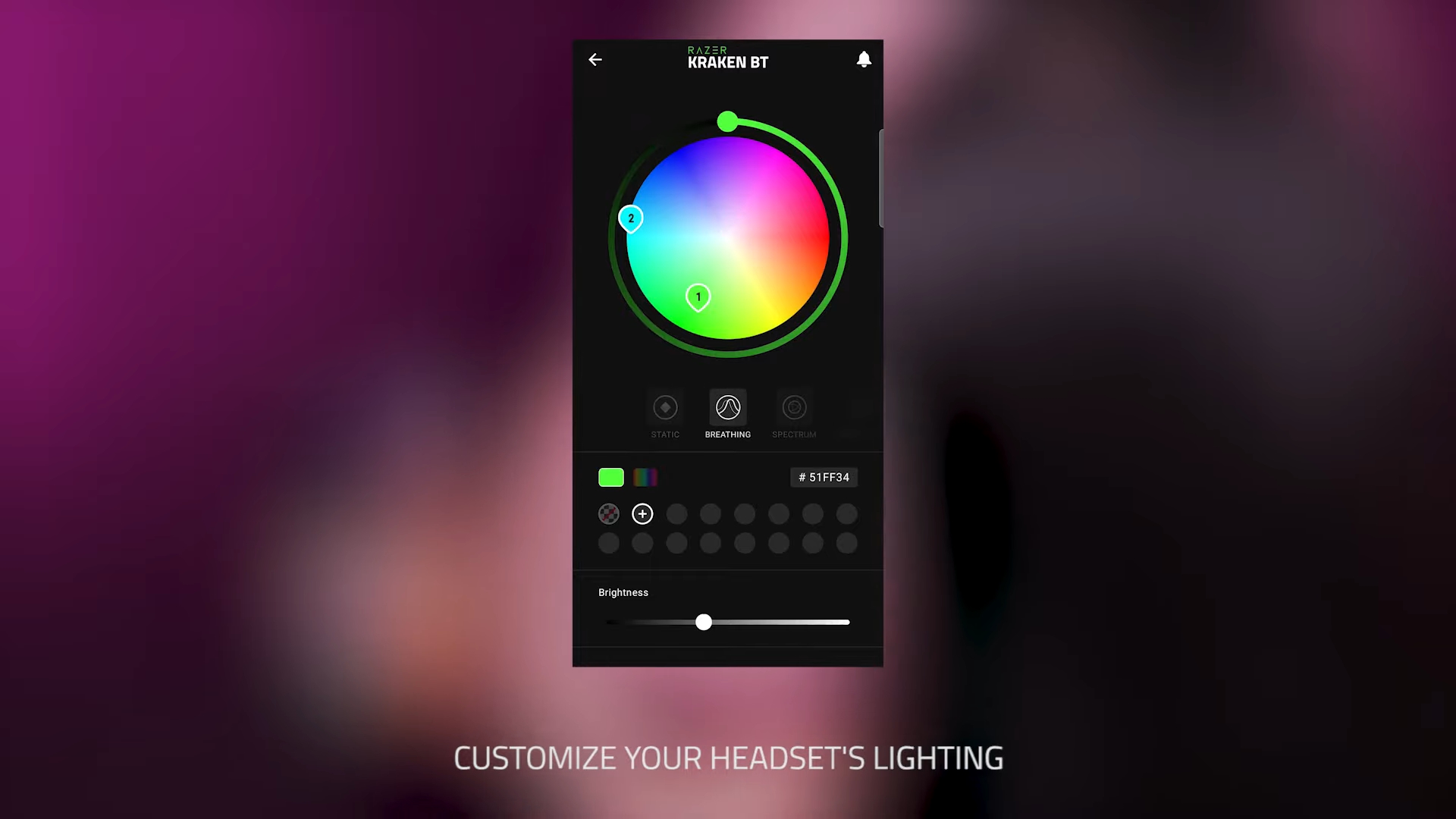 With just a few clicks in Synapse, you can change lighting effects, adjust microphone settings, and fine-tune the audio equalizer to your liking. Also, the headset comes with an automatic power-saving feature that turns it off when not in use, helping the battery last longer. Overall, I recommend using Synapse over-the-phone apps as it's more convenient and efficient. However, both mobile apps are easy to use and allow for a high level of customization.
Performance – Custom Tuned 40MM Drivers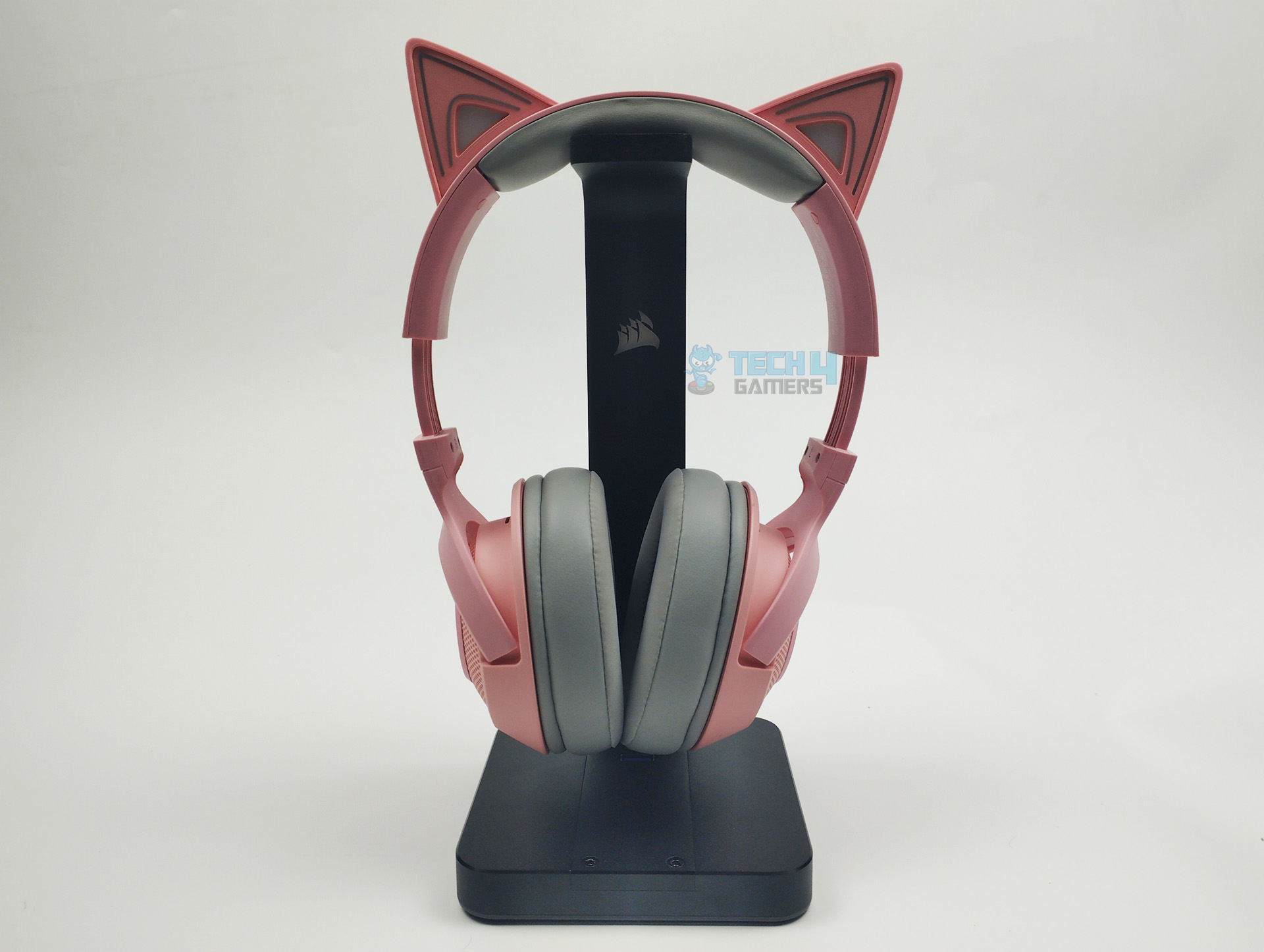 As I am reviewing headsets, it goes without saying that sound quality is the most critical factor, right? To clarify, I may not consider myself an audiophile, but I have ample experience with headsets to recognize what makes for a great sound. Setting aesthetics aside, it must be noted that the headsets undeniably provide crystal-clear sound quality even from a distance. While it may not have the feature of active noise canceling, the sound quality still impresses.
While the audio quality is still impressive, which I will be diving deeper into in the following sections, it's not the primary reason why I favor them. Comfort is the key selling point for me. As an individual who is not an audiophile, I am satisfied as long as the headphones function properly without any lag, buzzing, or static, and these headphones have exceeded my expectations.
As a result, the Razer Kraken BT Kitty Edition can be a fantastic option for those who seek a gaming headset that offers an outstanding combination of visual appeal, excellent sound quality, and absolute comfort. It could be worth considering this headset for all your gaming requirements. Rest assured, it can keep up with the best of them. It's no surprise that it performs exceptionally well for most content.
Music
Beyond its gaming prowess, the Razer Kraken BT Kitty Edition unveils an exceptional facet that sets it apart from the crowd – its remarkable music performance. What truly distinguishes this headset is its finely tuned soundstage, a delicate equilibrium that refrains from overpowering other forms of media.
As a connoisseur of sound quality, I can attest to the headset's ability to deliver a balanced and immersive audio experience. The Kraken BT Kitty Edition doesn't simply focus on the thumping bass or the piercing highs that are often associated with gaming headsets. Instead, it creates a symphony where each note is meticulously articulated, offering an audio landscape that respects the nuances of every genre.
Notably, instruments blend seamlessly, and vocals resonate with unparalleled authenticity. It's a testament to Razer's dedication to crafting a headset that excels not only in the digital battlegrounds but also in the realm of artistic expression. The result is an exceptional listening experience that captures the soul of every melody, rendering them in a way that resonates deeply with audiophiles and casual listeners alike.
Gaming
Overall, the custom-tuned 40mm drivers deliver sharp trebles and midrange, coupled with a deep bass that is sure to satisfy and amplify your pleasure. These headphones are unequivocally outstanding and can hold their own against other models in the Kraken series that I have listened to. Moreover, Razer claims that the headset is specifically engineered to elevate your gaming experience with its superior audio output.
Fortunately, I have not encountered any buzzing, static, or unwanted noise from these headphones. Even during intense gameplay, like in Doom Eternal, the sound quality remains immersive and exceptional. From explosive combat to horde noises, every sound is crisp and clear. Additionally, voices sound excellent with no distortion. On the downside, the Razer Kraken BT Kitty lacks significant advancements when compared to its similar models in the Kraken Series.
As a result, the gaming experience is quite similar to the previous models. Although the audio is decent for story-based games, FPS players may encounter difficulties with the subpar surround sound. When playing Valorant or CSGO, it doesn't provide a strong sense of where noise sources are coming from, which can be a little bit disadvantageous. Nonetheless, the headphones perform well in transferring sound quickly while reducing latency.
Beamforming Microphone – Mixed Notes
While the Razer Kraken Kitty BT Edition boasts several alluring qualities – its charm and durability – it does encounter some limitations. The microphone, in particular, stands as an aspect that doesn't quite reach the heights of its other attributes. While it suffices for casual Discord conversations and in-game communications, it stumbles when placed in the realm of streaming and video recording. It's worth noting that these headphones are equipped with two internal beamforming microphones.
Razer asserts that their meticulous engineering has sculpted the microphone to capture your voice with impeccable clarity while diminishing unwanted background noise, ensuring your voice maintains a satisfactory quality. However, the practical results present a slightly different picture. Despite the inclusion of dual internal beamforming mics, the microphone falls short of the standards set for content creation. This disparity between promise and performance is particularly disappointing, especially given the headset's price point.
Nonetheless, it's important to underscore that the microphone quality is still noteworthy for a headset. While it might not contend with a dedicated microphone like the Fifine Ampligame AM8, it still delivers crystal-clear audio that can aptly suffice for gaming with friends. The reality is that while it might not shine in the realm of professional content creation, it remains a commendable addition for maintaining smooth in-game communication.
Battery Life – Power to Endurance
The Razer Kraken BT Kitty Edition caters effortlessly to both intense gaming marathons and extended movie sessions. Razer proudly boasts of this headset's remarkable battery life, claiming up to a staggering 50 hours of usage on a single charge, even during demanding gaming scenarios. This feature alone elevates it to the upper echelons of headset offerings. When the LED lights are turned on, the endurance slightly lessens to around 20-25 hours, varying based on the volume setting. Interestingly, Kraken's battery life estimates align quite closely with the headset's actual performance.
This feature is especially advantageous for those who indulge in late-night gaming or prefer dimly lit environments, allowing for multiple extended sessions without the hassle of frequent recharging. However, some users might find the vibrant RGB lighting hard to resist, and even in this mode, the Razer Kraken BT Kitty Edition's battery life remains commendable, offering substantial usage before necessitating a recharge. For prudent energy usage, the headset automatically powers down when left inactive, ensuring longer intervals between charges.
Remarkably, recharging the device to its full potential takes approximately two hours, a relatively swift turnaround. A matching quartz-colored micro-USB cable accompanies the headset, contributing to a cohesive visual experience. With this efficient recharging process, downtime is minimal, granting you swift access to your gaming realm once more. With its extended battery life and quick charging capability, the Razer Kraken BT Kitty Edition stands as a steadfast companion, ensuring your entertainment and gaming sessions are not curtailed by frequent battery concerns.
Should You Buy It or Not – Paws for Consideration
The Razer Kraken BT Kitty Edition stands as a formidable contender in the gaming headset arena, yet its suitability hinges on your unique preferences and requirements. For gamers seeking an enchanting blend of endearing design and remarkable sound quality, this headset emerges as a compelling choice. Undoubtedly, it impresses with its audio prowess, exceptional comfort, and eye-catching aesthetics. These headphones are an embodiment of both cuteness and functionality, culminating in a delightful fusion of cat ears and vibrant RGB lighting.
For those who've navigated the tangles of wired headphones, this wireless Kraken variant offers seamless performance and extended battery life, all within a luminous exterior. Especially for admirers of Razer's popular Quartz collection, the soft pink hue serves as a welcomed addition to any setup. Priced at $100, some might balk at the investment. However, each dollar spent is warranted by the headphones' exceptional design and captivating RGB feature.
While other options might offer comparable sound quality at a lower cost, the distinctive style of the Razer Kraken BT Kitty Edition is incomparable. In the realm of renowned brands, the price is a steal when evaluated against its remarkable design and mesmerizing RGB allure. Amid the multitude of wireless headset offerings in 2023, finding a similar quartz-colored gem is no small feat. Moreover, for those with a penchant for cat-eared headsets, the alternatives are scarce.
However, if you're willing to forgo Bluetooth capabilities, other iterations of Razer Kraken headphones await consideration, though with varying features and price points. Ultimately, positioned in the mid-range price bracket, the Razer Kraken Kitty Edition dispels any notion of mediocrity. Its sound quality offers a notable return on investment, underscoring its value as a practical and indulgent choice. Beyond its aesthetic charm, this headset establishes its credibility through its audio prowess. A testament to its worth, it defies being labeled as a mere novelty.
My resounding recommendation echoes these words. It's a purchase you'll likely cherish, and I hope it sparks a trend among gaming peripheral creators to venture into similarly innovative realms. The Razer Kraken BT Kitty Edition will shine as a delightful addition to your collection, showcasing unique design, outstanding sound performance, and unparalleled comfort. Lastly, as a consideration for potential improvement, expanding the color range to include alternatives beyond the Quartz collection could broaden its appeal to a wider spectrum of users, truly embracing diversity in design.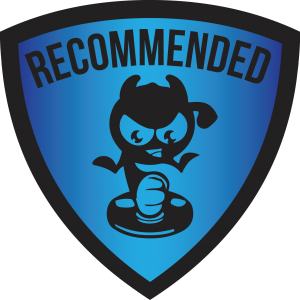 Learn more about Tech4Gamers Awards
Was our article helpful? 👨‍💻
Thank you! Please share your positive feedback. 🔋
How could we improve this post? Please Help us. 😔