The PlayStation 5 and Xbox Series X are impressive pieces of hardware. Both current-Gen consoles are a considerable step up over their predecessors in more ways than one. The new consoles brought native SSD support to console gaming and introduced significantly better processors with custom Zen 2 based AMD 8 core CPUs.
Furthermore, the consoles have also seen huge leaps in the GPU departments. The PlayStation 5 features 10.28 TFLOPS of FP 32 performance. The Xbox Series X is ahead in this department and features 12.15 TFLOPS. In computing, Teraflop or TFLOPS is a metric of computational power and refers to the processor's capability to calculate one trillion floating-point operations per second. Games require these calculations for complex images, so this is an extremely important measure. However, TFLOPS across different architectures is not always a one-to-one comparison.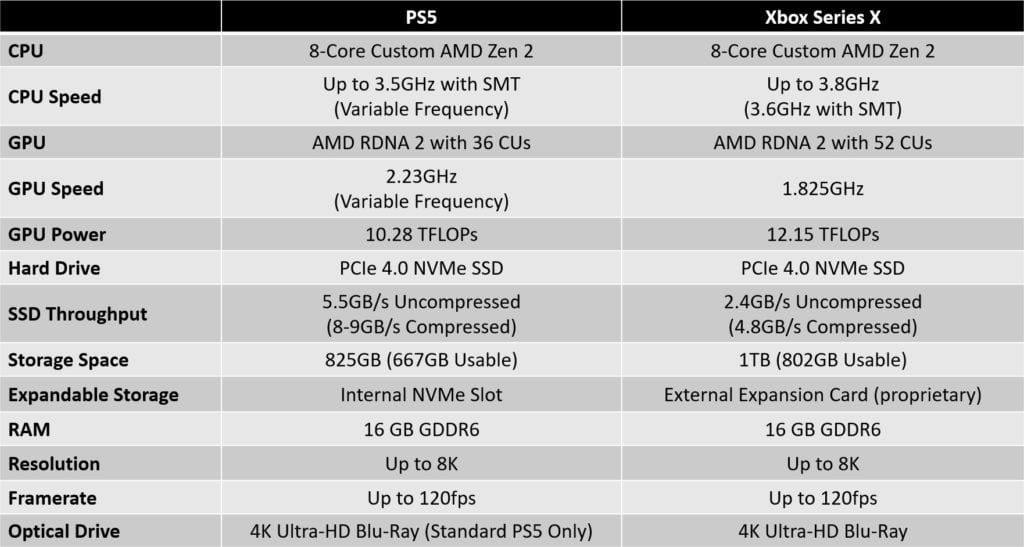 The upcoming graphics cards from AMD and Nvidia based on RDNA 3 and Ada Lovelace are shaping up to be impressive in terms of performance. The new GeForce RTX 4000 and Radeon RX 7000 series graphics cards are expected to be up to 50% faster than the current generation. A new piece of information from reliable leaker Greymon55 has hinted at the FP32 performance for the upcoming GPUs.
Maybe it's 90t+ vs 100t+🤔

— Greymon55 (@greymon55) April 30, 2022
Greymon55 expects over 90 TFLOPS for AMD RX 7900 XT graphics card based on NAVI 31 (later changed to 73 TFLOPS in the below tweet) and over 100 TFLOPS for GeForce RTX 4090 based on Ada AD102 GPU Core. This would mean that the upcoming graphics cards could potentially be 10 times faster than the PlayStation 5 in computational power. This will likely be the case for the flagship cards from both companies. The mid-range products should still have a decent lead over the new consoles by the flagship numbers. Furthermore, Nvidia's RTX 4090 should be up to 2.5 times stronger in compute performance than the GeForce RTX 3090 Ti at 40TFLOPS.
The PlayStation 5 and Xbox Series X are aimed at 4K gaming, but the consoles are often unable to do so natively. Developers on these platforms have to rely on dynamic resolutions and upscaling techniques to hit the target resolutions. Moreover, the GeForce RTX 3090 Ti cannot deliver a 60fps experience with maximum quality graphics, and ray tracing is enabled at 4K resolutions in many games. However, it seems like the next generation graphics cards will be able to utilize higher quality ray tracing at 4K resolutions without relying on upscaling techniques. With the added benefit of DLSS and FSR, a high refresh rate 4K gaming experience could be entirely possible.
Navi 31 old → new spec
60 WGP, 15'360 FP32 → 48 WGP, 12'288 FP32
on 3 GHz = 73 TFlops

Navi 32 old → new spec
40 WGP, 10'240 FP32 → 32 WGP, 8'192 FP32

Navi 33 remains the same (16 WGP, 4096 FP32).

Thanks @greymon55 https://t.co/fdsrJT2aew

— 3DCenter.org (@3DCenter_org) May 2, 2022
The next generation graphics cards are shaping up to be very powerful. Leaks and rumors have predicted the most significant jump in history. While the last generation was impressive, the upcoming graphics cards could be on a completely different playing field.
On the other hand, consoles might not have the best hardware, but offering the best value for money with an exclusive library of games is still the biggest incentive to purchase a new console. A potential 10x boost over the PlayStation 5 is impressive, and it will be interesting to see how things play out in the future for both PC and Console gaming.
Check Out More News: RTX 4090Ti Consumes Twice As Much Power As 7900XT
Was our article helpful? 👨‍💻
Thank you! Please share your positive feedback. 🔋
How could we improve this post? Please Help us. 😔
[News Reporter]
Avinash is currently pursuing a Business degree in Australia. For more than three years, he has been working as a gaming journalist, utilizing his writing skills and love for gaming to report on the latest updates in the industry. Avinash loves to play action games like Devil May Cry and has also been mentioned on highly regarded websites, such as IGN, GamesRadar, GameRant, Dualshockers, CBR, and Gamespot.