Intel ARC A750 GPU has been improved with numerous drivers. With recent performance improvement drivers, Intel has revealed that ARC A750 performs much faster than the GeForce RTX 3060 in 1440p and 1080p resolutions.
Regarding the price, Intel Arc A750 is already available in the USA. It costs around $250, $100 cheaper than the GeForce RTX 3060, which is currently the best-selling GPU on Newegg and the most used GPU in the recent Steam Hardware Survey.
Intel Arc A750 has already become a formidable competitor due to new drivers, which drastically improve the performance of Intel Arc A750. Know that the Intel Arc GPUs still have space for improvement. So these graphics cards are aging quite well to be the market's most affordable mid-range graphics cards.
To this is added that an Arc A750, despite its price, includes 8GB of memory. On the other hand, the Arc A770 will age even better due to its 16 GB of memory. This is the same amount of memory available in the GeForce RTX 4080.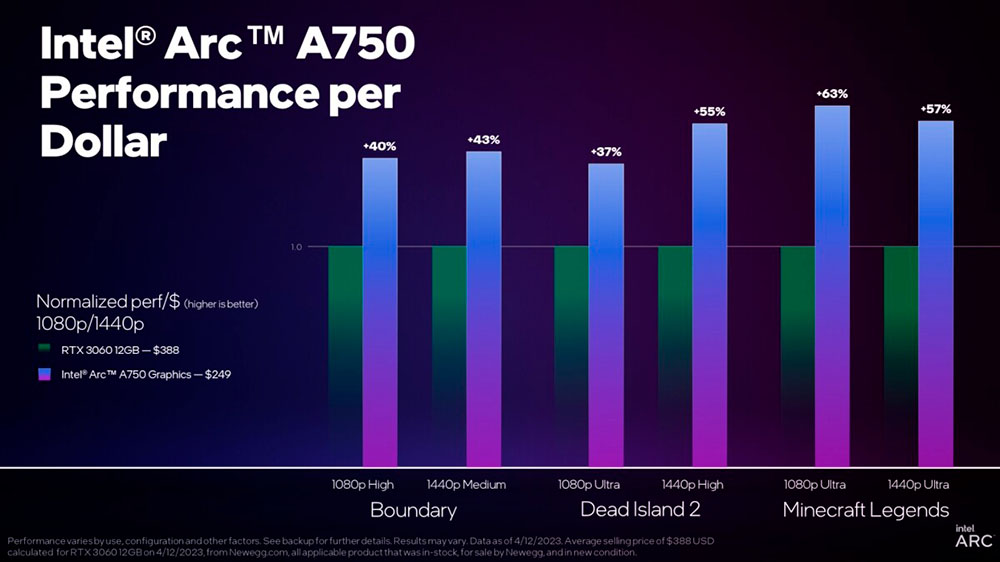 Intel compares its Arc A750 with the most modern games of today. On Boundary, it's 40% faster at 1080p resolution with graphics quality set to High and 43% faster at 1440p on medium quality compared to GeForce RTX 3060.
In Dead Island 2, the Intel GPU is 37% faster at 1080p on Ultra quality and 55% faster at 1440p on High quality. We end with Minecraft Legends, where the Intel Arc A750 is 63% faster at 1080p on Ultra and 57% faster at 1440p on Ultra.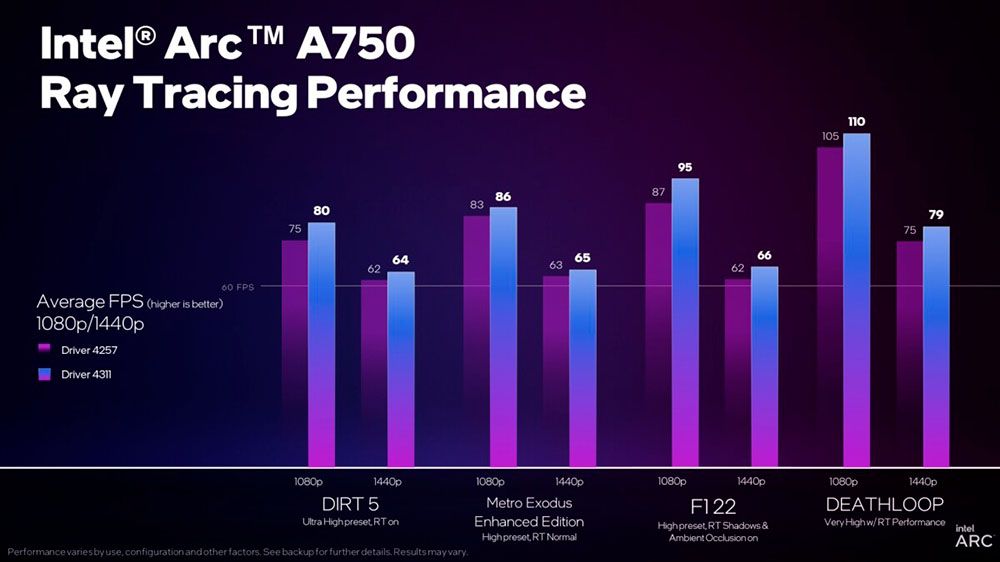 The company also boasts of being better when Ray Tracing kicks in. The Intel Arc A750 performs better in DiRT 5, Metro Exodus Enhanced Edition, F1 22, and Deathloop.
Finally, Intel announced that its ARC A750 can offer up to 72% more performance per dollar invested than the GeForce RTX 3060. For example, they give the game Total War: Warhammer III – Mirror of Madness. Here the Arc A750 is 62% faster at 1080p Ultra and 72% faster at 1440p on High.
Intel says clearly, its mid-range GPU is the best option as it is the most affordable on the market and the most powerful too. If you are going for GeForce RTX 3060, consider buying Intel Arc A750, as it outperforms the RTX 3060.
Whats your thoughts on this new comparison from Intel? Will you consider a Graphics card from the Intel ARC lineup as your next purchase? Share your thoughts in the comment section below.
Was our article helpful? 👨‍💻
Thank you! Please share your positive feedback. 🔋
How could we improve this post? Please Help us. 😔