The silicon shortage fiasco is pretty much fresh in our heads. The recent years saw prices of graphics cards soaring high above their MSRP, with their availability being minimal at the same time. This year the trend has gotten better. We are seeing GPUs getting closer to their MSRPs with every passing day.
AMD's price decrease is more noticeable than Nvidia's. The average selling price of AMD RX 6000 series graphics cards has decreased by 8% this month and is now just 5% more than the initial price, and several variants, including the 6900 XT, are now available. Graphics cards are cheaper than before!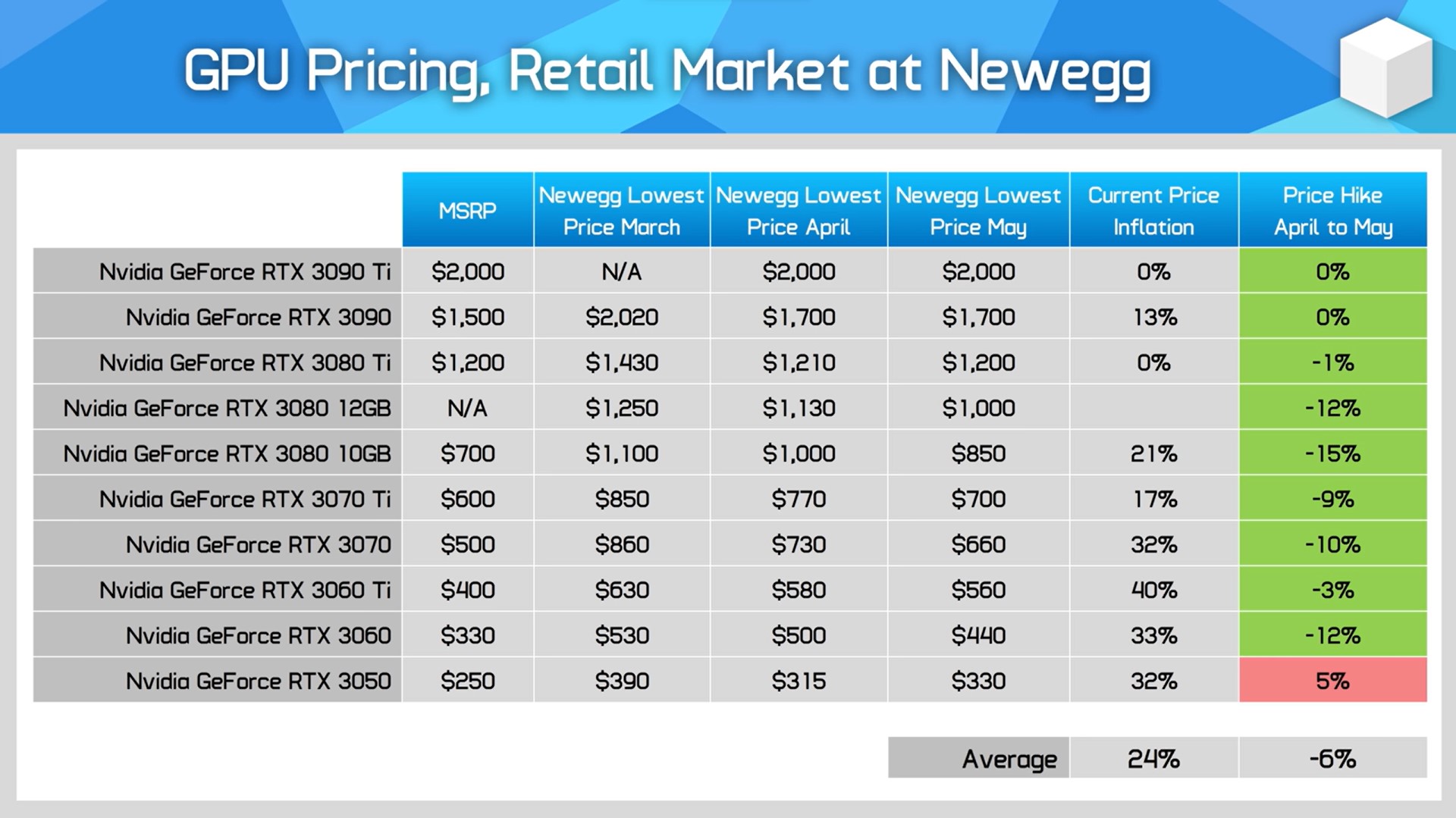 Hardware Unboxed broke down the pricing of GPUs as of this month. The most surprising thing that came out is that the newly launched GeForce RTX 3090 Ti is currently being sold at $2000, which is the MSRP of the card.
This is a perfect sign considering its slower counterpart, the GeForce RTX 3090, was surprisingly being sold at more than $2600. However, the downwards trend looks a bit different for the cards that were launched earlier, including the GeForce RTX 3070 and GeForce RTX 3080, which are still being sold at higher prices. It is also interesting to see that the newly launched RTX 3050 is also being sold at a crazy price tag and instead of going down the prices have increased by 5% and 33% inflated. Where the actual; price should be around $250, its current price on average is $330.
According to Hardware Unboxed's newest data on US Newegg items, Nvidia GeForce RTX 30 series graphics cards are now selling for over 24% compared to MSRP with a 6% drop in May.
RX 6600 XT also dropped a massive 15% along with RX 6700 XT dropping in price by 14% and both now being a lot closer to their MSRP. The only card that is still priced really high and hasn't shown a price drop is the RX 6600. The reason for that is probably because RX6600 is a great budget offering and goes head to head with the RTX 3060 in various titles in gaming therefore the demand could be higher.
It is positive to see that the prices are indeed going down. Although they are not yet MSRP, they are close to it more than ever. We hope that soon we see all AMD and Nvidia GPUs being sold at MSRP, especially now when they have a new competitor in the form of Intel. And if the reports about the demand are true, we might even see GPUs selling below their MSRPs.
More exciting news: Naughty Dog Job Posting Hints At Game Engine Getting PC Optimizations
Was our article helpful? 👨‍💻
Thank you! Please share your positive feedback. 🔋
How could we improve this post? Please Help us. 😔
With more than 3 years of experience in news and content writing, I'm a PC gaming enthusiast who loves to stay updated on everything going around in the industry.