AMD FSR 3.0 is the latest iteration of AMD's upscaling technology, the FidelityFX SuperResolution. This latest update was released alongside AMD's Radeon RX 7800 XT and RX 7700 XT graphics cards in September 2023, just in time to rival NVIDIA's DLSS 3.0 technology on the acclaimed RTX 40-series graphics cards. While we have already covered the differences between AMD FSR and NVIDIA DLSS, let's take this opportunity to take a deeper dive into the AMD FSR 3.0 update itself.
AMD FSR 3.0 – What's New?
AMD Fluid Motion Frames
The biggest update in the new AMD FSR 3.0 version is the addition of AMD Fluid Motion Frames (AFMF) technology, which is essentially a frame-generation feature similar to the one found in NVIDIA's DLSS 3.0. AMD claims that the Fluid Motion technology generates new synthetic frames that are placed in between two native frames in an interpolated manner, thereby improving perceived smoothness and overall framerate.
Of course, the generation of new frames vastly improves the perceived performance of the graphics card in supported games. Moreover, the frame-generation aspect can be used on top of the original SuperResolution upscaling technique that is already present in FSR 2.0, making the performance gains quite prominent in demanding games.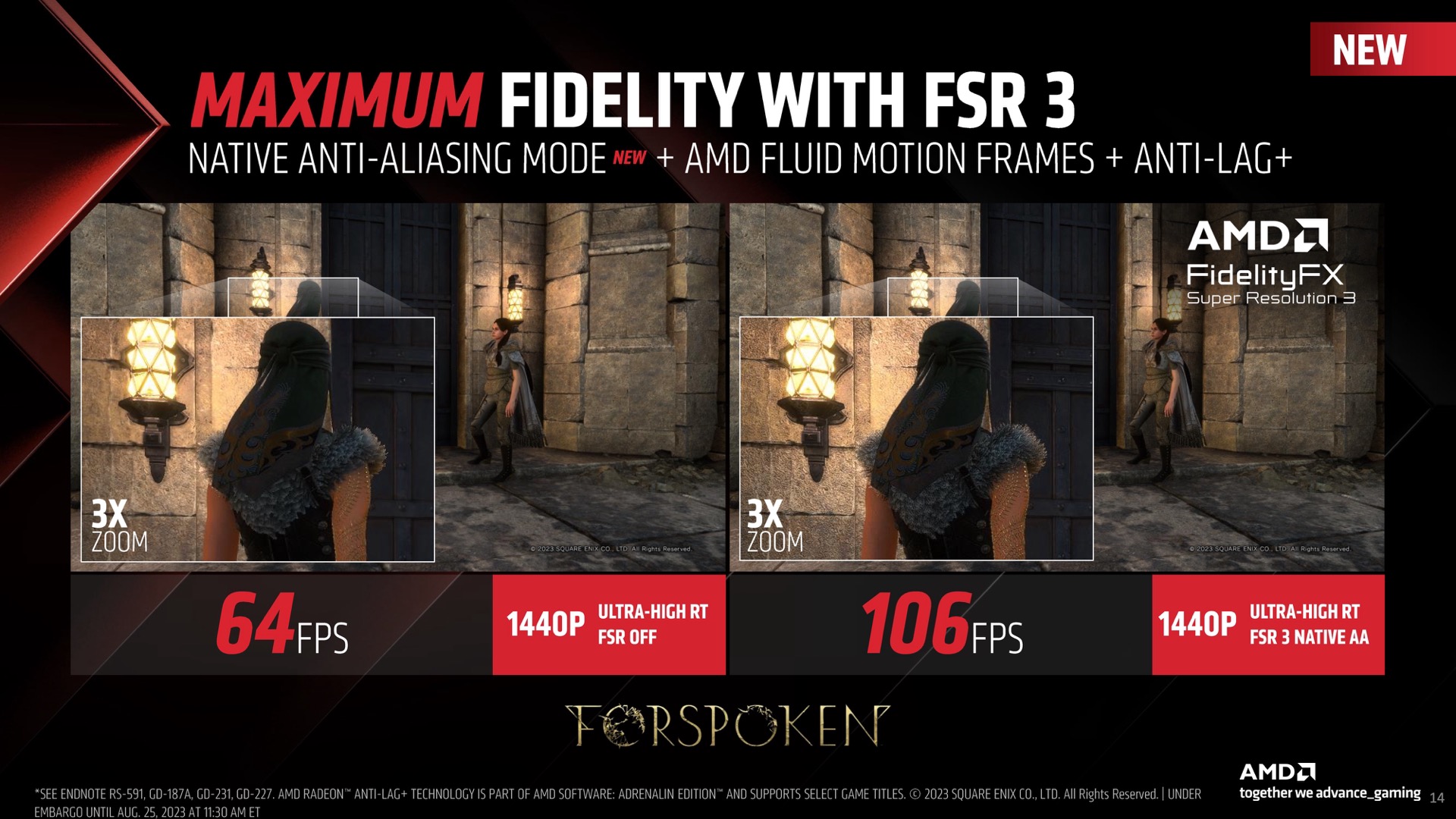 Whereas NVIDIA's DLSS 3.0 uses dedicated Tensor Cores for the generation of AI-powered frames, AMD's version uses traditional frame interpolation techniques to enhance the fluidity of the perceived image. This allows AMD to stretch the compatibility net of the FSR 3.0 technology since the frame-generation aspect does not require dedicated hardware cores to be effective.
Latency Reduction
In addition to frame generation, AMD has also improved its latency reduction algorithm for this update, further increasing the perceived responsiveness of the game. Users of AMD graphics cards can add the existing Anti-Lag technology to improve the latency even further, making the gaming experience smooth and responsive. The additional latency reduction is an added bonus with AMD FSR 3.0 that is not limited to AMD Radeon users.
Native AA
Moreover, AMD has introduced a new "Native AA" mode for anti-aliasing in AMD FSR 3.0. This mode lets you use FSR 3.0 without any upscaling technique, while still applying high-quality anti-aliasing and sharpening. In a nutshell, this technique allows you to further improve the image quality of the game without additional stress on the GPU.
How can I use AMD FSR 3.0?
The biggest advantage of the AMD FidelityFX SuperResolution 3.0 update is its wide compatibility. Since it does not require dedicated hardware cores for machine learning, it is supported across a wide range of graphics cards from different manufacturers.
For AMD, you can use the full feature set of FidelityFX SuperResolution 3.0 with upscaling and frame generation if you have an AMD Radeon RX 5700 or higher graphics card, while AMD Radeon RX 6000 series is recommended.
NVIDIA users can enjoy the full feature set of AMD FSR 3.0 on GeForce RTX 20-series and above, while the RTX 30-series is recommended by AMD.
However, the compatibility does not end there. In an unprecedented move in favor of mainstream gamers, AMD has made the compatibility net of AMD FSR 3.0 even wider to include older generations as well. You can only use the upscaling feature on these graphics cards and not the frame-generation feature, but it is still a positive move nonetheless.
For AMD, the upscaling feature of FSR 3.0 is supported on AMD RX 590 and above graphics cards.
The support extends to GeForce RTX 10-series GPUs on the NVIDIA side.
There is no official support for Intel GPUs cited by AMD, but unofficial support is expected soon after launch through a driver update.
Which Games Support AMD FSR 3.0?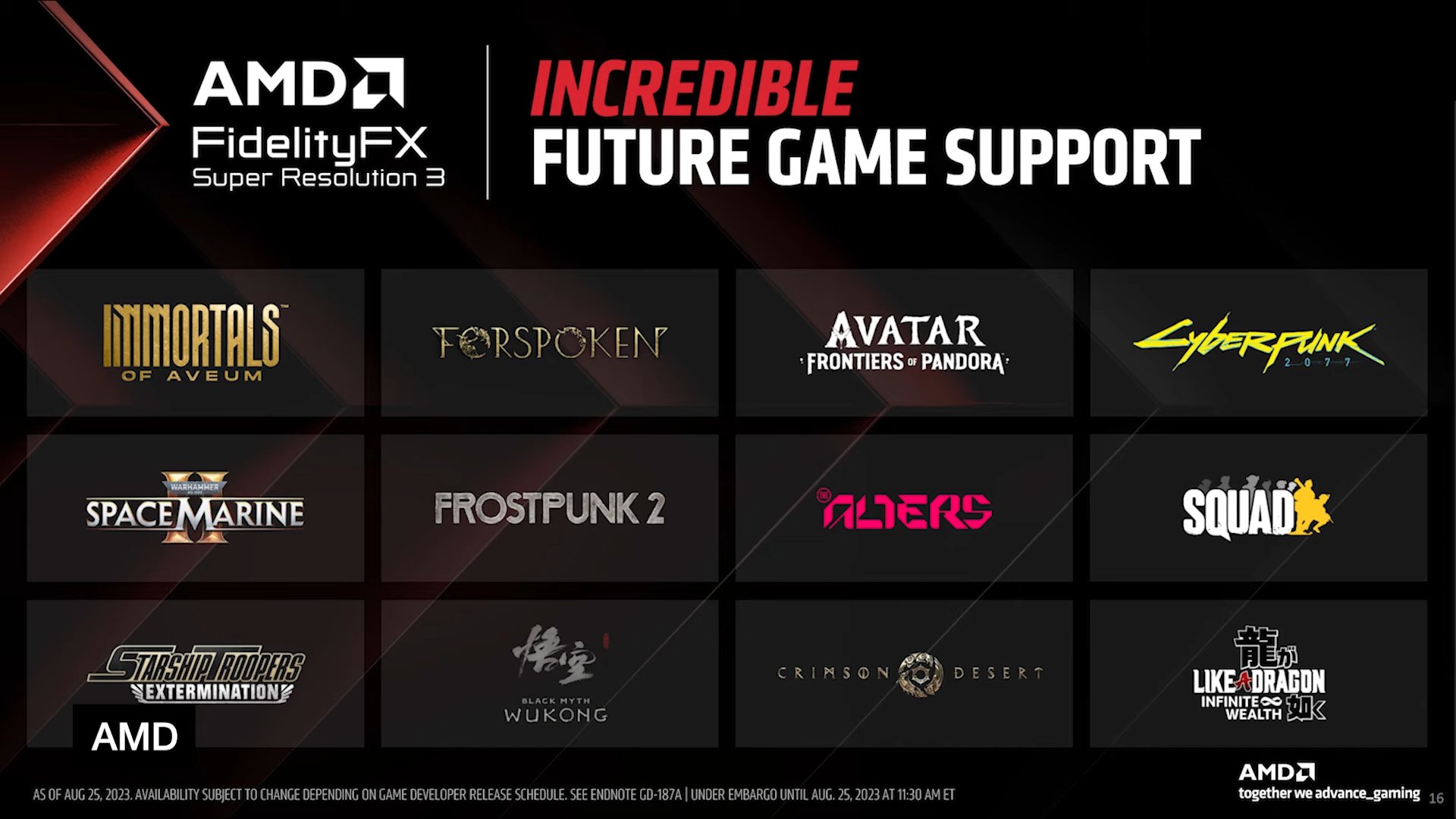 In order to experience FSR 3.0, you will need a supported game as well. As of the time of writing, the two supported FSR 3.0 titles include Forspoken and Immortals of Aveum, but the compatibility list is expected to grow quickly since AMD has added an open compatibility layer for quicker integration of FSR 3.0 in upcoming games. AMD expects to add 10 more games to the FSR 3.0 compatibility layer within the first few days of October.
Should NVIDIA be worried?
So, does the new AMD FSR 3.0 pose a threat to the dominance of NVIDIA DLSS? Well, in my opinion, the answer is YES, but with a catch.
NVIDIA's Hardware Superiority
AMD has done a fantastic job by improving the compatibility of FSR 3.0 and including older graphics cards as well as graphics cards from NVIDIA, but that can be a double-edged sword. AMD can stretch its compatibility net since it does not rely on dedicated hardware for the implementation of its upscaling technology, but that also plays in the favor of NVIDIA when it comes to pure results.
Why Does NVIDIA Limit Compatibility?
NVIDIA's use of dedicated Tensor cores and machine-learning algorithms allows it to gain an unmatched superiority when it comes to raw image quality as well as overall performance. The frame-generation technique of DLSS 3.0, powered by machine learning, is objectively superior to AMD's Fluid Motion Frames simply due to the superiority of NVIDIA's Tensor cores. However, this forces NVIDIA to limit the technology to its latest RTX 40-series GPUs, which is a controversial move to say the least.
Therefore, although NVIDIA's decision to limit the DLSS 3.0 technology to only RTX 40-series graphics cards may seem quite anti-consumer, it is still a logical decision that allows them to hold an objective superiority in terms of results over AMD's more widespread implementation of FSR. However, AMD still has an ace up its sleeve.
AMD Strikes Back
Although AMD FSR 3.0 is still in its infancy, it still holds a massive advantage over NVIDIA in terms of compatibility. Users of older graphics cards and even NVIDIA graphics cards can now leverage upscaling and frame-gen technologies, regardless of their hardware constraints. What was previously the "holy grail" of upscaling techniques limited to only a select few, is now available to mainstream gamers free of cost.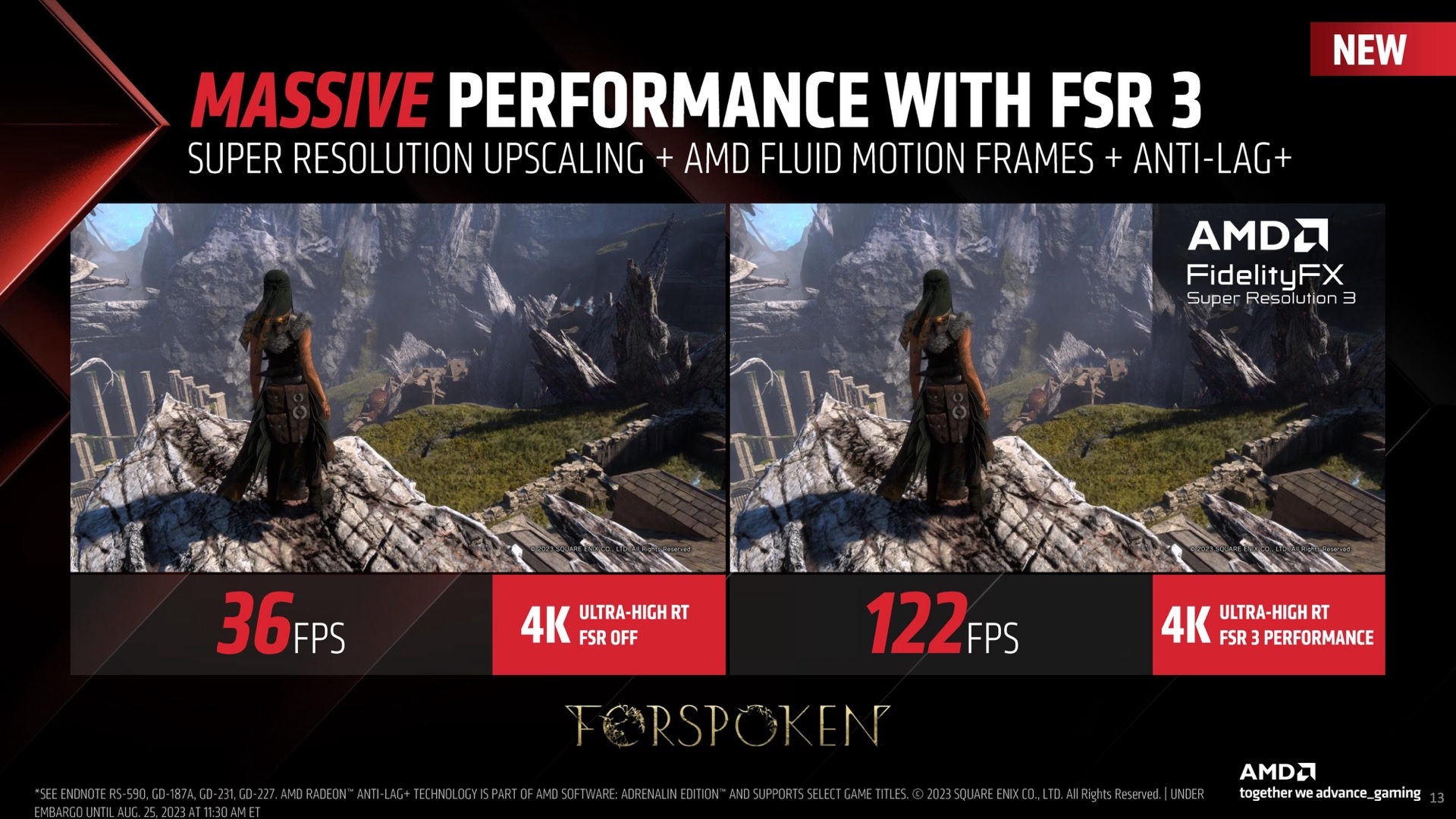 Therefore, NVIDIA should be worried about AMD improving the results of its technology. They previously had undisputed superiority in this space and could do whatever they wanted, but that is no longer the case. AMD's widespread compatibility should force NVIDIA to remove its seemingly arbitrary limitations on DLSS 3.0 and should allow users of older NVIDIA cards to experience the advantages of DLSS 3.0 without upgrading to their flagship series.
Final Words
In essence, AMD's FSR 3.0 might be mildly less impressive than NVIDIA's DLSS 3.0 as of right now, but that can change over time. When that happens, NVIDIA's narrow compatibility net will prove to be a huge drawback and may convince new buyers to switch to AMD for their next graphics card purchase.
Was our article helpful? 👨‍💻
Thank you! Please share your positive feedback. 🔋
How could we improve this post? Please Help us. 😔
[Reviews Specialist]
Usman Saleem brings 8+ years of comprehensive PC hardware expertise to the table. His journey in the tech world has involved in-depth tech analysis and insightful PC hardware reviews, perfecting over 6+ years of dedicated work. Usman's commitment to staying authentic and relevant in the field is underscored by many professional certifications, including a recent one in Google IT Support Specialization.
8+ years of specialized PC hardware coverage
6+ years of in-depth PC hardware analysis and reviews
Lead PC hardware expert across multiple tech journalism platforms
Certified in Google IT Support Specialization