Xbox and Bethesda showcase was all we could ask for. It packed everything we ever wanted from the much anticipated Kojima appearance to all the games that were rumored including Starfield, Overwatch 2 going free to play, and many others. During Microsoft's 90 minutes long demonstration, additionally more than 35 titles were also unveiled; read on to see the full list of announcements. Keep an eye out next week for the Xbox and Bethesda Games Extended Showcase, which we'll be covering as well.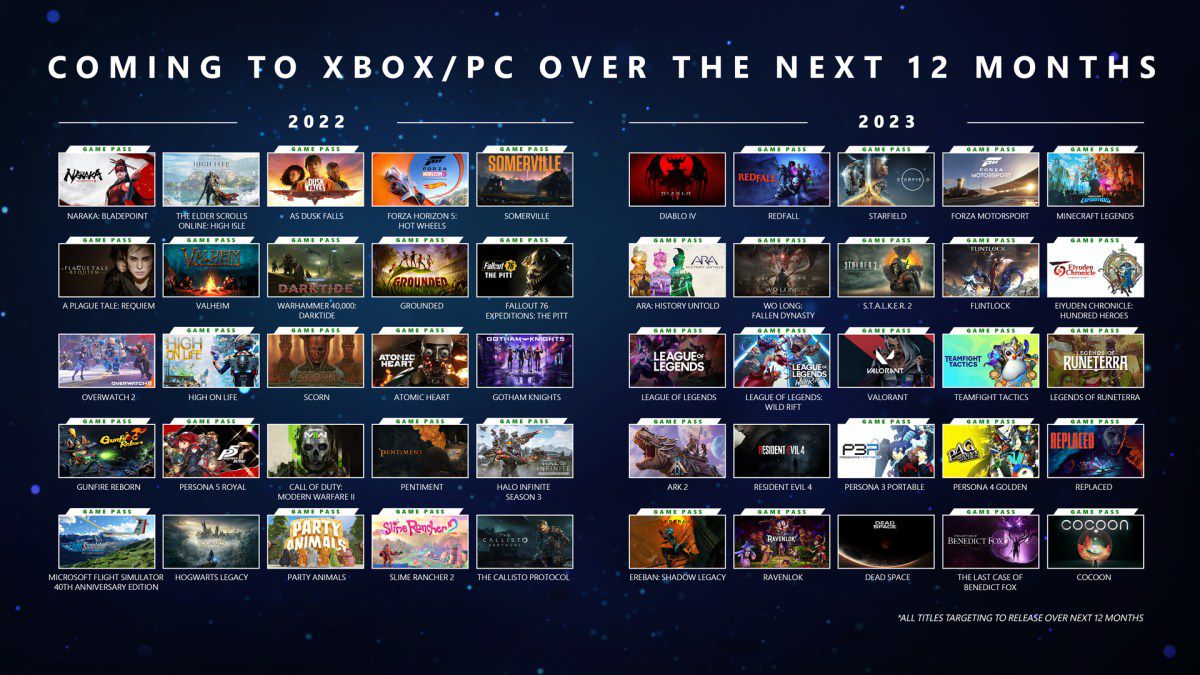 But one thing that caught everyone's eye was the plans Xbox has for its Game Pass. Already disrupting the market with its impressive inventory of great titles, Xbox and Bethesda showcase has brought us huge games that will be available on the Game pass from day 1 of their release.
Titles Launching Day 1 on Xbox Game Pass
Starfield
Starfield was the most foreseen game of the whole event. The long-awaited complete gameplay reveal for Starfield has arrived. Exploring planets, killing opponents, mining, scanning, and digital lockpicking appear to be part of the game's more grounded space adventure experience. Starfield is set for a release in 2023 and will be available on day 1 on the Xbox Game Pass.
Redfall
At the Xbox and Bethesda Showcase, Redfall made its second appearance. Layla and her telekinetic talents, as well as ghostly elevators, are featured in this gameplay clip. We also received a full tour of the island where the game would be played.
The teaser also revealed all of the characters' powers in Red Fall. Remi de la Rosa is a vampire-killing machine gun-wielding engineer with a robot partner. Devinder then shares his wide knowledge of vampires as well as macgyvered tools to trap adversaries. It will also be available on day 1 for Game Pass.
STALKER 2: Heart of Chernobyl
Stalker 2 will further add to the story of an already award-winning first game. The game will feature beautiful cut scenes and underground labs. The game will also feature an open world which people can explore. Here is your first look at the game and it will be a day launch on Xbox game pass.
Hollow Knight: Silksong
At the Xbox and Bethesda Showcase, Hollow Knight Silksong was confirmed as a day one Xbox Game Pass release. The sequel to Hollow Knight follows Hornet, a new main character who explores a faraway realm from the first game. More of the game's furious action and Metrovania-styled exploring were seen in the clip.
Ark 2
Ark 2 has gotten a new reveal video, and it's now set to arrive next year in 2023, a year later than last year's revelation date of 2022. It was also revealed that it will be available on Game Pass on Day One. It will be a sequel to the original game launched in 2015 and will continue will the survival genre but in an older Jurassic era setting.
Scorn
Scorn's very visual and wet gameplay was shown off in a first peek trailer. Every surface and figure in the H.R. Giger-inspired universe is formed of bleeding skin, organs, and bones, with lots of squishy gore. The first teaser of the game came out 5 years ago but only now have we gotten our new look and gameplay reveal. Scorn will be released on October 21, 2022, and will be accessible on Game Pass on Day One.
Lightyear Frontier
Lightyear Frontier is a mech exploration and farming game with a large mechanical suit, similar to Stardew Valley. It's a non-violent and light-hearted game in which you explore faraway worlds and construct farms on them. Cooperative play with up to three people is also available in the game. It'll be available on Game Pass as a Day One title in Spring 2023.
As Dusk Falls
As dusk falls is the first game from a newer studio INTERIOR/NIGHT. It will include rotoscoped visuals and will be an interactive drama that may be played by up to eight people. The game looks close to Life is Strange 1 and 2. It will be available on Xbox Game Pass Day One on July 19th.
Wo Long Fallen Destiny
Team Ninja's next game, Wo Long: Fallen Dynasty, is set during the Chinese Three Kingdoms period. The reveal trailer suggests that the game will incorporate historical and mystical aspects, as well as mythological animals such as dragons. It comes out in early 2023, and Xbox Game Pass has confirmed that it will be available on Day One.
Other important names include Hello Neighbour 2, Warhammer 40,000, Ereban Shadow Legacy, and fewer other titles. They all will be available on Game Pass from day 1 of their release
Other Games Pass Reveals at Xbox and Bethesda Showcase
Along with the games launching on day 1 on Game Pass, some other major announcements have been made too. Riot Games' most popular titles are coming to Xbox Game Pass soon, according to Microsoft. League of Legends, League of Legends: Wild Rift, Valorant, Legends of Runterra, and Teamfight Tactics are among the games that will be added to the service. While these titles are theoretically free to play, locked agents, cards, and champions will be available as free purchases on Xbox Game Pass when they arrive.
The much-anticipated appearance of Hideo Kojima along with the announcement of his unannounced project for Xbox (Project Overdose) was revealed. All in all the event was a success with great title reveals for both Xbox and PC gamers.
Did all of your titles got announced at the Xbox and Bethesda showcase and what game are you most looking forward to? Let us know your thoughts.
More exciting news: Diablo 4 Might Completely Skip The Last-Gen Consoles
Was our article helpful? 👨‍💻
Thank you! Please share your positive feedback. 🔋
How could we improve this post? Please Help us. 😔