Horror games have been a prominent part of the industry for several decades. Games like the Resident Evil franchise have helped to popularize the genre, and recent years have seen a resurgence for horror video games.
Games like Callisto Protocol and Dead Space Remake are leading the anticipation for future horror games, but the newest entry in the genre comes in the form of Scorn. The game seeks to combine a grotesque atmosphere with puzzle-based exploration and combat elements for a unique entry in the genre.
The review embargo for Scorn has now been lifted, and significant outlets have published their scores for the new release. Despite the anticipation, Scorn appears to be a very divisive release, showing mixed reactions from the critics.
The review scores can be very different between the various media sites. A few examples can be seen below.
IGN – 7/10
Twinfinite – 8/10
Gamespot – 4/10
VGC – 4/10
Stevivor – 6.5/10
Windows Central – 3.5/5
This diverse nature seems to be a common theme across most reviews. Despite plenty of bad scores, the game has managed to maintain a solid average of 72 on Metacritic. This score will also likely change as more reviews are released, but Scorn has done well on Metacritic.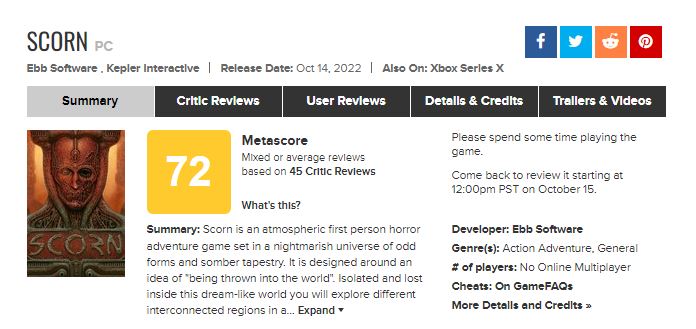 The game has been mainly praised for its atmosphere and visuals. Scorn sets out to capture a disgusting biomechanical setting filled with gore and horror. Exploration is at the center of the game, allowing players to immerse themselves in the unsettling world of Scorn.
Puzzle solving and first-person shooting combat help to add some variety to Scorn's gameplay loop. Reviews claim that puzzles range from exciting and well-designed to mundane and generic.
Scorn's checkpoint system has also drawn some criticism. The game does not allow manual saving and utilizes a single save point at any moment. This led to frustration when reviewers encountered bugs that would not allow them to progress further without restarting a level.
While the reviews might not be the most encouraging, the general public has not given their verdict on Scorn. The game is almost out, but it remains to be seen if general audiences will take a liking to the disturbing world of Scorn.
Scorn is officially set to release on October 14, 2022. The game is headed to PC and Xbox Series S|X consoles. Scorn is also available on Xbox Game Pass as a day-one release.
Check Out More News: No More Heroes 3: PC Version Is A Direct Switch Port
Was our article helpful? 👨‍💻
Thank you! Please share your positive feedback. 🔋
How could we improve this post? Please Help us. 😔