Since the launch of AMD Ryzen 9 7950X3D and Ryzen 9 7900X3D, everyone is now keeping their eyes on the most anticipated 8-core Ryzen 7 processor from the 3D V-Cache lineup will be released on 6th April 2023.
To further hype its launch, AMD has officially shared AMD Ryzen 7 7800X3D benchmarks, showcasing impressive gaming performance by offering over 13-24% better performance than the Core-i9 13900K. However, these are only a few benchmarks from the official Red camp, so it's still early to conclude.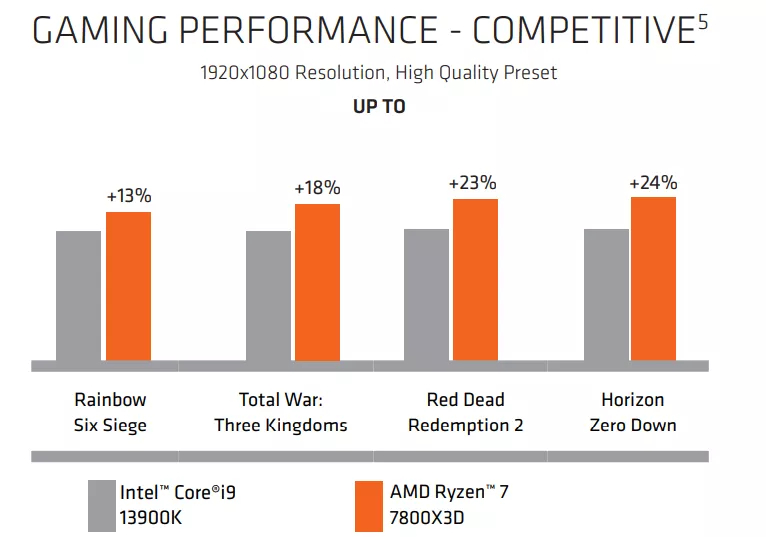 According to the official benchmarks, AMD Ryzen 7800X3D is, on average, 20% faster than the Core-19 13900k in competitive games.
The Ryzen 7 7800X3D gets a 24% boost in Horizon Zero Dawn, a 23% margin in Red Dead Redemption 2, an 18% gain in Total War: Three Kingdoms, and a 13% better performance in Rainbow Six Siege.
So it will likely be the best processor for gaming, not just performance-wise but power-wise, an area Intel just hasn't improved, but it has gotten worse.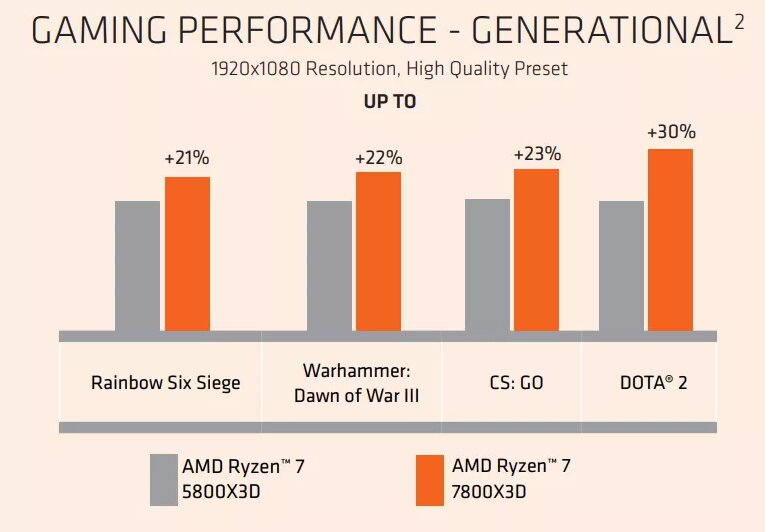 AMD benchmarks show that the 8-core Ryzen with the Zen4 architecture 3D V-Cache would be 21% to 30% faster than the previous-generation Zen3 CPU with the 3D V-Cache (5800X3D). That is an improvement of 24% on average.
The $449 8-core/16-thread Ryzen 7 7800X3D will be more powerful than the $699 16-core/32-thread Ryzen 9 7950X3D because the former has a single chiplet and will work more like a traditional CPU (some benchmark simulations had already shown it).
In contrast, the Ryzen 9 7900X3D and Ryzen 9 7950X3D, which feature multiple 3D V-Cache technology chiplet for the first time, require special handling via AMD drivers to ensure the best possible performance.
According to AMD-provided benchmarks, the 7800X3D would run within the 5% performance range compared to the Ryzen 9 7950X3D while costing $250 less. Moreover, this 8-core CPU will cost $130 less than the Core i9-13900K if we look at MSRP.
What are your thoughts on the official benchmarks of the Ryzen 7 7800X3D? Share your thoughts in the comment section below.
Was our article helpful? 👨‍💻
Thank you! Please share your positive feedback. 🔋
How could we improve this post? Please Help us. 😔