Nvidia Ray Tracing is available in three generation cards: the RTX 20-series, 30-series, and 40-series. Today, Nvidia has shared a quick statistic that shows that no matter what reviewers and posts showcase, gamers are actively using its Ray Tracing and DLSS features in far more numbers than expected.
With the launch of Ray Tracing in the GeForce RTX 20 series, Nvidia revealed that the technology necessary for ray tracing had been studied and perfected for 10 years. The work resulted in a hybrid graphic pipeline where new cores (RT Cores) would follow the BVH route not to take over the Shaders and offer real-time Ray Tracing in games.
At the same time, Tensor Cores arrived to offer Super Sampling and scale image quality with AI, allowing to recover part of the performance lost with RT. Well, 5 years later, we have the first results from the company.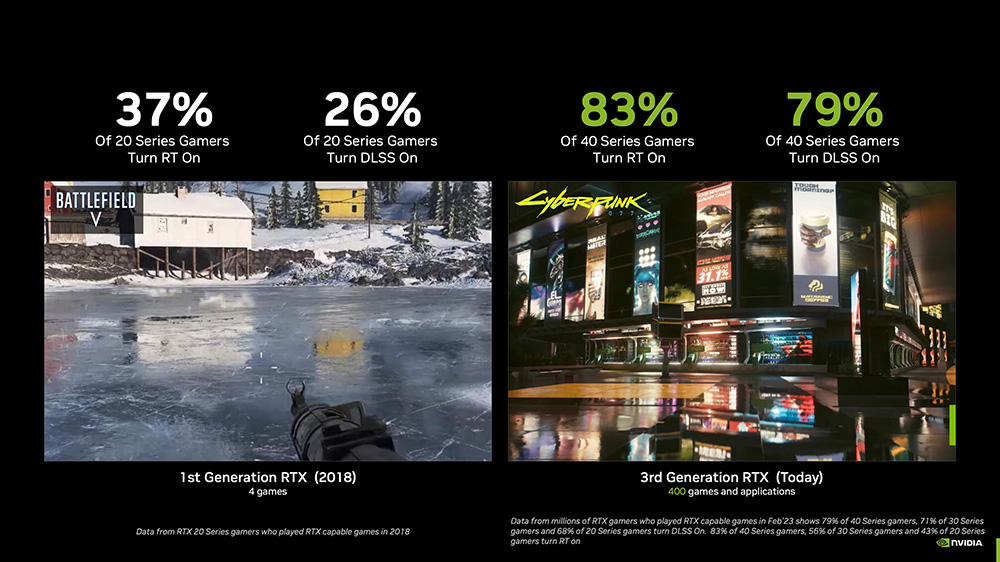 Although the numbers are straightforward, they will bring a lot of tail since many players are pretty annoyed with these technologies, even more so with the current RTX 40 series. The statistics are simple, the percentage of players who activate Ray Tracing and then the percentage of those who start DLSS, leaving below numbers:
RTX 20 -> 37% and 26%
RTX 30 -> 56% and 71%
RTX 40 -> 83% and 79%
And how exactly did they get these numbers? Considering that it is a greater or lesser degree bias, these have been achieved through GeForce Experience.
As we descend in the generations of GPUs, the technology is not very convincing, and that is that the graphic power is not enough to justify the use of Ray Tracing and less of DLSS, which has caused a lot of discomfort among the community, especially when the principle of its use.
There is also a disparity between RT and DLSS depending on the generation. Those with RTX 20 take precedence over the second due to the performance above and graphic quality problems.
On the other hand, those who have RTX 30 do the opposite because they prefer DLSS 2 to Ray Tracing, while those who have installed RTX 40 series graphics cards into their PCs have a very balanced use of both and a higher percentage.
Some reason for these strange statistics have been the timing of the collection. For example, the data for the RTX 20 was collected between 2018 and 2019. Therefore, according to the latest games, the most reliable are those of Ada Lovelace cards.
In addition, they do not specify the average usage time; a user can turn on RT or DLSS to try and then not continue using it for a long time or in that particular game, while others do.
The statistics do not provide these biases. We hope that NVIDIA will show these results for RT and DLSS in future reviews. What are your thoughts on this new data from Nvidia? Are you using DLSS or Ray Tracing feature in games?
Was our article helpful? 👨‍💻
Thank you! Please share your positive feedback. 🔋
How could we improve this post? Please Help us. 😔