Nvidia planned to start the year 2022 with a bang by introducing RTX 3050, targeted at budgeted gamers who want the best performance for their buck. Still, the newest RTX 3050(GigaByte) was listed for 492 Euros in Lithuania by a Lithuanian retailer at Kilobaitas, which is significantly higher than the price recommended by Nvidia, which was 279 Euros.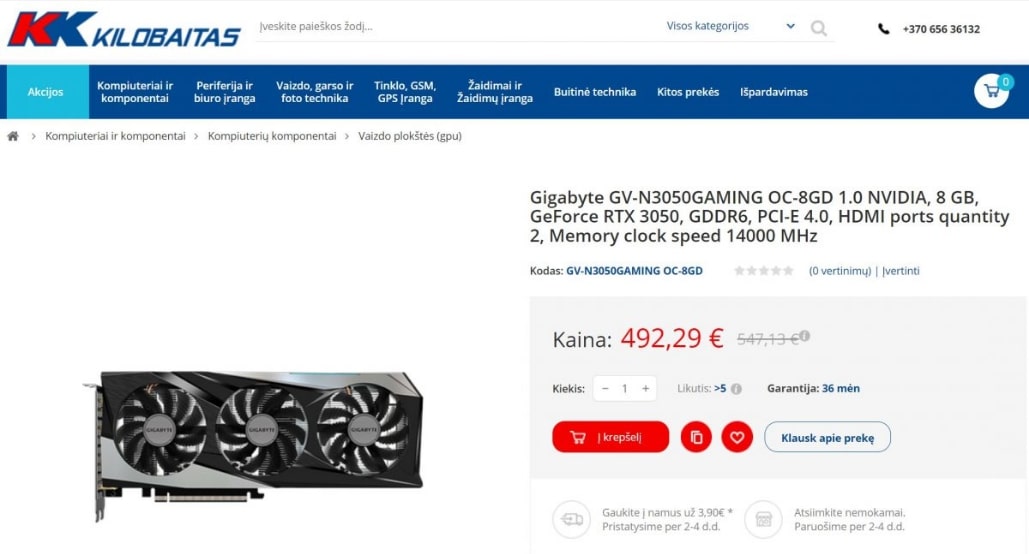 The year keeps getting worse for gamers as the new pricing listing is not a good deal for a card like RTX 3050, which is often compared with GTX 1660 Ti with minor upgrades like DLSS and Raytracing features keeping its head over the water. The original RTX 3060-Ti was initially listed as $399 (US Dollar) for the founder's Edition, which is comparatively a lot better than RTX 3050, even if people could hardly find one in stock. The only good news that seems to be around is that the supply of RTX 3050 is supposedly good.
EVGA RTX 3050 Benchmarks
Nvidia announced that the RTX 3050 would be released in January, while the reviews would be posted a day before the actual release to give consumers better insights into its performance in real-time.
However, it seems that somebody dropped the ball on that deal and leaked the benchmark for EVGA RTX 3050 XC Black a day earlier than the actual decided day. The original author at MMORPG has already removed the benchmarks; it is already late as the internet was a bit too fast once again.
So, the leaks suggest the card that the author at MMORPG received and reviewed had a higher boost clock than the retail units: (1846 MHz vs 1777 MHz). Furthermore, Nvidia also provided wrong information in the Reviewers Guide stating that the RTX 3050 has 30 Streaming Multiprocessors while the actual card has 20 Streaming Multiprocessors and 2560 CUDA cores.
RTX 3050 was compared with various cards in the review, such as the Radeon RX 6600 XT, RX 6600, RX 5700XT, and GeForce RTX 3060 Ti. Still, there was no sign of GTX 1660 Ti which was shocking as the 3050 has always been compared to GTX 1660 Ti before this review, and both nearly had the same performance, according to the leaked 3Dmark scores from Videocardz.
MMORPG used quite a high-end PC setup which featured a 10th Gen Core CPU (10700K) and 32GB of DDR4-3200 memory, and Gaming tests included 1440p and 1080p resolution for testing the EVGA RTX 3050 card with FSR-enabled settings. The following test results show the performance of RTX 3050 in High or Maximum graphic quality settings.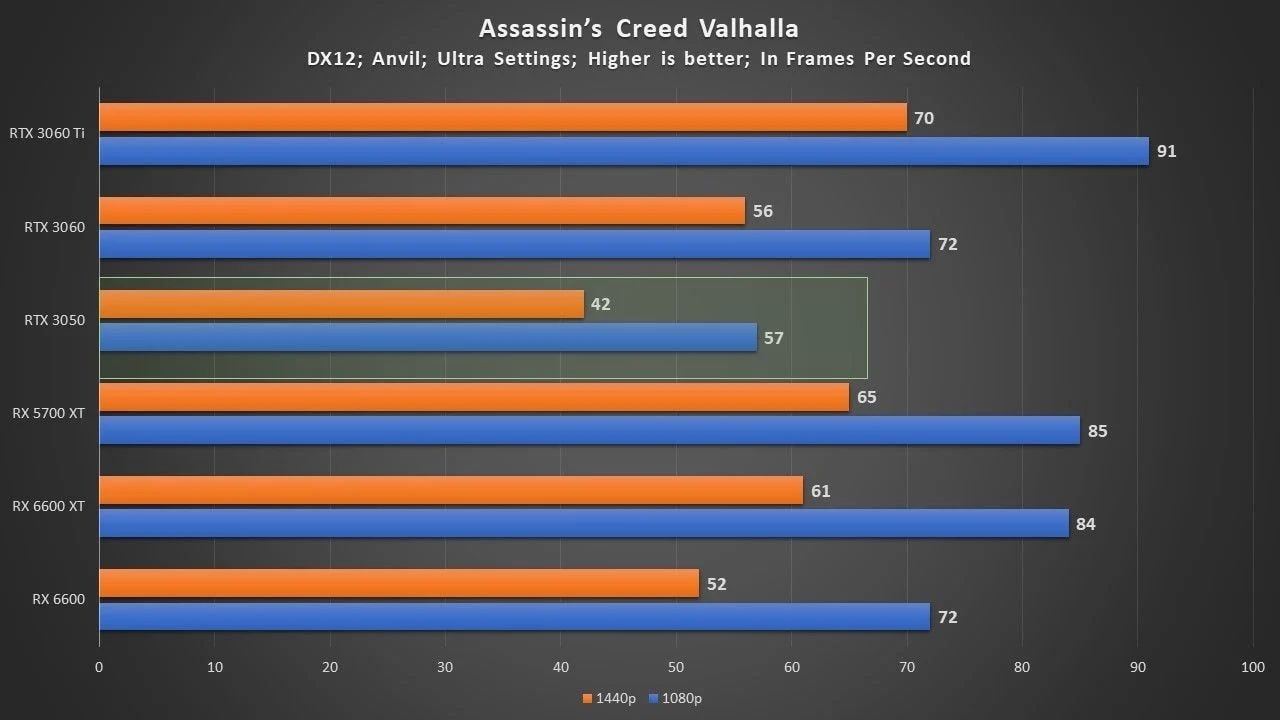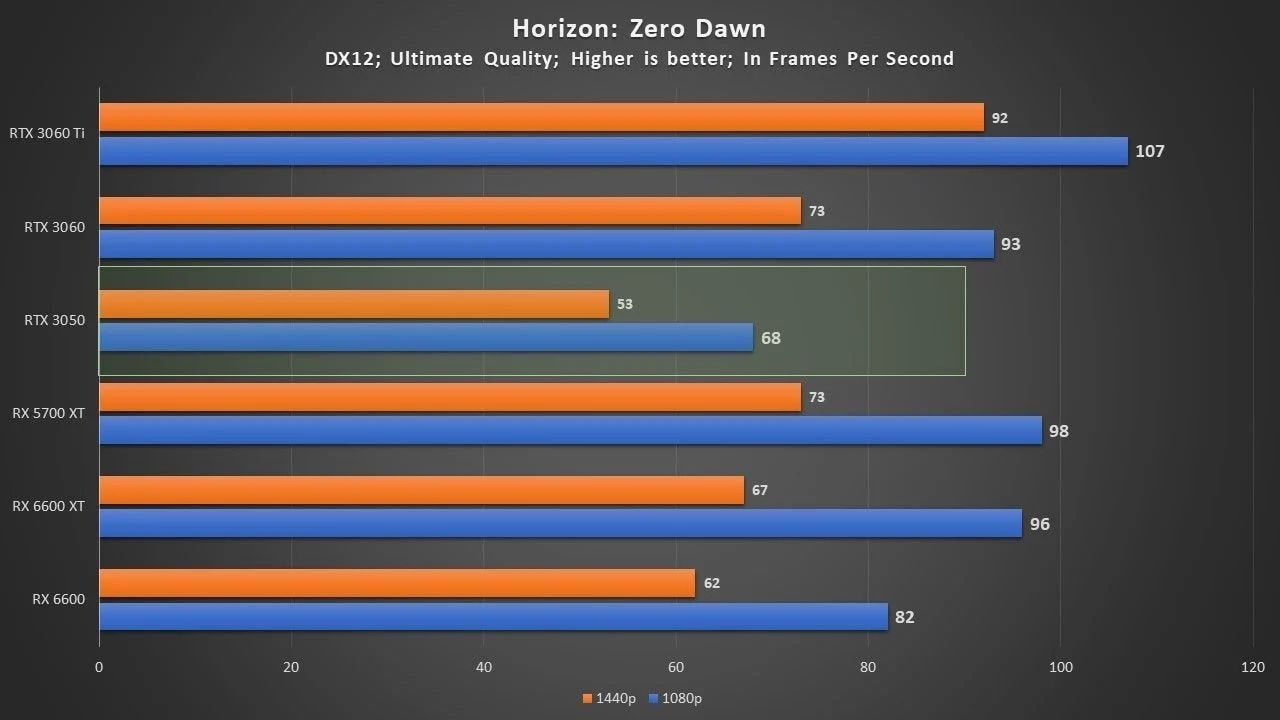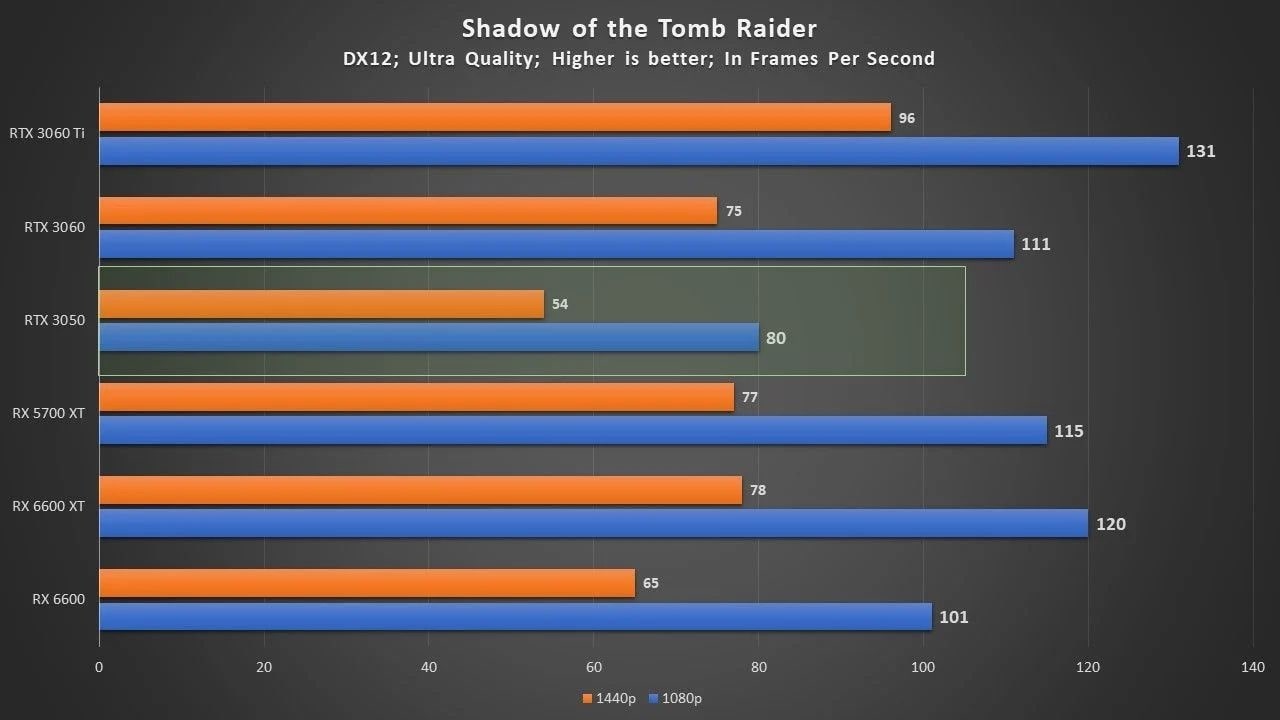 To conclude, the original author suggested that the RTX 3050 is not best for Raytracing. The only upper hand it has is DLSS performance, which has significantly boosted game performance.
Related: Nvidia Increases RTX Series Prices
Was our article helpful? 👨‍💻
Thank you! Please share your positive feedback. 🔋
How could we improve this post? Please Help us. 😔