Gender salary discrimination is widespread throughout the world. Unfortunately, the gaming industry suffers from the same affair as reported by many female developers. The working conditions for various game studios have often been in question. Earlier this year, Blizzard Entertainment and some other huge studios were accused of toxic working conditions for their employees.
Rockstar Games has also been through a similar fate during the development of Red Dead Redemption. Employees called Rockstar out for making them work overtime and not paying accordingly. This happened again during the development of Red Dead Redemption 2. The co-founder of Rockstar, Dan Houser, himself said that they have been working 100 hours a week. This created an uproar which led to Dan rephrasing his statement that this was only for a few weeks and only the writing team was involved. A former employee stated that he talked to his friend currently working in Rockstar studios, and he remarked that although the environment has improved, it is far from perfect.
But the biggest working problem that persists is the gender wage difference. As per a survey by Skillsearch, the usual pay difference in other industries compared between males and females is around 19%. At the same time, it is considerably higher in the gaming and interactive sectors at about 26%.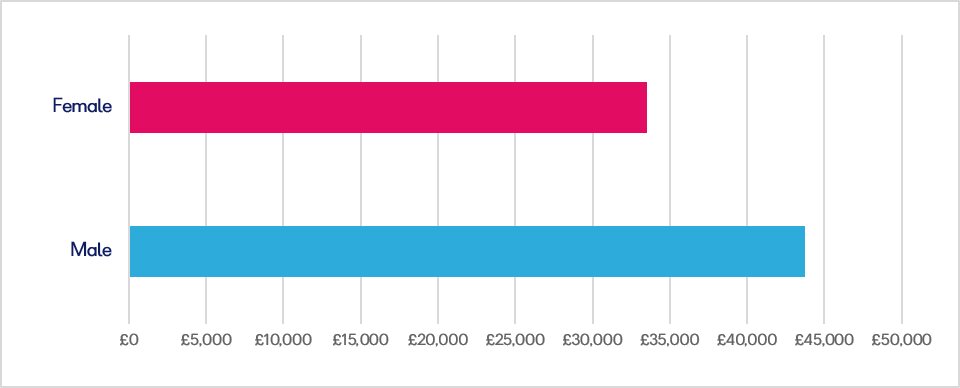 This graph shows the difference between the earnings of male and female employees over one year. This, however, could be different for other studios working in various parts of the world.
However, The British Government has been quite aware of the situation, and they have been pushing toward equal salaries for men and women. Any firm with more than 250 employees is expected to submit a report on gender breakdowns within its structure as part of a British government drive for equality in the workplace. This contains a wide range of data, including wage amounts and percentages of men and women in four different income groups.
Rockstar Games have been the first to acknowledge this change, and despite their history, this seems to be a positive step. Resultantly, Rockstar Studio's vice president, Jennifer Kolbe, has officially announced through a report that they are gearing toward improvement regarding the gender salaries gaps.
Rockstar's Vice President, Jennifer Kolbe has released its official gender pay gap report for 2021 for its employees, highlighting various improvements made to the company.

While there is still room for improvements for Rockstar, it's looking better. https://t.co/YDnE0qs6GE pic.twitter.com/fauTbUhJr1

— Ben (@videotech_) April 5, 2022
An entire statement has been released that shows the betterments and the reduced differences in the salaries using statistics. The statement also clarifies how the studio provides a comfortable working space and various family friendly packages. It also states that the company promotes diversity and equality among it's employees. According to an official statement by Rockstar Games:
'For this past year, female headcount rose 15% as compared to a 12% increase in total headcount. However, as we bring more women into the company – not all of whom will be in senior positions – the gender pay gap will still see fluctuations year-to-year as it takes time for those women to rise through the company's ranks.
Though things are not as good as they should be, this promises to be a step towards betterment and could lead to improved plans. Lastly, Rockstar has revealed the male dominance in their working environment themselves, which you can read with the document attached to the tweet.
You Might Like: Days Gone Scriptwriter Responds to Haters; Challenges To Do Something Better
Was our article helpful? 👨‍💻
Thank you! Please share your positive feedback. 🔋
How could we improve this post? Please Help us. 😔
[News Reporter]
Avinash is currently pursuing a Business degree in Australia. For more than three years, he has been working as a gaming journalist, utilizing his writing skills and love for gaming to report on the latest updates in the industry. Avinash loves to play action games like Devil May Cry and has also been mentioned on highly regarded websites, such as IGN, GamesRadar, GameRant, Dualshockers, CBR, and Gamespot.