Best Gaming Headset?
Review Summary
The Razer BlackShark V2 Pro stands out as a premier option for wireless PC gaming headsets. Despite slightly diminished isolation compared to its wired counterpart, its enhanced microphone, extended battery life, versatile 10-band EQ, and exceptional wireless capabilities make the added cost worthwhile. With top-tier features like refined audio, customization options, and impressive wireless performance, the BlackShark V2 Pro is a top-notch choice for gamers seeking an elevated audio experience.
Build Quality -

8/10

Comfort -

8.5/10

Design -

8.5/10

Performance -

9/10

Value -

8/10

Software Compatibility -

8/10
Pros
Improved Microphone
Comfortable Design
Long Battery Life
Directional Audio
Immersive Gaming Audio
Cons
Micro-USB Charging
Limited Isolation
Niche Sound Profiles
Leakage
In the constantly evolving world of gaming peripherals, few names carry as much weight and respect as Razer. Known for pushing the boundaries of innovation, Razer has amassed a dedicated following of gamers seeking top-tier experiences. The Razer BlackShark V2 Pro is a beacon of wireless gaming prowess in its extensive lineup. Designed to cater to competitive and immersive gaming demands, this headset promises to redefine audio excellence and deliver an unparalleled experience to gamers.
Unlike Razer's signature exuberance, the BlackShark V2 Pro adopts a more understated aesthetic, emphasizing performance-driven design. The headset is all about substance, focusing on delivering top-notch sound quality, day-long comfort, and a range of advanced features that cater to discerning gamers. Hence, my review provides an in-depth exploration of the BlackShark V2 Pro's multifaceted attributes. I examined every facet of the headset, from its ergonomic design and build quality to the intricacies of its audio performance.

Why you can trust Tech4Gamers:

We understand the importance of making informed decisions. That's why our team spends significant time testing every product we review.

Find out more about how we test.
In-depth review of the Razer BlackShark V2 Pro featuring Design, Comfort, Build Quality, Control Scheme, Performance, & Synapse Settings.
I also delved into the BlackShark V2 Pro's software ecosystem. As expected, Razer's famed Synapse software accompanies this headset, providing users with a spectrum of customization options that extend well beyond basic audio tuning. With THX virtual surround sound, equalization controls, and even presets designed in collaboration with esports professionals, the software empowers users to tailor their audio experience to their unique preferences.
As I navigate the nuances of its audio output, microphone capabilities, wireless connectivity, and battery life, I provide a comprehensive understanding of the BlackShark V2 Pro's strengths and potential shortcomings. Whether you're a competitive gamer chasing victory or an audiophile seeking immersive soundscapes, join me as I uncover the nuances that make the Razer BlackShark V2 Pro a compelling contender in wireless gaming headsets. It's time to find out how well Razer's departure from its typical trajectory handles the duty for which it was designed and the many other audio chores that PC enthusiasts will throw at it.
---
Key Takeaways
The Razer BlackShark V2 Pro stands at the forefront of wireless gaming headsets, offering performance and comfort. Its improved microphone enhances in-game communication, and Razer Synapse software allows for precise customization.
The things I have liked about the Razer Blackshark V2 Pro are its Specialized Gaming Performance, Immersive Sound Quality, High-Quality Microphone, Comfortable Design, Impressive Battery Life, Compatibility and Connectivity, Pro-Level Features, and Enhanced Directional Audio.
I have not liked the Razer Blackshark V2 Pro's Subpar Music Performance, Isolation Reduction, No Bluetooth Connectivity, Slightly Pricey, and Limited Noise Isolation.
The Razer BlackShark V2 Pro headset is perfect for avid gamers and competitive enthusiasts who prioritize immersive gameplay and precise audio cues. Designed specifically focused on first-person shooters and e-sports, this headset delivers directional audio.
---
Specifications
FREQUENCY RESPONSE
12 Hz – 28 kHz
IMPEDANCE
32 Ω
SENSITIVITY
100 dBSPL / mW @ 1 kHz by HATS
DRIVER SPECIFICATIONS
50 mm
DRIVER TYPE
Razer™ TriForce Titanium
EARCUPS
Oval Ear Cushions
INNER EARCUP DIAMETER
62 mm x 42 mm / 2.44 x 1.65 in
EARPADS MATERIAL
Pressure-Relieving Memory Foam
NOISE CANCELLING
Advanced Passive Noise Isolation
CONNECTION TYPE
Type A Wireless (2.4 GHz), Bluetooth 5.2
CABLE LENGTH
None
APPROXIMATE WEIGHT
Approx. 320 g / 0.71 lbs
MICROPHONE STYLE
Detachable Super Wideband
PICK-UP PATTERN
Unidirectional
MICROPHONE FREQUENCY RESPONSE
100 Hz – 10 kHz
MICROPHONE SENSITIVITY (@1KHZ)
-42 ± 3 dBV / PA, 1 kHz
VIRTUAL SURROUND ENCODING
THX Spatial Audio
OTHER CONTROLS

2.4 GHz Wireless and Bluetooth Toggle (SmartSwitch)
Volume up and down
Mic mute on/off toggle
Audio profiles switcher

BATTERY LIFE
Up to 24 hours
LIGHTING
None
COMPATIBILITY

PC (Type A 2.4 GHz, Bluetooth 5.2)
PlayStation (Type A 2.4 GHz)
First Impressions
Regarding gaming headphones, Razer has one of the most extensive libraries of any peripheral manufacturer. For several years, the design for these headphones has tended toward big, round earcups with mesh covering. On the contrary, Razer has recently abandoned this design in favor of form with lessened, oval earcups. Notably, the Blackshark V2 Pro sits at the pinnacle of this new generation of headphones. Consequently, this wireless gaming audio solution aims to provide high-quality sound, a detachable microphone, and all-day comfort in a surprisingly subdued design—at least for a company like Razer.
It's common knowledge that Razer creates a little showy and over-the-top products. The company cares so much about your Twitch streams that even the PC headsets are lit with RGB lights. Conversely, the BlackShark series is the opposite of this approach, with a sole focus on e-sports performance, a wide range of top-tier features, and a complete absence of embellishments. As a result, there is no noise cancellation, haptics, or RGB lighting. In the same vein is Razer's new BlackShark V2 Pro.
The previous entry in the lineup, the BlackShark V2 gaming headset, manufactured by Razer, was among the best options available for $99. Now, Razer has returned with an improved wireless version. Regarding functionality, the Razer BlackShark V2 Pro is identical to its predecessor. However, it now features wireless audio connectivity with your preferred gaming platform. As a result, this headset is ideal for players who want a high-quality audio experience while gaming but can't have a wire interfering.
Moreover, whether it's the gaming-specific sound settings, the new high-quality microphone, or the lightweight, durable build, the Razer BlackShark V2 Pro prioritizes function above appearance. It's an excellent refresh of a winning formula, and although it doesn't come cheap, it represents fantastic value when stacked up against competitors. Therefore, compared to the original BlackShark, the BlackShark V2 Pro is a significant improvement.
Ultimately, this headset can be a great investment for anybody hoping to improve their current audio setting for online competitive gaming while hanging out with friends on Discord. Furthermore, it works with PCs, Nintendo Switches, Xbox Ones, PS4s, and PS5s. On the downside, the included bag with the Razer BlackShark V2 Pro is a major letdown because the cloth it's made of is flimsy and inexpensive. To some extent, it might prevent minor scratches on the headphones.
Design
In terms of overall design, the Razer BlackShark V2 Pro presents a balanced fusion of form and functionality. It retains the sleek oval ear cup design introduced with the Razer BlackShark V2, providing a modern and comfortable fit that conforms well to the contours of the ears. While not the most premium material, black plastic construction contributes to a lightweight feel while maintaining durability. One notable aspect is the attention to practicality without sacrificing aesthetics.
The wireframe hinges ensure flexibility and sturdiness, adapting to different head shapes and sizes. In addition, the generously cushioned headband is a comfort-focused feature and enhances the headset's visual appeal. Moreover, the unidirectional cardioid microphone is a standout component, addressing the need for clear communication in gaming scenarios. Its removable nature adds versatility, accommodating those moments when a low-profile look is preferred.
The thoughtful integration of features like the pop filter and flexible arm showcases Razer's commitment to enhancing usability. Razer's restraint in incorporating flashy elements is evident in the subtle branding and absence of excessive lighting. The glossy black Razer logo serves as a tasteful embellishment against the matte backdrop of the headphones, lending a touch of sophistication. It's a design philosophy that caters to gamers who appreciate a refined aesthetic and those seeking a headset suitable for various settings.
However, it's worth noting that the lack of folding or swiveling mechanisms might hinder portability for some users. The elevated profile when the boom microphone is in use could be a consideration for storage and transport. Nonetheless, the removable boom microphone alleviates this concern to some extent. In conclusion, the Razer BlackShark V2 Pro's design embodies a harmonious blend of comfort, functionality, and visual appeal. It caters to the demands of serious gamers and professionals alike, striking a balance that extends beyond gaming scenarios to accommodate diverse usage contexts.
Comfort
When I initially paired and used the BlackShark V2 Pro, I was pleasantly delighted by how comfortable the earcups were. The battery makes the headset a little heavier, but it's still light enough to be worn comfortably for long gaming sessions. Razer's BlackShark V2 Pro is rock solid. With its memory foam ear cushions covered in cloth covering and mesh fabric instead of leather, this headset is very welcoming to put on. As a result, they have soft, comfy cotton cushioning, and they don't clamp down too hard on your head.
Razer's usage of memory foam and its unique Flowknit fabric on the headband and earcups further contribute to its durability and comfort. Surprisingly, this was one of the most comfortable combinations of cloth and cushioning I've ever used. Unlike leather earcups, this one didn't become hot or irritate my ears like other fabric cushions I've used. Moreover, the ear cups have a good range of adjustment, which can be quite a game changer if your head is bigger than average people like me.
Strikingly, they stay put on your head, making them great for playing video games in the comfort of your own home. You shouldn't use them while exercising since they could come off your head if you move about a lot. I had long-term worries about the BlackShark V2, and it seems to have begun from the same position as it is due to the wireframe hinges feeling very loose. Having said that, the closed-back ear cups and substantial foam in the Blackshark V2 Pro still provide passive noise isolation.
While the Flowknit fabric may not give quite the same level of soundproofing as leather or leatherette coverings, the little bit of enhanced airflow and comfort it does provide more than makes up for it. Breathability is adequate with the Razer BlackShark V2 Pro because wearing them while gaming probably won't cause any major discomfort. Using them while working out or for any other outdoor activity may cause your ears to sweat out.
Considering the inability to replace the ear cups, it's wise to exercise caution when contemplating usage in significantly loud environments. On the whole, using the BlackShark V2 Pro remains refreshingly straightforward. The headphones' hinges exhibit a commendable range of motion, requiring minimal adjustment effort. As a result, this quality ensures a seamless fit for various head sizes, eliminating potential complications.
Build Quality
It's important to examine the Razer Blackshark V2 Pro's design and construction in detail because of its unusual aesthetic. It is mostly built of plastic, with metal yokes and hinges, cloth-lined ear cups, and a genuine leather and cloth-lined headband for comfort. Metal construction is often considered superior, but the Blackshark V2 Pro's plastic components are neither cheap nor fragile. The Razer BlackShark V2 Pro boasts a decent build quality that holds up well against its competitors.
Its weight distribution is also impressive, providing unparalleled comfort even for those with more than average-sized heads. Furthermore, its durability is outstanding, rendering the added weight more than worth it. Ironically, the thin wire forks that link the headband to the earcups seem to be the most fragile aspect of the headset. These straps hold the earcups in place, allowing you to adjust their height. Moreover, the headset's strap can be adjusted by putting both ends into separate plastic tubes.
The good news is that the friction-based changes stayed in once I made them, and I had plenty of headroom. It's worth noting that my head happens to be rather huge. Thankfully, there is plenty of space in the Blackshark V2 Pro. The headset's relatively low weight made using the increased headroom a breeze. Surprisingly, the headset has 50mm drivers and a sturdy design that encourages assurance but only weighs 320g. As a comparison, the wired Blackshark V2 is 80g heavier.
Control Scheme
The control scheme of the Razer BlackShark V2 Pro remains straightforward. There is a volume slider on the front side of the left earcup. Despite its hefty appearance, the volume wheel is conveniently located away from the headset body. A big knob on an extremely minimalist headset is a strange visual choice, but it fits the device's "helicopter pilot" aesthetic. Regardless of how you feel about its aesthetics, I think you'll find the knob to be just as useful as mine.
It has the balanced, substantial, but frictionless feel that is an attribute of a high-end audio product. Furthermore, it has a handy detent in its movement that indicates when the volume has been turned up to 50%. While I liked the design, I think adding more notches to the grip would have been helpful. In addition, the left earpiece's base serves as the connecting point for the microphone, and a keyed design ensures that it always clicks in the correct direction.
Moreover, the headset's analog audio port allows wired usage with PCs, Xboxes, PlayStations, and Nintendo Switches. The power button is also situated in the same area as the microphone mute switch, which pops out to offer a tactile indication of its placement. One of Razer's most controversial choices for this product is to include a micro-USB connector for charging. Initially, I assumed that the gaming-focused design would neglect media controls.
However, with just a simple touch of the power button, play/pause can be toggled, making it incredibly convenient for me when I need to step away from my desk to grab some nourishment while keeping my podcast playing. While the power button and the mic mute button seem identical, the latter has a significantly larger profile than the former, making it immediately apparent which one you're pressing. Notably, all the buttons have a satisfying click and give useful feedback.
Connectivity
The Razer BlackShark V2 Pro is similar to other wireless gaming headsets in that it uses a 2.4 GHz USB RF dongle to transmit audio from your computer or gaming console without any latency in transmitting the signal. Despite the widespread use of USB-C, this wireless gaming headset continues to use the older and less convenient micro USB charging standard. The Blackshark V2 Pro was released while USB-C was already widely used. Thus, it makes sense that it would be included.
The improved protocol not only allows for bidirectional insertion, which is more convenient, but it also often allows for quicker charging. As seldom as I was required to charge the headset, I could overlook that Razer was stuck with the outdated micro-USB port. Naturally, comfort is essential with any peripheral resting on your head for long periods. However, the Blackshark V2 Pro's wireless connectivity features are the primary reason for the high price tag.
Pricing is $100 higher than the comparable Blackshark V2, which also lacks a USB sound card connector. On the other hand, all other hardware features, including the 50mm drivers, the comfort, and the build quality of the less expensive version, are indistinguishable. For this reason, it is crucial that the wireless connection in question functions without any problems. The good news for Razer is that it succeeded in doing so. To use wirelessly, you must plug in the USB-A dongle that is included.
On the downside, this model doesn't have Bluetooth capability. Thus, it only utilizes low-latency 2.4GHz connectivity instead. Notably, this prevents the delay and out-of-sync sensations common with Bluetooth headphones. These restrictions may cause audio delays of up to a second, spoiling even the most casual video games. According to Razer, the headset has a range of 40 feet; I could go further than that without encountering any signal drops. Therefore, if you want a headset that will work with any of the PCs or consoles you own, the V2 Pro's integrated analog audio connection makes it a versatile, one-stop-shop choice.
Performance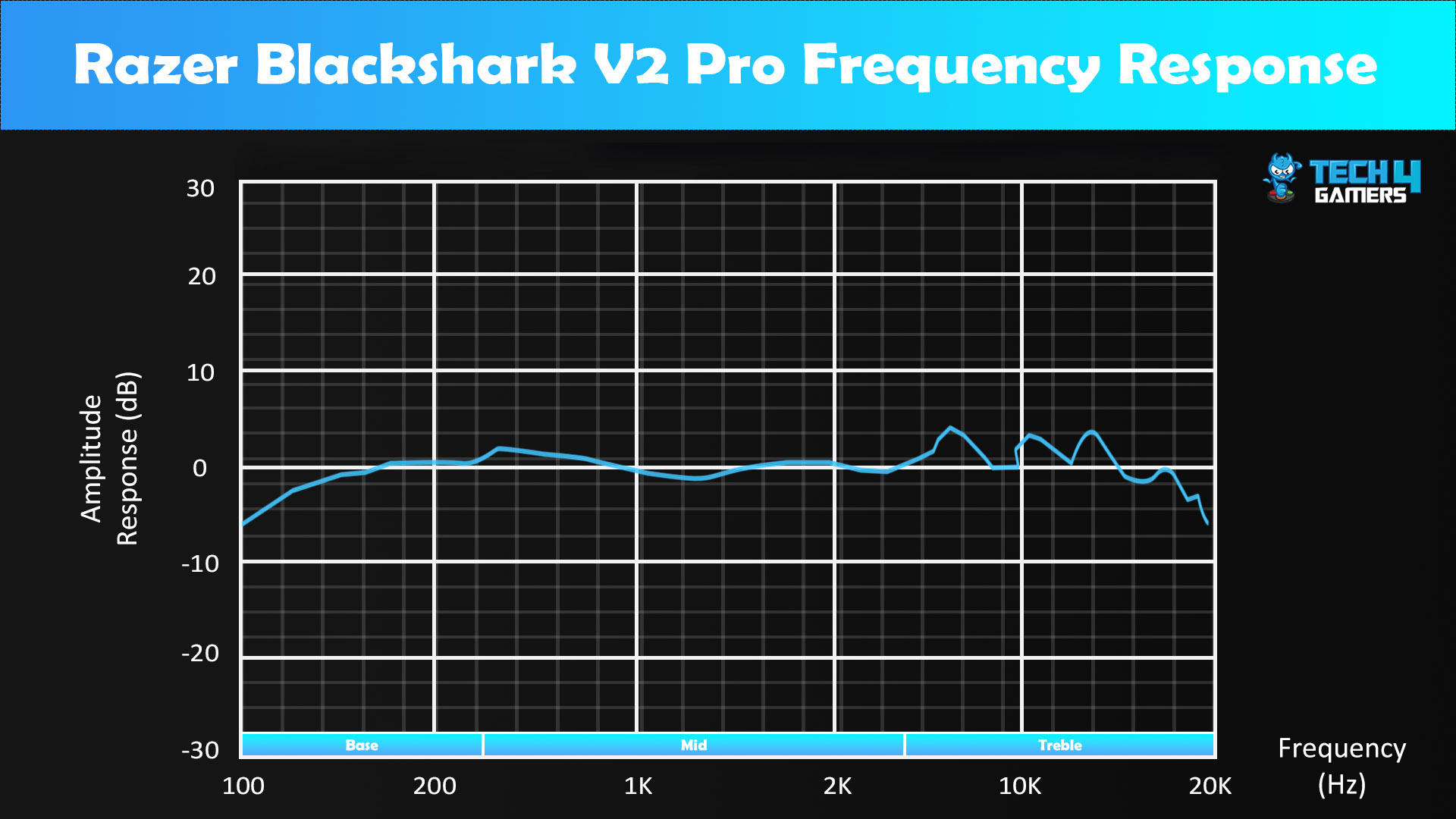 Like its predecessor, the Razer BlackShark V2 Pro provides rather accurate midrange and bass output but places more emphasis on the latter. While audiophiles may be concerned, many listeners find this sound pleasant. The bass accuracy of these headphones is indeed good. However, the overemphasis throughout the board gives the sound a booming and powerful tone, which may or may not be suitable for all users. While the Razer BlackShark V2 Pro's bass-heavy sound profile works well for deep rumbling sounds in intense scenarios, it may not be the best fit for all types of audio.
It is worth noting that these can offer excellent midrange accuracy. Their well-balanced midrange makes them suitable for songs with a lot of singing, where lead instruments and vocals can stand out from the rest of the mix. However, the low-mid focus may cause the audio to seem a little congested and muddy, and bass and treble delivery inconsistencies may affect the overall sound quality depending on how well they fit, how well they seal, and where you place them on your head.
Regarding treble, these headphones provide passable performance. While instruments are audible and detailed, an excessive mid-treble boost may cause sibilants to seem shrill and piercing, which can be uncomfortable for some users. The Razer BlackShark V2 Pro performs well in both peak and low loads. However, the high-bass peak may make the whole thing seem boomy and muddy, and the low-treble and low-midrange dips may make it harder to understand the music, relegating the voice and lead instruments to the background.
Additionally, sibilants are especially harsh due to a peak in the mid-treble. On the other hand, these headphones' imaging capabilities are top-notch. Most of their weighted grouping delay is below the threshold of audibility, resulting in a punchy bottom end and clear high end. However, their left and right speakers' drivers are in sync regarding phase but differ very little in volume and pitch. This means that the stereo picture may not be very precise.
Finally, these cans perform quite well in terms of weighted harmonic distortion. While there are a few noticeable peaks in the treble region, the midrange and bass are well-controlled, resulting in a clean, undistorted sound suitable for most users. Unfortunately, the headphones exhibit an unstable frequency response, with low and high frequencies sounding inconsistent. Additionally, the passive soundstage is a significant drawback, as closed-back headphones often have a cramped and unnatural soundstage that appears to originate from within one's skull rather than in front of them.
Music
The primary function of a headset is to provide high-quality audio. But what constitutes excellence varies from one person to the next and from one scenario to the next. There is no objective standard for audio quality, and I certainly don't think of myself as an audiophile. With that caveat out of consideration, I noticed that the V2 Pro tuned strongly in favor of the mids and highs, making it sound weird coming from the immense 50mm drivers.
What sounds great for gaming might not do justice to your music collection. In case there was any doubt, the Razer Blackshark V2 Pro is intended primarily as a gaming headset. As you can imagine, this headset was designed with "e-sports" in mind. Although music is not its primary function, it can still be used for that purpose. Disadvantages, such as too strong treble and extensive bass reproduction, cancel out incentives, such as outstanding instrument distinction and crystal-clear voices.
In some cases, with minor tweaks to the EQ levels, you can easily switch to a more relaxed, wide-ranged sound that's ideal for watching movies or listening to music. Using Synapse's equalization settings will help, but only somewhat. In my testing, even the "Music" setting did not significantly enhance the headset's performance across genres, and neither did meticulously adjust each slider. In that setting, the V2 Pro somehow matches to the bare minimum, but if you're just the kind of user who enjoys having the bass pound their ears, you might even like this headset for music.
The increased bass response in music is fantastic news for EDM alongside other bass-heavy genres. Notably, any song's underlying bass beat is easily audible. Moreover, a song's essential components come through loud and clear. Notably, its bass-heavy sound profile makes even your favorite games sound even more exciting during intense sequences. Furthermore, it improves the thud and punch of action sequences, and if you want a distinct sound, you can always go back to Razer Synapse software, which provides a wide range of customization choices.
Gaming
Almost every one of the shortcomings outlined above in the music section becomes positive qualities when it comes to playing video games. Your enemy's footsteps will be audible over the muffled bass of surrounding explosions, thanks to the same ultra-sharp treble. The Blackshark V2 Pro's superb directional audio output makes this even more helpful, as it allows you to locate the origin of any in-game sound horizontally and vertically.
Even among more costly wired headphones, the latter feature is uncommon. It is possible to get a rough idea of where an audio source comes from on a two-dimensional plane with any respectable stereo set of headphones. It's important to note that I'm just speaking highly of the default audio setting on the Blackshark V2 Pro. Generally speaking, software-based surround sound technology is designed to enhance the fidelity of a stereo headset.
Unfortunately, I discovered that activating this feature not only affected the quality and clarity of in-game sounds but also worsened the audio's directionality. The result did not come as much of a surprise. I haven't had much success with Razer competitor headsets' software-based surround sound configurations either. Although THX Spatial Audio has proven effective on PCs, it is advisable to use it with moderation and not solely rely on this feature.
To be more specific, I've paid special attention to competitive games where good audio could give you a significant competitive edge. In games like Overwatch 2 and Fortnite, I felt the virtual surround sound improved the gaming experience. It significantly increases the perceived volume of explosions and shooting in the game. The heightened focus serves a purpose but isn't overpowering to the point where it obscures other cues. In games, this kind of amplified sound is seldom an issue since several layers of sound rarely occur at once.
In Valorant, you can still hear footsteps around a corner. On the other hand, the same issues I highlighted regarding the headset's musical performance would mitigate many of these benefits for more casual titles, RPGs, indie games, and various other categories where sweeping orchestral scores are more significant than pinpoint-accurate footsteps. It's pretty obvious that Razer created and fine-tuned this headset with competitive first-person shooters in mind rather than casual gamers.
Noise Isolation
The Razer BlackShark V2 Pro has an almost similar sound profile to the BlackShark V2 but less isolation. Razer claims this headset has "advanced passive noise cancelation" technology, but it's a simple isolation. It turns out that the headband and hinge tension are equally important as the material used for the ear cushions when isolating outside noise, which is bad news for the Razer BlackShark V2 Pro.
Notably, BlackShark V2 Pro's comfort is comparable to its predecessor's, but the headset's hinges are much more flexible, so the ear pads don't squeeze as tightly. As a result, your hearing will be more susceptible to environmental sounds. They have difficulty isolating themselves from surrounding sounds. Regrettably, they struggle to isolate mid-range sounds, including speech, but can effectively dampen higher-pitched sounds.
Moreover, the leaking performance of these headphones is subpar, and if you play video games with the volume turned up, those around you may be able to hear part of the action. Ultimately, the Razer BlackShark V2 Pro provides average isolation for a gaming headset. You shouldn't have any problems with it in the house, but that's not enough, given that its predecessor was the finest in its class.
Software Compatibility
Like its predecessor, the Razer BlackShark V2 Pro is compatible with the latest version of Razer Synapse. Similarly, it has similar audio customization options as the wired BlackShark V2. The software adds THX virtual surround sound, microphone, and headphone equalization controls with 10-band sliders. In addition to a 10-band EQ with several presets it has its own Bass Boost, Voice Clarity, and Sound Normalization adjustments.
Similarly, the mic has its own EQ with the usual volume normalization, vocal clarity, and background noise reduction. Moreover, the Voice Gate can be adjusted as well. At the same time, THX Spatial Audio allows you to calibrate the surround effect by shifting the location of in-game virtual speakers. You can let the program decide which mode to use for sound, individually enabling THX for each app and game or turning off THX Spatial Audio altogether. Notably, even without RGB lights, there is much room for personalization.
In addition to this, there is a more exciting feature to experiment with, which is preset for common shooting games developed in collaboration with prominent e-sports players. These settings are already programmed into the headset's firmware, so that you won't need Synapse. The default profiles include Call of Duty, Valorant, Apex Legends, Counter-Strike: Global Offensive, and Fortnite. Since you're already paying an extra cost for profiles predefined by "pros," you may as well give them a go before making any changes in Synapse.
I did. Even though I haven't played Valorant professionally, I do consider myself a competent player who consistently places in the top ranks in every act. At first, the default equalization setting seemed too bright to my ears. Still, It helped me pinpoint enemy movements and use their abilities. Ultimately, Synapse has evolved, much like other programs designed for gaming headsets. However, its functions are seldom required and rarely contribute significantly to the overall experience of using this headset.
Microphone
Despite its wireless capabilities, the Razer BlackShark V2 Pro's most notable upgrade is its microphone. Compared to the BlackShark V2, which was decent regarding deep voices, this is superb, although not quite natural. The microphone on the headset produces clear, undistorted sound over the whole voice range. If you have a deep voice and find that audio often sounds tinny, this is one to watch. In some scenarios, professional players use a separate USB mic for in-game communications.
However, Razer wants to change this by making its headset microphone capable of competing with dedicated microphones. It does this by using a sampling rate of 32KHz. That's double the rate of entry-level microphones and headsets, but it's still lower than the 48KHz of full-size "pro" dedicated mics for those unfamiliar with these terms. In addition to the standard foam protection filter, Razer has included an extra "hard" pop filter.
Indeed, it does the trick. With this microphone permanently attached to my lips, those on the other end of my in-game communications reported that I sounded much more focused and crisp than normal. Moreover, with the addition of Razer Synapse, you get a microphone with a good range of customization options, including EQ presets, customizable EQ sliders enabling volume normalization and speech clarity, and an ambient noise reduction option.
Everything functions acceptable, albeit layering, even if only a few of these features can end up in a processed sound. My only genuine complaint with the headset is that the microphone's default volume settings are too low, even when turned to 100%. Aside from the typical maximization of your vocal loudness to its maximum potential, other options are available. But most of them add some additional compression to the sound, making it less distinct and a flatter tone.
Despite this, the Blackshark V2 Pro has one of the greatest wireless microphones I've used. In contrast to the pure analog clarity of a high-quality wired headset and the convenience of a standalone boom mic, this one falls a little short. However, the model you should be selecting is this one because of the ease of its wireless connectivity. The inconvenience is little compared to the benefits of not having to worry about tangled connections,
Sound quality is quite subjective. Therefore, evaluate recording audio on your own.
Battery Life
Like any Bluetooth headset, the Blackshark V2 Pro's wireless capabilities are limited by the battery's life. Manufacturer measurements often depend on a reduced volume level and idealistic settings to boost their durations. Specifically, Razer does not specify the parameters used during this interval on its spec sheet. Having said that, Razer promises that the BlackShark V2 Pro battery may last up to 24 hours with a single charge, which I found mostly accurate.
Either Razer's calculations were too cautious, or my preferred settings are less resource-intensive. In every case, I surpassed Razer's estimates. For me, the charging process took roughly three hours. Suppose you are the kind of person who always plugs their product back into the charger after using it. In that case, you will probably never run out of battery until you embark on an extended gaming session. During my tests, I found that a full charge kept the headset going for almost 24 hours at a constant volume level.
If you listen at a lower level, you may see even more improvement in performance, and Synapse even has a sleep option that turns off the headset after a certain amount of time has passed if you leave it on. More than 24 hours have already been impressive, and you may discover that the battery life lasts much longer. From the results of my tests, I can report that I was only successful in completely draining the headset thrice. It's not nearly as impressive as some of the competition. However, Razer offers many additional features that its competitors don't. Ultimately, the V2 Pro should last you at least a week.
Should You Buy It or Not?
The V2 Pro from Razer costs a whopping $200. Although not out of the typical Razer products, for a PC gaming headset, it is still quite a hefty price. But you may be surprised that Razer is less than the competition for comparable equipped headphones. Notably, Razer is in an enviable position to provide a value offer, but not a cheap one. The BlackShark V2 Pro is a PC gaming headset that excels at immersion right out of the box.
I have repeatedly emphasized that the Razer Blackshark V2 Pro was designed for first-person shooters. If you use it for the competitive games that Razer tailored, you can hear your opponent's every move without looking in their direction. Considering how well it performs in its niche, it's unsurprising that it has some trouble with music and the more epic, symphonic game soundtracks. As a result, this single-minded approach does reduce the product's potential customer base.
However, the Blackshark V2 Pro is among the finest wireless choices available at any price for people whose primary focus is gaining a performance edge through the use of their audio equipment. It is an excellent choice if you want a wireless headset for gaming. Moreover, the improved microphone in the BlackShark V2 Pro greatly improves in-game communications over its predecessor. On the downside, its battery life is average compared to other options on the market.
Additionally, the headset's isolation is weaker now that the hinges are looser, but this doesn't detract too much from the overall experience. That is not to argue that this is a one-size-fits-all product. To clarify, this headset is best suited for use on a PC, whereas casual players should look elsewhere for wireless headsets. Regardless, the Razer BlackShark V2 Pro is an excellent choice if you're looking for a lightweight and comfy headset with high-quality audio and a superb microphone.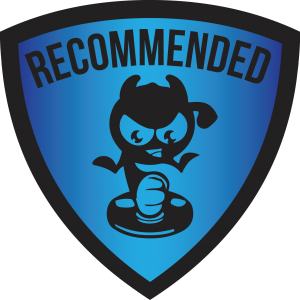 Learn more about Tech4Gamers Awards
Was our article helpful? 👨‍💻
Thank you! Please share your positive feedback. 🔋
How could we improve this post? Please Help us. 😔