The Pokemon Company financials disclosed today are a piece of news worth reading! Curious about their figures? Dive in!
It just so happens that Pokémon's financials were just released today, despite the enthusiasm surrounding dynamic Dragon-type Pokémon and burning Fire kinds. The Trading Card Game (TCG) has reached new heights over the last two years thanks to Pokémon GO and the reintroduction of Pokémon to the general public.
However, it has been accompanied by massive and consistent merchandising pushes since the second wave of Pokémania. But let's not keep it confined to that. There seems to be quite some discussion going on since the release of their financials. I say – we dive right into it and see what are the numbers.
The Enticing Numbers Prevailed By TPC
TPC has reported sales of 204,209,000,000 Yen, which is equivalent to almost $1.6 billion. That is an impressive amount of sales. However, their Gross Revenue looks to be 98,035,000,000 Yen, which is equivalent to over $700 Million.
The Operating Income is 59,860,000,000 Yen, which is about $470 Million, and the Net Profit is 41,392,000,000 Yen, which is approximately $325 Million.
Using today's exchange rate, this is a big jump from last year's net profit of 18,630,000,000 Yen, which was about 170 million dollars.
Oscar Lemaire compiled the following graph, which compares net profit amounts in Euros from 2008.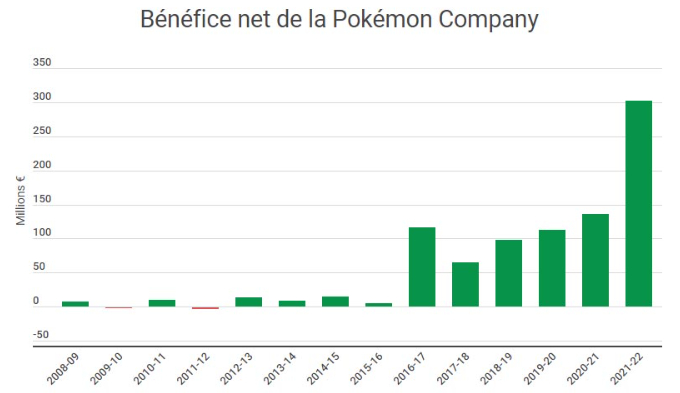 First and foremost, product sales account for the vast majority of our earnings to date. In video games, there is no shortage of money or pressure to meet tight deadlines.
As seen in the graph above, the term "highest earning media franchise" is a misnomer because of the resulting profit. Profits aren't as great as people imagine since there are so many licensees and so many folks in the pot.
Their take-home profit from these ventures is 20% of their total revenue.
Final Thoughts on TPC Financials Disclosed
Which begs the question: what may account for the significant gaps in Oscar's charts between the years 2008-2009 and 2015-2016, and the present? Is there a standard for accounting practices for Pokemon Company Financials?
Of course, no one has discovered how to profitably get up in the mornings. These numbers are almost certainly accurate, given Oscar's track record. However, they baffle us! Do you have anything else to contribute to this discussion of The Pokemon Company's Financials? Post your thoughts in the comments below to get the conversation started!
More Enticing News: Gigbyte GC-Maple Ridge Add-In Card Review
Was our article helpful? 👨‍💻
Thank you! Please share your positive feedback. 🔋
How could we improve this post? Please Help us. 😔
[News Reporter]
Avinash is currently pursuing a Business degree in Australia. For more than three years, he has been working as a gaming journalist, utilizing his writing skills and love for gaming to report on the latest updates in the industry. Avinash loves to play action games like Devil May Cry and has also been mentioned on highly regarded websites, such as IGN, GamesRadar, GameRant, Dualshockers, CBR, and Gamespot.