Sony has a history of quietly releasing versions of consoles. Last year, Sony released the PlayStation 5 1100 series with a smaller heatsink and reduced weight. Well, keeping up with the tradition, Sony has done it again. But this year, an improved version of PlayStation 5 started showing up in Australia by the end of August.
Lucky for us, Tech YouTuber Austin Evans recently got his hands on the new PlayStation 5 CFI-1202B. The teardown video gave us many insights into what the new PlayStation 5 brings.
The digital version of the CFI-1200 model PlayStation 5 weighs 3.3kg, an improvement of 0.2 kilograms over last year's CFI-1100 series and a shocking 0.5kg reduction over the launch edition.
Next up, Austin also tested the efficiency of the new PlayStation 5. It turns out it only drew 201 watts when playing Astro's Playroom. In comparison, last year's CFI-1100 series PlayStation 5 pulled 229 watts, and the launch edition pulled 218 watts.
It is safe to say that the new PlayStation 5 is significantly efficient, but what about the insides? How does it compare with its predecessors under the shell? The teardown video revealed that the 1200 series PlayStation 5 has a smaller heatsink with an additional heatpipe.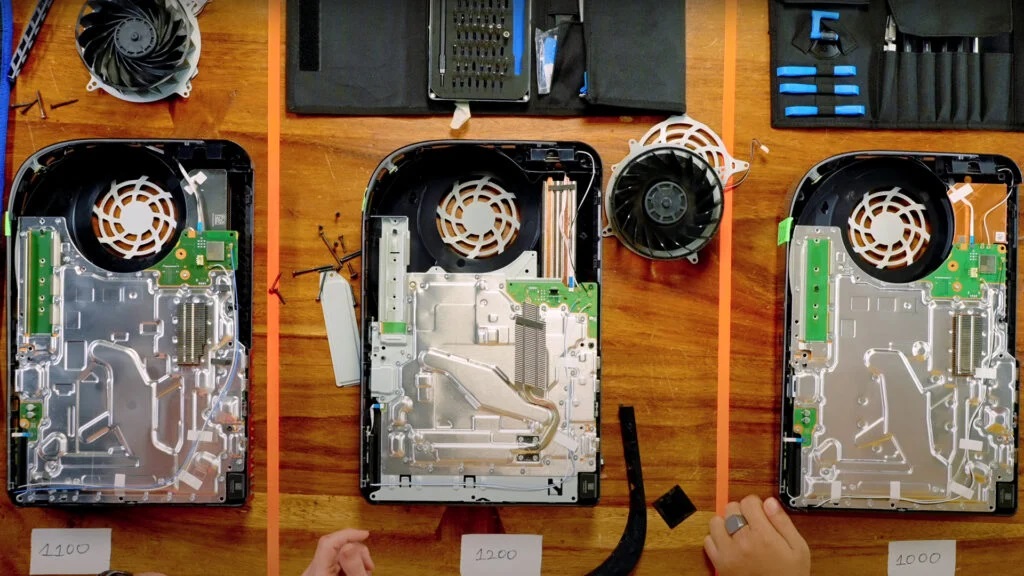 The SSD is also encapsulated in a different casing. Other than that, the most significant change is the motherboard. Sony has redesigned the entire motherboard for the CFI-1202B series PlayStation 5. It is smaller by around 2-inches, and many components have moved around.
Austin also points out that the heatsink is now completely hidden from the CMOS battery. This raises an issue because now you will have to completely tear apart your PlayStation 5 to replace the CMOS battery.
"They have completely redone essentially the entire PS5 design." — Austin Evans
Overall, the new PlayStation 5 is an improvement.
Check Out More News: PlayStation 5 Gets New Gray Camouflage Collection For Console And Accessories
Was our article helpful? 👨‍💻
Thank you! Please share your positive feedback. 🔋
How could we improve this post? Please Help us. 😔