So, you built a new PC, but your monitor is showing no display. The new PC build no display is quite a common problem that many newbies run into when building a PC for the first time. If you're also new to PC building and have this same problem, keep reading to find how you can fix it.
There's not an extensive list of reasons your PC is showing no display; in fact, there are only three most common ones we'll explore in this article. Some other fixes are also mentioned at the end.
How to Fix New PC Build No Display
Monitor Plugged Incorrectly
A common beginner mistake causing your monitor not to receive any signals from your PC is plugging the monitor into the wrong port. Most newbie PC builders plug the HDMI cable into the motherboard instead of the graphics card.
Here's the thing, if you have a graphics card, you're supposed to plug in the HDMI cable into the HDMI port of the graphics card, NOT the motherboard. You should only connect the cable to the motherboard if your PC build doesn't have a dedicated graphics card and you're using built-in graphics of your processor.
Outdated Motherboard BIOS
It may be so that your newly bought motherboard's BIOS (Basic Input Output System) is out of date and cannot work together with your new CPU, thereby causing the problem of the new PC build no display. While updating the BIOS might fix the issue, it is not an easy task. For example, if you encounter a power cut while updating your BIOS, the motherboard will cease to function entirely.
It is recommended that you take your PC to the place you bought your motherboard from because if anything goes wrong, they have an obligation to reimburse you. However, if, despite these warnings, you still want to update your motherboard's BIOS by yourself, you can do this by going to the manufacturer's website and following the instructions provided. But please watch a few tutorials to get a general idea of how it works.
Incompatibility in PC Components
For a PC to function properly, there needs to be compatibility between its various parts. It could be the reason why your PC isn't showing any display. The first thing you should check before building a PC is hardware compatibility. The easiest way to prevent this is to use an online PC parts compatibility website such as pcpartpicker.com or buildmypc.net.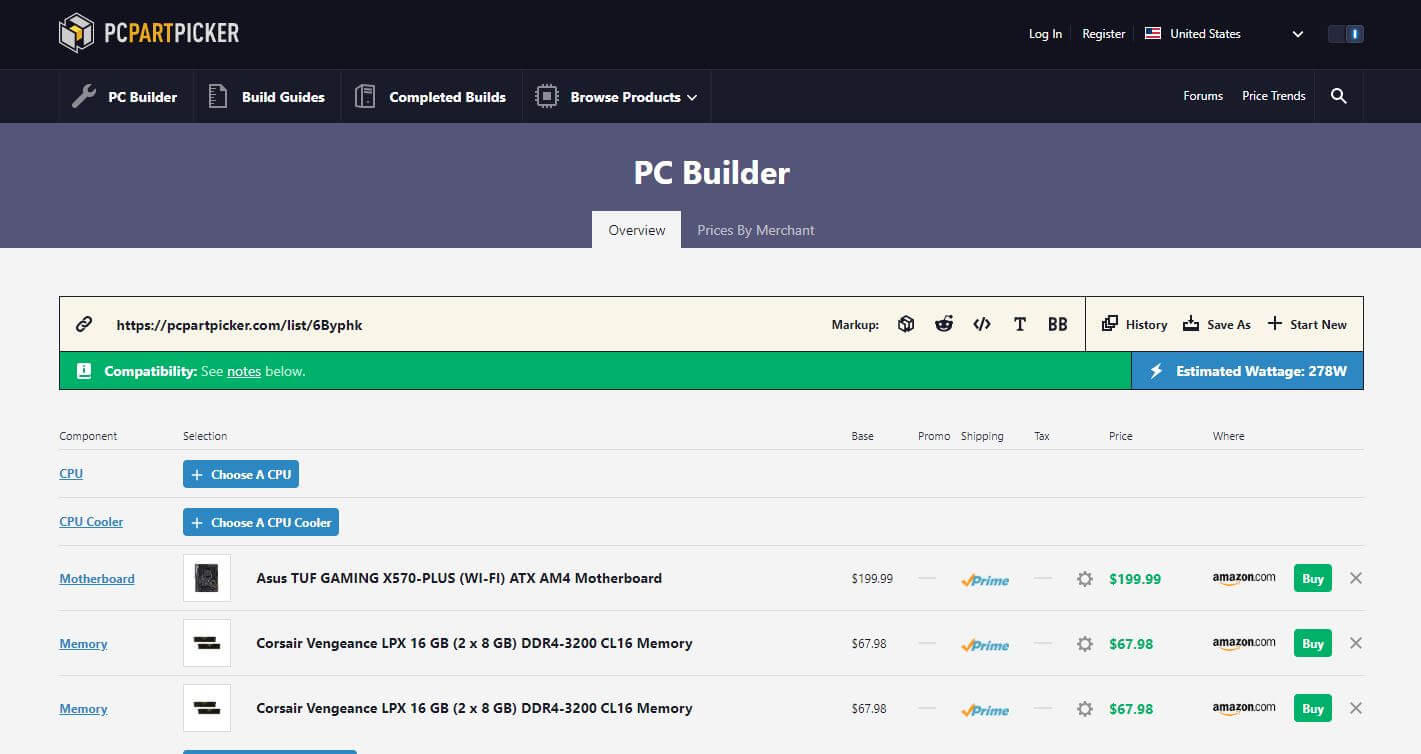 Put the names of all the components such as your CPU, Graphics Card, Motherboard, Power Supply, RAM, and Storage Device in the prompted areas.
Once you've filled those boxes, you'll see above if the components you selected are compatible or not. If they're consistent, the tab will appear green, but it will be red if they're not compatible.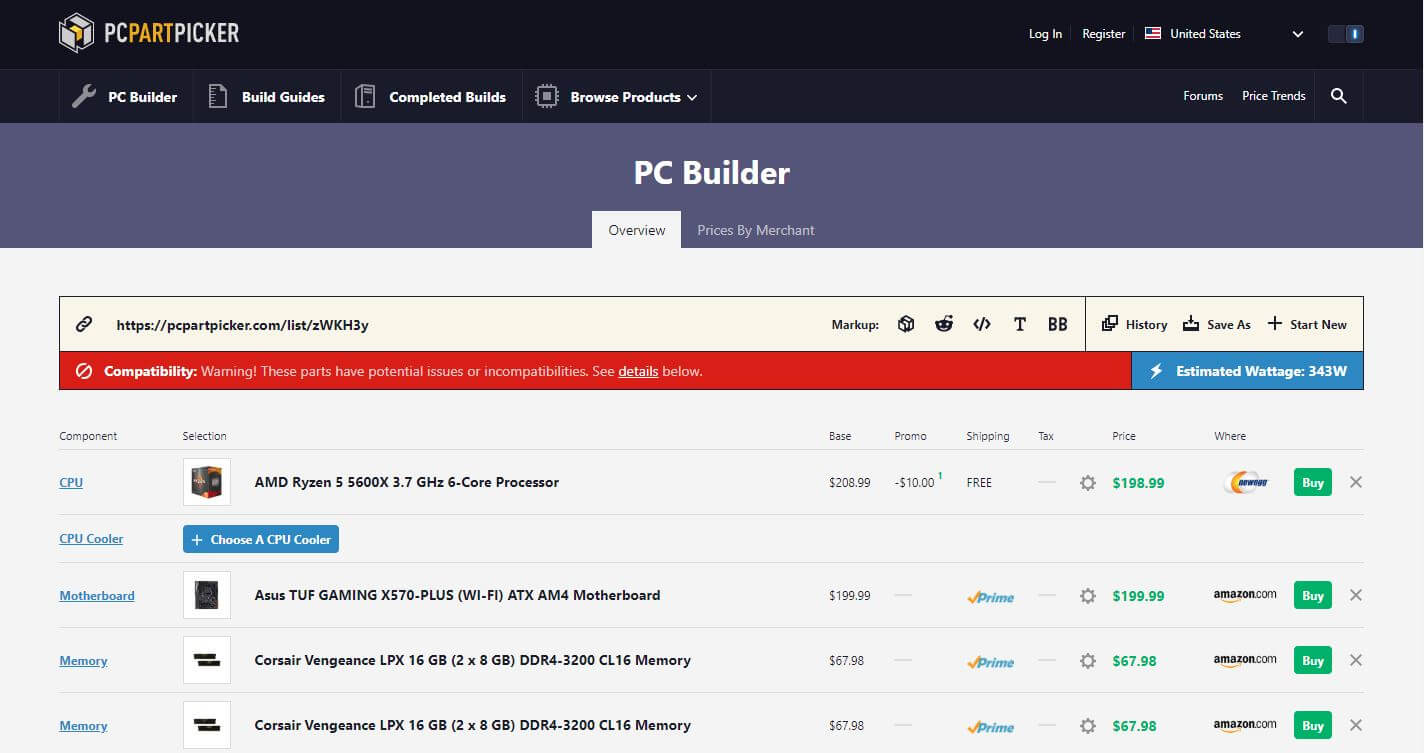 If your parts are not compatible, you can check why that's so and try to fix the issues suggested by the website.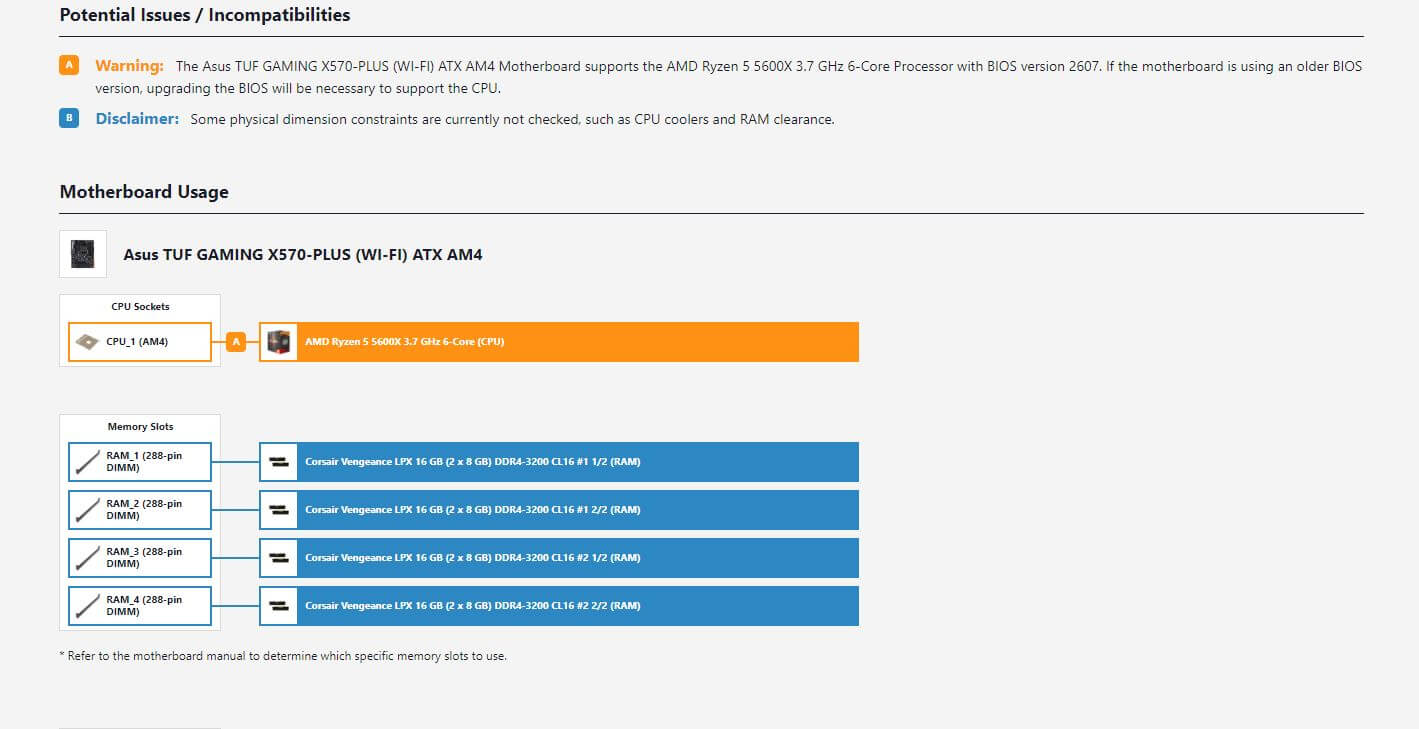 Lastly, it's worth mentioning that if your PC doesn't have a dedicated graphics card, you should check if your processor comes with integrated graphics. If it does not have integrated graphics, there's no other solution but to get a dedicated graphics card.
Configuring the Monitor
Ensure the monitor you're using is running on the correct output mode. For example, if you're using an HDMI cable to connect your PC to the monitor, make sure the monitor is running on HDMI mode instead of VGA or any others. If the monitor is running on a different display mode, it might show no display on your PC. Alongside that, also ensure that the cables and physical condition of the ports aren't damaged.
Checking Memory
It is essential to check if the RAM modules you're using in the new build are compatible with the motherboard. If that's not the case, the computer will boot, causing the no display problem on your new PC. So, make sure that the RAM modules aren't defective and are compatible with each other.
New PC Build No Display No Beep
A PC's motherboard has many beep signals to tell the user if something's wrong. If there's a single beep means that the components of your build are functioning correctly and don't have any problems. A faulty PSU or connector cables might cause the beeps not to appear where they're supposed to. If this is so, it could cause the no display problem on your newly built PC.
To fix this, first, make sure that your PSU has enough power to support all your PC components. If it doesn't, the system might not function at all, or there could be the risk of failure of components. If your PSU can support all parts, make sure the PSU isn't faulty and check if the power cables work correctly.
Conclusion
Building a PC isn't as easy as it looks. You need to have a decent enough knowledge about software and hardware compatibility as well as other very technical stuff. But even so, assembling your own custom build is an enjoyable process for many tech enthusiasts. In this article, we explored different reasons why there's the problem of no display in newly built PCs. With the fixes we've mentioned, we hope that you will be able to solve your new PC build with no display problem and get your PC running in no time.
Also read: How Long Does it Take to Reset a PC
Was our article helpful? 👨‍💻
Thank you! Please share your positive feedback. 🔋
How could we improve this post? Please Help us. 😔
[Comparisons Expert]
Abdemanaf is a skilled creative writer who has been honing his craft since 2011. While initially working in different fields, he found a passion for technology and has been exploring the tech world since early 2015. Over the years, he has developed an in-depth knowledge of the latest tech trends and product offerings by various companies.
Abdemanaf's writing reflects his analytical mindset and ability to think critically. He has a knack for breaking down complex technical information into easily digestible pieces, making his articles engaging and accessible to readers from all backgrounds. In February 2022, he joined Tech4Gamers as a blog and product comparison writer, where he has been able to hone his skills further.
As a writer, Abdemanaf is dedicated to staying up-to-date with the latest technological advancements and trends, enabling him to provide readers with the most relevant and accurate information. He is always eager to learn more and is constantly seeking new challenges to improve his skills.
Get In Touch: [email protected]