Need For Speed is one of the most iconic street racing video games. The franchise has had several entries throughout the years, but none other stands out more than Need for Speed Most Wanted.
After nearly two decades, the game is still considered one of the best racing games of all time, leaving a significant mark on the legacy of Need for Speed. According to Simone Bailly, the actress who played Cross' partner, the iconic game may be getting a remake.
The actress teased a remake of Need for Speed Most Wanted, claiming it would be released in 2024 in now-deleted social media posts.
Why it matters: Fans have requested remakes and remasters of classic Need for Speed games for several years. A remake of the iconic game could also bring the franchise back to its former glory.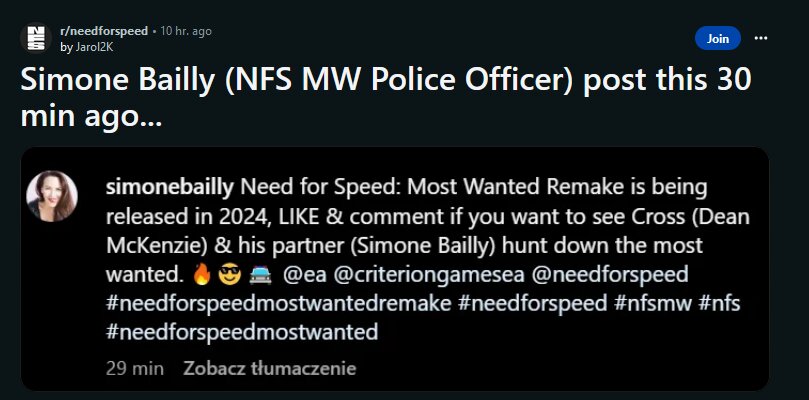 The Need for Speed franchise is still releasing games, with the recently released Need for Speed Unbound receiving decent reception.
However, the franchise has not been able to find the success it had over a decade ago. A remake of Need for Speed Most Wanted could bring back millions of old fans and introduce the game to newer audiences.
The game was famous for its soundtracks, cheesy but memorable live-action cutscenes, and vehicle handling. This means that a remake could capitalize on these elements, potentially leading to a successful entry into the franchise.
While this comes from the actress' official Twitter account, it is advised to take this information with a grain of salt. EA has confirmed nothing, and Simone Bailly later deleted the posts from Instagram and Twitter.
This led to even more confusion among the fans. It is speculated that she deleted the tweet to avoid a violation of an NDA. Others believe the actress was hacked, and she did not make the tweet.
Still, various replies to the Tweet liked by the actress can be found on her profile.
A remake of the original game would also mean renewing the licenses of all the cars in the game. This would be challenging for EA, and the remake might have to change the car roster. Therefore, EA would need to cross several hurdles to remake the title.
While the latest release was received well, EA has not been consistent with the series. Need for Speed Unbound was not supported well and lost thousands of players. A remake of the original Most Wanted would help the franchise bounce back and make an overdue comeback.
Was our article helpful? 👨‍💻
Thank you! Please share your positive feedback. 🔋
How could we improve this post? Please Help us. 😔
An avid gamer is passionate about writing to deliver insightful and engaging content to the audience.