Gran Turismo 4 is considered one of the most beloved racing games of all time. Initially released in 2004 for the PS2, the game was groundbreaking in many aspects and left a strong legacy.
Nearly 20 years after the game's release, Gran Turismo 4 has surpassed iconic games like Burnout 3 and Gran Turismo 2 to become the best user-rated racing game on Metacritic.
Why it matters: The game saw a plethora of positive reviews over the last month. Review bombing has been a prevalent trend in the gaming industry, but it is surprising to see fans suddenly bombing such an old game with positive reviews.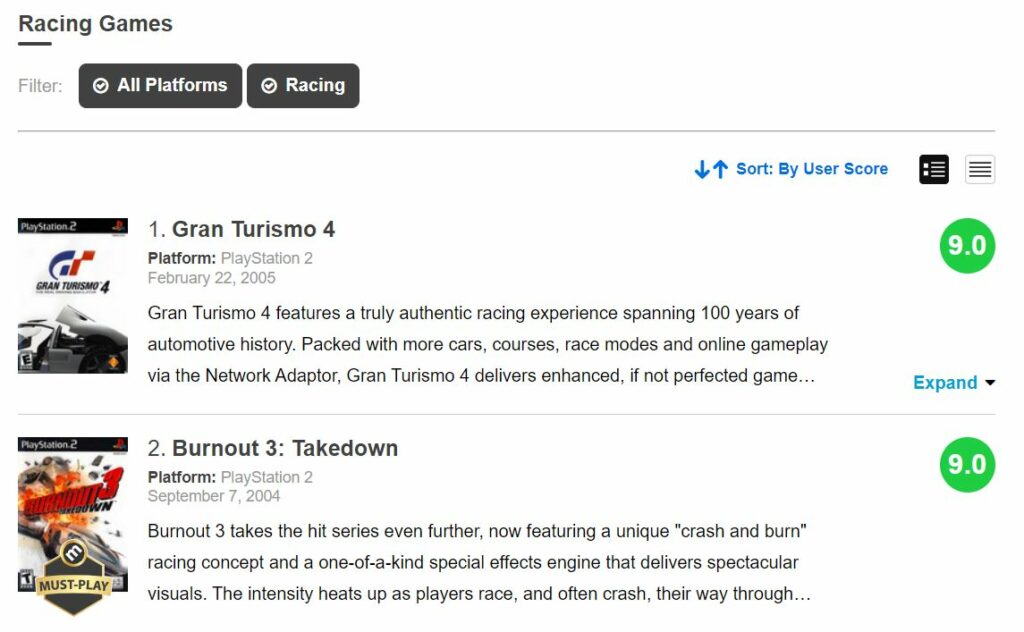 As of now, the game currently has an overall score of 9.0 based on 830 reviews. The previous leader, Crash Team Racing, now stands at a score of 8.8 based on 578 reviews, several spots behind Gran Turismo 4.
This entire change could be attributed to DustinEden, who recently created a YouTube video ranking the best racing games. The YouTuber requested his audience to positively review bomb Gran Turismo 4 and push it to the top spot from its previous ranking of 12th spot.
Gran Turismo 4 is already an iconic game, with a score of 89/100 based on critical reception. As such, it is strange that the fandom felt the need to boost the game to the top spot artificially.
In the process, a few users also review-bombed Crash Team Racing with negative scores, moving it below the top 10 rankings.
Previously, the Horizon Burning Shores DLC was review bombed, leading to Metacritic speaking out against the review process, claiming to evolve the process in the future. However, it seems like even older classics are not safe from review bombings.
This trend of fans using waves of positive and negative reviews has also been observed across other forms of media, with various sites using different methods to deal with the issue. Nonetheless, this is the latest example of waves of users affecting the review scores for their favorite titles.
Was our article helpful? 👨‍💻
Thank you! Please share your positive feedback. 🔋
How could we improve this post? Please Help us. 😔