The last two years have been hard for anyone looking to invest in a new shiny graphics card. However, users can now get graphics cards from Nvidia and AMD at MSRP. While recent graphics cards have been disappointing in terms of pricing, it looks like companies are finally starting to implement some much-needed price cuts.
One such example is the recently launched Nvidia GeForce RTX 4070. According to a report from Computerbase, the price of GeForce RTX 4070 has been dropping steadily in Germany and can be found for €600. That is a €60 price drop in just two weeks.
The GeForce RTX 4070 did not get the attention Nvidia hoped, and the price drop is an example of that. The only thing holding users back from upgrading to the Nvidia GeForce RTX 40 series is the price.
Furthermore, the sales of GeForce RTX 4070 are stagnant everywhere. A report also stated that Nvidia had stopped the production of GeForce RTX 4070 cards to minimize the overflow.
According to reports, the price of the GeForce RTX 4070 was also cut down heavily before launch to counter bad sales, and it looks like it did not help much. As such, it would have been better if Nvidia priced its GeForce RTX card at the MSRP of GeForce RTX 3070 or even lower.
The cheapest Nvidia GeForce RTX 4070 sold in Europe is the Gainward Ghost Edition selling at €599. The Gianward GeForce RTX 4070 Ghost is currently the only model selling below the launch price. Other models from different manufacturers are still selling between €625- €650.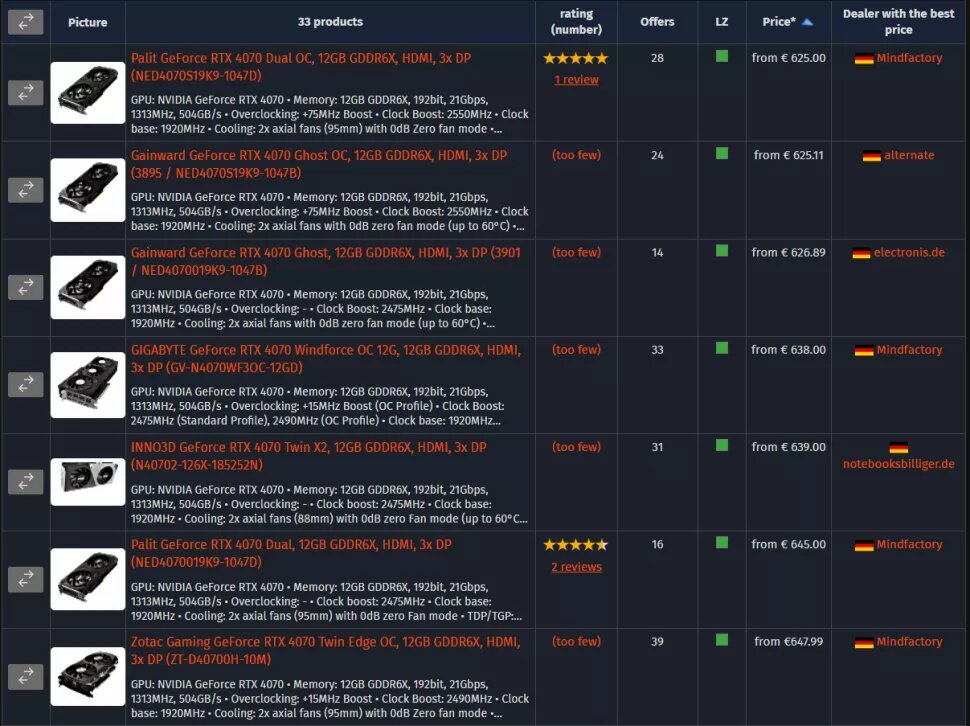 Unlike the European market, the price of the Nvidia GeForce RTX 4070 remains the same in the US. However, if the demand continues to stay low, Nvidia might offer the RTX 70 series card below MSRP worldwide or lower the price altogether.
Both Nvidia and AMD are also working on launching mid-range cards next month. Nvidia is reportedly working on GeForce RTX 4060 Ti, while AMD is expected to launch the Radeon RX 7600 XT at Computex next month.
With the launch of mid-range options from the two competing graphics card manufacturers, we might also see other high models come down in price. If not all, most of the users do opt for mid-range options, and this is where both Nvidia and AMD make the most sales.
The Nvidia GeForce RTX 4070 is currently the cheapest next-generation option from Nvidia. However, it is priced similarly to the GeForce RTX 3070 Ti while offering the performance of the GeForce RTX 3080.
Aside from that, the GeForce RTX 4070 also offers more VRAM and comes with DLSS 3 support. The upcoming GeForce RTX 4060 Ti is expected to be priced at $400, which may finally make a dent in the current market.
What are your thoughts on the current market for graphics cards?
Was our article helpful? 👨‍💻
Thank you! Please share your positive feedback. 🔋
How could we improve this post? Please Help us. 😔