FromSoftware has just deviated from the souls-like formula after nearly 14 years with Armored Core 6. This led to a lot of excitement and curiosity about the game's reception on the market.
Armored Core 6 was first announced last year during The Game Awards, and the game is finally out after several months of anticipation. Prior to its release, the game had already joined Steam's best-sellers, even beating Starfield and Baldur's Gate 3 at one point.
Despite the niche appeal of Armored Core, the latest game in the series has already reached over 155K concurrent players on Steam.
Why it matters: FromSoftware has become one of the most popular and respected developers in the industry after major hits like Dark Souls and Elden Ring. This has allowed Armored Core 6 to transcend the niche appeal of the series.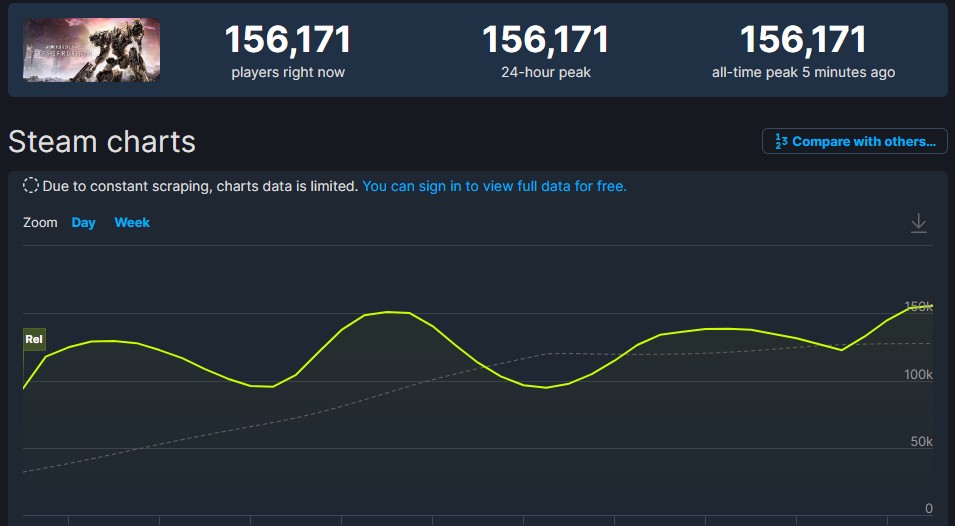 At the time of writing, the game has just over 156k peak concurrent players. Needless to say, the numbers will only go up from here since more players are likely to join the recent launch over the weekend.
Upon launch, Armored Core 6 immediately became another well-received game from the studio. With multiple perfect scores, the game has managed to reach an 87/100 score on Metacritic.
Recently, the CEO of Bandai Namco Europe stated that FromSoftware has become a guarantee of quality after recent successes. The latest Armored Core release appears to highlight the accuracy of the CEO's statement.
In terms of peak concurrent player counts, Armored Core 6 has managed to outdo popular releases like Street Fighter 6, Remnant 2, and more. While it has not been able to reach success like Baldur's Gate 3 or Hogwarts Legacy, this is an impressive outcome.
New players are also likely to continue joining the game since Armored Core 6 is currently the best-selling title on Steam.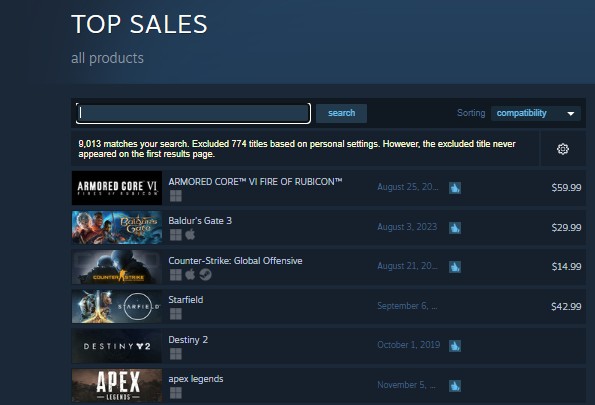 Armored Core 6 is a return to form for the franchise.
The series brings back signature mech gameplay with fast-paced movement and intense combat. It has also earned the title of FromSoftware's best PC release, supporting over 60FPS by default for the first time on the platform.
If all of this wasn't impressive enough, it was recently reported that the newest Armored Core iteration was developed by a team of just 300 people.
Therefore, it is clear that FromSoftware is an efficient and competent developer, being able to release multiple high-quality titles one after another in a short span of time.
Was our article helpful? 👨‍💻
Thank you! Please share your positive feedback. 🔋
How could we improve this post? Please Help us. 😔