It is difficult to imagine that even in the year 2022, war exists. The Russian invasion of Ukraine has escalated into Europe's largest ground battle since World War II. In addition to wreaking havoc on many of Ukraine's cities, it's shaking the global economic landscape, prompting many of the world's most significant corporations to pull their resources out of Russia as the country increasingly becomes an international outlaw.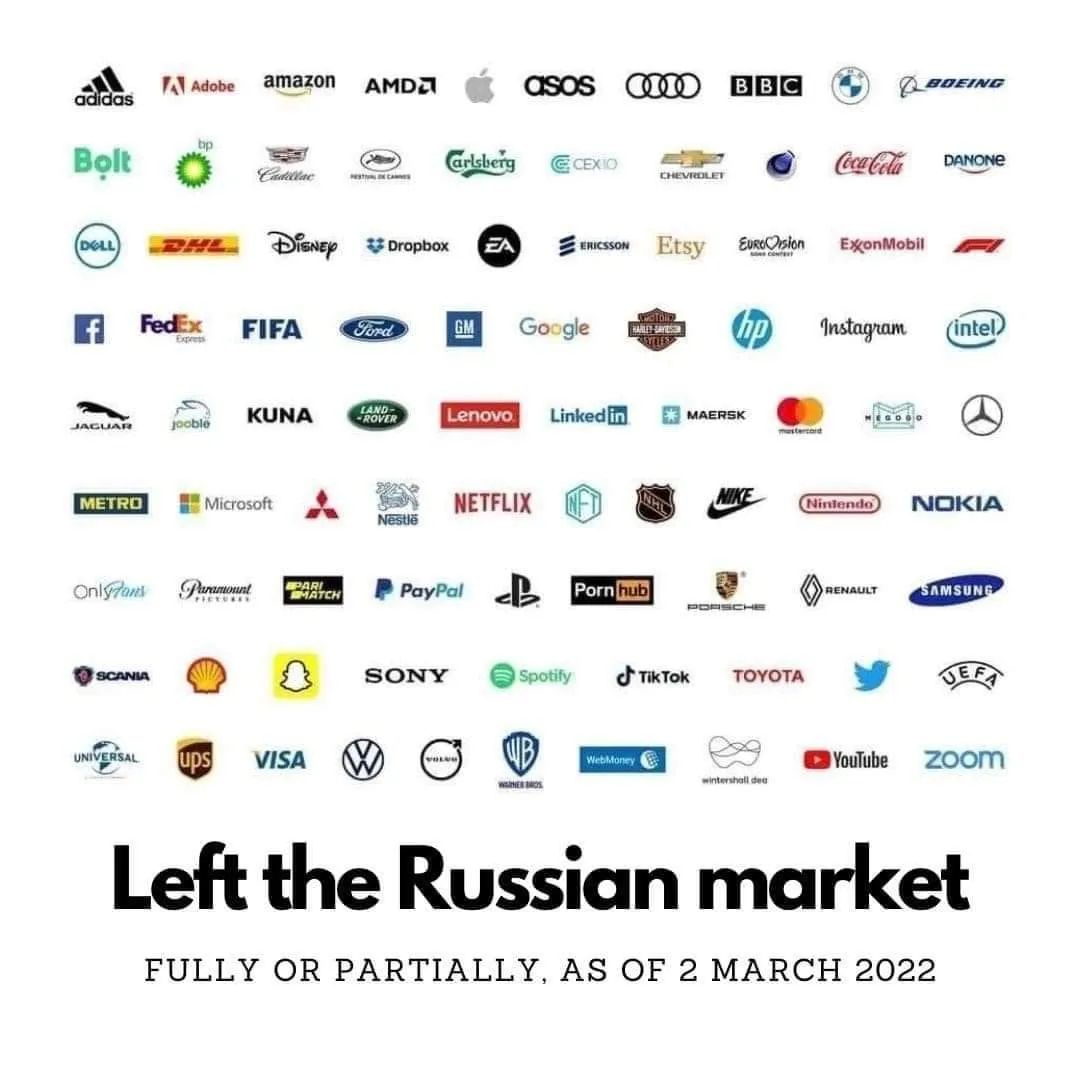 There have been many sanctions and bans being imposed on Russia worldwide to stand against the war. There has been up to 150 companies who have either already cut ties with Russia or are about to. The number of companies leaving Russia keeps increasing every day.
Samsung, Russia's biggest smartphone provider, ahead of Xiaomi and Apple, has announced that supplies to the nation will be halted, but it is unclear whether Samsung stores will close. According to reports, Ukraine's vice-prime minister for digital operations, Mykhailo Fedorov, temporarily urged the corporation to stop delivering services and products to Russia.
Apple has also stopped selling all its products in Russia and restricted access to other services like Apple Pay and Apple Maps. Its stores have also shuttered.
In addition, AMD and Intel stated on Thursday that they had blocked sales of their products to Russia and Belarus, signalling the chip industry's unequivocal commitment to acting against Russia's invasion of Ukraine. Microsoft has also indicated that new Microsoft products will be discontinued. Shortly after, Nvidia announced that it had also ceased deliveries to Russia on Friday.
It is clear that tech companies do not want to be associated with Russia even If the Russian market is profitable. Because these companies boycotting Russia puts a lot of pressure on the Russian economy and could cause Russia to take drastic measures to keep the economy stable, such as considering legalizing software piracy.
On Saturday, the companies stated that Visa Inc. and Mastercard Inc. are suspending their Russian operations. Russian citizens' cards will continue to work until they expire, with Russia's payment processing system taking over. On the other hand, Russian Visa and Mastercard cards will no longer work outside of Russia, nor will they be accepted for foreign online purchases. on-Russian citizens will be unable to use their cards in Russia or purchase items from Russia via the internet.
However, this abandonment of companies is not restricted to the technology industry but to other industries as well, such as fast food.
McDonald's is the latest domino to fall, announcing on March 8 that all 850 of its outlets in Russia would be temporarily closed. As one of the most recognizable foreign corporations still operating in Russia, McDonald's was under a lot of pressure from customers to follow suit. t finally gave way, with CEO Chris Kempckinski informing employees, "our values mean we cannot ignore the needless human suffering unfolding in Ukraine."
The current trend of major companies around the globe leaving the Russian market is only increasing, and the pressure it creates will be noticeable as the Russian market and economy slowly start to collapse. Russia has tried to offer tax breaks to the tech industry, and other measures have been taken to stop the companies from leaving Russia or keep the existing one, none of which is working.
Related Article: AMD allegedly preparing 4 New Ryzen CPUs Against Intel 12th Gen
Was our article helpful? 👨‍💻
Thank you! Please share your positive feedback. 🔋
How could we improve this post? Please Help us. 😔
[News Reporter]
Avinash is currently pursuing a Business degree in Australia. For more than three years, he has been working as a gaming journalist, utilizing his writing skills and love for gaming to report on the latest updates in the industry. Avinash loves to play action games like Devil May Cry and has also been mentioned on highly regarded websites, such as IGN, GamesRadar, GameRant, Dualshockers, CBR, and Gamespot.